May 16, 2017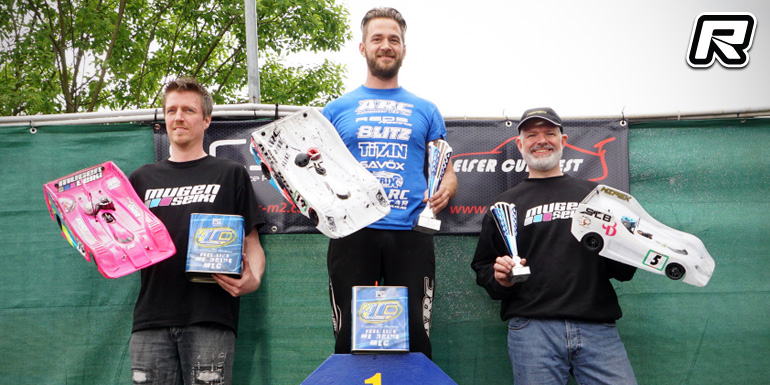 Round two of the Western German Nitro On-road Championship was held at Bad Breisig, located between Bonn and Koblenz at the river Rhine. The Rhein-Ahr-Motodrom will see the German 1/8th scale Nationals to be held at the end of August for the second time since 2011. For practice on Saturday lots of rain was predicted but finally 54 drivers enjoyed a day full of dry practice with a huge amount of laps on the fluent 254-meter circuit. Also the race day started out dry but at the end of the second round of heats the first rain drops hit the track. Round three was dry again for some heats but round four was completely lost due to rain. During lunch break, heavy rain with thunder and lightning flooded the track but finally the event would with changing conditions during the afternoon.
In 1/8th scale class 1 once again ARC ace Tobias Hepp showed a blistering performance and snatched the TQ position with 21 laps followed by René Puepke (Shepherd) and Christian Wurst (Mugen), both completing 20 laps. Just after a shower, the semifinal B became a poker as some drivers decided too late to join the race to make it into the finale. Cruising around the puddles, Uwe Baldes (Shepherd) took the win ahead of John Ermen (ARC), Steven Cuypers (Mugen) and René Puepke. The decision between Daniel Toennessen (Mugen) and an upcoming Michael Salven (Serpent) went close but Toenessen caught the last spot in the final by only a few seconds. In the semifinal A the track was less wet. Hepp led the field to finish first with Joerg Baldes (Shepherd), Wurst, John Lenaers (Serpent) and Ralf Vahrenkamp (Mugen) on second to fifth position. In the 30-minutes finale Hepp could open a gap from the start but dropped back because his ARC was hit by another car during the first pitstop for refuelling. Ermen was the new leader but Hepp pushed hard until a broken glow plug throw him back to the eighth spot. Behind Ermen, Cuypers moved up to second and Wurst to third, divided by two laps each at the finish line. Hepp who set the fastest lap time over the weekend with 14.503 seconds, recovered to fourth while Puepke was the only driver to retire.
1/8th class 1 final results:
1. John Ermen – ARC – 115 laps
2. Steven Cuypers – Mugen – 113
3. Christian Wurst – Mugen – 111
4. Tobias Hepp – ARC – 110
5. Joerg Baldes – Shepherd – 110
6. Daniel Toennessen – Mugen – 109
7. Uwe Baldes – Shepherd – 107
8. John Lenaers – Serpent – 103
9. Ralf Vahrenkamp – Mugen – 99
10.René Puepke – Shepherd – 12
After two of four rounds Hepp is leading the ranking by 238 points followed by Wurst (237), Cuypers (233), Uwe Baldes (231) and Vahrenkamp (230).
In the slightly slower class 2, Robbin Hertong (ARC) took the TQ and another victory to the Netherlands. Following a huge damage to his Shepherd during the heats, 15-years old David Kroeger was only on 22nd position after qualifying but he stormed to second place in the finale to continue his impressive performance following his third place at the season opener in Dormagen and his first ever win in only his third 1/8th scale race at the opening round of the Nitro-West-Masters in Hamm. Third on the podium was Christoph Loose (Serpent).
1/8th class 2 final results:
1. Robbin Hertong – ARC – 92 laps
2. David Kroeger – Shepherd – 89
3. Christoph Loose – Serpent – 86
4. Waldemar Liedke – Mugen – 79
5. Ralf Wacker – Mugen – 75
6. Gunnar Blumendahl – Mugen – 71
7. Bert Poesen – Mugen – 47
8. Andreas Klaus – ARC – 45
9. Michael Woeste – Capricorn – 22
10.André Boettcher – Mugen – 19
Liedke leads on points (238) ahead of Kroeger (237), Wacker (232, Blumendahl (232) and Loose (229).
In 1/10 scale the TQ went to Melvin Diekmann with René Puepke in second and Majuran Tharmalingam (Serpent) in third position. While Diekmann took his second win in the regional championship, his Shepherd fellow Puepke had to retire after only five minutes. Also Bernd Rausch (Shepherd), the leader in the early stage of the 30-minutes finale, had to stop following a collision while passing a backmarker. Marco Nenner made it a 1-2 for Shepherd while Mugen racer Dieter Fleischer completed the podium.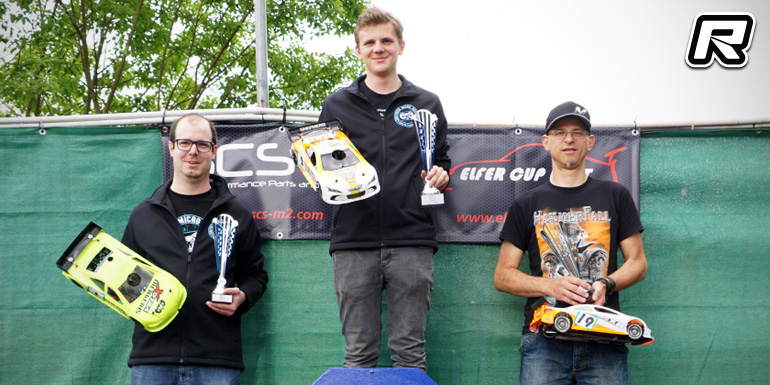 1/10th 200mm Open final results:
1. Melvin Diekmann – Shepherd – 91 laps
2. Marco Nenner – Shepherd – 9
3. Dieter Fleischer – Mugen – 89
4. Andreas Weyhoven – Serpent – 82
5. Roland Karduck – Capricorn – 72
6. Georg Goehlich – KM – 71
7. Benjamin Lehmann – Shepherd – 69
8. Bernd Rausch – Shepherd – 53
9. Majuran Tharmalingam – Serpent – 52
10.Joerg Kleineberg – Mugen – 50
11.René Puepke – Shepherd – 12
In the overall ranking Diekmann is leading with maximum points (242) ahead of Fleischer (234), Nenner (233), Lehmann (232) and Rausch (230).
Mugen held the largest market share with 17 chassis among a total of 52 participants, followed by Serpent (12), Shepherd (11), ARC (8), Capricorn (2), KM (1) and Xray (1). Nitro racing in Western Germany will continue with round 2 of the Nitro-West-Masters on the 3rd and 4th of June in Haltern, just one week later in the 10th and 11th of June round 3 of the Western German Championship will be held at the fast AMC Hamm track.
Source: Nitro-West [nitro-west.de]
---