June 26, 2017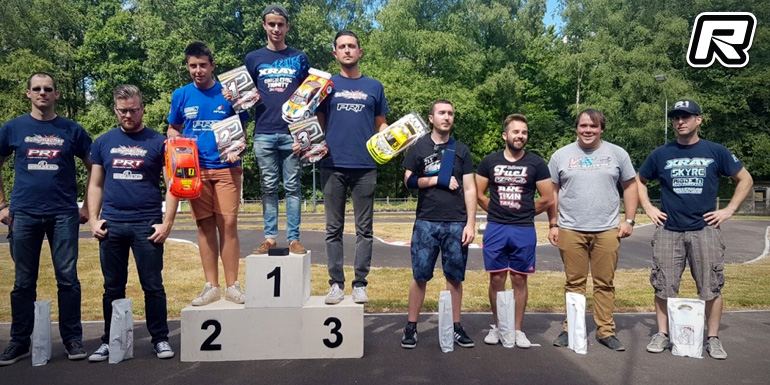 La Ferriere-Aux-Étangs near Caen with its fast and bumpy track played host to round four of the French Electric On-road Nationals. In the 10.5T Blinky Touring class Steeve Favrelle set the early pace by TQing two rounds while Pierre Delorme also scored a TQ run on Saturday. Sunday came and it was again the duo of Steeve and Pierre that dominated the qualifiers with Pierre ultimately walking away with the overall TQ from Steeve in 2nd.
The opening A-main that held some disaster for Steeve who wasn't able to start due to electronic problems. Pierre made maximum use of the situation and cruised to the win on new tyres. A2 then was a different affair. Now Steeve was on new tyres and he would be promoted into the lead after Pierre had a bobble on the bumpy part of the track but knowing a 2nd place was enough to bring home the championship title, Delorme would take it cool and so he brought home P2. In A3 and with the championship in his bag, he took more risks and managed to keep the door closed the whole five minutes to take the overall win from Steeve in 2nd and Jeremy Delalondre 3rd.
Touring 10.5 Blinky final results:
1. Pierre Delorme – Xray
2. Steeve Favrelle – Xray
3. Jeremy Delalondre – Schumacher
4. Mathias Rascol – Xray
5. Romain Delaunay – Xray
6. Bukowski Yohann – Schumacher
7. Rivard Aurélien – Schumacher
8. Brasset Benjamin – Xray
9. Éric Sauterau – Xray
10.Rabbe Jean-Pierre – Xray
In Touring Modified it was Thomas Vigneron who was the fastest in the qualifiers but Cyril N'Diaye found way to pass him in finals and took the win.
Touring Modified final results:
1. Cyril N'Diaye – Awesomatix
2. Thomas Vigneron – Team Magic
3. Remi Callens – Team Magic
4. Jeremy Limoges – Xray
5. Gergen Jonathan – Xray
6. Hugo Ragaut – Awesomatix
7. Sion Benjamin – Xray
In Touring 13.5 Blinky the race was very tight between Steeve Favrelle and Briac Berthoud during the whole weekend. Briac took three TQs and Steeve two but he had the fastest one. During the finals Briac did not find a way to pass Steeve in A1 and A2 but he won A3.
Touring 13.5 Blinky final results:
1. Steeve Favrelle – Xray
2. Briac Berthoud – Xray
3. Julien Jost – Yokomo
4. Laurent Desperies – Xray
5. Orer Eugène – Awesomatix
6. Tran Hai Long – Schumacher
7. Gilles Hendrickx – n/a
8. Gibert Sébastien – Xray
9. Renaud Brusselles – Xray
10. Rousselin Florian – n/a
In the Formula class Jeremy Limoges dominated the whole weekend with a TQ and win, bringing him in a good position in the championship ranking.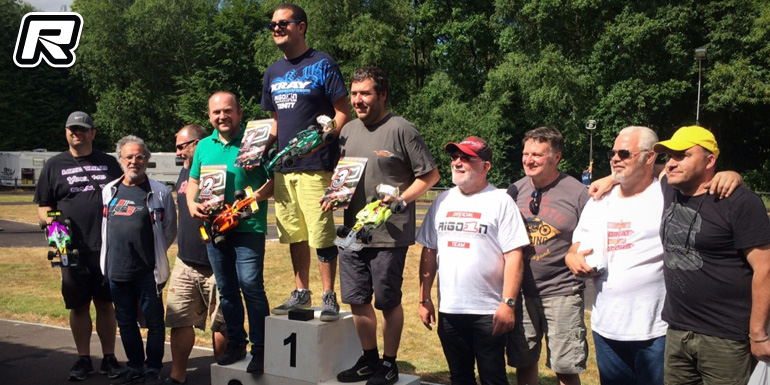 Formula final results:
1. Jeremy Limoges – Xray
2. Willy Voisangrin – Serpent
3. Jean Michel Varinard – Xray
4. Ghislain Mantrand – Team Associated
5. Blondeau Thomas – Xray
6. Philippe Pauvert – Xray
7. Frédéric Favier – Xray
8. Boissaunade Jean Paul – Xray
9. Meunier François – Xray
10.Lehmann Éric – Xray
Source: Xray [teamxray.com]
---