June 12, 2017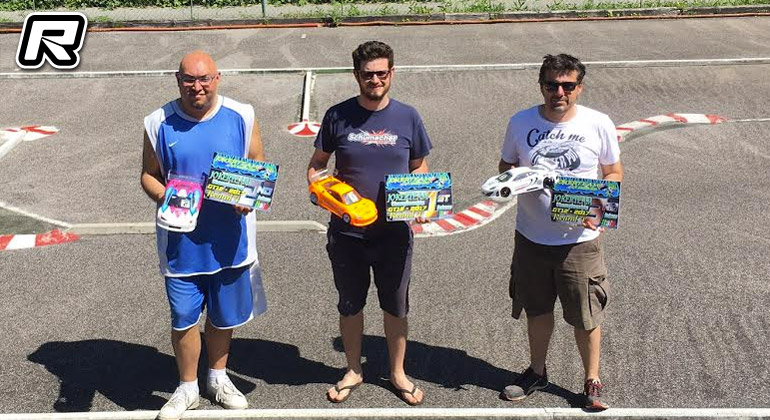 With track temperatures reaching 57°C degrees during the afternoon's finals, the drivers who gathered in Bolzano (Italy) for the fourth round of the Jokerteam 2017 GT12 Championship struggled to find the right setup for their cars in order to allow the tires to last the whole 6 minutes of each A-main. With the Championship being at the half-way mark and Mattia Dall'Oca being able to deliver a hat-trick in the previous rounds, bets were on in the pits to see if the Team Schumacher driver was able to make it four in a row.
While the qualification rounds held during the morning did not deliver any particular surprise, with Mattia taking the TQ ahead of Johnny Orsolin (Jokerteam), it was in the afternoon's finals that the action got under way: a wrong choice of tires by Mattia, saw both Johnny and Alessandro Giubbilei (Jokerteam) take advantage of the situation in the first A-main.
In the second final, Mattia and Johnny engaged in a wheel-to-wheel battle for the whole 6 minutes when finally Mattia came out on top for just 0.2s. In the third and crucial A-main, it was again a tight battle between the two contenders, but Mattia was able to pull away in the final minute of the race and thus secure the fourth win in a row in the Championship, which it looks more and more secure in his hands.
Round 4 Results (top 3):
1. Mattia Dall'Oca (Team Schumacher) – Atom CC
2. Johnny Orsolin (Jokerteam) – SupaStox GT
3. Alessandro Giubbilei (Jokerteam) – Atom CC
Overall Standings after 4 rounds (top 5):
1. Mattia Dall'Oca (Team Schumacher) – 600 points
2. Johnny Orsolin (Jokerteam) – 594 points
3. Alessandro Giubbilei (Jokerteam) – 586 points
4. Lorenzo Crepaldi (Jokerteam) – 585 points
5. Fabrizio Dall'Oca (Team Schumacher) – 577 points
Source: Jokerteam [jokerteam.it]
---