June 21, 2017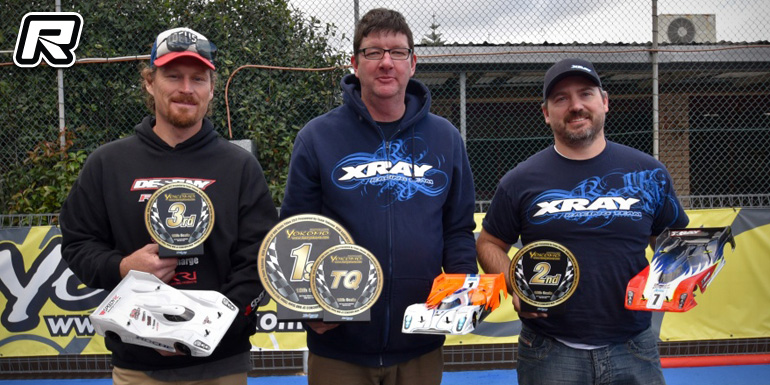 The 2017 AARCMCC EP On-Road State Titles were held at the Sydney Model Autosports track in the west of Sydney. The SMA track is a flowing technical track with a challenging layout to really test drivers abilities. The lead up to the meeting was dogged with bad weather which ultimately caused the meeting to be abandoned after the completion of qualifying. Saturday kicked off with a seeding run, each class was given a 5-minute session on the track, a drivers quickest three consecutive laps would then be counted for a total time that would seed the first three rounds of qualifying. In 1/12th Modified Mark Wallin went all in, using a set of brand new, un-cut and un-treated tyres and his decision proved to be a good one as he set a seed time of 52.068 seconds placing him at the top of the order for round one. The first round of 1/12th qualifying confirmed that Mark was going to have to work hard. After missing the seeding round, Ed Clark came out strong posting several quickest laps to take 2nd behind Mark in the round.
Disaster struck in round two as Mark was forced to retire on lap 8 with a stripped spur gear. Ed was able to take the win after a race long duel with Chris Peet. With a fresh rear axle in the car Mark was able to take another round win in 1/12th, and he only needed another round win to secure TQ for the finals. Everything was going to plan to take TQ in round 4 of qualifying, until Mark pushed a little to hard on lap 17, having a big moment. This allowed Ed to take the round win and the two were now tied on points going into the last round that would be held under lights on a cold track. Ed would have the home track advantage as Mark had never raced on the SMA track in these conditions, and so round 5 would be challenging. Mark was able to catch Ed at the start and take advantage of a rare error on Ed's behalf to sneak into the lead. From there Mark settled into the lead, determined not to make the same mistake he had made in the previous round. When Andrew Shapland caught him he let him go as he was clearly faster at that stage of the race. Mark was able to take back the lead and then win the round after Andrew had an off on the front sweeper, securing Mark Wallin the overall TQ. Unfortunately the drivers did not get to run the finals as Sunday was rainy so the 2017 AARCMCC NSW Titles were declared
using the qualifying results.
Final results:
1. Mark Wallin – Xray
2. Ed Clark – Xray
3. Andrew Shapland – Roche
4. Gerard Elias – CRC
5. Chris Peet – TOP
6. Dean Jones – Serpent
7. Rodney Degens – Team Associated
8. Dean Paraskevas – Team Associated
9. Christian Searl – Yokomo
Source: Xray [teamxray.com]
---