July 31, 2017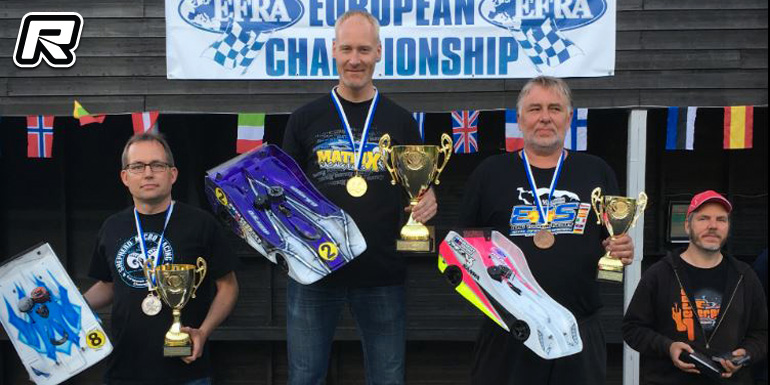 The 2017 EFRA 40+ Nitro On-road European Championships were held in Skarpnäck, Sweden, this past weekend. With the Friday being rained off the event was basically a 1-day affair which made it necessary to reduce the qualifiers to three rounds with the two best to count. In 1/8th on-road it was Sweden's Mikael Fransson (Serpent) with the TQ while Andreas Husman (Mugen) TQ'd the 200mm Touring class. After the Superpole Lars Haugen (Mugen) in 1/8th and Mickael Brandt (Xray) in Nitro Touring were the two other drivers to score direct spots in their respective main finals.
From the start of the 1/8th final Mikael Fransson set the pace and he was able to open a gap on 2nd placed Lars Haugen. Everything seemed decided but then Fransson ran into engine problems, allowing Lars Haugen, with safe drive, to take the EFRA 40+ European Champion title from Henri Fredriksson (Shepherd) in 2nd and Trygve Berntsen (Mugen) in 3rd.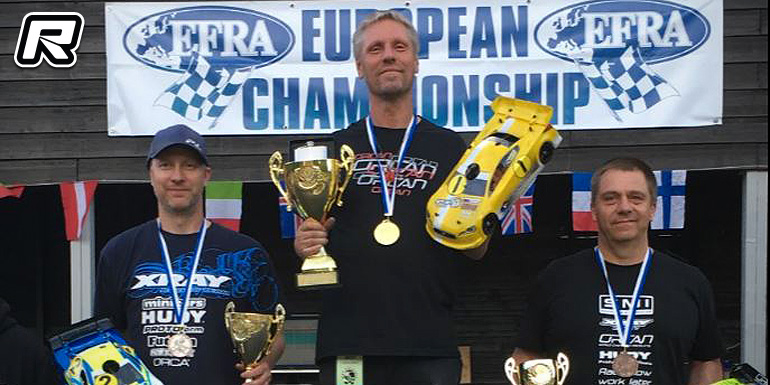 In 1/10th it was again the TQ holder with an advantage over the field but different from Mikael Fransson in the 1/8th class, Andreas Husman was able to bring home the win from Mickael Brandt on the runner-up spot and Bernd Hasselbring (Xray) who rounded out the podium in 3rd.
Source: EFRA [efra.ws]
---