July 12, 2017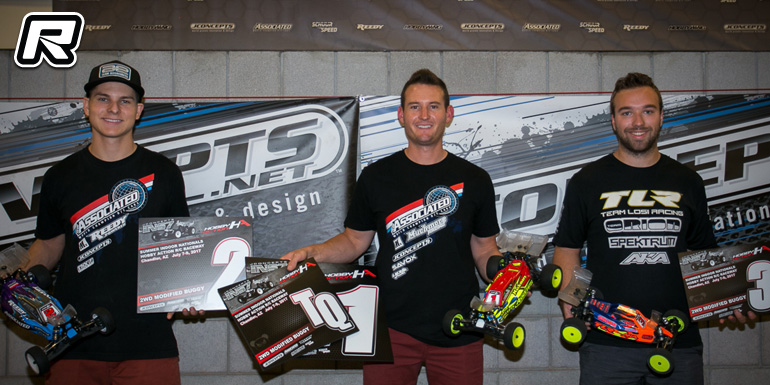 After seven seasons of tweaking and fine-tuning the race format and formula, the recent JConcepts Summer Indoor Nationals was the most competitive race to date with over 280 entries and a multitude of National and World Champions in attendance. Bar none, it was the highest level of competition ever seen at an Indoor Nationals. Adding to the spice this year, the Summer INS has moved from Chico, California's Outback Raceway to Hobby Action R/C Raceway in Chandler, Arizona. From the inaugural Desert Classic race just five months earlier, HA has come a long way with the track build and track quality providing a much smoother surface and increased grip levels.
Initially, there were concerns of hosting a race in Arizona mid-summer was a good idea, but since the entire facility was air conditioned, it was very cool inside and this kept the track very stable along with car setups with racers not having to adjust shock oils for the hottest part of the day and the cooler parts of the evening. With many food choices and hotels in walking distance from the facility, makes racing at Hobby Action a wonderful experience.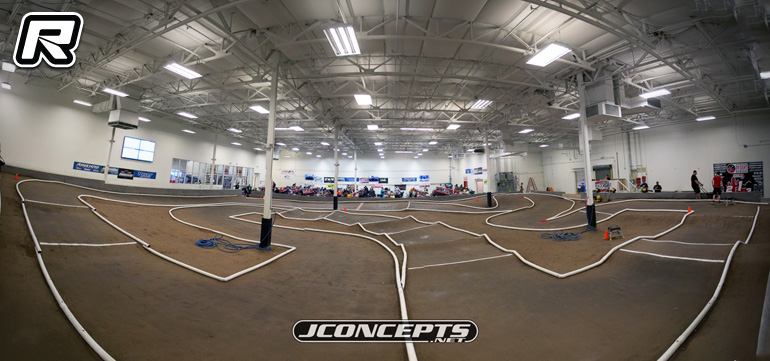 This year's Summer INS layout had a few new features that made racing fun, challenging, and exciting. At first glance, the layout looked simple and easy, but the reality wasn't so. The 3 set of rhythm doubles at the center of the track made things very difficult to time perfectly sending cars every which direction. The difficult center jump section lead right into another challenging section of the track that flowed into a table-step up that required power and precision. Making a perfect lap wasn't easy, but when you did it felt great! There was much praise for the "Laguna Seca" style turn that naturally flowed onto the straightaway that featured elevation and embankment like a roller coaster. Overall, the Hobby Action track crew did a fantastic job with building and maintaining the track and was appreciated by everyone in attendance.
The race format was the standard INS format taking the best two out of three qualifiers to set the mains with the 2WD modified and 4WD modified classes getting triple A-Main treatment to decide the overall winners. The rest of the classes received an extended single 8-minute A-main that would wrap up early on Sunday giving racers a good chance to head home at a decent time.
In 2WD Modified and showing his world class talent, Ryan Cavalieri was in top form and set TQ along with the overall win in just two mains on his first trip to Hobby Action. With dominating runs in A1 and A2, Cavalieri was able to sit out and watch A3 from the sidelines. Current World Champion, Spencer Rivkin had the speed to win and was also showing great form to score two 2nd place finishes to wrap up 2nd. By winning A3, TLR's Dakotah Phend jumped to the final spot on the podium and took 3rd overall.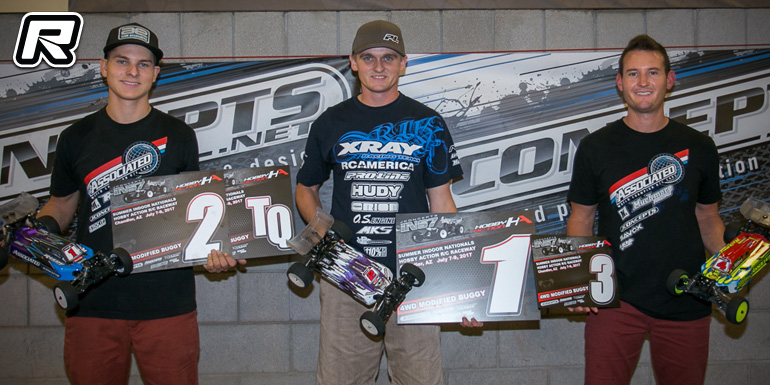 It was anyone's game in 4WD with each of the A-mains had a different winner. Team Associated's Ryan Cavalieri won A1. Xray's Ty Tessman A2, and AE's Spencer Rivkin A3, but ultimately Rivkin and Tessman would tie on points with both drivers having a 2nd place finish while Cav a 3rd. Tessman would win by tie-breaker and take the overall with Rivkin 2nd and Cavalieri 3rd.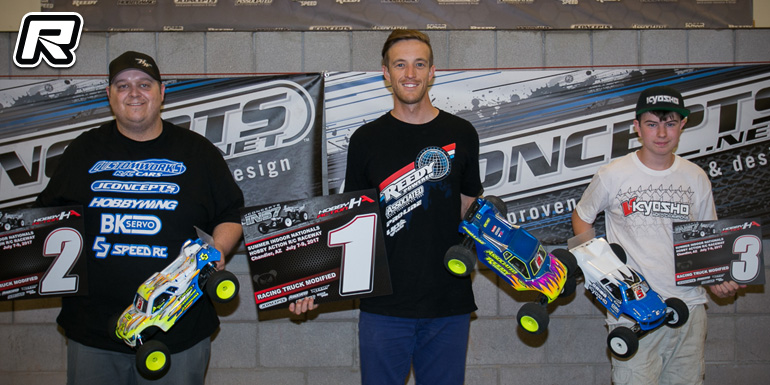 Unfortunately for Modified Truck TQ, Team Associated's Ryan Cavalieri, he would suffer a mechanical as is truck would touch the pipe connector in the sweeper ending his run prematurely. This gave way Team Associated's Dustin Evans who took charge and also the win. Also finishing on the podium in 2nd was Team Associated driver Max Flurer and Kyosho's Brandon Foote 3rd overall.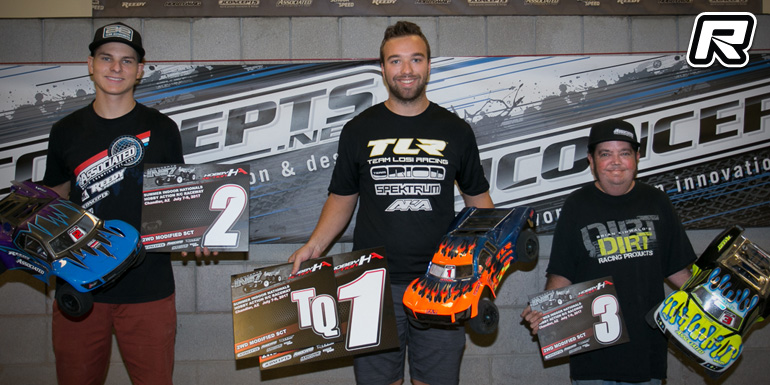 In Modified Short Course one of the most memorable battles seen in a long time was between TLR's Dakotah Phend and AE'S Spencer Rivkin. The two young aces would race nose to tail for the entire eight minutes trading the lead position with remarkable passes on each other. Needing to back off on the straightaway because his truck was starting to wheelie, Rivkin lost the lead to Phend as Phend held on to take the win. Rivkin finished 2nd with the living legend, Team Associated's Brian Kinwald, 3rd.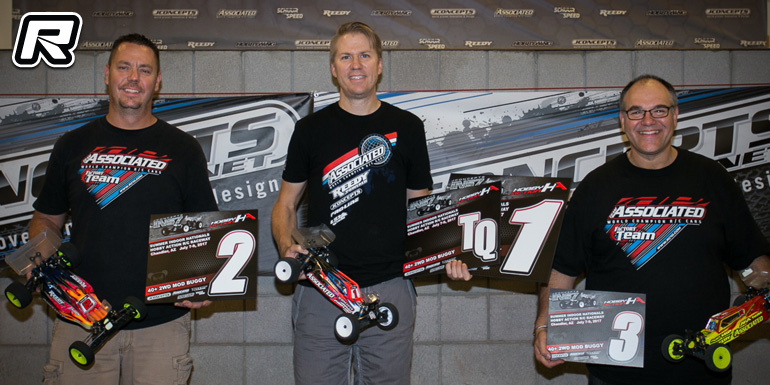 The King of 40+ strikes again. Taking the win in the 40+ 2WD Modified class was Team Associated Team Manager, Brent Thielke. Scott Spears put up a valiant effort and finished 2nd. Using the class for more track time, Scotty Ernst would finish 3rd overall adding another podium to his list.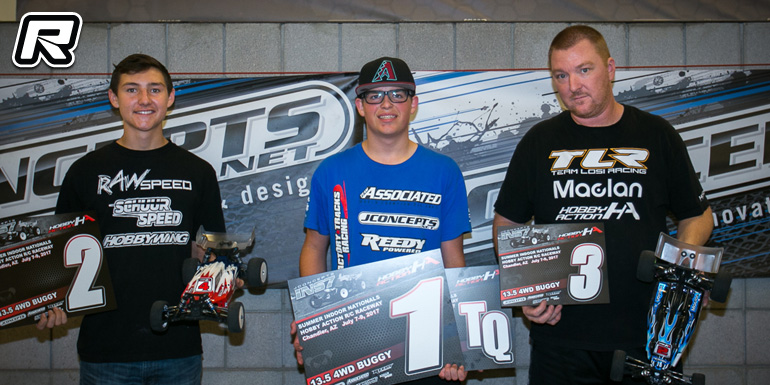 Not making the same mistake in 2WD, Dreighton Stoub led the way to take a convincing win from tone to tone in 13.5 4WD. Ron Devoll delivered a fantastic performance to finish 2nd with Hobby Action's own James Gallatin taking the final spot on the podium.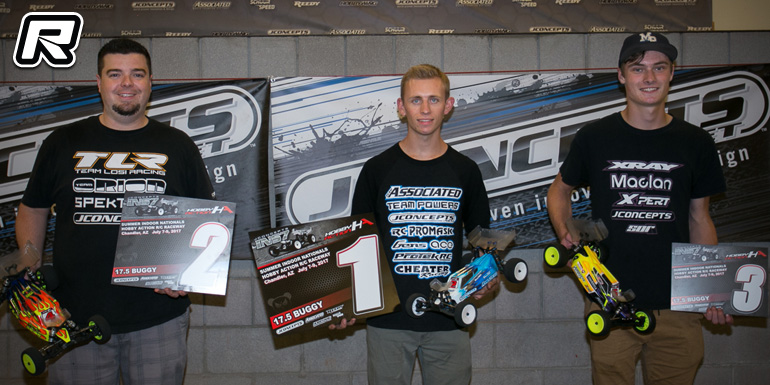 It was a fierce battle in 17.5 Expert 2WD Buggy, but it was AE's Kyle Layton who held it down and took the win using his experience and talent. Layton would capitalize on class TQ, Dreighton Stoub's early mistake and soon made his way passed TLR's Frank Root to take over the lead. Root hung on to 2nd with Xray's Douglas Hobbs finishing strong and wrapped up 3rd.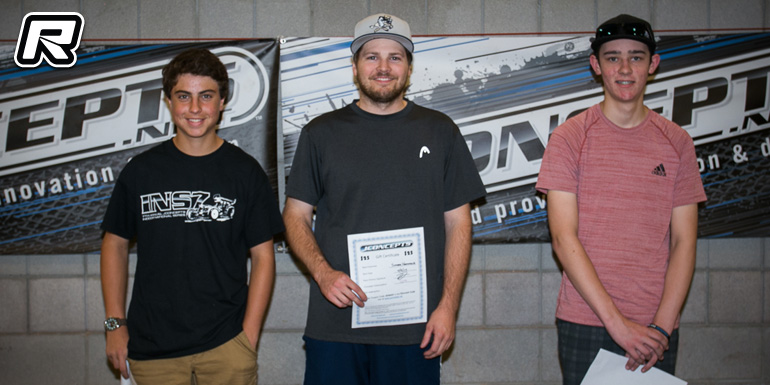 A blossoming young field of drivers battled it out at the INS and this year's talent was exceptional. Taking the win in 2WD Sportsman was Trevor Coons with a good gap to 2nd place finisher, Brandon Briganti. Making his way to the podium was Owen Hinken in 3rd.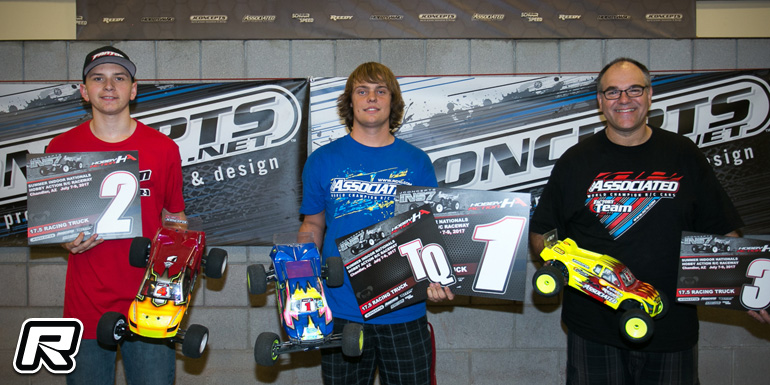 In 17.5 Truck it was the local Arizona standout Kyle Defatte taking a convincing win in the Stock Truck class over Ryan Reavis and Scotty Ernst, who was able to finish 2nd and 3rd to join Defatte on the podium.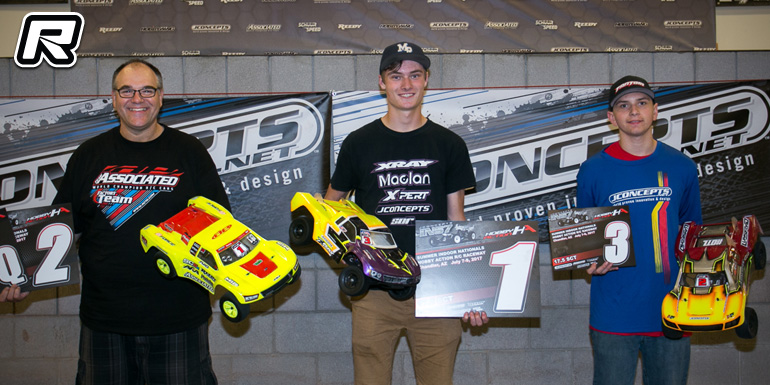 It was only .2 seconds separating Douglas Hobbs and Scotty Ernst for the win in 17.5 Stock Short Course. After 8 minutes, Douglas Hobbs would take the win with the voice of RC, Scotty Ernst, 2nd and Ryan Reavis locking up 3rd and the final spot on the podium.
Source: JConcepts [jconcepts.net]
---