August 17, 2017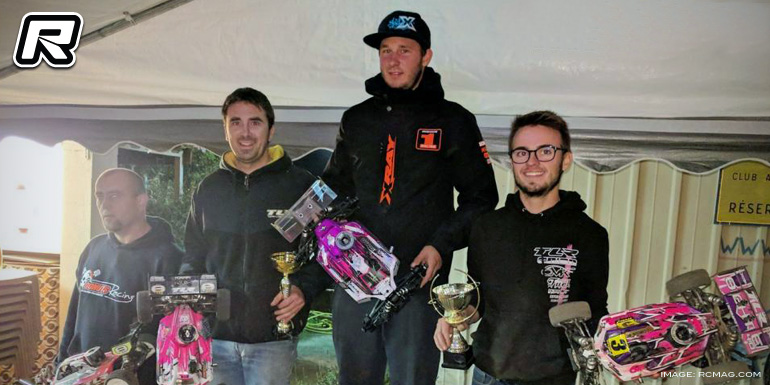 The Noeux le Mines track in France played host to the "The Nocturne" 1/8th off-road night race recently. The race format would see two practice and three qualifying rounds followed by three finals for each main with the event kicking off on Saturday afternoon and ending on Sunday afternoon. Classes run were 1/8th Nitro Buggy and 1/8th E-Buggy and both categories were swept by Xray's Jean-Pierrick Sartel who took the Nitro win from TLR's Jerome Sartel while Felix Kogler (TLR) rounded out the podium in 3rd.
Nitro Buggy final results:
1. Jean-Pierrick Sartel – Xray
2. Jérome Sartel – TLR
3. Félix Koegler – TLR
4. Vincent Meertens – TLR
5. Anthony Bruyer – Xray
6. Théo Lemaire – TLR
7. Mathieu Thiberge – Mugen
8. Emilien Delannoy – HB Racing
9. Malcom Roquet – HB Racing
10.Guillaume Deleplanque – TLR
11.Louis Smague – HB Racing
12.Benjamin Scholle – Xray
In the 1/8th E-Buggy class JP was sidelined on the podium by Jerome Sartel in 2nd and Sebastien Wartelle 3rd.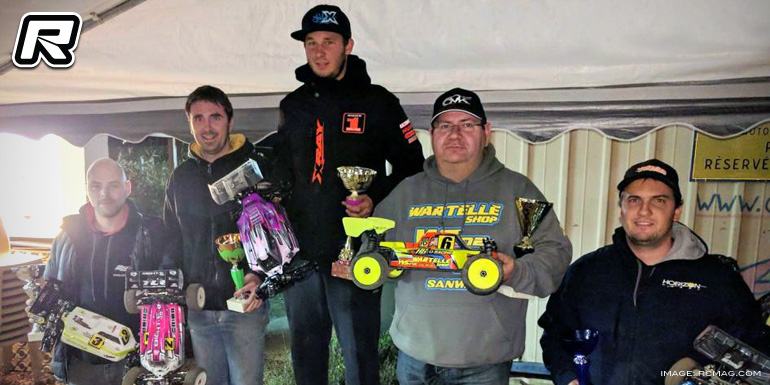 E-Buggy final results:
1. Jean-Pierrick Sartel – Xray
2. Jérome Sartel – TLR
3. Sébastien Wartelle – HB Racing
4. Samuel Castel – TLR
5. Félix Koegler – TLR
6. Julien Surget – Mugen
7. Jean-ChristopheSartel – TLR
8. Louis Smague – HB Racing
9. Frédéric Noppe – n/a
10.Geoffroy Berque – n/a
11.Stéphane Vanyper – TLR
12.Lorenzo Lunel – TLR
13.Roger Leroux – Mugen
14.Pierre Descamps – Xray
15.Cédric Dauby – n/a
Source: Xray [teamxray.com]
---