August 9, 2017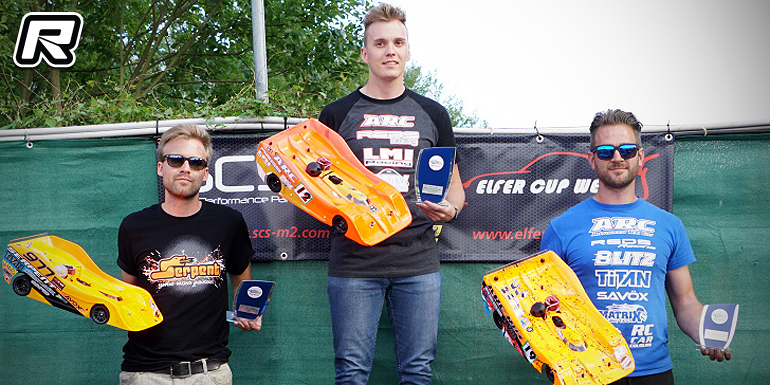 Last weekend's round 4 of the popular Nitro-West-Masters series was also the official warm-up for the German 1/8th Nationals, which will take place at the end of August at Bad Breisig, located between Bonn and Koblenz at the river Rhine. A total of 72 nitro racers made their entry for the race weekend and experienced a great warm-up, also for the hosting club MCC Rhein-Ahr who did a perfect job, especially the outstanding kitchen crew. It all started with an additional practice day on Friday with plenty of track time for more than 20 drivers and continued with an intensive practice day on Saturday with a total of 80 sessions of six minutes each. Differently than forecasted, the weather on Saturday was perfect as well as on Friday and Sunday. As usual in the Nitro-West-Masters, a tight schedule on race day included three 7-minutes heats with the best three consecutive laps counting towards the qualifying results, 15-minutes sub-finals and the 30-minutes main events.
Using the NWM event to prepare for the nationals, the 1/8th scale Open class enjoyed a huge entry of 40 competitors. It was Mugen's Steven Cuypers who became German Champion at this track six years ago, setting the fastest qualifying time with 43.789 seconds, closely followed by ARC racer Tobias Hepp (43.831), reigning German Champion Michael Salven (Serpent/44.252) and ARC's John Ermen (44.309). Those four directly qualified for the main final. From the two quarterfinals Marco Kruse (Shepherd), Bernhard Hummel (Mugen) and Jan Fuss (ARC) bumped up as well as Christoph Loose (Serpent) and the two Xray racers Hartmut Rose and Fabian Bahl. Unfortunately, NWM championship leader Ralf Vahrenkamp (Mugen) struggled and didn't make it to the semifinal.
Racing was tough but very fair also in both semifinals. Merlin Depta (Serpent) took the win in the semi B with Rene Puepke (Shepherd), Philipp Roemer (ARC) and Christian Wurst (Mugen) on his tail. Winner of semi A was Gunther van Staey (Serpent) followed by Frank Schewiola (Shepherd). Uwe Baldes (Shepherd) crossed the line in 3rd in front of Karl-Heinz Meister (Serpent) but because Wurst was a bit faster in the other semi, Uwe Baldes, head of NWM organization, missed the main and finished 11th in the overall ranking.
Tobias Hepp then became the bright smiling winner of the 30-minutes finale. With his Reds-powered ARC he took the lead on lap two and didn't look back until the checkered flag to end a row of bad luck in the prior races at the right time with the German nationals soon to come. While Cuypers lost his pole position only after the first lap, he was fighting for a podium position when his racing came to a sudden end with six minutes to go because of a technical issue. Likewise, Puepke's race came to an early end when his Shepherd went off the track. Behind race leader Hepp, three drivers – Salven, Ermen, Depta – were fighting for the two remaining podium spots with Ermen and Salven dropping back right after the start but both showed a strong performance getting back to the front. Salven was on P2 for a while but finally lost a podium position because other than Hepp, Ermen and Depta he didn't change tyres and ran out of rubber in the final stages. Depta captures 2nd just three seconds in front of Ermen with Salven taking an unlucky 4th position.
1/8th Open final results:
1. Tobias Hepp – ARC – 117 laps
2. Merlin Depta – Serpent – 116
3. John Ermen – ARC – 116
4. Michael Salven – Serpent – 116
5. Gunther van Staey – Serpent – 114
6. Christian Wurst – Mugen – 113
7. Frank Schewiola – Shepherd – 110
8. Philipp Roemer – ARC – 109
9. Steven Cuypers – Mugen – 93
10.Rene Puepke, – Shepherd – 85
With his 11th position, reigning NWM champion Uwe Baldes scored enough points to get back to the leader's spot. With 456 points, he is on top of the points after four of six rounds with Daniel Toennessen (Mugen/444) and Edwin Busschers (Xray/418) in 2nd and 3rd.
In the 1/10th Open class the impressive series of seven victories from Melvin Diekmann came to an unexpected end. Already in the heats Majuran Tharmalingam pushed his Orcan-powered Serpent to pole position one tenth of a second in front of Diekmann with Bernd Rausch (Shepherd) in 3rd. In the final Diekmann pushed his Shepherd into the front but was closely followed by Tharmalingam. At a pit stop, Tharmalingam hit the Velox of Diekmann but Tharmalingam let him pass again and the tough fight for victory continued until Tharmalingam made a move to pass Diekmann for the victory. The podium was completed by Benny Lehmann (Shepherd).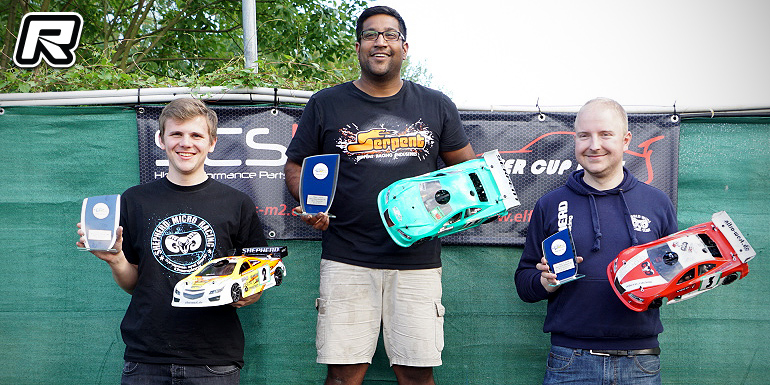 1/10th Open final results:
1. Majuran Tharmalingam – Serpent – 106 laps
2. Melvin Diekmann – Shepherd – 105
3. Benjamin Lehmann – Shepherd – 104
4. Marco Nenner, Shepherd – 104
5. Thorsten Lewandowski, Shepherd – 102
6. Faehd Labik, Shepherd – 94
7. Dirk Zschaebitz, Serpent – 45
8. Bernd Rausch, Shepherd – 26
Diekmann continues to lead the standings by 482 points with Marco Nenner (Shepherd/472) 2nd and Faehd Labik (Shepherd/461) 3rd.
For this race weekend, the two cost-efficient Hobby-Cup nitro stock classes attracted less drivers than usual. In the 1/8th Stock class 15-year old David Kroeger stormed to pole position in front of Ingo Braun, Andre Boettcher and Waldemar Liedke. From the semifinal winner Heiko Kube (Mugen), Gunnar Blumendahl (Mugen), Ralf Wacker (Mugen), Paty Schuster (Serpent), Jens Kopetzki (Serpent) and Markus Friedrich (Shepherd) bumped up and completed the line-up for the main race which was dominated by Shepherd's David Kroeger from start to finish. While the young talent took his fourth victory of the season, Boettcher secured the 2nd position for the whole race while Wacker completed the podium moving up from 6th on the grid. A broken receiver battery forced Ingo Braun to retire even before the start.
1/8 Stock final results:
1. David Kroeger – Shepherd – 110 laps
2. Andre Boettcher – Mugen – 107
3. Ralf Wacker – Mugen – 103
4. Markus Friedrich – Shepherd – 103
5. Jens Kopetzki – Serpent – 101
6. Paty Schuster – Serpent – 101
7. Waldemar Liedke – Mugen – 97
8. Gunnar Blumendahl – Mugen – 94
9. Heiko Kube – Mugen – 29
10.Ingo Braun – Serpent – DNS
In the championship, young David Kroeger (479) has a huge 28-points advantage over Ralf Wacker (451) in 2nd with Jens Kopetzki (450) in 3rd.
The 1/10th Stock class also held the fourth and final round of the Western German Championship to promote a basic class for 1/10th scale nitro racing. While pole position went to Florian Dueppe (Shepherd), it was Sven Lommersum who brought his Capricorn into the lead at about halftime of the 30-minutes encounter and celebrated his first ever victory with a one-lap advantage over Dueppe. Philipp Wisniewski (Mugen) completw the podium.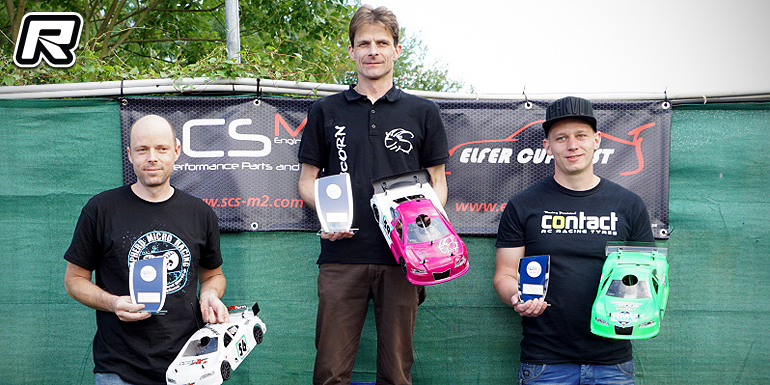 1/10 Stock final results:
1. Sven Kommersum – Capricorn – 93
2. Florian Dueppe – Shepherd – 92
3. Philipp Wisniewski – Mugen – 91
4. Guido Burghartz – Shepherd – 89
5. Emil Kwasny – Mugen – 86
6. Roland Karduck – Capricorn – 66
7. Werner Vogel – Kyosho – 56
8. Sascha Faerber – KM – 44
9. Hermann-Josef Fuchs – Shepherd – 37
Florian Dueppe is the new leader of the NWM HC10 class and the first champion of the Western German Championship which came to a close at Bad Breisig. 71-years old Werner Vogel (Kyosho/465) is second behind Dueppe (468) and in front of Guido Burghartz (Shepherd/461).
In four of six races of the ninth NWM season, a total of 111 nitro racers have already collected points so far. Following the German 1/8 scale nitro Nationals in August at Bad Breisig, the Nitro-West-Masters series will continue with round five on the 09th and 10th of September in Velp near Arnheim, The Netherlands. The final round will take place on the 7th and 8th of October in Dormagen near Cologne.
Source: Nitro-West [nitro-west.de]
---