August 18, 2017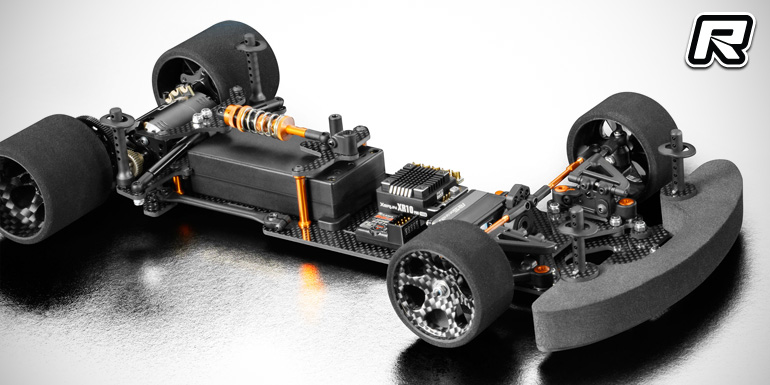 Xray have revamped their popular X10 1/10th 200mm pan car kit with the 2018 variant sporting a range of updates and improvements. The '18 specification kit utilises many of the design features previously known from the X12 series of cars with the vehicle using an all-new carbon fibre chassis with increased torsional stiffness and optional mounting positions for the side links. The 2.5mm "shorty battery only" chassis cut from "carpet-spec" carbon fibre allows for straight and angled link positions with the latter improving in-corner steering.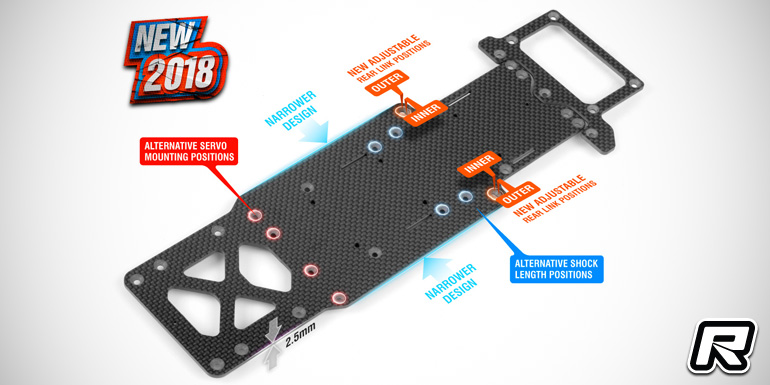 The rear suspension is made-up using a redesigned lower carbon fibre pod plate and new aluminium bulkheads with the motor side offering three mounting points for the motor – two low profile and a third upper position for secure motor mounting.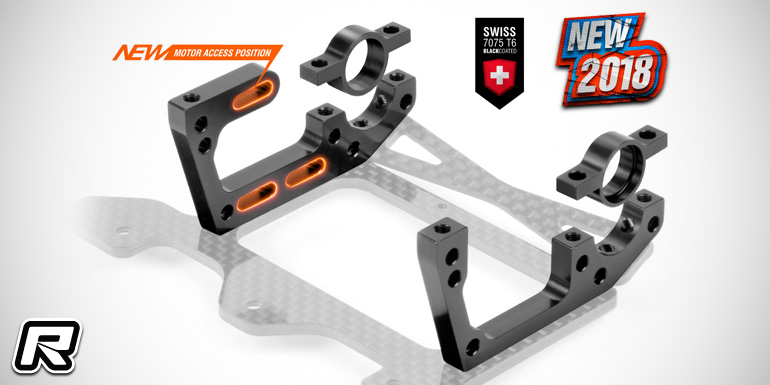 The rear axle height is adjustable using fine-tune shims and eccentric mounts to allow easy adoption to both standard and small diameter tyres. The updated rear power pod also allows for quicker and easier motor access, reducing time in the pits. The rear assembly is rounded out by a new carbon fibre rear brace that lowers the overall centre of gravity while offering controlled flex to withstand even serious crashes.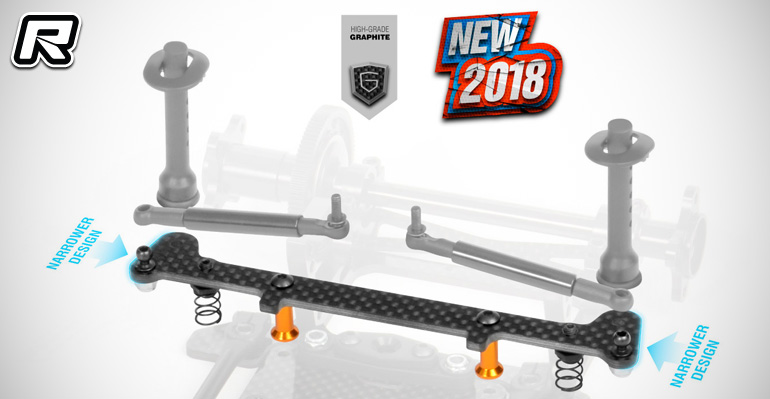 Moving a bit forward, the 2018 edition of the X10 features a new rear link brace that accommodates updated, shorter tube dampers. The lightweight brace moves the weight closer to the centre line as do the lighter damper that come with aluminium tubes and Delrin pistons for ultra-smooth operation. The new "shorty-only" battery mounts keep the LiPo back securely in place without the need for additional rear battery locators.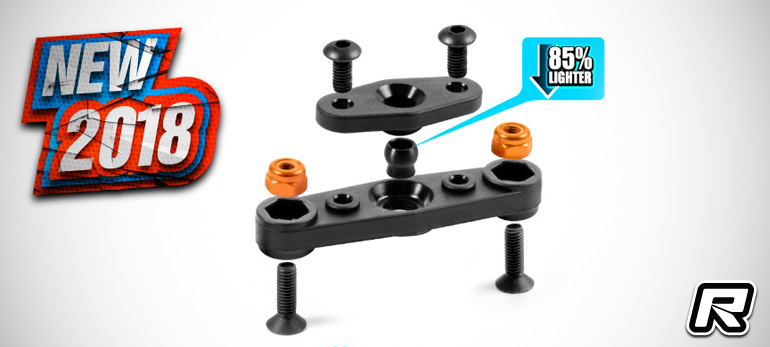 Part of the rear suspension is also an updated rear pivot block and pivot ball with the two allowing for greatly increased rear power pod movement. Sitting about 0.5mm lower they also add to the low centre of gravity design while being light of weight at the same time thanks to the absence of the formerly used upper mounting lock-nut. The sliding design of the part helps to create tweak-free rear suspension movement which adds to the overall performance gain.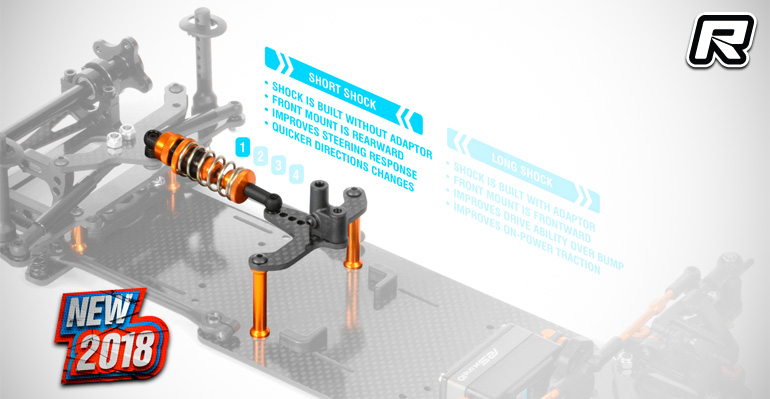 Part of the 2018 package is also a new centre shock position adjustment that allows the use of various positions on the graphite antenna holder to adjust the shock position and length. By using a longer or shorter shock, the damping and steering characteristics can be changed with the longer shock being better on over bumps while the short shock improves response.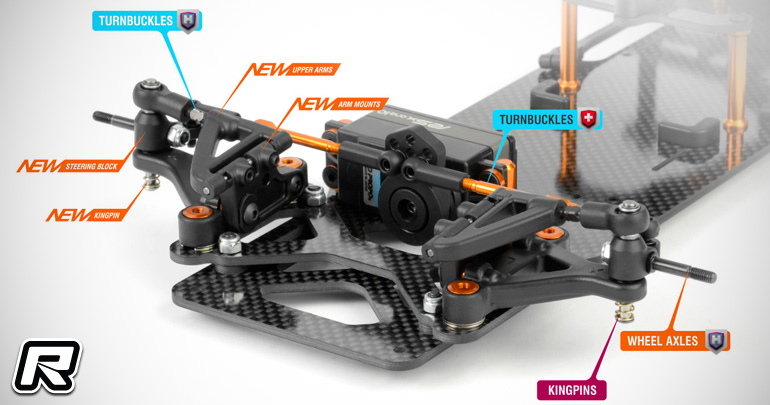 Up front, the suspension underwent quite a remake – despite looking pretty similar to the old parts at the first glance. Reactive caster settings are available using 2.5°, 5.0° or 7.5° eccentric bushings while tiny yet strong Hudy spring steel upper pivot balls ensure smooth, bind-free operation as do the composite lower pivot balls. Quick and easy adjustment of the front caster, track-width, roll centre, and ride height are accessible using the included shims and clips. The plastics are made of a harder compound which results in improved handling while the removal of excessive play in all parts will lead to greatly improved precision and steering response. Last but not least come new longer aluminium servo mounts that allow the fitment of both standard and mid-size servos. Proper chassis balance can be achieved by using a sets of mounting holes and the direct chassis mount ensures the lowest possible centre of gravity.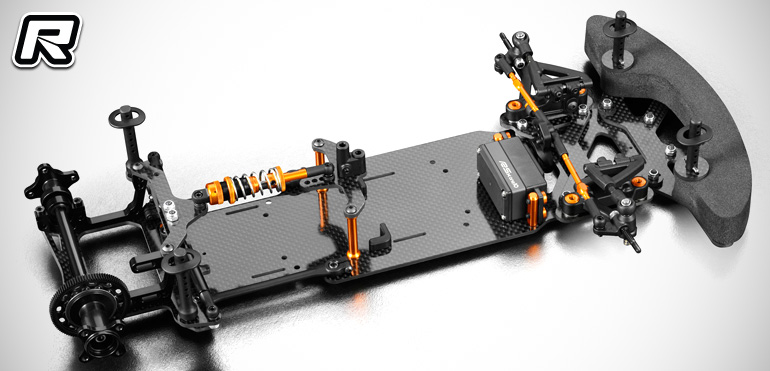 2018 specifications:
– All-new chassis features ultra-narrow design for improved steering characteristics, increased torsional stability and new two-position option for pod link mounting for in-corner steering adjustment
– All-new new rear suspension with all parts redesigned and updated
– All-new narrower Pod plate
– All-new rear aluminium bulkheads with new clamp system for ultra-low CG and new system for multiple motor mount mounting positions
– All-new ride height adjustment via shims and eccentric upper clamps
– All-new easier motor access
– All-new rear graphite rear brace significantly reduces tweak of the rear pod and lowers CG
– All-new narrower side tubes for improved handling and reducing the weight
– All-new narrower rear link brace for shorter side tubes
– All-new lower pivot brace with nut groove for tweak-free movement
– All-new super lightweight and lowered pivot ball for lower roll centre that stabilises the car
– All-new harder front upper arms for easier handling and smoother steering
– All-new harder front upper arm mounts for easier handling of the car
– All-new upper arm position adjustment shims
– All-new steering blocks with removed excess play to improve steering response
– All-new upper ball joints with removed excess play
– All-new centre shock position adjustment for steering characteristics setting
– All-new shock adaptor to extend the shock absorber
– All-new graphite plate for antenna holder
– All-new longer servo mounts to fit the mid-size servos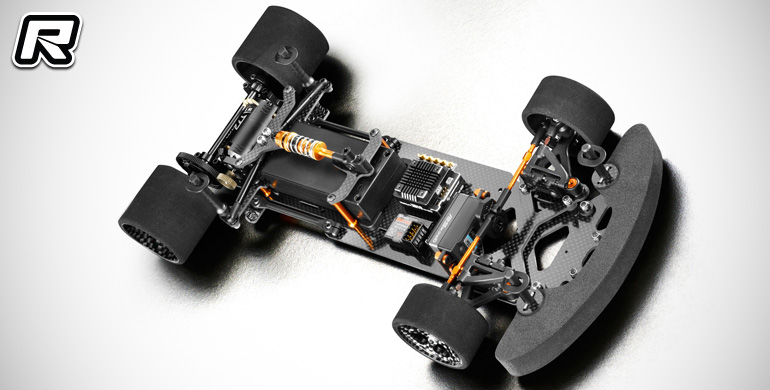 The full presentation of the car can be found here.
Source: Xray [teamxray.com]
---