September 12, 2017
The opening round of the Arrowmax Asia Race Cup China was held at the AMA Amazing Indoor Arena in Guangzhou, China. The world-class indoor facility provided an excellent location, free of any weather threats. The event attracted some of the fastest racers from the region that would battle for entries for the AARC grand finale and in the three classes of Touring Modified, 13.5T Touring Stock and 21.5T Formula – the latter two using control Dash-brand motors. The Modified Touring class featured a veteran vs. youngster classic, as 14-years old Lao Min Hou narrowly edged out Stick-King, one of the best known drivers from Hong Kong, to grab the TQ honours for the race.
However it was the veteran who draw first blood in the triple A-finals, winning the opening A-main with a one lap margin over local driver Li Jia Wei. Qualifying 4th, another youngster, Ma Hao Ran would take 3rd. For the second A-main, Lao would strike back again with a one lap margin over Stick-King as Li finished on a hard fought 3rd for the leg. All eyes were then on for the third final as it would be the decider between Lao and Stick-King. With the sound of a tone, the start went perfect for the front runners and Lao was leading with Stick-King in hot pursuit until a rare mistake from Stick-King ended his race early with a popped ball cup. With Lao having a commanding lead reaching the half-way point, attention was on the 2nd and 3rd place, with Li and Ma trading paint, it was Ma who prevailed as Li had to settle for 3rd. With the this result, Ma would also edge out Li in the tie breaker to occupy the final step on the podium.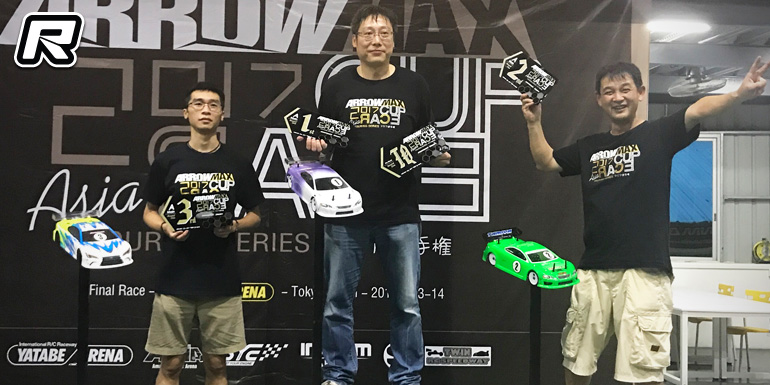 The 13.5T Touring Stock class proved to be a tight affair for all drivers involved. With Ali Lee, Shibasaki Mari and Jiu each taking a round of qualifier Ali grabbed the TQ honours in the tie-breaker. The triple finals were less dramatic however, with Lee winning the first two encounters and claiming the crown early. The fight for the overall runner-up spot was between Mari and Jiu, both having a 2nd place finish, and it was Mari who ended up on the overall 2nd place after taking the third main as Jiu had to settle for 3rd.
In the 21.5T Formula class, it was a dominant race for local driver Liu Jia Rong. Having taken the TQ spot early on, he would went on and win all three finals to take the day's win. Claiming two 2nd place finishes, Bin would end the event in 2nd place, with Stick King rounding out the podium.
Source: Arrowmax [arrowmax-rc.com]
---