September 7, 2017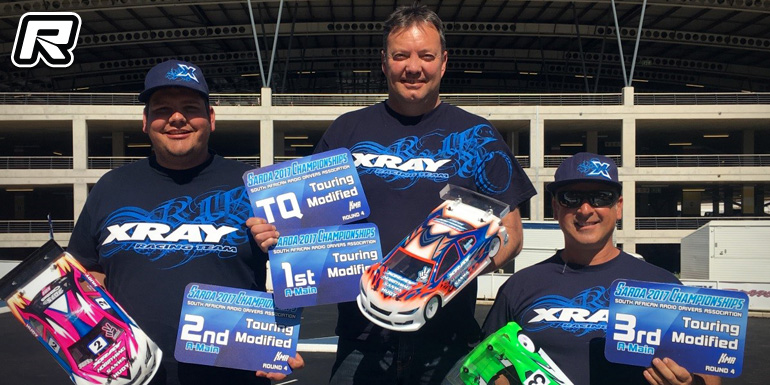 The fourth round of the 2017 South-African ORE national championship was hosted by the Krugersdorp Model Racers and held at the Key West Track. Controlled practice was held on Thursday and Friday with great spring weather and good track conditions ensuring a fast pace for all drivers. The 2002 IFMAR Worlds track had received a surface repair and all the contenders used the two months leading up to the event for good practice with club events, practice days and a pre-national event hosted at the track. The good preparation ensured that the event would be a demanding and a close affair.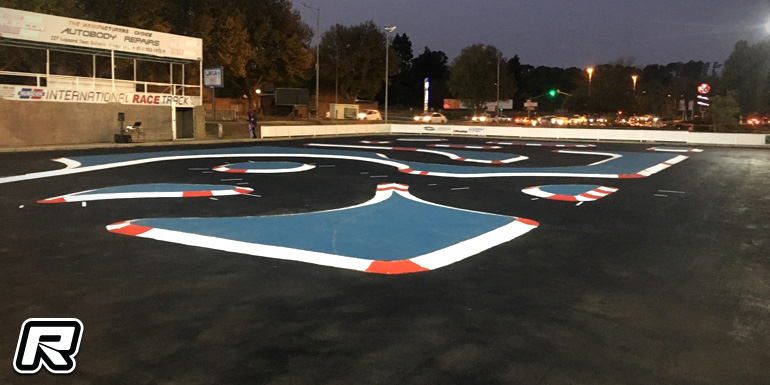 The Touring Modified drivers are really focussed on improving all the time with the 2018 IFMAR Worlds in South Africa on the horizon. It was clear from the events and practice leading up to the event that Anderton Smith and Hein Kotze were the drivers to beat for this nationals. The controlled practice showed however that the Liebenberg brothers, Jason Hillcoat, Antonio Caroli, Ashley Hurley, Willem Janse van Rensburg and Wouter Ferreira would also be there to compete for the podium. In Q1 Anderton Smith dominated with a good run to start his quest for overall TQ but a mistake in Q2 saw Hein Kotze taking TQ in that round. Anderton Smith recovered and had two great runs in Q3 and Q4 to secure the eventual TQ. It was Hein Kotze who secured the 2nd spot on the grid with Antonio Caroli starting from 3rd. In A1 Anderton Smith ran a strong race from the TQ spot to win and after Hein Kotze made a mistake Antonio Caroli and Jason Hillcoat finished 2nd and 3rd. In A2 Anderton made a mistake and fast Hein Kotze took a great win. In A3 Anderton Smith again showed his great pace by winning the final main followed by his team mates Hein Kotze and Antonio Caroli. The win for Anderton Smith and 2nd place for Hein Kotze resulted in Hein Kotze winning the national title for 2017.
Modified Touring final results:
1. Anderton Smith – Xray
2. Hein Kotze – Xray
3. Antonio Caroli – Xray
4. Jason Hillcoat – Tamiya
5. Jacques Liebenberg – Capricorn
6. Conrad Liebenberg – Capricorn
7. Ashley Hurley – Xray
8. Wouter Ferriera – Xray
9. Willem Janse van Rensburg – VBC Racing
10.Shaun Schutte – Xray
The Pro-Stock 13.5T Blinky class up for grabs with the 2017 champion Jonathan Wilken not racing. It was his brother Tyronne Wilken who had great practice sessions and qualifying runs who took the TQ spot. It was Gunther Cornelius who took the 2nd spot on the grid with Jean Wessels starting from 3rd. During the three finals John Fitzimmons and Christo Hitchins showed great pace but the front row drivers eventually finished as the started with Tyronne Wilken winning the event, Gunther Cornelius achieving second place and Jean Wessels completing the podium.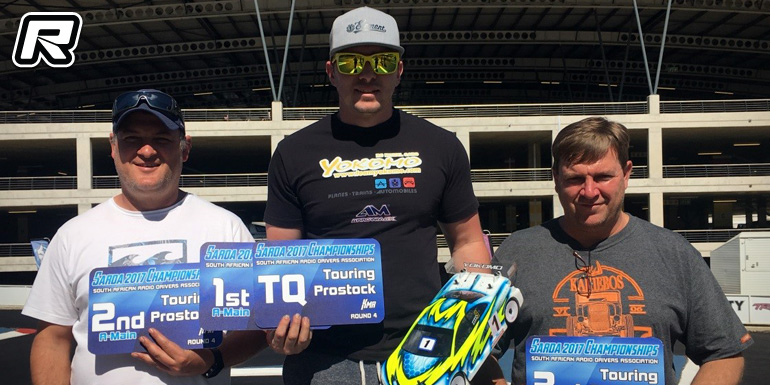 Pro-Stock 13.5T final results
1. Tyronne Wilken – Yokomo
2. Gunther Cornelius – Xray
3. Jean Wessels – Team Associated
4. John Fitzsimmons – Schumacher
5. Christo Hitchins – Xray
6. Hennie Viljoen – VBC Racing
7. Jared Rabe – Xray
8. Bianka Landman – Xray
9. Andre Esterhuizen – Xray
10.Lieb Liebenberg – Serpent
The Formula 21.5T championship is still a great contest for 2017 and the drivers had to work hard to get a good setup on the challenging track. Jonathan Wilken was leading the championship coming into the event but he was challenged strongly by his brother Tyronne Wilken and by his team mate Pedro de Gouveia. It was Pedro who drove consistent qualifying races to take the TQ with Jonathan Wilken starting form the second spot. Young Nico Kellerman also drove well and managed to qualify in P3. After great racing in the three mains Pedro managed to cap off a perfect weekend with a win with Jonathan clinging onto second place and Tyronne Wilken managed to take the last podium spot away from Nico Kellerman. The TQ and win for Pedro means that he and Jonathan are tied on points with one event remaining with Tyronne trailing by only 5 points.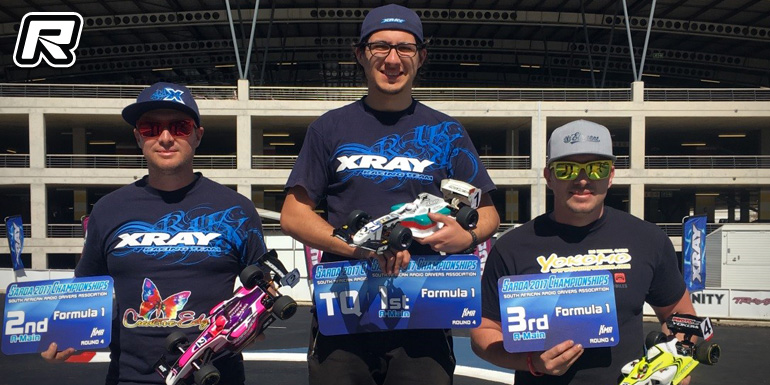 Formula final results:
1. Pedro de Gouveia – Xray
2. Jonathan Wilken – Xray
3. Tyronne Wilken – Yokomo
4. Nico Kellerman – Xray
5. Jared Rabe – Xray
6. Brett Ross – Xray
7. Wayde Solomon – Xray
8. Michael Rabe – Xray
9. John Fitzsimmons – VBC Racing
10.Tristan Joubert – Xray
In the 13.5T FWD class it was the young drivers who showed the way around the track with Nico Kellerman securing TQ and old dude Fanie Viljoen Sr and Paul van der Westhuizen securing P2 and P3 on the starting grid. Nico continued his good form to secure a great win. After some good racing down the field it was eventually Tristan Joubert and Sarel Pretorius who completed the podium.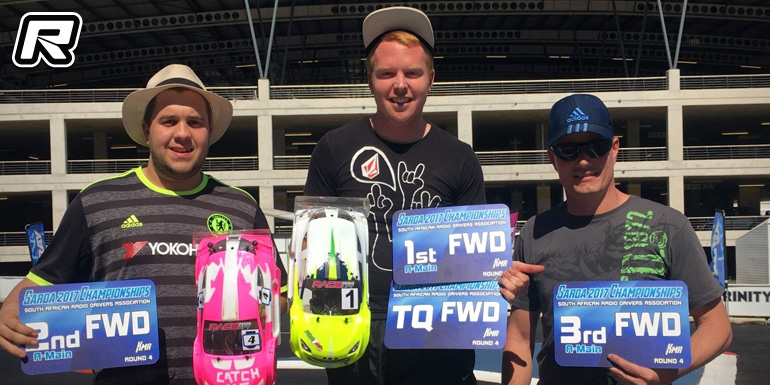 13.5 FWD Touring final results:
1. Nico Kellerman – MTS
2. Tristan Joubert – MTS
3. Sarel Pretorius – MTS
4. Fanie Viljoen Sr – VBC Racing
5. Paul van der Westhuizen – VBC Racing
6. Ben Kriegler – MTS
7. Christopher Dolphin – MTS
Source: Xray [teamxray.com]
---