September 21, 2017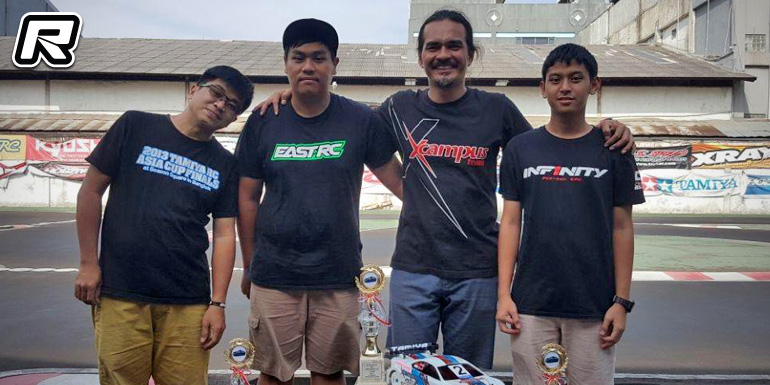 The second round of the SIS Challenge was held at Sunter International Speedway, Jakarta. Clear and hot weather pleased the racers all day and to the warm temperatures added low traction due to a dusty track which lead to tyre overheating for some drivers. The qualifying saw three drivers on top of the timing sheets. Q1 belonged to Muhammad Izzah and Q2 was lead by Bowie Ginting while Teddy Syach made it to the top in Q3. As all three were tie on points it was Bowie with the pole position due to a faster time with Syach and Izzah coming in 2nd and 3rd.
The main finals offered similar close racing. While Izzah took the win in A1, Bowie would wrap up the second A-main as Syach made a double 2nd place finish in both legs. This left the race for the win wide open in A3 and after a close battle till the end it was Syach with the win and also the overall victory from Izzah and Bowie.
Final results:
1. Teddy Syach – Tamiya/Hobbywing
2. Muhammad Izzah – Xray/Hobbywing
3. Bowie Ginting – Serpent/Hobbywing
4. Suwardi Suliandy – Xray/ORCA
5. Arya Seta – Serpent/Hobbywing
6. Peter Anthonijsz – VBC Racing/Hobbywing
7. Denny Pangestu – Xray/ORCA
8. Chandra Yose – Tamiya/LRP
9. Nico Gani – Xray/Hobbywing
10.Handoko Wijaksono – Tamiya/ORCA
Thanks to Bowie Ginting for the report.
---