October 24, 2017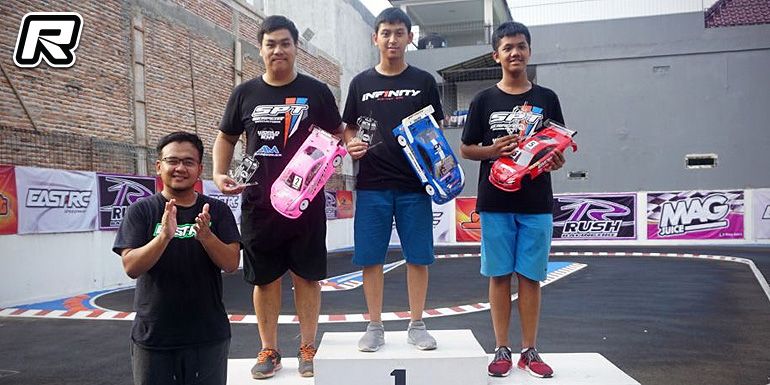 The final round of the Indonesian Electric On-road National Championship was held at East Speedway, Jakarta. The race attracted a total of 45 participants who battled for the national title. In the Touring Modified class it was Muhammad Izzah who secured the pole position after TQing Q2 and Q3 while Q1 belonged to Arya Seta. Bowie Ginting started from 2nd on the grid with Arya, Chandra Yosef and Christian Mamesah completed the top 5. The main final then was won by a calm Izzah who withstood high pressure to secure the overall win from Bowie and Christian.
Final results:
1. Muhammad Izzah – Xray/Hobbywing
2. Bowie Ginting – Serpent/Hobbywing
3. Christian Mamesah – Serpent/Hobbywing
4. Arya Seta – Destiny/Hobbywing
5. Martinus Ardo – Xray/Hobbywing
6. Suwardi Suliandy – Xray/ORCA
7. Handoko Wijaksono – Tamiya/ORCA
8. Chandra Yosef – Awesomatix/Hobbywing
9. Reynaldi Kriswanto – Tamiya/Hobbywing
10 Peter Anthonijsz – Awesomatix/Hobbywing
With his 2nd place, Bowie secured the 2017 National title, a clear 35 points ahead of vice-champion Izzah. Christian Mamesah would grab the 3rd place, 15 points behind.
Championship top 5 results:
1. Bowie Ginting
2. Muhammad Izzah
3. Christian Mamesah
4. Arya Seta
5. Chandra Yosef
Source: Serpent [serpent.com]
---