October 11, 2017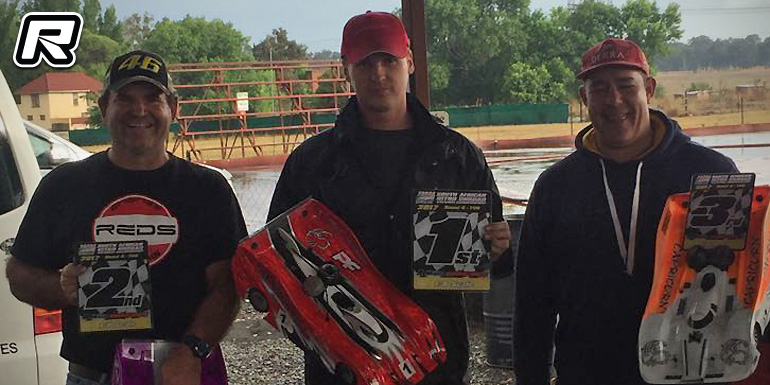 The opening day of practice on Thursday was pretty much washed away and even Friday looked questionable but by 9 a.m. the weather cleared and practice could start. On Saturday morning, after the AGM, everyone was keen to get the racing on the way after the rain delays. In the 1/8th class there was some stiff competition with 14 entries and the most competitive men known to this sport. Jacques Lieberberg took the top place in qualifying followed by Harold van Eeden in 2nd and Wayne Joelson in 3rd.
In the 200m touring class it was clear from the start that Conrad Liebenberg was going to dominate the qualifying, resulting in a TQ for the finals. He was followed by Rowan Bower in 2nd and Dave Wiseman in 3rd. Close racing ensued for the rest of positions. In the new GT 8 class Lieb Liebenberg had a great qualifying taking the top qualifying position in a close qualifying between him and Nico Venter in 2nd position and followed by Jacques Brits in 3rd.
Unfortunately the heavens opened again during heat 2 of 1/8th qualifying, and soon it was pretty obvious there would be no more racing possible on Saturday. The race director announced that the 2nd round of 1/8th would be run on Sunday morning, as well as a 3rd round of qualifying for all the classes. This was definitely one of the trickiest qualifying sessions and required patience and pure skill in the last round of the nationals, this definitely tested all the drivers' capabilities.
With heavy clouds threatening in the distance a decision was made to combine the 1/8th A and B finals into a single A-main – a decision that was later proven to be fully correct as the rain arrived precisely as the final ended. This was one of the most epic final gas racing to be seen in long time. The start of the final was incredible, with 14 cars screaming around the flowing TVR layout, every driver wringing the most out of their machines. Spectacular to watch, and mind-blowing for the drivers. The pace and the traffic meant some attrition was inevitable, with eventually only six cars finishing at the end of the race. Super smooth Jacques Liebenberg took the win after 45 minutes with a flawles seven lap victory over Arnold Vermaak in 2nd place. Arnold Vermaak himself had an amazing race with a 17 lap advantage over 3rd place, Errol Warner.
1/8th final results:
1. Jacques Liebenberg
2. Arnold Vermaak
3. Errol Warner
4. Elisio Esousa
5. Derrick Plank
6. Phillip Engall
7. Wayne Seyers
8. Francios Kotze
9. Wayne Joelson
10.Gert Botha
11.Steven Smit
12.Harold Van Eeden
13.Dave Wiseman
14.Pieter Plint
It was a big final for 200m with 11 Drivers in this leg. Conrad Liebenberg took the top position for the weekend dominating the class finishing three laps ahead of Dave Wiseman in 2nd position and six laps ahead of 3rd placed Jason Landsberg. There was just no stopping Conrad. It was a close race for 3rd and 4th with only a one lap separation 3rd to 6th position, it was a race to the end. Jason snatched 3rd from Rowan Bower in 4th, East London's Mathew Attree in 5th and Brent Alexander in 6th.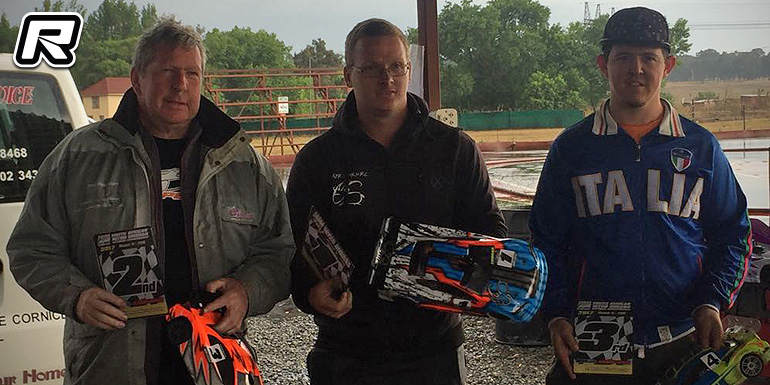 200mm final results:
1. Conrad Liebenberg
2. Dave Wiseman
3. Jason Landsberg
4. Rowan Bower
5. Mathew Attree
6. Brent Alexander
7. Michael Meyers
8. Bjorn Boogaard
9. Errol Warner
10.Tony George
11.Trevor Smith
Lieb Liebenberg and Jacques Brits had one heck of a final in GT8, with the lead changing constantly. The two racers battled it out to a nail-biting finish, with Lieb coming out on top. Wayne Breytenbach qualified last but steadily worked his way through the field to take 3rd place, and it was an impressive finish for newcomer Nico Badenhorst, who qualified 7th and finished a close 4th in his first ever National event.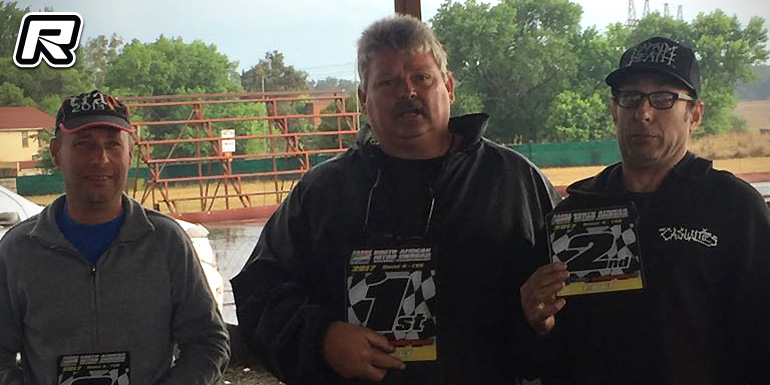 GT8 final results:
1. Lieb Liebenberg
2. Jacques Brits
3. Wayne Breytenbach
4. Nico Badenhorst
5. Peter Plint
6. Jakkie Landsberg
7. Rodney Sharman
8. Nico Venter
Thanks to Francois Kotze for the report.
---