October 24, 2017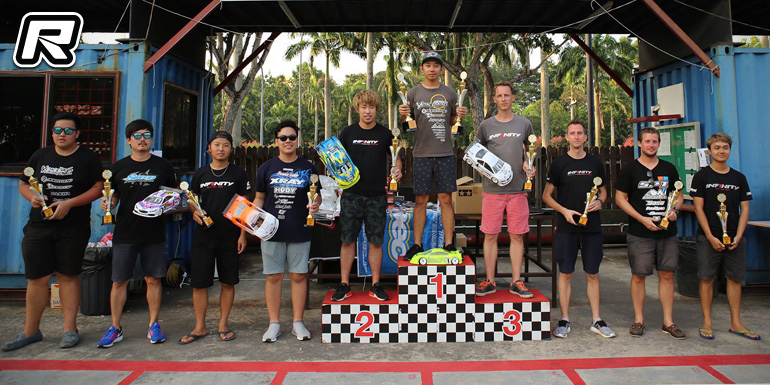 The 2017 Tamiya-Infinity-PRCA-Singapore Championship was held this past weekend. The event was held in the four classes of Touring Modified, Touring Boosted, Truck and Tamiya Mini and it attracted drivers from Japan, Korea, Malaysia and Sweden as well as local talent. The race was held on a pretty big nitro track and despite its size it made for some close racing. In the Touring Modified class it was Nicholas Lee who took the opening qualifier by 0.076 seconds from Akio Sobue and Nicholas also walked away with the TQ in the third qualifier, ahead of Akio Sobue and Naoto Matsukura, putting him in a good position for the overall TQ.
For the final qualifier on Sunday, that was expected to be slower than the previous runs, Nicholas choose to run used tyres and although he wasn't able to TQ, he took the overall TQ and the pole position for the main finals.
In the A-mains, Nicholas was under huge pressure from Naoto Matsukura but Nicholas was in control of things and would walk away with the win in A1. A2 however was a much rougher affair for the TQ holder as he and Naoto Matsukura, who tried to pass Nicholas, had a coming together on the straight and as a result both crashed and scored a DNF. The deciding A3 was a pretty intense affair but ultimately Nicholas could open a gap and bring home the win 1.5s ahead of Akio. With wins in A1 and A3 Nicholas Lee (Yokomo) would bring home the win from the Infinity duo of Akio Sobue and Jilles Groskamp. Dominic Quec finished 4th, Andy Moore rounded out the top 5.
Source: Yokomo [teamyokomo.com]
---