November 28, 2017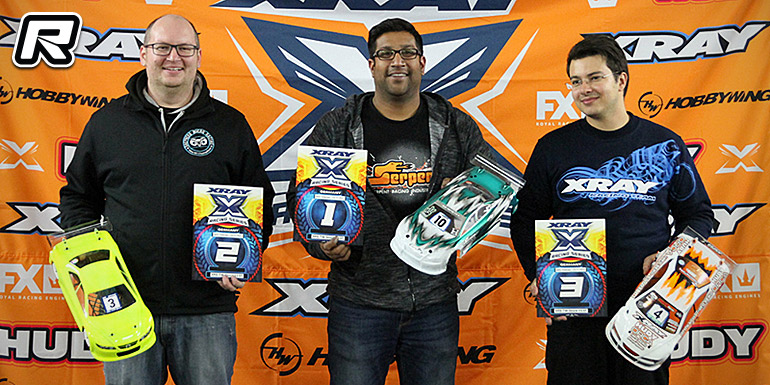 The challenging Eifel-Ring, the permanent indoor track of MAC Adenau located next to the famous Nurburgring, played host to round 2 of the Xray Racing Series Germany recently. It was already the third XRS appearance at the 111-metre indoor track during 2017. After some drivers already took the opportunity to practice on Friday, Saturday was full of action with nearly all drivers present and enjoying eleven hours of practice to fine-tune their car's set-ups during thousands of laps. Touring Car Stock with hand-out XRS 13.5T motors and mandatory Hudy C1 tyres was the most popular class of the event. The fight for the TQ has been tight and exciting. Finally, Majuran Tharmalingam took first spot with just a 0.4-second advantage over Melvin Diekmann in his best qualification heat over five minutes. René Puepke in his first attempt was another 0.2 seconds down to catch third spot in the grid. Tom Kraegefski brought placed 4th.
Completing 28 laps, Tharmalingam was one lap in front winning the first A-main ahead of Kraegefski. Puepke captured the 3rd position in front of Diekmann and Baldes. In the second A-main things went bad for some drivers in a first-lap collision, especially Tharmalingam dropping back from 1st to 8th. The victory went to Puepke, who left Kraegefski one lap behind. 17-year old Marc Stuebben was the lucky guy of the first-lap incident and captured 3rd spot which he brought home with a faultless run. The decision was left open for the third and final race. Tharmalingam took advantage from his TQ and kept Puepke behind for the whole race even he was following at his tail. With two wins Tharmalingam celebrated a brilliant overall victory on his home soil with Puepke, Kraegefski and Diekmann on second to fourth. Coming in 4th and 5th, Marc Stuebben was honoured as the best young driver and fellow racer Joerg Baldes as the best 40+ racer.
Touring Car Stock 13.5T final results:
1. Majuran Tharmalingam – Serpent
2. René Puepke – Awesomatix
3. Tom Kraegefski – Xray
4. Melvin Diekmann – Mugen
5. Marc Stuebben – Xray
6. Joerg Baldes – Xray
7. Tobias Hoefflin – Xray
8. Sven Soltau – Xray
Since about two years, the front-wheel driven cars are enjoying an impressive comeback not only in the Western region of Germany. With bodies from the World Rally Championship (WRC) like Ford Fiesta, VW Polo, Citroen and many more, the FWD racing takes everybody's shine because of their original look. Harald Schmittgen pushed his car to TQ with Ruediger Hepp coming in a surprising second with his self-made Xray T4, the only car with the motor mounted in the rear but with lots of extra weight on the front bumper to gain traction. In the finals, Harald Schmittgen (best 40+) was in a class of his own and took all three victories. While Ruediger Hepp struggled a bit in first and third final, he defended his 2nd starting position only in the second main to end up on third step of the podium. Raymond Libar from Luxembourg caught two second spots and was happy to make it to 2nd spot on the podium as well.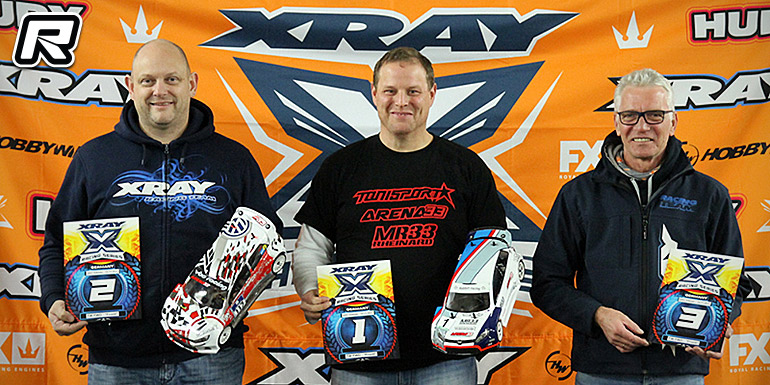 Touring Car FWD 13.5T final results:
1. Harald Schmittgen – VBC
2. Raymond Libar – VBC
3. Ruediger Hepp – XRAY
4. Bianca Schmittgen – VBC
5. Davide Carbone – Tamiya
The Formula class only attracted four participants. The TQ went to Davide Carbone. The Italian has a job at the Nurburgring and joined the hosting MAC Adenau. But in the three main races it was Jan Bohlen who made his way to three victories to catch the overall win in front of Davide Carbone (best 40+) and Daniel Schober.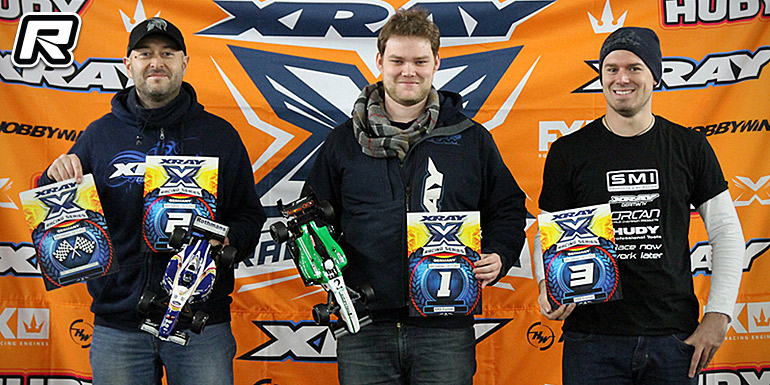 Formula 21.5T final results:
1. Jan Bohlen – Xray
2. Davide Carbone – Xray
3. Daniel Schober – Xray
4. Eric Champion-Rieger – Shepherd
Two years after the German Championship with about 70 competitors was held at the challenging Eifel-Ring with its original ETS carpet, the 1/12th class started into a new era as it was the first time with 13.5T motors which are now mandatory in Stock. The lap times have dropped by about half a second but obviously made 1/12 racing more exiting and tight. Bernd Wiesenberger was the man of the race, showing a perfect performance from qualifying to finals. He became the unbeaten overall winner and was the best 40+ driver as well. Michael Holla came quite close sometimes, not close enough to catch his fellow but enough to take second in qualifying and on the podium in front of Benjamin Kuester.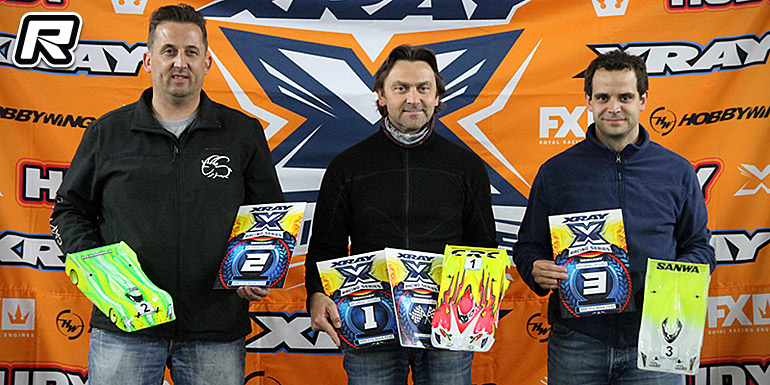 1/12 Stock 13.5T final results:
1. Bernd Wiesenberger – CRC
2. Michael Holla – CRC
3. Benjamin Kuesters – Xray
4. Alexander Seitter – Xray
5. Alain Levy – Xray
The Xray Racing Series is a kind of a promotion tour for the 1/12 pan cars with their sleek GT bodies and reduced power from 17.5T motors. It seems to be the start of an attractive entry in the world of 1/12 pan cars, controllable also for newbies. At the second showing of the 1/12 GT cars Tobias Schuster pushed his car to pole position and two wins in the finals. He was given a hard time by fellow racer, Daniel Schober who finished 2nd twice and took a victory in the third final. The 3rd spot on the podium went to Bertram Kessler (best 40+).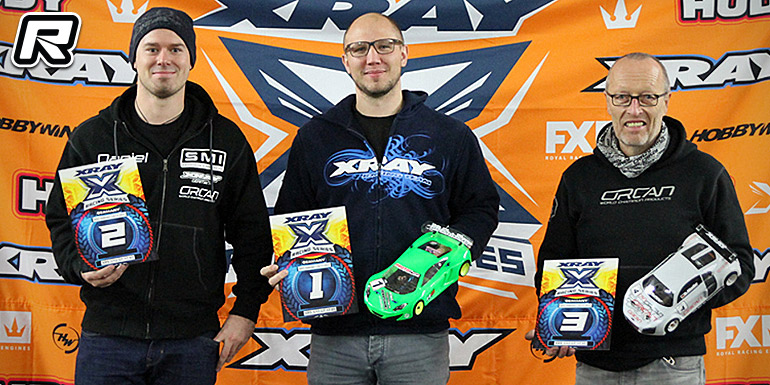 1/12 GT 17.5T final results:
1. Tobias Schuster – Xray
2. Daniel Schober – Xray
3. Bertram Kessler – Xray
Source: Xray [teamxray.com]
---