December 20, 2017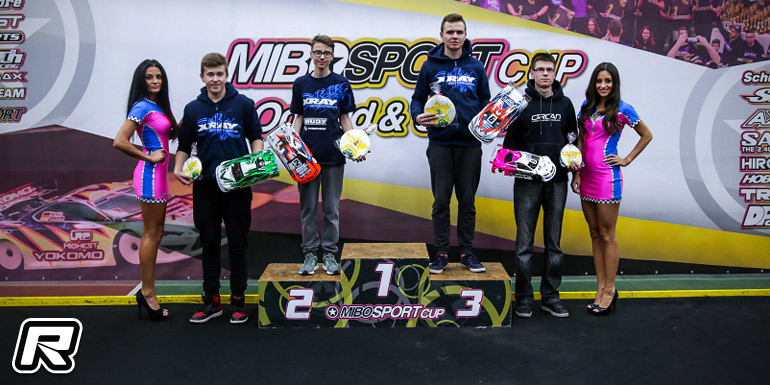 The third round of the Mibosport Cup was held at its traditional location, a sports hall in the small town of Hrotovice in the Czech Republic. Taking place the weekend before Christmas added to a holiday atmosphere and everybody seemed to enjoy themselves, as racers could be found wearing Santa's caps and under the smell of brake cleaner was a nice touch of vanilla coming from sweets in little boxes. And even though the holidays are around the corner, the race again counted 230 entries, showing the series has place in everybody's calendar despite it being Christmas time. The event kicked off with free practice on Friday and the majority of racers used the opportunity to fine-tune their gear. Especially the Formula class was a nice surprise, attracting 35 drivers.
In the premier Touring Modified class, Zdeno Kunak scored wins in A1 and A2 and put himself on the top of the fastest 4WD on-road class. Oliver Havranek brought home a 2nd place while the final podium spot was heavily fought for. Jirka Vysin, starting from 6th position, had the race luck on his side and scored the final podium spot. Matej Sulc struggling with technical issues, eventually finishing 4th and Jakub Rozycki was completed the top 5 results.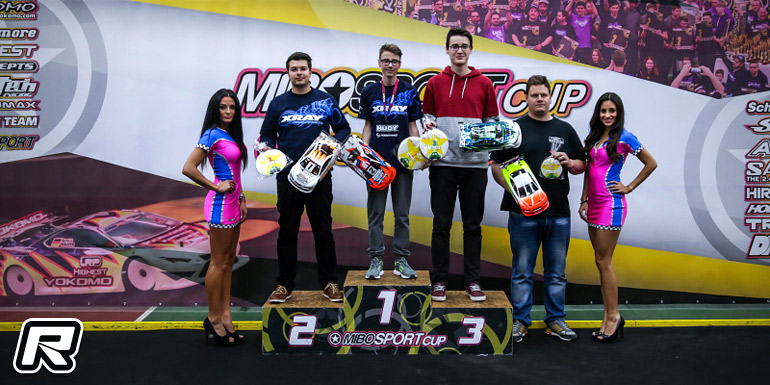 In Touring Stock Oliver Havranek and Tom Krägefski showed some nice battled, with both of them winning one A-main each going into the final encounter. Oliver got by Tom in the opening stages of the leg and led by 0.3 seconds in front of Tom. Tom was increasing the pressure and finally in the final two corners he took a look in front of Oli. Fortunately for the young Slovakian talent, Tom's last corner was far away from the racing line and he could take back the lead. Tom finished 2nd overall and Alexander Mayer completed the podium. After some bad luck Zdeno Kunak put himself in 4th place and Erik Pauling finished 5th.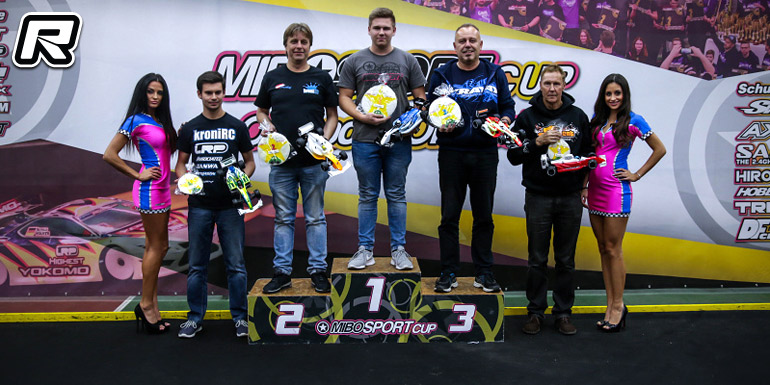 The Formula class offered lot of nice moments, tight competition and thrilling fights for the victory. Lukas Hoch found himself in the TQ spot after the qualifications. Fortunately for him, the opening A-main was smooth sailing for him. But in the second leg he was defeated by Thomas Dvorszky so the final A-main would decide. Lukas did very well there. Thomas had to stay in the 2nd position and Herbert Weber, who was the only one with the same pace as the leading couple. finished 3rd. Andreas Stiebler took 4th and the 5th place came to Wolfgang Reichel.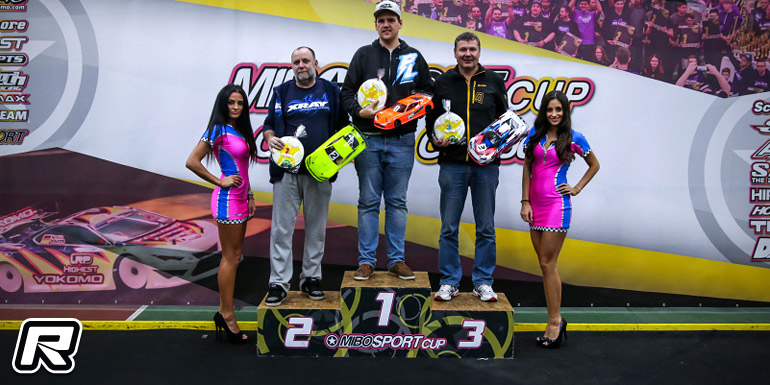 In 1/10 GT Michael Klausner looked like a strong candidate for the win. Having a strong pace in previous rounds it was easy to see things from this point of view. And this race changed nothing. He was showing his car's back during the whole race and took home another victory. Igor Liptak, the experienced racer from Slovakia, brought home the runner-up spot and Miroslav Jurenka finished 3rd.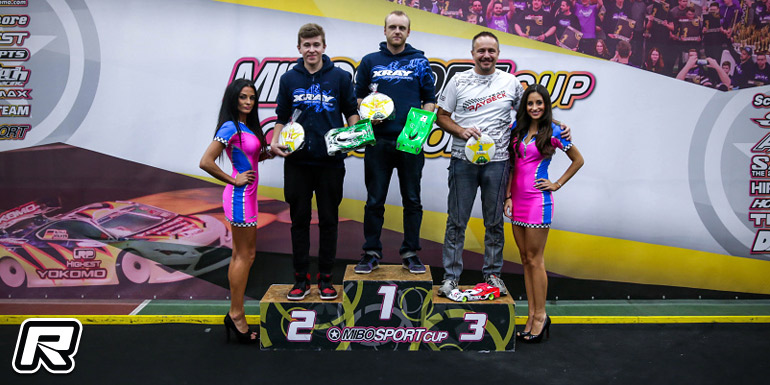 In 1/12th scale, Tomas Liptak left all competitors far behind and ensured another victory. Matej Sulc came in 2nd and Jirka Rybak completed the top 3.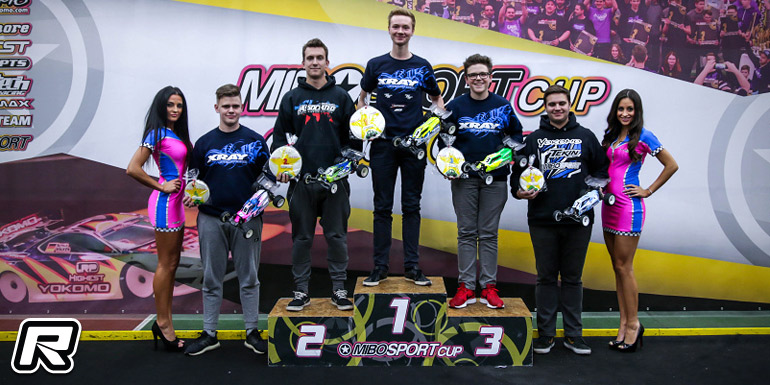 In 2WD Modified Buggy Kaja Novotny was a bit of a pre-event favourite and he would prove everybody right. Ales Bidovsky came in and and Max Götzl finished 3rd in front of Adam Iszay and Peter Loncsar.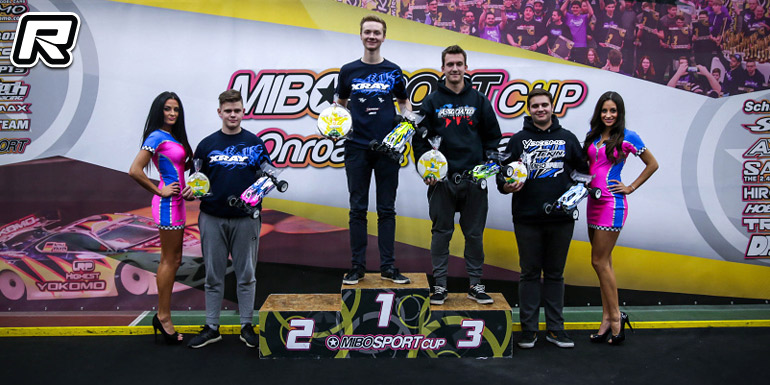 4WD Modified Buggy again had Kaja scoring the win. But this time it was not that easy. Daniel Kobbevik won the first leg and everybody expected some tight races in A2 and A3. However ultimately Kaja stayed calm and brought home another victory. Daniel Kobbevik had to settle for 2nd and Ales Bidovsky put himself on the 3rd spot. Adam Iszay took another 4th place and Peter Loncsar was his mate in 5th again.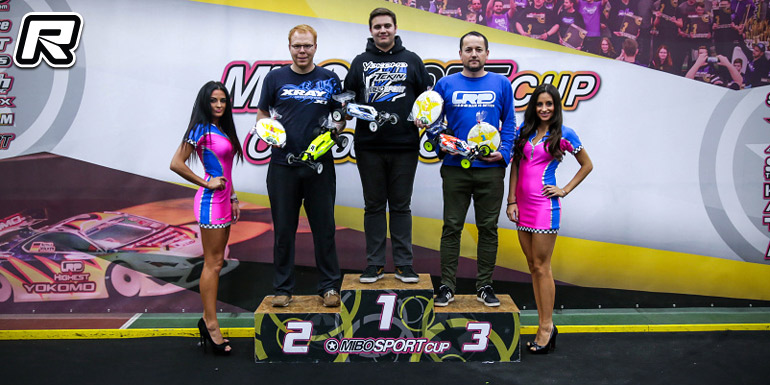 In 2WD Stock Buggy Peter Loncsar completed his golden "hattrick" in this power-limited class by scoring three consecutive victories in the series. Ales Horak satisfied himself with a 2nd place and Pepa Vich finished in 3rd.
Source: Mibosport [mibosport.com]
---