February 5, 2018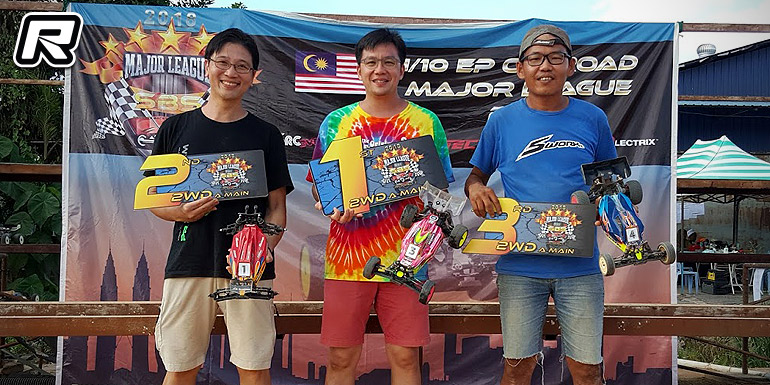 Round 1 of the SBS 1/10th Electric Off-road Major League was held at Syahmi's Backyard Speedway in Sungai Buloh, Selangor, Malaysia over the weekend. The excellent weather made for very good racing conditions and a total of 39 racers that attended the three classes of Open 2WD Buggy, Open 4WD Buggy and Open 4WD Short Course. 2WD Open Buggy, which recently saw an increase in racers, was as competitive as any other racing class. Mark Lim from Singapore took Q1 with 10 laps 5m 7.18s while Kum Yew, also of Singapore, bagged Q2 and Q3. However his time was not an improvement over Mark's, handing him the TQ spot. WK Foong completed the top 3 qualifiers on the grid.
4WD Short Course Trucks had only 5 racers, but the race saw a fierce battle for the final grid positions. All 5 drivers are very experienced racers who provided spectators with 3 qualifying rounds of pure entertainment. Boy Hazlyne grabbed the TQ with the 2nd spot going to Ramesh followed by Shem in 3rd.
4WD Open buggy was the most competitive category with 23 racers fighting for top spot. Shem, driving an SWorkz, took Q1 with 12 laps 5m 23.29s. Kent grabbed Q2 with 12 laps 5m 25.51s with his Tekno EB410. However, Q3 will be the round to produce all top 3 qualifiers. Mizan drove his Serpent with a very clean 12 laps 5m 14.77s to snatch TQ with Bashir making the 2nd place on the grid with his Xray. Hakeem completed 3rd on the grid driving an SWorkz buggy.
It is somewhat of a challenge to drive 2WD buggies on this outdoor dirt track but that did not stop anyone from putting up a good fight for the overall win. Foong drove a good race to secure A1 with Kum Yew in 2nd and Cynthia Lye in 3rd. In A2, Mark Lim led from start to finish for his first win. Sim took 2nd with Foong trailing in 3rd. It would now all boil down to what happens in A3. Both Foong and Mark were leading the pack, swapping the lead every time any one of them makes a mistake. In the end it was Foong who triumphed and grabbed the win, securing the overall 1st place for 2WD. Mark Lim had to settle for 2nd and the surprise 3rd place went to Sim.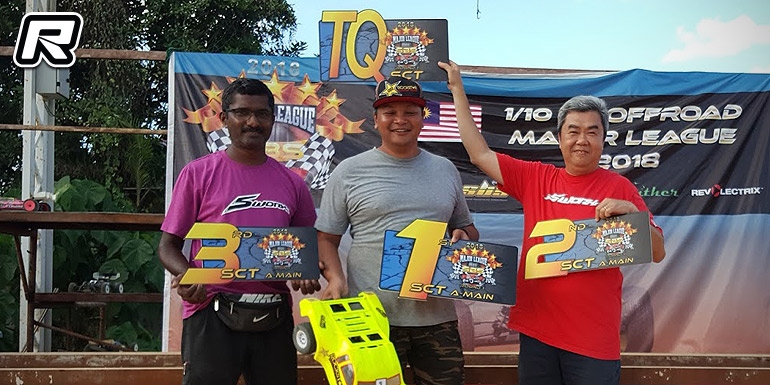 As expected, the Short Course finals were going to be more entertaining than the qualifiers as Boy Hazlyne was going to be the driver to beat. Veteran racer Shem starting from 3rd on the grid gave chase and stole A1 from Boy, who had to settle for 3rd as 2nd went to Ramesh. Boy, an experienced and former winner of several on-road races kept his cool and managed to get his first win in A2. Like in 2WD, A3 would be the deciding race. Again, Boy kept his head straight and managed to avoid everyone who was after him for the win. He won A3 with a slim margin of 0.5 seconds from 2nd place Ramesh. The overall result was Boy in 1st place, Shem in 2nd and Ramesh for 3rd.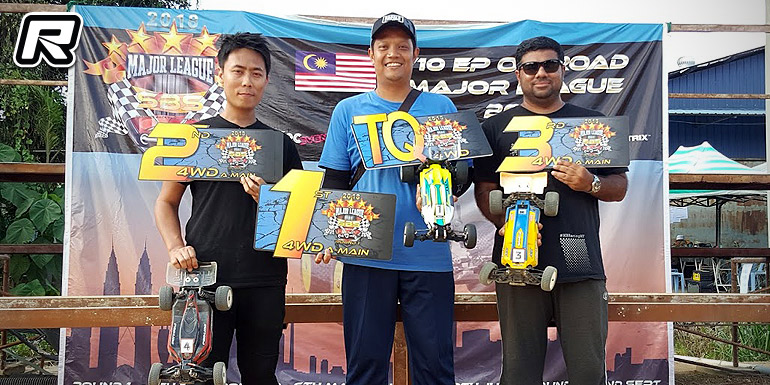 The 4WD Buggy finals were the races everyone was waiting for. In A1, Mizan was in complete control without much drama. He took A1 with a comfortable 1-lap ahead of Bashir. Mizan drove his Serpent with another clean run in A2 to secure his overall win in 4WD buggy. After A3, the overall result was Mizan, Hakeem and Bashir for 1st, 2nd and 3rd place respectively.
Source: AKRC Racing [akrcracing.blogspot.com]
http://akrcracing.blogspot.de/2018/02/sbs-110-ep-off-road-major-league-round.html
---