April 9, 2018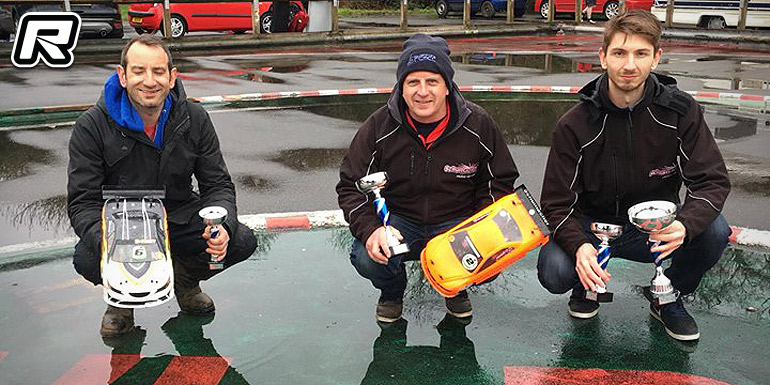 The first round of the 2018 BRCA Clubman Championship took place at West London on this past Sunday. After the previous days dry practice session drivers were greeted by a wet track for race day so the Shimizu rain tyres were the order of the day for the TC classes instead of the new Sweep control tyre TC has this year. A new grooved Sweep rain tyre for the Formula cars was introduced this year which proved to be a great improvement on the previous year's slicks in the wet. With one round of practice completed for people to test how waterproofed or not their cars were and to acclimatise to the conditions round by round qualifying got under way. The 13.5 Open class was a challenge in the very wet conditions all day long with quite a few drivers turning the boost and turbos off and running in Blinky mode for the day to try and increase the traction. Aaron Rose took the top honours in round 1 from Andrew Robson and Daniel Moorey. Round 2 and it was Andrew Robson at the top from Aaron and third was Chris Lovley. Round 3 and it was Dominic Carters turn at the top followed by that busy man running 2 classes Damian Giddins and Stuart Rand finally finding some pace to finish third. The last round and Aaron made it two wins from four to take a fine TQ. A 2nd for Dominic and a 3rd for Andrew left us with the top ten looking like this:
13.5T Boosted qualifying top 10:
1. Aaron Rose
2. Andrew Robson
3. Dominic Carter
4. Damian Giddins
5. Stuart Rand
6. Jamie Vassallo
7. Jack Ioannou
8. Dean Johnson
9. Ashley Wiffen
10.Chris Lovely
Aaron lead the field away in leg 1 and was looking good for the win until lap 4 which gave Andrew the chance he needed and he made the most of it to take the win away from Aaron and kept the 3 second lead to the finish line with Aaron finishing second and Jamie Vassallo moving his way through the field to take third place. So everyone was set for some great action in leg 2 with Aaron still favourite for the win. A slow first lap for Aaron gave Andrew the chance he needed which he took and moved into the lead in A2. Meanwhile Dominic was making progress this time around after suffering electrical problems in leg 1 and by the end of the race was catching Andrew with Aaron close behind. Dominic put in some fast laps to close the gap to Andrew but in the end it was not to be as Andrew took the win by just over a second from Dominic with a hard chasing Aaron behind by another 3 seconds.
13.5T Boosted final results:
1. Andrew Robson
2. Aaron Rose
3. Jamie Vassallo
4. Dominic Carter
5. Dean Johnson
6. Damian Giddins
7. Jack Ioannou
8. Ashley Wiffen
9. Chris Lovely
10.Stuart Rand
17.5 Blinky was a very close fought class with the varying conditions. Round 1 was where the track had the least amount of grip which saw Billy Fletcher take advantage of this and take the round win from Richard Palmer with Mark Trinder. Round 2 and the rain started to fall heavier and this time it was Spencer Jones's turn at the top with Dave Ringsell 2nd and Joe Jenyavanija 3rd. Round 3 and no sign of the rain stopping and there were lots of cars retiring throughout the day which was giving everyone a fighting chance of a good qualifying position. This time it was Jay Westwood's turn at the top of the time sheets, then Damian Tigwell and Ben Palmer. The final round and it was do or die for a lot of drivers to make the A-final and Gareth Hollis had an exceptional run to the top spot closely followed by Andrew Walters and Mark Trinder.
17.5T Blinky qualifying top 10:
1. Billy Fletcher
2. Gareth Hollis
3. Damian Tigwell
4. Mark Trinder
5. Richard Palmer
6. Dave Ringsell
7. Andrew Walters
8. Darren tickner
9. Ross Dilanda
10.Mark Young
Billy Fletcher took his time to get his car working to his liking but hooked it up in the first final to come home over 8 seconds in front of Mark Trinder who was having a race long battle with Gareth Hollis but they finished in that order. In leg 2 Billy lead the field away again but on lap 5 rolled into the first corner due to the every increasing width of the lake at turn 1 but by the end of the final he had fought his way back to first to take the over all win and TQ for a perfect weekends racing. Gareth Hollis came home 2nd completing his best ever meeting and Andrew Walters finished 3rd from 7th on the grid.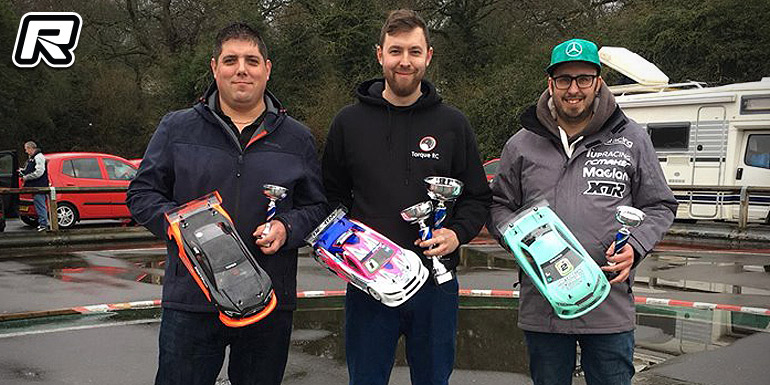 17.5T Blinky final results:
1. Billy Fletcher
2. Gareth Hollis
3. Mark Trinder
4. Richard Palmer
5. Andrew Walters
6. Damian Tigwell
7. Dave Ringsell
8. Mark Young
9. Darren Tickner
10.Ross Dilanda
The Formula National Championship is run alongside the Clubman's meeting and all the drivers this year have new tyres to play with for the wet conditions. In previous years slicks were the only tyres allowed for wet or dry weather racing so the new Sweep grooved tyres were most appreciated for this weekends torrential conditions. The drivers were enjoying having huge grip for a change and some of the cars were driving straight through puddles even the TC driver were avoiding. Ben Cosgrove showed everyone the way in round one ahead of James Greener and Luke Lee. Round 2 and WLRC's very own Damian Giddins took the top spot with Ben and Luke close behind. Round 3 and Ben was back to the top of the time sheets taking another win and securing TQ with Luke and Damian battling it out for the 2nd place on the grid which would go down to the last round. Ben took another top spot with Luke 2nd and Lee Owen putting in a good run for 3rd.
Formula qualifying top 10:
1. Ben Cosgrove
2. Damian Giddins
3. Luke Lee
4. James Greener
5. Owen Lee
6. Stephen Lander
7. James Millbank
8. James Wright
9. Javier Jimenez
10.Jak Sansom
In Leg 1 Ben lead the field away with Damian chasing him down when on lap 2 disaster stuck for Damian as water finally put an end to a great days racing for him and he had to retire with a waterlogged car. This gave Luke the chance to try and catch Ben but had to settle for second in the end followed by a hard chasing Stephen Lander from 6th on the grid he moved through the field to finish less than a second behind Luke. Things were hotting up for the second final but not weather wise as the rain was getting worse. Leg 2 saw two non-starters due to electrical failures. Ben lead the field away again from pole position and he had a flag to flag final leg to take the win finishing 2 seconds in front of Luke. Lee Owen made the best of his 5th place grid position and worked his way up to 3rd by the end of what has to be the wettest ever F1 A finals in history with some very committed moves and racing and it was nice to see the drivers still smiling at the end of the day.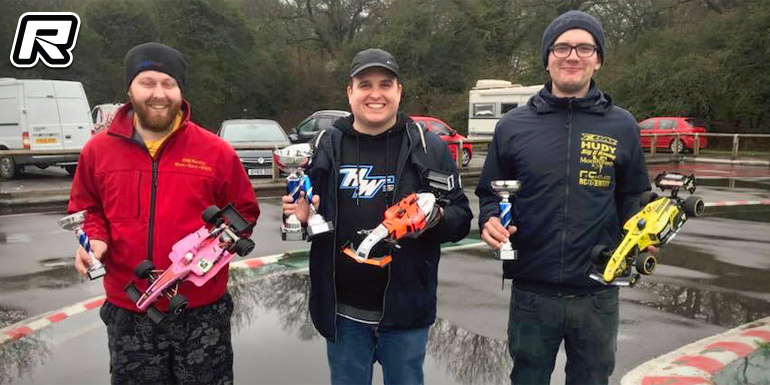 Formula final results:
1. Ben Cosgrove
2. Luke Lee
3. Lee Owen
4. Stephen Lander
5. James Millbank
6. James Greener
7. James Millbank
8. Jak Sansom
9. Damian Giddins
10.Javier Jimenez
The next round in May sees the drivers traveling to the most Southern track on the calendar near Brighton the Adur Model Car Club.
Source: BRCA [brca.org]
---