April 30, 2018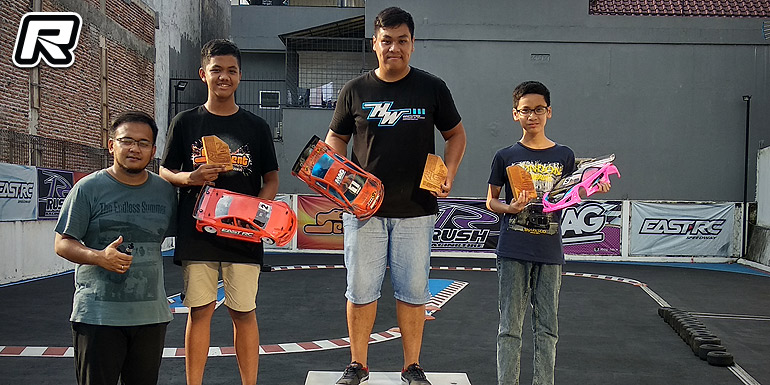 The second round of the East Touring Series was held at East RC Speedway, Jakarta this past weekend, attracting a total of 30 racers to compete in the Open Brushless 13.5 class. It was Bowie Ginting who secured the pole with a 1.5 seconds margin ahead of Christian Mamesah and Arya Seta, all of them scoring 18 laps.  Muhammad Izzah and Ridhwan Suteja came in 4th and 5th respectively with 17 laps. Leg 1 was full of drama with both Bowie and Christian failing to finish due to mechanical issues, handing Ridhwan Suteja the win by quite a margin. With Bowie securing leg 2 and 3 of the A-mains it was the Yokomo driver with the overall win from two-times P2 finisher, Christian, as Ridhwan completed the podium result.
Final results:
1. Bowie Ginting – Yokomo/Hobbywing
2. Christian Mamesah – Serpent/Hobbywing
3. Ridhwan Suteja – Xray/ORCA
4. Arya Seta – Yokomo/Hobbywing
5. Muhammad Izzah – Xray/Hobbywing
6. Peter Anthonijsz – Xray/Hobbywing
7. Teddy Syach – Tamiya/Hobbywing
8. Chandra Yosef – Awesomatix/Hobbywing
9. Hidetaki Hyde – Infinity/Hobbywing
10. Martinus Ardo – Xray/Hobbywing
Thanks to Bowie Ginting for the report.
---