May 17, 2018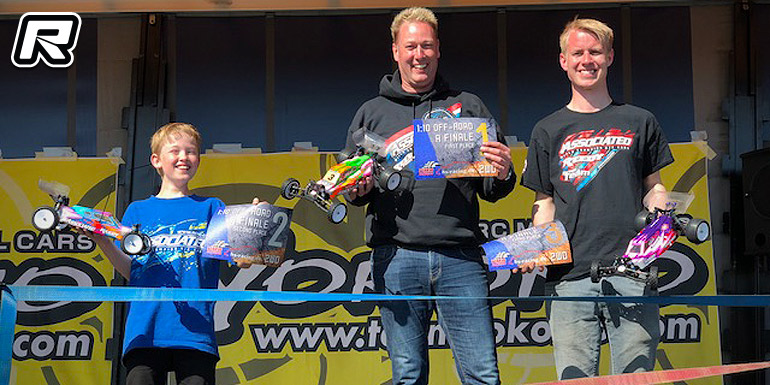 The opening round of the Danish 1/10th Electric Off-road Nationals was held in Kolding recently. The hosting club had an arrangement with a motorsports festival to build a temporary track on the site, ensuring massive impact to the thousands of spectators. It made for a special atmosphere, although in all honesty the electric-powered cars had a hard time competing with the attention the real cars drew and the noise and dust from the full-size vehicles was a bit distracting at times. The purpose-built track offered loads of grip, however it was also a bit bumpy so everyone was after the best in terms of setup and tyres.
Racing-wise it was the usual suspects of Jesper Rasmussen (Team Associated) and Frederik Hougaard (Yokomo) that were fast from the get go, so the rest was playing catch up. In the Stock class, Alexander Larsen (Team Associated) was on fire, and never looked back from practice to the mains. The Truck class was dominated by Kim Boelslund with his Team Associated truck although he came under pressure in the last few mains.
The major surprise in 2WD came from 10-years old Marcus (Team Associated), member of the RC Kongen club, who had been nowhere in practice. After some setup tweaks and fitting a softer 8.5T motor, he took TQ in the last two rounds of qualifying avoiding to crash and setting some of the fastest laps of the event. Jesper Rasmussen would line up 2nd with teammate and veteran racer, Jonas Kaerup (Team Associated) in 3rd. Local racer Frederik Hougaard had been looking fast in practice, but had to settle for 4th after a few mistakes.
The 2WD mains were all about being consistent and not crash. Exciting finals put on a great show for the public, Marcus almost getting the win, but a mistake in the third main put paid to that. Jonas Kaerup came out of the smoke and with a win and two second places took the overall win in 2WD. Jesper Rasmussen finished 3rd right on Marcus' heels.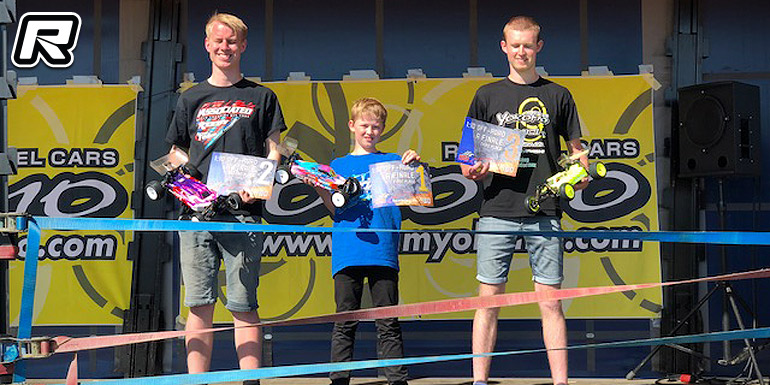 In 4WD Jesper Rasmussen (Team Associated) TQ'ed two rounds and was overall fastest. Local man Frederik Hougaard was right on his heels with his Yokomo, and a big surprise was young Lasse Bak who took his Yokomo up to 3rd in qualifying. Marcus Kaerup was fast and finished 2nd in one round but had to settle for 5th for the mains. On a difficult track with many battles and difficult to drive cars, 10-years Marcus (Team Associated) came from behind and won two mains and took his first 4WD championship round win. Jesper Rasmussen finished 2nd and Frederik Hougaard (Yokomo) finished 3rd.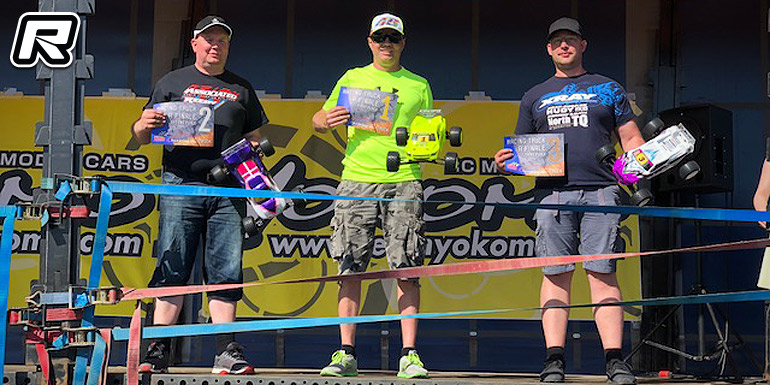 8.5T Truck was won by Kim Boelslund (Team Associated) in front of Ulrich Rasmussen (Team Associated) finished 2nd and a late charge by Kim Kristensen and his Xray truck won him 3rd overall. Stock was won by Alexander Larsen from Daniel Genz and Erik Pedersen.
Thanks to Kim Bendiksen/RC Kongen for the report.
---