June 8, 2018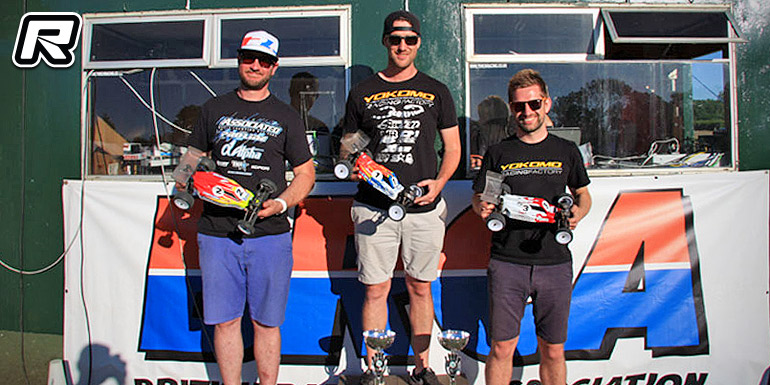 The BRCA 1/10th Off-Road National Series made its way down south for round 3 last weekend, at the TORCH Model Car Club in Titchfield, near Southampton. As with the previous rounds, a full entry of 120 drivers was present over the two days of 2WD and 4WD competition, with blue skies and high temperatures setting the scene for some fast paced action on the astroturf track. On Saturday's 2WD portion of the event and despite the warm weather, traction was in relatively short supply during practice as many drivers struggled to find consistency on the challenging layout. No such issues however for Yokomo's Lee Martin. Always tough to beat at the TORCH facility, Martin would set the pace in all four qualifiers to claim the bonus TQ point early. Championship rival and defending National Champion Neil Cragg would put his Associated 2nd on the grid with Martin's team mate Tom Cockerill rounding out the top 3, though Martin's gap over the field looked ominous.
2WD Buggy qualifying top 10:
1. Lee Martin
2. Neil Cragg
3. Tom Cockerill
4. Elliott Boots
5. Craig Collinson
6. Danny McGee
7. Ben Pugh
8. Simon Moss
9. Ellis Stafford
10.Tom Yardy
Leg 1 would see Martin and Cragg get off to a clean start, but in his efforts to keep pace with the leader, Cragg would make an error on lap 3, giving Martin the gap he needed to control the pace out front and win the leg by some 5 seconds. Cragg would come home 2nd ahead of Cockerill. Leg 2 would be decided within the first lap as Cragg got out of shape and gave Martin the chance to cap a dominant display with another perfect drive. Cragg would hold on in an entertaining battle with Cockerill to take 2nd while Cockerill would survive a last lap error to repeat the top 3 from leg 1. With the win secured, Martin could relax in leg 3 and despite a rare error, would complete a perfect sweep of all qualifiers and finals. Cockerill would take 2nd in the final leg, but there would be no Yokomo 1-2 as Cragg's pair of 2nd place finishes from the first 2 legs would secure 2nd overall as Cockerill completed the podium.
2WD Buggy final results:
1. Lee Martin
2. Neil Cragg
3. Tom Cockerill
4. Craig Collinson
5. Danny McGee
6. Tom Yardy
7. Elliott Boots
8. Ellis Stafford
9. Ben Pugh
10.Simon Moss
A new layout greeted the drivers on Sunday morning for the 4WD event, but would there be a familiar outcome? Not if Neil Cragg had anything to do with it. The Associated man was in no mood to watch Martin complete a sweep of the full weekend and took the first round of qualifying. Martin would take 2nd ahead of Cockerill with Paul Crompton making it 3 Yokomo chassis in the Top 4. These 4 had a clear edge over the rest of the field which would continue throughout qualifying. Martin would regain the initiative after a close battle in Round 2 to top the times just under a second clear of Cragg, with Cockerill again in 3rd as the Yokomo team began to gather more pace. Martin would go on to TQ the remaining qualifiers and take his 2nd TQ of the weekend, ahead of Cragg, Cockerill, Crompton and Schumacher's Tom Yardy who was best of the rest.
4WD Buggy qualifying top 10:
1. Lee Martin
2. Neil Cragg
3. Tom Cockerill
4. Paul Crompton
5. Tom Yardy
6. Richard Barton
7. Danny McGee
8. Elliott Boots
9. Craig Collinson
10.Greg Williams
Leg 1 would see a rare error from Martin who would need marshalling for one of the few occasions throughout the whole weekend and therefore tumble down the order. Cragg took full advantage to take the win, while Cockerill and Crompton battled it out for 2nd place. Crompton would make what would prove to be an important pass on the last lap to claim 2nd ahead of Cockerill, Yardy would get 4th ahead of the recovering Martin in 5th. In leg 2, Martin was determined to not repeat the error of Leg 1 and kept things very neat and precise out front despite plenty of pressure from Cragg who could smell a victory. The front 2 would pull away from the field after an error from Cockerill would see him fall down to 5th. Cragg kept the pressure on until the half way mark when an error at the end of the main straight would settle the race in Martin's favour. Cragg would claim 2nd while Tom Yardy would benefit from a late race error from Crompton to claim 3rd. The scene was set for another showdown between 2 of Britain's finest racers, and they didn't disappoint. In leg 3, a great battle ensued as Cragg tried everything to prevent a double win for Martin, but an error 3 laps from home from the Associated man would let Lee cruise round the final 3 laps to record his 2nd maximum points haul of the 4WD campaign and 2nd win of the weekend. Cragg would take 2nd while Crompton's 2nd and 4th place scores would see him take the final podium place.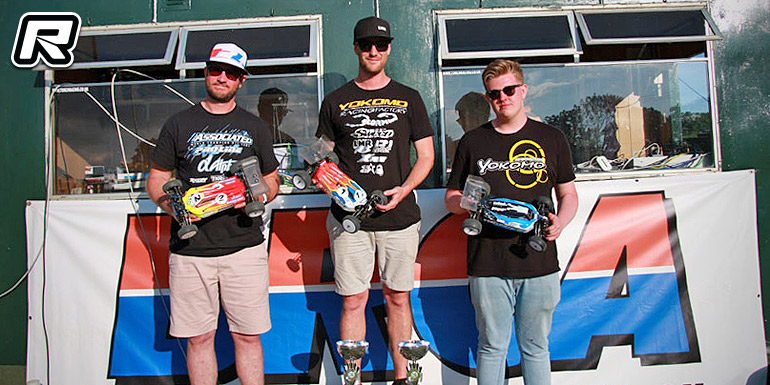 4WD Buggy final results:
1. Lee Martin
2. Neil Cragg
3. Paul Crompton
4. Tom Cockerill
5. Tom Yardy
6. Craig Collinson
7. Richard Barton
8. Elliott Boots
9. Greg Williams
10.Danny McGee
The series moves on to Broxtowe in Nottinghamshire in three weeks' time, where the battle for the title is sure to take another twist.
Source: BRCA [brca.org]
---