June 5, 2018
Round 3 of the BRCA Clubmans Series took place at Aldershot Model Car Club. All of the Championship leaders and contenders were present for what was to be a sun drenched meeting for the whole weekend. Saturday saw a packed pit area with most of the competitors arriving for that all important practice on one of the Souths best tracks, with its infamous chicane onto the very long straight which leads into a banked sweeper – if taken incorrectly this could easily see you taking a trip into the scenery – then to the fast infield section to complete the lap. As it was dry weekend Sweep 34 control tyres would be used for the TC classes and Sweep SW control tyres also for the Formula class.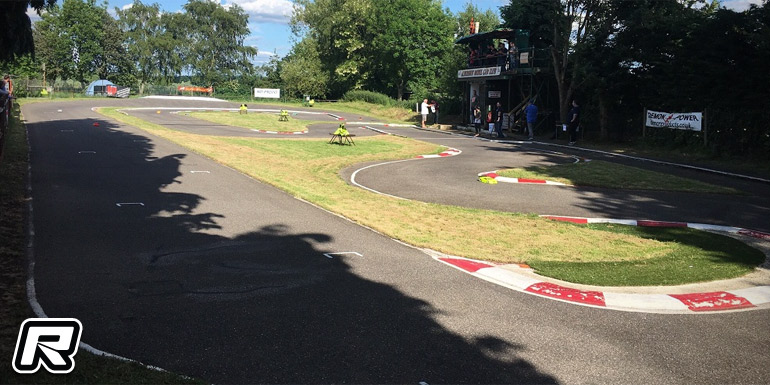 In 13.5 Open and with many of the country's fastest 13.5 drivers competing it would be a close qualifying session. Glenn Westwood took the first round win from Ollie Payne and 3rd was championship leader Ashley Wiffen. Round 2 and another win for Glenn and one of the busiest drivers of the weekend racing two classes Andy Murray was 2nd followed by Jay Westwood making up for a bad run in round 1. Round 3 and Ollie took the win from Jay with Aaron Rose taking 3rd. The last round and Ollie topped the time sheets again, Chris Lovely taking 2nd and another 3rd place for Aaron. So Glenn Westwood would line up on pole for the A-final being joint on points with Ollie Payne but taking the win with his fastest time a mere 0.50 on his quickest run. Jay Westwood rounded out the top 3 so everyone was in for some great finals.
With some quick laps in the opening stage of leg 1 Ollie took the lead from Glenn which he built on throughout the final to take the win. Aaron made the most of Jay's misfortune as he had to retire after lap seven which promoted Aaron to 3rd. With a win in leg 1 Ollie was all set to fight it out with Glenn again to try and take the overall win, but with the Westwood brothers putting in some very quick laps and Ollie having trouble on lap 16 dropping back to 5th this was not to be. Jay took the win in the final race of the day from Glenn with Aaron taking another 3rd place. Overall it was Glenn Westwood from Ollie Payne 2nd and Aaron Rose 3rd.
17.5 Blinky was first up and the biggest of the three classes this weekend with 43 drivers. Current championship leader Billy Fletcher was back to Aldershot this year after having to leave early last year for the birth of his son Frankie, so he had a few things to prove. It didn't all go his way, even though he smashed the track record by six seconds in qualifying he would line up P3 behind Darren Tickner P2 who was joint on points with Richard Palmer P1.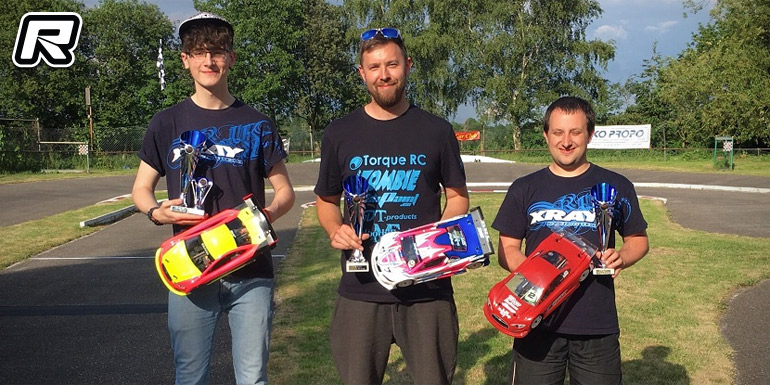 Pole sitter Richard had some misfortune throughout leg 1 and it was Billy who moved past Darren to take over the lead mid-way and pulled out a slight lead over Darren to take the win, with Ross Dilanda taking 3rd place. This set us up for an exciting Leg 2 which could still see anyone take the win. After turning in some consistently quick laps Billy moved past Darren and Richard to take the lead again in leg 2 and near to the end of the race had pulled out a lead of seven seconds but on the penultimate lap had a moment and had to drive along the grass but got back on track to take the win from Darren and Jak Sansom took a well deserved 3rd from 8th on the grid. Overall Billy Fletcher would take the day's win from Darren Tickner and Jak Sanson.
In Formula Ben Cosgrove was back for round 3 after missing the previous meeting so Stephen Lander the Championship leader would have another driver to give him a run for his money coupled with Andy Murray who had also decided to join in the Formula fun so we had a very competitive line up for this round along with a the usual very quick F1 drivers also in attendance. Ben Cosgrove and Andy Murray took it in turns throughout qualifying with hardly anything between to two drivers swapping fastest times each round and both had to wins a piece. Ben took the P1 position from Andy and also a new track record. James Wright took P3 for the final after having a great run in the 3rd round of qualifying.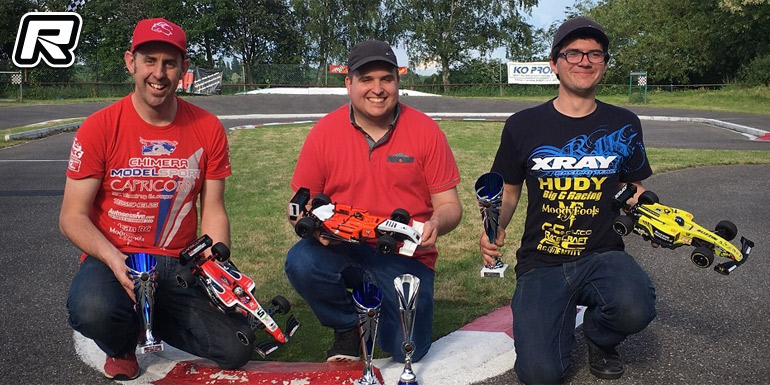 Ben kept his cool for leg 1 and had a flag to flag finish. But it was Luke Lee who was on a charge through the pack to come home in 2nd place from 7th on the grid. Andy took 3rd with the top 3 separated by 1.5 seconds. With his leg 1 win Ben was favourite for the win from pole position and the rest of the podium was still up for grabs. Andy had to retire after lap 15 after a few previous incidents which moved James into 2nd place where he finished behind Ben and Luke again up to 3rd place from 7th on the grid. Overall it was Ben from Luke and Stephen.
For Round 4 drivers heads off to Bedworth in July. The Club has new track location and they have pulled out all the stops to create a new track layout for the racers.
Source: BRCA [brca.org]
---