September 17, 2018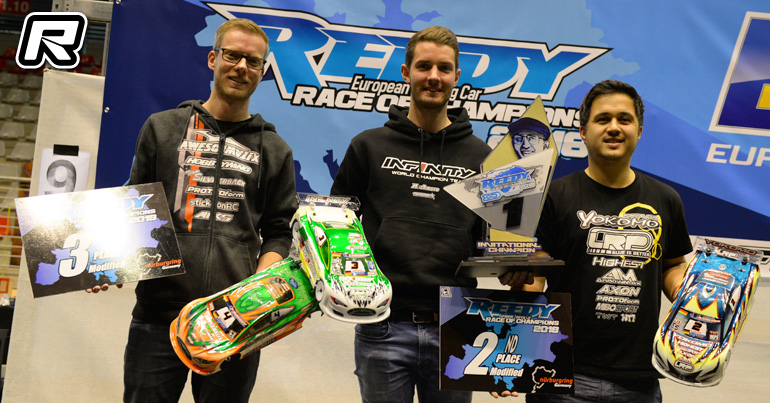 One of RC racing's most legendary races took place at one of the world's most legendary real race tracks, the Nurburgring, and it was Reedy Race debutant Yannic Prumper who came out top of the 12 rounds of heads up racing.  With the International Reedy Race of Champions bidding farewell to one of RC's most iconic tracks this year, Tamiya Raceway in California, the European Edition of the Touring Car Reedy Race came about as part of the Euro Offroad Series opening round which ran as part of the Blancpain GT Series weekend that was running on the Nurburgring's Grand Prix track.  With 18 invited drivers in Modified, the entry was headed by 7-times Reedy Race Champion Marc Rheinard and another of the race's multiple champions Ronald Volker.
After the first day of racing on the carpet track that was built to emulate the Tamiya track, it was the Awesomatix of Freddy Sudhoff that led the way with 3 wins and a 2nd place from the four rounds of heads up racing.  Sitting second after the first day, Prumper would produce a clean sweep of his races to register 4 wins on Day 2 that would put the Infinity driver at the top going into final day of action.  Sunday was to be a tougher day for the German with his two dropped scores coming in Rounds 10 & 12.  Collecting a total of 6 wins however, Prumper took the overall win by 4 points, the next 3 drivers all ending the event on 19 points.  Also with 6 wins, Yokomo's Ronald Volker got 2nd on the tie break, with Sudhoff completing the podium and Rheinard finding himself 4th.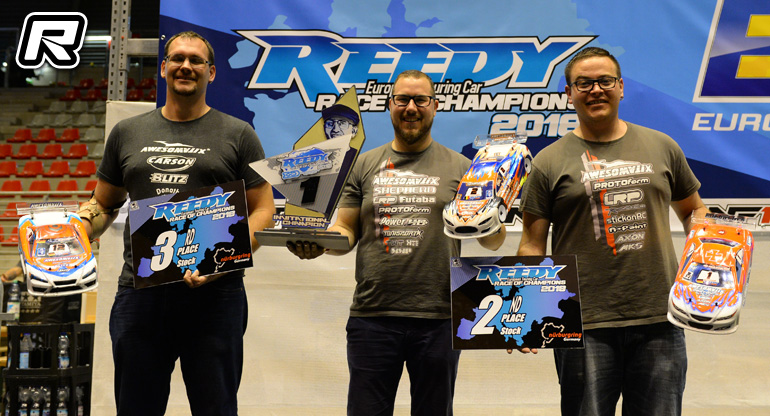 Unlike the International Reedy Race, the European edition also ran the heads up format for Pro Stock with 21 starters in the event.  It was to be an Awesomatix domination.  Max Machler was top of the points after the first day but with 7-wins it was team-mate Olivier Bultynck that took the top prize at the end of the 12 rounds by just a single point.  Christian Donath completed the podium a further 3-points back.
---