October 10, 2018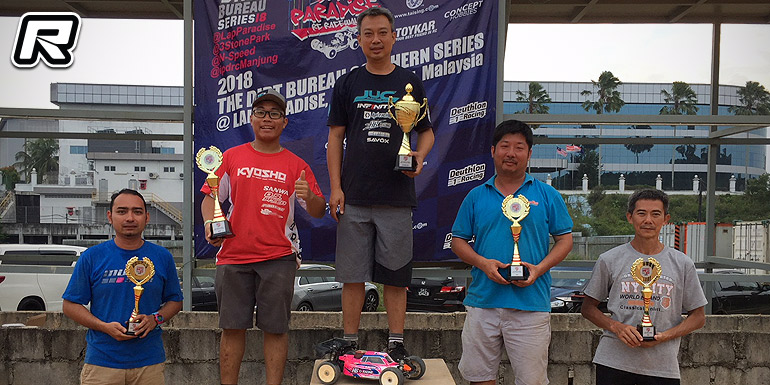 Lap Paradise Raceway hosted the final round of the Singapore RCMC 1/8 Nitro Buggy National Championship last weekend. Wonderful weather greeted a total of 45 drivers that attended the race which included the three classes of 1/8th Buggy, Truggy and E-Buggy. Defending Champion Joe Hwee (HB Racing/O.S./AKA) seemed to be in good form as he claimed TQ after topping all the three qualifying rounds. Fadzil (Mugen/O.S./PL) who recently showed good pace during the FEMCA races managed to put in a clean run in Q3 to claim P2 while Wenyi (Mugen/O.S./PL) and Ah Leng (Mugen/Mugen/AKA) managed to qualify 3rd and 4th and Young Gun Danial (Kyosho/O.S./PL) qualified 5th.
In the 60-minutes final Joe and Fadzil had a bad start and dropped to the end of the field after lap 1, as Wenyi and Danial capitalised on the front guy's issues to lead the pack. The pair swapped position during the first half of the final while Joe was working hard to catch up, at one point he managed to exchange laps with the pair but ran out of fuel twice which dropped him down the order. Meanwhile Esmail (HB Racing/Picco/AKA), coming from 11th position, was running well and was holding on to P3 but in the closing stages of the race Joe recovered from his early issue and was charging hard, closing up on his team mate. While the clock was just about to expired and Joe's hopes of catching up to Esmail were fading away, a mistake on the 5-packs section just two corners from the finished line, allowed Joe to snatch the final podium position. The race ended with Danial finishing in P1 and Wenyi in P2.
After six rounds the championship Joe managed to defend National Championship based on the best 4 of 6 races. Young Danial, despite winning the final race once again, only managed to finished 2nd in the National standings, as Kai (HongNor/O.S./AKA) who had a bad final race, managed to hold on to 3rd overall as the Mugen duo of Fadzil and Leng finished 4th and 5th respectively.
Overall top 10 results:
1. Joe Hwee – HB Racing/O.S./AKA/Sanwa/VP
2. Danial Miswan – Kyosho/O.S./PL/Sanwa/VP
3. Kai – HongNor/O.S./AKA/Sanwa/Byron
4. Fadzil – Mugen/O.S./PL/Sanwa/VP
5. Leng – Mugen/O.S./AKA/Sanwa/Byron
6. Ronnie Leow – HB Racing/Nova/AKA/Sanwa/VP
7. Aidi Amin – Mugen/Kabuto/AKA/Futaba/VP
8. Anthony Yeo – Mugen/Mugen/AKA/Sanwa/Byron
9. Ericster Boon – Mugen/O.S./AKA/Sanwa/Byron
10. Kenneth Yuen – HB Racing/Team Orion/AKA/Sanwa/VP
Thanks to Joe Hwee for the report.
---