November 26, 2018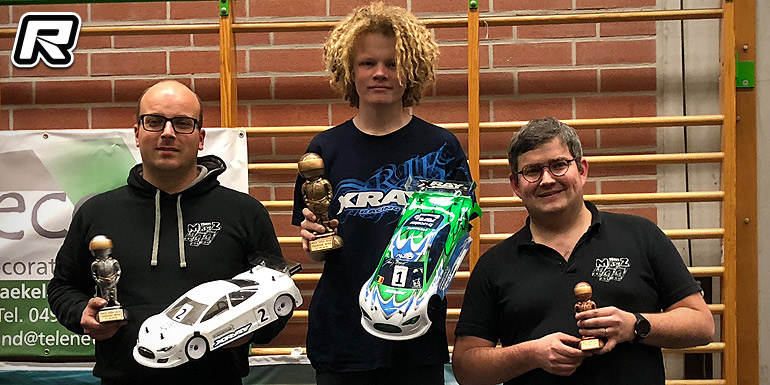 The MRCZ club in Belgium held their annual International race this past weekend. One of the longest running races in Belgium, that started life back in the 1980's mainly as a 1/12th scale event attracting drivers like David Spashett or Oscar Jansen, changed its approach over the year, becoming more beginners friendly with classes such as Formula, Tamiya Truck or 1/12th GT. The 2018 edition made no exception, offering many different classes to compete in. The otherwise premier Touring Modified class only attracted a handful of drivers. Thomas Stockman, a multiple previous winner of the event and Florian Joos would be the biggest contenders for the overall victory. Thomas claimed Q1, but Florian convincingly won the remaining four qualifiers. Thomas lined up 2nd on the grid in front of Pieter Saelens, Liam Van de Wouwer and David Joos. Florian Joos (Xray) took the overall victory from Thomas Stockman (Xray), Pieter Saelens (Yokomo), Liam Van de Wouwer (ARC) and David Joos (Xray).
The biggest class of the event was Stock Touring. The rules only imposed the Volante 28R spec tyre, with free motor and speedo. The pre-event favourite was French Xray driver Manuel Wagner. His toughest opposition would come from the fast local driver Thomas Stockman, 2017 Belgian Stock Champion Vincent Van Gansen, Dutch ARC driver and former 40+ 1/8 European champion Frank Baggen and young Florian Joos. After the reseeding practice sessions, Manuel took P1, marginally faster than Florian Joos. The other favourites, Vincent and Thomas were over a second off the pace. Qualifying was however dominated by Florian Joos. He won all five rounds with a margin of four seconds in every run. The battle between Vincent and Manuel was quite tense. Despite having four points each, Vincent took P2 in front of Manuel because he had a faster time. Thomas Stockman placed his car in P4 in front of Dimitri De Baeker, who completed the Xray domination of the grid.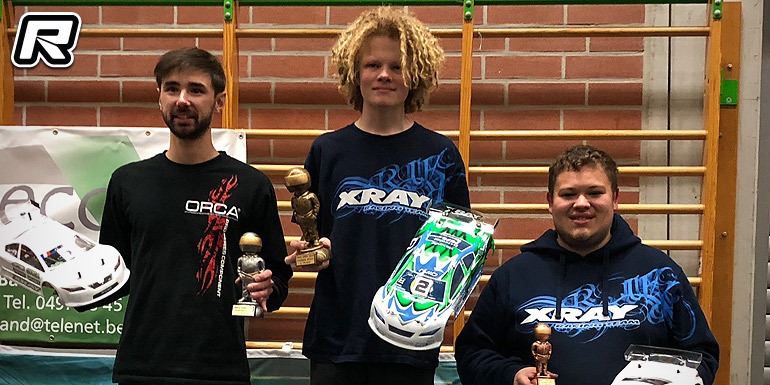 The finals would however prove to be a bit more exciting. Florian quite easily won A1. Manuel passed Vincent for P2, but was chased hard by both Vincent and Thomas, the three white cars making it very hard for the spectators to follow the race. Tom Adams (ARC) took P5. In A2, Florian was leading the field again when a backmarker traction rolled in front of him, hitting his car quite hard. Vincent sneaked into the lead, but Florian overtook him two laps later only to retire from an overheated motor. The crash apparently damaged the cooling fan, which caused his DNF. Manuel tried everything he could, but could not close the gap to Vincent who took a popular victory. Manuel finished 2nd in front of Thomas Stockman, Dimitri de Baeker and Tom Adams, who fought his way back from P9 on the grid. Not knowing if his motor would be able to finish the race, Florian took a cautious start. Vincent put a lot of pressure on Florian in the early laps and started to close the gap. Unfortunately Vincent made a mistake, allowing Manuel to take P2. Manuel almost came into striking distance of Florian but had to settle for P2 in A3, in front of Vincent, Thomas and Frank Baggen who finally found a great setup. The final order was Florian Joos (Xray), Manuel Wagner (Xray), Vincent Van Gansen (Xray), Thomas Stockman (Xray) and Tom Adams (ARC).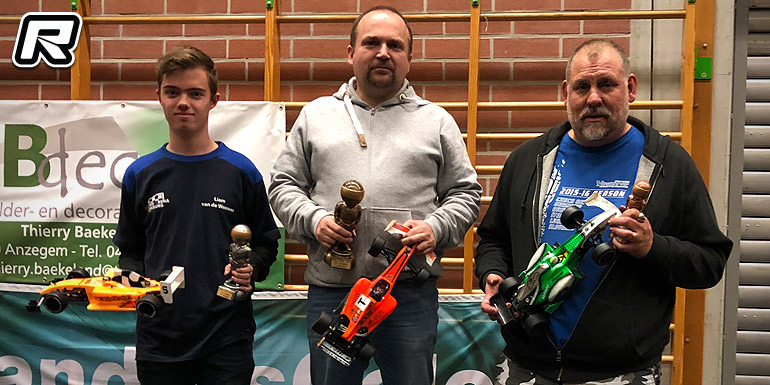 The Formula class qualifying was a bit of a nightmare for young Liam  Van de Wouwer, with mechanical and electronic problems in almost every run. In the last qualifier he was able to put in a solid run with the second fastest time, which promoted him to P5 on the grid. Fastest man of the weekend was Willy Voisangrin who made a clean sweep of all qualifiers and thus claimed the TQ honors. Frederic Favier lined up in 2nd in front of Ghislain Mantrand and Patrick Michel. Willy Voisangrin won the overall event by winning quite easily A1 and A2. Liam had two solid runs and fought his way up to 2nd overall by winning the last final and finishing 2nd in the first two ones. The fight for P3 was won by Frederic Favier. Ghislain Mantrand and Patrick Michel finished in P4 and P5.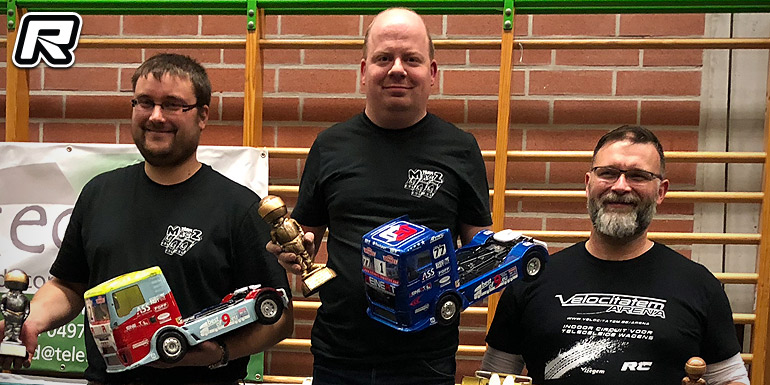 In Tamiya Truck and just like in 1/12th stock, Rico Claeys dominated qualifying and took the TQ spot. It was however more impressive that he ran his five qualifiers in 20 laps in 5 minutes and 12 seconds. Gregory Werniers lined up in 2nd on the grid, in front of Hubert Cathelain, Jan Houtmeyers and Patrick Room. Because of the increasing grip levels, Rico wasn't able to uphold his consistency. He was the only driver to run 20 laps in the finals, but his truck was on the verge of traction rolling in almost every corner. He won with a fair margin over Grégory, Hubert, Patrick and Jan.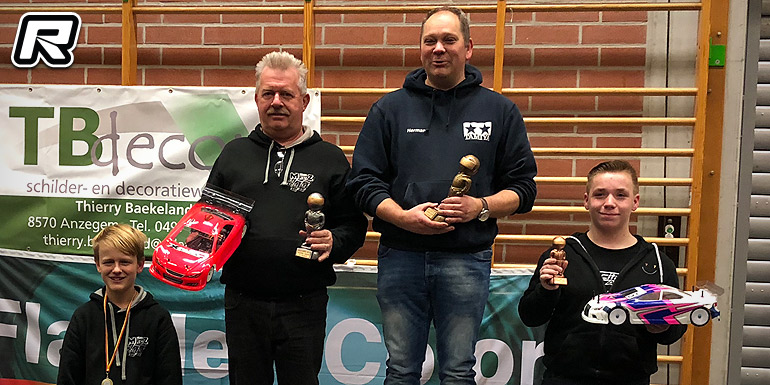 The Junior Touring class was run with 17.5 motors and was open for all drivers. Rony Claeys put his Xray on pole in front of the Tamiya duo of Herman Van Gansen (TRF419X), Yves de Pooter (Tamiya TT02), Marc Joosens (Yokomo) and the first real junior, Kenji Van Craeynest. The final order was however reshuffled and more in favour of the youngsters. Herman Van Gansen took the overall win in front of Rony Claeys, but Kenji managed to claim the final podium spot in front of Yelten Baekeland and Marc Joosens.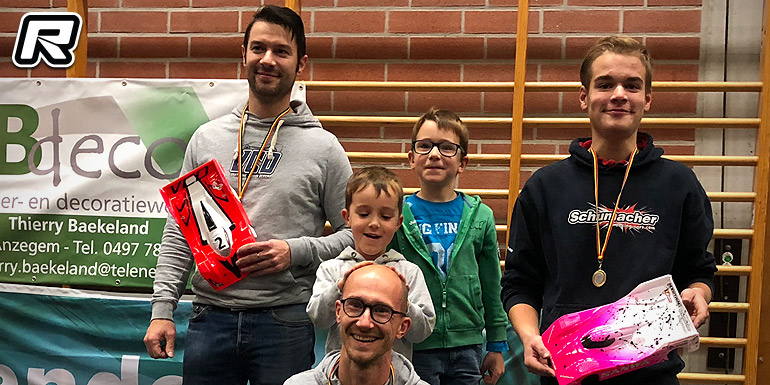 1/12th scale Modified was the fastest class of the event as Benedict Vantomme (VCD) was the only driver to record sub 11-seconds laps. He fully dominated qualifying by claiming all five rounds. Kevin Almey put the sister VCD car in 2nd on the grid, and he was followed by Mathieu Gesquire (VCD), Ian Bekaert (Schumacher) and Kevin Degrendele (Roche). As suspected, Benedict continued his clean sweep by claiming all three finals as well. While Kenny Almey finished in 2nd overall, Ian Bekaert snatched the last podium spot by finishing 2nd in the second final, leaving Kevin Degrendele and Mathieu Gesquire in P4 and P5 respectively.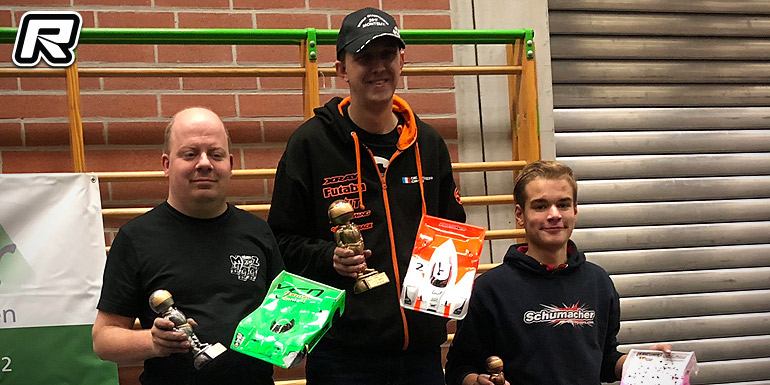 1/12th scale Spec was the second biggest class this weekend. The 13.5 motors proved to be powerful enough to make the 1/12th scale cars exciting to drive. French driver Dimitri De Baeker took the early honours by claiming the first two of five qualifiers with his Xray. Local driver Rico Claeys fought back however by claiming Q3, 4 and 5, which earned him the overall TQ with his VCD car. Young Ian Bekaert put his Schumacher in 3rd on the grid in front of the Roche of Kevin Degrendele and the Schumacher of Willy Voisangrin. The finals proved to be a nail biting affair for Rico and Dimitri. Dimitri won A1, but only finished 0.5 seconds in front of Rico, with Ian Bekaert, Olivier Cornard and Angelino Deneef in P3, 4 and 5 respectively. A coming together with a back marker on lap ten ended Rico's chances of the overall victory, while Dimitri took a more convincing victory. Rico was chased hard by Ian for P3 but remained in P2 overall. Olivier Cornard and Kevin Degrendele rounded off the top 5. Rico struck back in A3 by completing 40 laps as the only driver, but he had to settle for the overall P2 spot. Ian took a nice P2 finish, which earned him the final podium spot. The final rankings were: Dimitri De Baeker (Xray), Rico Claeys (VCD), Ian Bekaert (Schumacher), Kevin Degrendele (Roche) and Willy Voisangrin (Schumacher).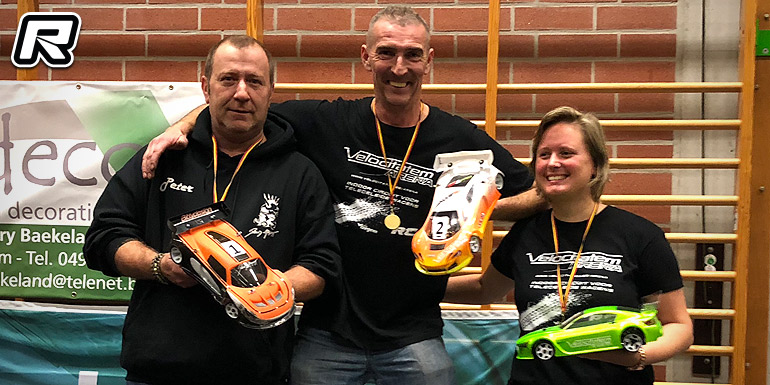 The GT12 class was run with Schumacher GT12 chassis. Powered by 17.5 motors, these cars were fun on the track and some nice battles were fought out. Qualifying proved to be exciting as three drivers were in the mix. In the end, it was Peter Roeygens who took the TQ honours in front of Olivier Cornard, Kelly Deblauwe and Lorenzo Desloovere. Olivier Cornard upped his game in the finals, and he took a convincing overall victory in front of Peter Roeygens, Kelly Deblauwe, Lorenzo Desloovere and Cédric Verhulst.
Thanks to David Joos for the report.
---