January 16, 2019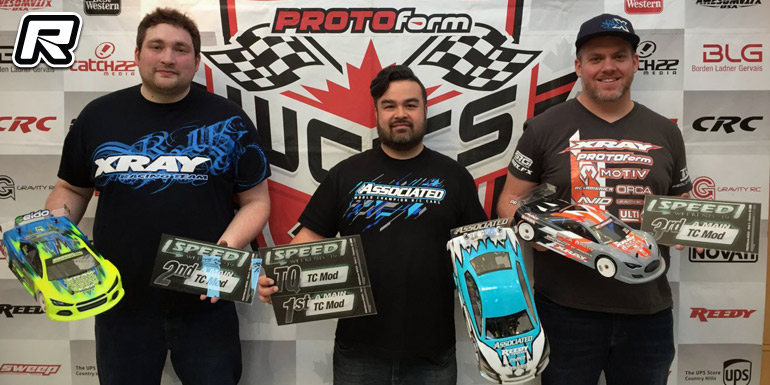 The Protoform Western Canadian Indoor Championship Series round 4 arrived at the ocean side city of Victoria, British Columbia. Local club IROCC hosted an amazing race, with a team of volunteers in the familiar Mary Winspear Center. In Touring Modified sometimes qualifying works like an exact science, and last year's champion Wayne Mah took a solid TQ and back to back wins, looking strong again with his new Team Associated car. Xray's Korey Harbke battled with fellow Xray team mates Luke Pittman and Black Bell, splitting the 2nd, 3rd and 4th place finishes across the rest of the rounds, with Luke and Korey having an awesome battle in A3, swapping the lead back and forth with Luke taking it at the end. When the dust settled, it was Wayne Mah, Korey Harbke, and Luke Pittman on the podium.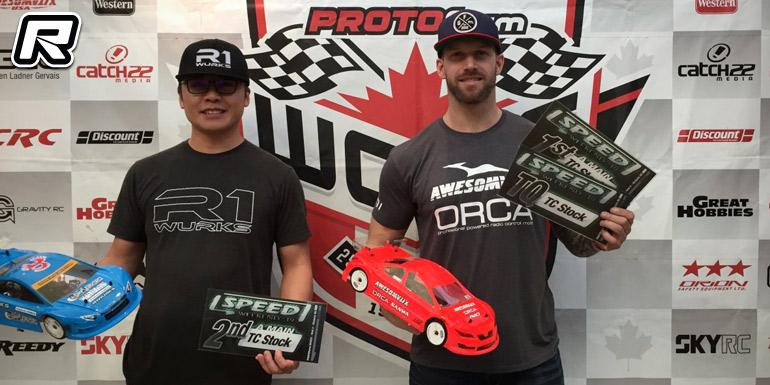 Edmonton's Ryan Berry dominated the Touring Stock qualifying with his Awesomatix, but in the mains he succumbed to the first lap curse, catching a board in all three mains. But his car was so dialed, he was able to come from the back and win A1 and A3, taking the overall win. Calgary's Sammy Lee capitalized on Ryan's error and won A2. Xray's Korgae Scales took 3rd with a solid 2nd and 3rd place finishes.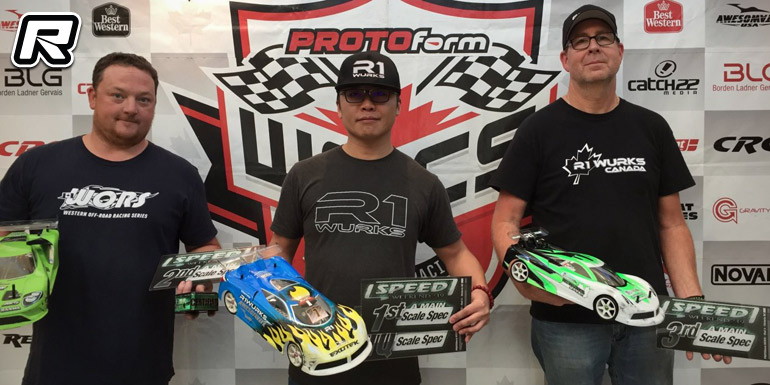 With another great turnout for the fun Scale Spec class, Calgary's Sammy Lee took TQ and wins in A1 and A3. BC's Dustin Quanstrom would win A2, with 2nd place finishes in the other twi mains, and 2nd place overall. Concourse winner Brent Wende drove his beautiful Scale Spec to double 3rd place finishes, and a solid 3rd spot on the podium.
Chuck de Belen took TQ and back to back wins, for a solid stamp on the Mini class. Howard Scott took the A3 win, and 2nd place overall. Young Cole Chura would swap 3rd place finishes with Stephen Wilke, with Cole taking the final podium spot.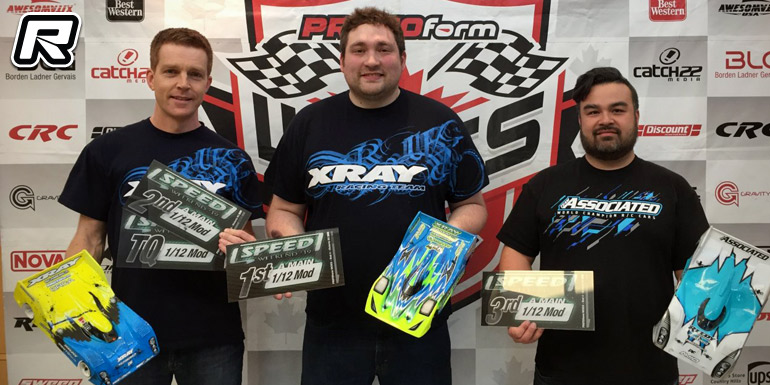 Team Xray drivers Korey Harbke and Blake Bell had an epic back and forth battle in 1/12th Mod, with Victoria's own former Canadian National Champion Blake setting TQ, but Korey taking the A1 win, with Team Associated's Wayne Mah taking 2nd and Black 3rd. In A2, The Bell strikes back, so the showdown was set for A3, when Korey would slowly pull away, leaving Blake to battle with Wayne, eventually taking a 2nd, and Wayne 3rd, which is how they would also stand on the final podium.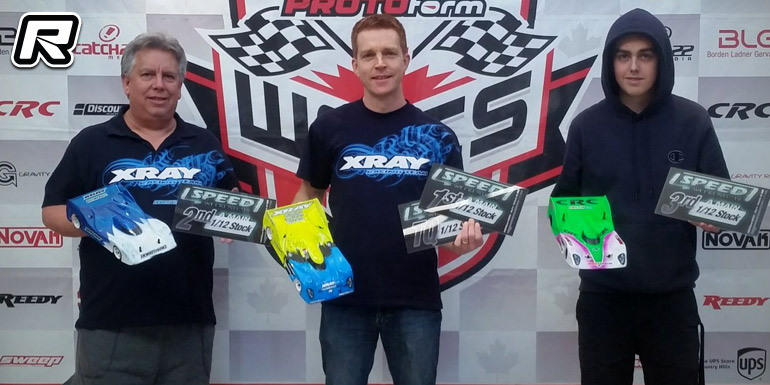 In 1/12th Stock, always one of the biggest classes in Victoria, former Canadian National Champion Blake Bell put on a racing clinic, TQ and back to back wins. California's Tim Copp would finish just 3 seconds behind in A1, run into trouble in A2, but come back and win A3 for 2nd overall. Victoria's own young driver Dalyn Staniforth, with back to back 2nd places in A2 and A3, would take the final podium place.
Sammy Lee secured his TQ and win of Formula, with Ed Mardones finishing a solid second, and Dan Cuglietta coming in 3rd.
Round 5 will be held in Regina, Saskatchewan, hosted by Fastraxx on February 8th.
Source: WCICS [wcics.ca]
---