February 20, 2019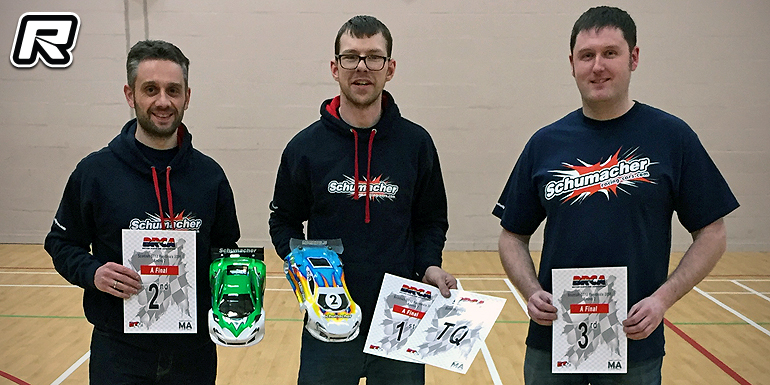 The second round of the BRCA Scottish GT Regionals took place last weekend at Grampian Radio Car Club near Aberdeen. A lower than expected entry didn't detract from the friendly atmosphere and competitive racing. The Grampian track is the largest in the series and the host club laid a fast flowing track capitalising on the extra racing surface. Qualifying would see John Simpson secure pole with Andrew Edwards in 2nd. These two drivers are previous champions of the series and are currently sitting 2nd and 3rd in the championship so were looking to secure maximum points with the absence of the current series leader. Kenneth Rogers would line up third with Colin Leslie fourth and the remaining positions filled by James Eaves and Arthur McGinnis.
Finals were run over three legs with two legs counting. In leg one early contact between Andrew and John would see them drop down the field and Kenneth take the lead. In a controlled drive Kenneth didn't waste the opportunity and brought his car home in 1st place. After a race long battle John managed to pass James to finish in 2nd with James 3rd and Andrew recovering to 4th. In leg 2 John would have an unchallenged tone to tone win after early contact between Kenneth and Andrew split the field. Andrew would recover to 2nd and Colin finding some extra pace to finish in 3rd. So it was all to play for in leg three with a possible overall victory for John or Kenneth. A clean start followed by small mistakes by John and then Andrew allowed Kenneth to take the lead of the race. A superb pass by John half way through the race would see him take the win and the overall for the days racing. Kenneth and James had a very close race with James eventually coming home in 2nd with Kenneth 3rd. Andrew unfortunately dropping out of the running with a mechanical issue meant that Kenneth and James were 2nd and 3rd overall respectively.
Final results:
1. John Simpson – Schumacher/Surpass/Hobbywing
2. Kenneth Rogers – Schumacher/Surpass/Hobbywing
3. James Eaves – Schumacher/Trinity/Hobbywing
4. Andrew Edwards – Schumacher/Motiv/Hobbywing
5. Colin Leslie – Schumacher/Trinity/SkyRC
6. Arthur McGinnis – Schumacher/Surpass/Hobbywing
There was also a touring car support class which was won by Peter Eagles from Martin Inglis and Scott Bates. The next round of the series is held in two weeks and will see the series return to the Dundee club for the second time.
Source: BRCA [brca.org]
---