February 6, 2019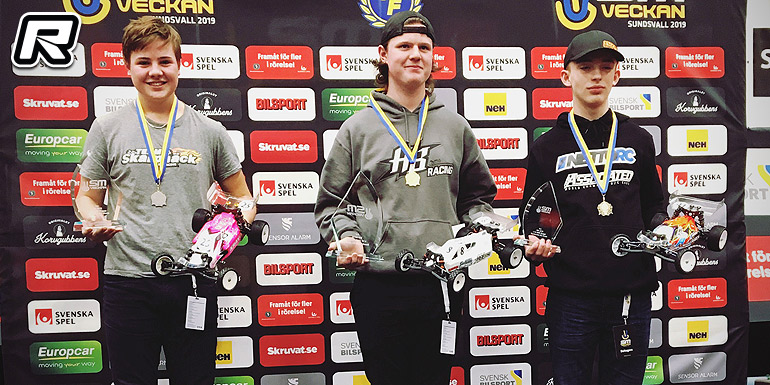 The last weekend saw the running of the Swedish Electric Off-road Nationals in Sundsvall. The race was a bit special because it was held like a mix of a Reedy race style and a regular 1/8th scale bump-up format. The qualifying was decided Reedy-style while the finals were held in a bump-up form with semis and main final. After the four qualifying rounds it was Elias Johansson on top, Wilhelm Skjöldebrand 2nd and Micke Svensson in 3rd. They were the only one's who went through all the qualifying rounds with victories only. In 4th it was Lukas Larson and Felix Angseryd held 5th.
In the semi A it was an all-Elias show with a tone to tone win but the fight for 2nd place was extremely intense, as Felix and Alexander Landén had a fight almost through the entire semifinal but it was Felix who could secure 2nd place and Alexander would have to settle for 3rd.
The semi B was a completely other story, Wilhelm would start on pole but after an early mistake he would be found further down the field. Now it was Lukas who had the lead but he also had some trouble later on. Leader after leader crashed out or got taken out by another driver. In the end it was Wilhelm who would end up in 1st place but due to a slow run he could only line up 4th on the grid behind the semi A top 3.
The top 10 for this 1/10th scale nationals would be decided in a 5-minute race. Elias had a good start and could check out early, Felix who lined up 2nd, made an early mistake and had to let four other drivers through, so now it was Wille and Alexander who had a fight for 2nd but both of them had trouble later. At the same time Felix was fighting his way back after a bad start and took that opportunity to regain his 2nd place. Now it was a two-horse race for 2nd place. Wille and Felix didn't have more than two car lengths between them over the last two minutes. When they went past the loop for the penultimate lap Wille thought that he had to make it on this lap and sent the car over the big jump and unfortunately flipped it. Felix was now able to safely cruise his way to 2nd place while Wille had to settle for 3rd. The final result was Elias Johansson (HB Racing), Felix Angseryd (Xray) and Wilhelm Skjöldebrand (Team Associated).
Thanks to Felix Angseryd for the report.
---