February 6, 2019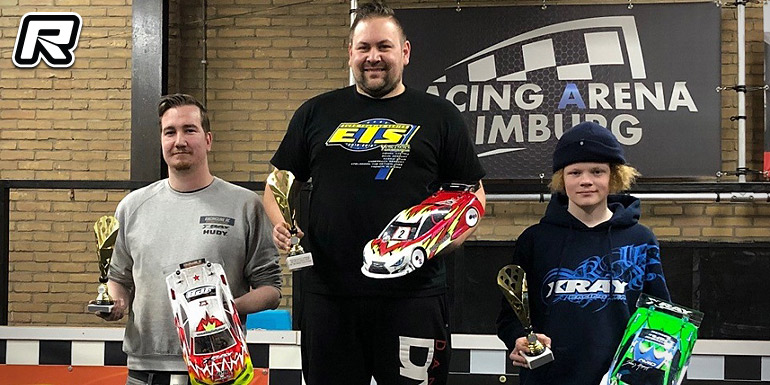 The Dutch Electric On-road Indoor Nationals were held at the Racing Arena Limburg track in Sittard last weekend. The weekend saw practice on Saturday and racing on Sunday, the latter being divided into free practice, triple qualifiers and double finals. The Touring Modified class suffered from a shockingly low turnout on drivers, however ETS A-main finisher Patrick Gassauer, current Dutch modified champion Rick Van den Akker, former Belgian champion Steve Lambrechts, as well as "Party Animal" Florian Joos would still make for a very high level of driving.
Q1 of the Modified class went to Patrick with Florian in 2nd position. Steve won the battle for P3 from Rick in 4th. Q2 went quite well for Florian as he managed to win this round. For Q3 team Joos decided to change the car setup and Florian was on a TQ run, but when a car crashed on the track, the marshall blocked his view and Florian clipped a kerb. This meant he had to start the Modified finals in P2, behind Patrick and in front of Steve and Rick.
A1 was a super close fight between Patrick and Florian. During the first 12 laps both were separated by about 0.3s between each other. Florian eventually managed to pass Patrick, but Joos made a stupid mistake the lap afterwards, which handed the lead to Patrick again. The field finished in that order with Steve winning the fight for P3 from Rick. After another setup adjustment to gain more corner speed, Florian had to be on his toes to challenge Patrick. The latter was driving a great race, so Florian's only possibility was to pass him at the corner entry at the last chicane. Joos ran super close and tried a die or fly pass, but he clipped the corner and Patrick deservedly won the race. Florian had to settle for 2nd and in front of Rick van den Asker.
In the Stock class, multiple Dutch Stock champion Rob Janssen took the TQ in front of Florian Joos, who suffered some electronic issues in the qualifiers. ETS A-main finisher Sebastian Meiborg came in 3rd. During the opening final Florian was able to chase Rob for the lead and both opened a gap on Sebastian. As it is virtually impossible to pass cleanly on the racetrack, Florian decided to stay as close to Rob as possible in order to push him into an error. Instead Joos hit a corner marker in the chicane, which put my car on its roof and allowed Sebastian to get by. Florian managed to pass Sebastian for P2 again, but Rob was gone and he took a deserved victory. A2 was a copy of A1, but Florian chased Rob's rear end for almost the entire race. Florian tried to creep closer but hit a dot again so he had to settle for P2 overall. Behind the two, Sebastian would round out the podium.
Source: Xray [teamxray.com]
---