March 28, 2019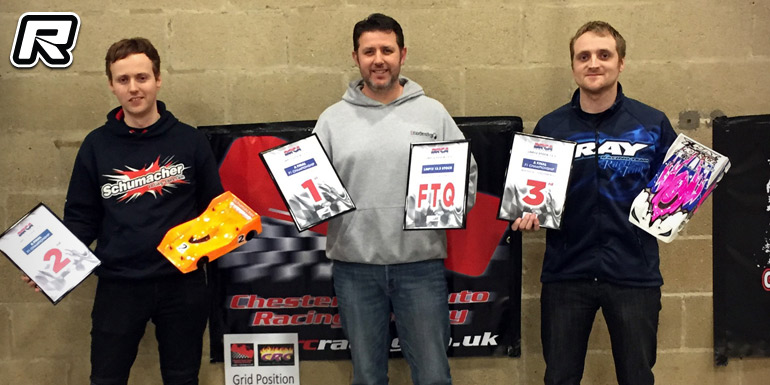 The sixth and final round of the 2018/2019 BRCA 1/12th nationals took place last weekend in Chesterfield. The Chesterfield club is one of the stalwarts of the BRCA national series and this year treated us to new carpet to race on. The club's members laid a fast flowing track and went the extra mile marking out the corners with kerbs and coloured run off areas making the track look fantastic. A capacity entry of 80 drivers appreciated the clubs efforts and there was a great atmosphere in the hall. On Saturday racers competed in the 13.5 blinky stock championship with the field split into F1, F2 and F3 grades. In F1, this year's champion David Spashett again demonstrated the form that won the championship and took pole position from Andy Murray with Matthew Varah in third. David and Andy set off nose to tail and pulled a gap from Matt Lax who had moved up to third from fifth on the grid. Andy had a very fast car and was putting pressure on David who put his years of experience to good use and drove a tidy line to keep Andy behind before unfortunately collecting a crashed car allowing Andy through. This time it was David's turn to give chase and the pair traded almost identical lap times for the next few minutes. Unfortunately contact while lapping a backmarker swapped the lead again and this time David would bring his car home for the win with Andy in a close second. Matt Lax drove a clean controlled drive to complete the top three.
F1 Stock final result:
1. David Spashett – Roche
2. Andy Murray – Schumacher
3. Matt Lax – Xray
4. Matthew Varah – Team Associated
5. Adam Catchpole – Capricorn
6. Louis Parker – Schumacher
7. Aaron Morley – Team Associated
8. Mark Stiles – Team Associated
9. Mick Farrell – CRC
10.Ben Vincent – Roche
In F2, Championship leader Andrew Smith would line up second from Stephane Fiorini who would take his second pole position in as many meetings. Simon Harris would line up third. It was all change in the final with some fierce racing at the front of the field with Andrew Smith making his way to the front. Stephane Fiorini was demoted to third by Josh Coult, who in a fantastic drive, came home second from seventh on the Grid.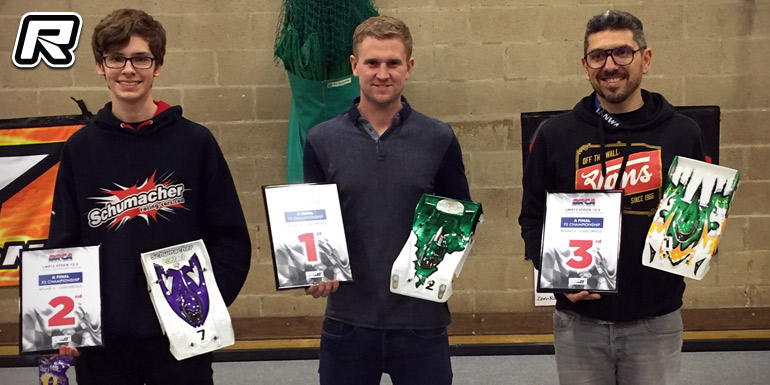 F2 Stock final result:
1. Andrew Smith – CRC
2. Joshua Coult – Schumacher
3. Stephane Fiorini – Roche
4. Jody Sherratt – Xray
5. James Egan – Xray
6. Simon Harris – Xray
7. James Inight – Xray
8. Mark Barford – Roche
9. Nigel Hale – Team Associated
10.James Stewart – Team Associated
In F3 it was all to play for as this was the only Championship which had not been decided before this round. The three championship contenders would line up at the front of the grid with Daniel Robins in pole position from Gareth Hollis in second and Martin Harris in fourth. James Eaves would split the contenders lining up in third position. Daniel produced another dominating drive finishing 2 laps up on second place man Gareth Hollis. Martin Harris managed to make up a place and finish in third securing vital championship points but it would be Gareth Hollis who would take the overall to become the BRCA F3 2018/19 Stock Champion, Congratulations Gareth.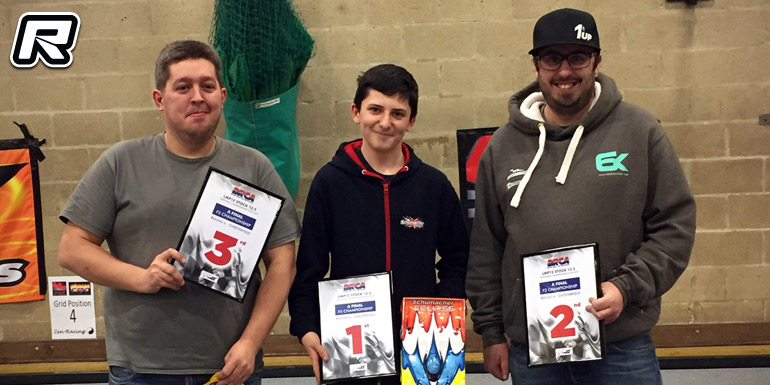 F3 Stock final result:
1. Daniel Robins – Schumacher
2. Gareth Hollis – Team Associated
3. Martin Harris – Team Associated
4. Lewis Barker – Roche
5. Jordan Leavis – Schumacher
6. James Eaves – Schumacher
7. Carl Beecroft – n/a
8. Thomas Ridgley – Schumacher
9. Chris House – Team Associated
10.Daniel Millard – Corally
On Sunday the field was split into Modified and Sports Modified classes. The sports modified class again running 13.5 blinky motors. Modified would see a repeat of the stock grid with David Spashett on pole ahead of Andy Murray and Mark Stiles. A clean start from the leading pair would see some very close racing with Andy in David's wheel tracks before an uncharacteristic mistake from David would see him tap a barrier and run wide. Andy didn't need a second invitation and moved into the lead before producing a clean controlled drive to bring home his maiden victory at a BRCA 12th national. Adam Catchpole, fifth on the grid, showed great race pace and made his way up to second place and was beginning to reel in Andy before a slight mistake close to the end of the race would drop him back relinquishing second place to David before finishing in third.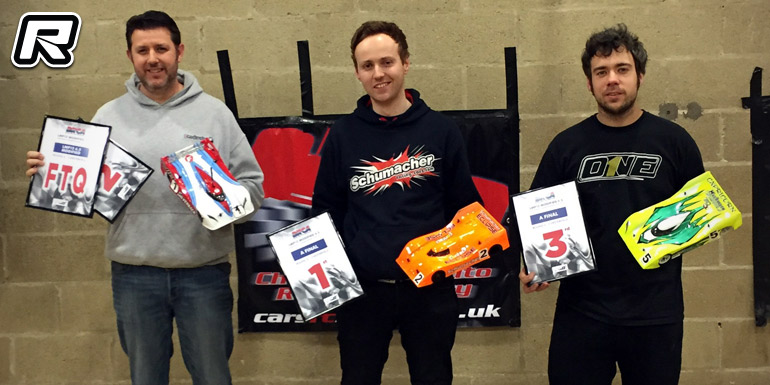 Modified final result:
1. Andy Murray – Schumacher
2. David Spashett – Roche
3. Adam Catchpole – Capricorn
4. Louis Parker – Schumacher
5. Ben Elliott – Schumacher
6. Andy Sawyer – Schumacher
7. Matt Lax – Xray
8. Daniel Robins – Schumacher
9. Mark Stiles – Team Associated
10. Leigh Dibble – Xray
In Sports Modified an in form Mark Jewitt returned to the sports class after running in the modified class in the early part of the season and took pole from championship winner Ben Vincent and Mick Farrell in third. Mark continued his form and took a tone to tone win ahead of Josh Coult who in another strong drive came from 5th to finish only a few seconds behind Mark. Mick Farrell would finish off his season with a third position.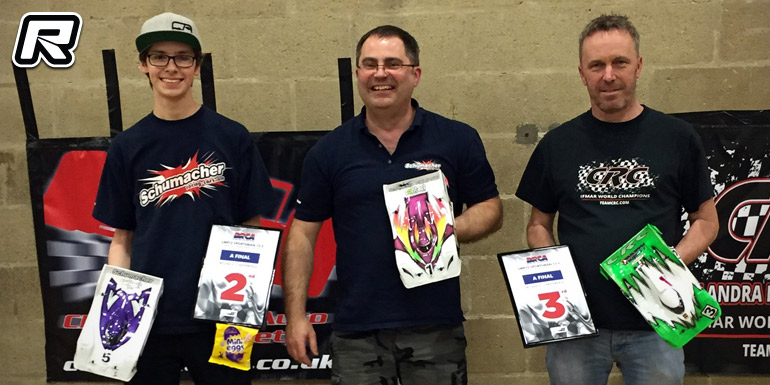 Sports Modified final result:
1. Mark Jewitt – Schumacher
2. Joshua Coult – Schumacher
3. Mick Farrell – CRC
4. Matt Rice – Team Associated
5. Ben Vincent – Roche
6. James Stewart – Team Associated
7. Jim Spencer – Roche
8. Jody Sherratt – Xray
9. Scott Morton – Roche
10.Gavin Clinch – Destiny
Source: BRCA [brca.org]
---