March 11, 2019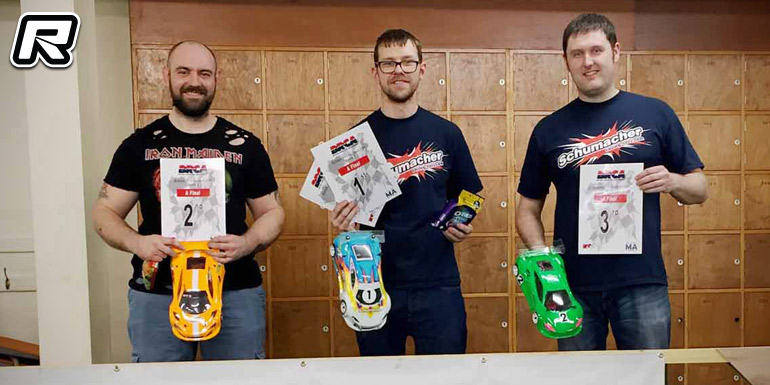 The third round of the BRCA Scottish GT Regionals took place recently at Dundee and Angus Radio Controlled Car Club. This was the second visit to this venue in the series and the club again laid a fun track layout for a great day's racing. Qualifying would see home favourite and current series leader John Simpson secure pole by a slim margin from an on form James Eaves. Kenneth Rogers would line up third from Graeme Dick, Arthur McGinnis and Colin Leslie.
Finals were run over three legs with two legs counting. In leg one an unfortunate touch on the opening lap resulted in a body tuck, causing James and Kenneth to drop to the back of the field with Kenneth waiting on Jame's car to be fixed by a marshall. John would be untroubled at the front with Graeme securing second ahead of Colin Leslie who moved from last place on the grid to finish third. Leg 2 would be a repeat of leg one with John taking the win and the overall for the meeting from Graeme and Colin. Leg three was a very close run race with James finding pace and pushing John all the way to the line. Colin again finished third but he needed second to make the podium overall meaning that Graeme would claim second and James third.
Final results:
1. John Simpson – Schumacher/Surpass/Hobbywing
2. Graeme Dick – Schumacher/Surpass/Hobbywing
3. James Eaves – Schumacher/Trinity/Hobbywing
4. Colin Leslie – Schumacher/Trinity/SkyRC
5. Arthur McGinnis – Schumacher/Surpass/Hobbywing
6. Kenneth Rogers – Schumacher/Surpass/Hobbywing
The final round of the series is to be held in April at Lothian Radio Control Car Club.
Source: BRCA [brca.org]
---