April 9, 2019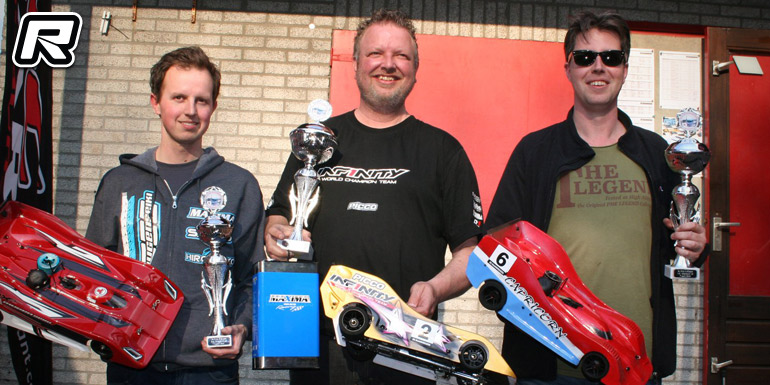 The Dutch NK 1/8th On-road Nationals kicked off at the fast and scrubby circuit in Rucphen at the MAC Banbrekers club. It was unclear whether some of the usual suspects would show up or not. John Ermen and team-bud Robbin Hertong went off to France which increased the chances of various drivers on an early season victory. Young Jesse Keller took up the challenge against some of the old dogs and proofed to be able the withstand the pressure with a nice pole. As the race unfolded one car after the other ran into a number of problems. While Jesse raced to an early lead he soon had to retire as he trusted his old 451 receiver just one race too many. With Roy Bakker, Arie Manten and Ben Jamini as well as Benny Ciere and Joey Sorber moving up the ranks, Martin Zevenhoven was faced with a rare main bearing failure on his normally trustworthy O.S. engine. After several flame outs he thought "enough is enough" and decided to enjoy the sun while watching the upcoming showdown.
Meanwhile field owner, Addie van der Ven saw his hopes on a solid result vanish in vain with a permanent engine failure as well. Freek van Delft drove a brilliant semifinal keeping his nerves with a stuck gearbox resulting in a place in the A-final. Although he didn't know it at the time … but this weekend Freek proved to be a very worthy NK driver by all means sticking a well deserved 4th overall under the belt. Former young talent Roy Bakker having a flawless race for a change, had difficulty holding off a late race attack of Joey Sorber. As Joey had only first gear he couldn't keep up in the end dropping down to 5th overall.
With now only Benny, Arie, Roy and Jamini fighting for the podium a streak of bad luck hit both Benny Ciere and Ben Jamini. Benny miscalculated his pit stops with a too rich engine being the culprit and Jamini saw his "loctited" steering servo lever come loose which ended his hopes for a podium position. Arie Manten went on to win it – a mere eight seconds ahead of Roy Bakker with Benny Ciere completing the podium with a third place overall.
Thanks to Willem Kloppenburg for the report.
---