July 25, 2019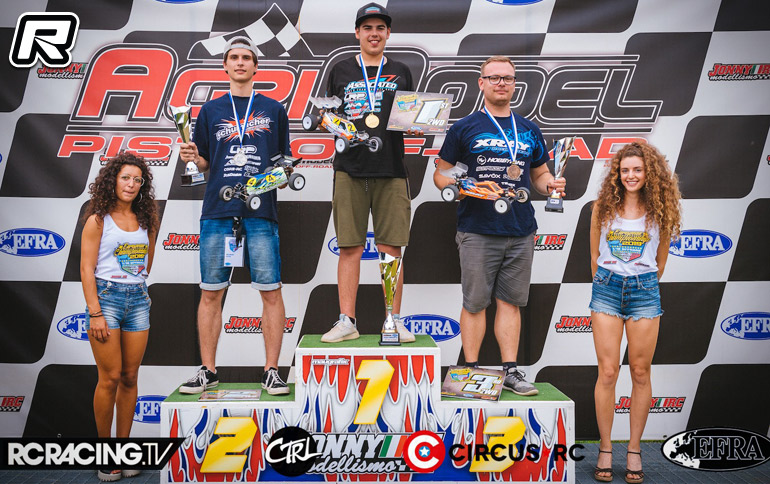 The 2019 EFRA 1/10th Electric Off-road European Championships are taking place in Pinerolo, Italy this week. The event, held at the AgriModel Pista Off Road Jonny RC club, kicked off with the 2WD portion that attracted 75 entries. In qualifying round 1 and in heat 7 of 8 Neil Cragg would do the first 11 lap run in qualifying with the top seeded heat still to come. With a number of drivers having mistakes early on it would be Davide Ongaro who would come through to take control of the heat and be the second driver to set an 11 lap run with the quickest time in the round, Neil Cragg would be 2nd and Martin Bayer 3rd.
Qualifying round 2 would start with heat number 3. It was Neil Cragg on top of the pile going into the top seeded heat but with a 10 lap run. Onto the top seeded heat and it was Ongaro with the early mistake this time. Lee Martin would take up the lead and be the only driver in round 2 to do 11 laps with a quicker time than Ongaro from round 1. Joona Haatanen would go second quickest with Martin Bayer in 3rd. Going into round 3 of qualifying made it 6 different drivers that could end up top 3 over night. Again Neil Cragg puts in his second 11 lap run in the 3rd round. Onto the top seeded heat. A number of different drivers led this heat from Lee Martin to Martin Bayer, Joona Haatanen and even Jorn Neumann led for a bit but it was Lee Martin that kept it clean to come through and set the fastest time of the day in 11-5:26.652 to be the top driver after 3 rounds of qualifying with Davide Ongaro 2nd and Martin Bayer 3rd.
The final day of the 2WD portion at the 2019 EFRA 2WD Off Road European Championships was possibly the warmest day so far with clear skies and bright sunshine and hot racing action. The 5th round of qualifying was ran in reverse heat order so heat 8 is on first. Neil Cragg was the first to have a crack at getting a good time on a track that was a bit slower than the day before. A few small errors saw Neil not have his best run. On to the top heat, Lee Martin, the overnight TQ was away first, his run started well but Lee made a few mistakes, and at the end of the heat it was Martin Bayer putting in the fastest time of the round on a 10-5:00.798. Special mention of Clement Body from heat 6, which ran last in this round, gets 4th in round to secure his place in the A-final for the second year in a row.
In qualifying round 5 the A-final drivers had pretty much been decided, only question was Renaud Savoya and Daniel Kobbevik for 10th. If Savoya made 10th or better he would replace Kobbevik in the A-main. But it would be Davide Ongaro putting in the only 11 laps run of the day to take TQ in rd5. Both Lee Martin and Davide Ongaro with 2 TQ's in round, with Lee lining up first as he had the faster time. Michael Orlowski would finish 2nd with David Ronnefalk finishing 3rd.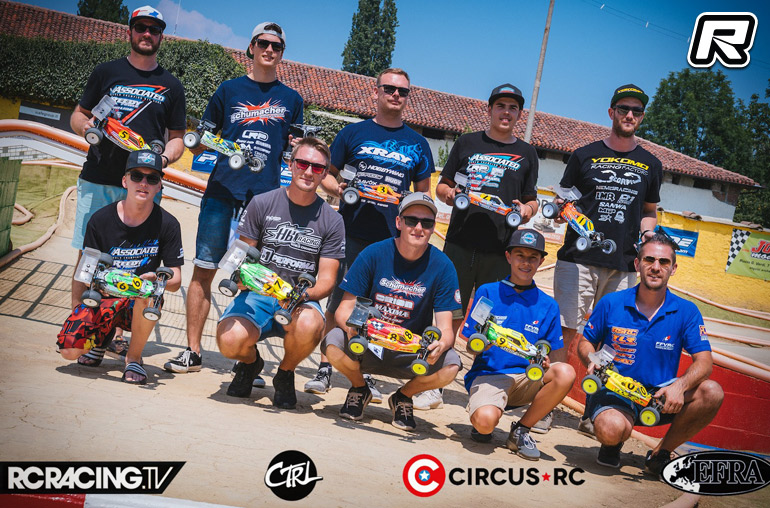 Onto the finals, Lee Martin led the first lap of A1 and then crashed in the triple. Ongaro got into the lead with Orlowski and Bayer chasing him. The gap was about the same until the next to last lap when Ongaro crashed and Orlowski took the lead. It was a 1 lap shootout for the win with Orlowski winning followed by Ongaro and Bayer. In A2 Lee Martin again made an early mistake and Ongaro took control. Bayer gave chase with Joona Haatanen in 3rd and that is how it finished. Before A3 three drivers could take the win, Ongaro, Bayer, Orlowski. Early on Lee Martin ran wide and Ongaro got through and started to pull away. The pack gave chase with Lee Martin running second but Orlowski and Bayer got past and tried to chase Ongaro down but he was too far ahead. Ongaro takes the win in leg 3 and wins the race. Orlowski 2nd and Bayer 3rd.
Source: EFRA [efra.ws]
---