August 5, 2019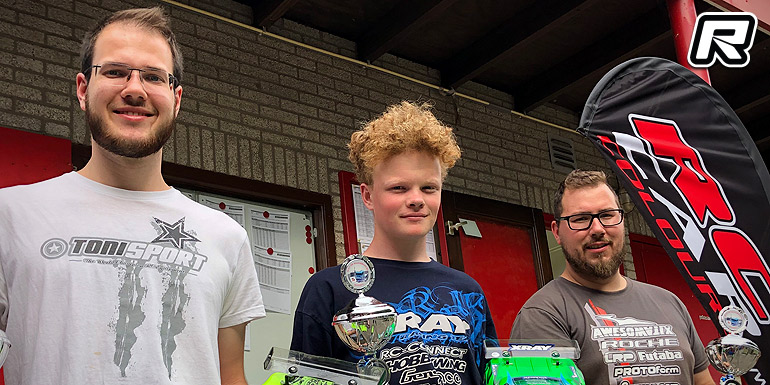 The fourth round of the Belgian Electric On-road nationals was held at the fast and flowing track of the MAC De Baanbrekers club in Rucphen this past weekend. Most drivers already arrived on Saturday for the open practices and in the Touring Stock class, Vincent Van Gansen was just 0.2 seconds shy of the track record whereas both Olivier Bultynck and Florian Joos slightly improved Florian's 13.950 track record so Sunday's racing promised to be exciting. Q1 of Touring Modified was a bit of a bombshell when Florian Joos smashed the track record to an astonishing 13.775 and the first 22 lapper in the history of the track. His new Xray prototype car seemed to be ideally suited for the track. Newly crowned European Stock Champion, Olivier Bultynck wasn't far off with his Awesomatix as he too scored an amazingly fast 13.869 lap time. With new tyres, his pace over 5 minutes was a bit slower though. Mitchell Van Es, who was running his older electronics and batteries wasn't far off, but couldn't quite keep up on this power hungry track.
The other qualifiers were more or less the same story, except for Q3 when a setup change didn't work for Florian and he decided to pull off after three laps and save his tyres. Florian Joos took the overall TQ, followed by Olivier Bultynck, Mitchell Van Es, a very strong Liam Van de Wouwer (ARC) and local hero Eddie Rombouts.
The finals would prove to be a nail biting affair because of the tyre tactics. Olivier decided to use his three runs old tyres to start A1 with. Florian made a last minute call to switch to old tyres as well whereas the rest of the field started on new rubber. When the buzzer went off, Florian's car slid into the grass, probably because of the short tyre prep time. Olivier powered his Awesomatix into the lead and never looked back. He was followed by Mitchell and Liam. Both Eddie and Dimitri let Florian by as he tried to make up his 2.5 seconds deficit. Liam Van de Wouwer drove a magnificent race in his ARC mid car, but he lacked a bit corner entry steering. There was nothing he could do to keep Florian behind him. Olivier cruised to an easy victory and saved his tires in the process. This allowed Mitchell to finish within 1.5 seconds off Olivier with Florian, Liam and the former Belgian 200mm champion Dimitri de Baeker in 5th place.
The tyre strategy game continued for A2. In order to maintain his chances for overall victory, Florian used his new set of tyres whereas Olivier decided to start on his now four run old Volante tyres. This time Florian started perfectly whereas Olivier struggled a bit to keep Mitchell on the newer rubber behind him at the start. Mitchell pushed his Awesomatix hard, but had to yield after about eight laps. In the back, Dimitri passed Eddie for P5 and Liam again did everything to keep within striking distance of Mitchell. At the front, Florian took it easy, didn't accelerate hard and let off the throttle early in order to save his tiyres. Olivier pushed his car to the limit and came within 3 seconds of Florian.
A3 would thus decide the overall result. Olivier had both the mental and on-track advantage with his new tyres. Unfortunately there was a lot of confusion at the start. One of the back markers made a false start, but the race directors only intervened after four or five laps. The drivers decided not to enter the pits for a restart and continued the race. On his newer rubber Olli managed to take the lead on the first corner and left Florian trailing in his slipstream. Mitchell again took P3, but had to retire his car with faulty electronics after only 17 laps. Liam also suffered from electronic gremlins and had to settle for P5 with Eddie Rombouts (Xray) and Dimitri de Baeker (Xray) both in front of him. At the front, a great battle went on between Olli and Florian. Florian seemed to be able to really push his one run old tyres to the limit, while Olli struggled for grip on new rubber. After a couple of tries, Florian placed his car on the inside line when Olli ran a bit wide at the 90 degree corner preceding the start/finish line. Florian took the lead and went on to win A3 and the event.
The overall ranking was Florian Joos (Xray), Olivier Bultynck (Awesomatix), Mitchell van Es (Awesomatix), Liam Van de Wouwer (ARC) and Dimitri De Baeker (Xray).
The Belgian Stock nats have been a battle between the Xrays of Vincent Van Gansen and Giovanni Moguez with Vincent holding the upper hand so far. At the fast Rucphen track, Peter Degrande (Awesomatix) and Stefan Rommens (Yokomo) always are dangerous outsiders to recon with. This time they were joined by former ETS A-main finisher Nicolas Delisé and French Stock front runner Manuel Wagner. Manu and Nicolas had to start from the slower 2nd group, but they did so in style by setting the fastest times of their groups, Manu 3 seconds faster then Nicolas. When Vincent started his qualifier, it was clear however he would be the man to beat. His third lap was an 15.853, a new Touring Stock track record for Rucphen. He dully continued to set the fastest FTD of the track with a 19 in 508. Giovanni did everything he could, but only managed a P2.
Q2 seemed to be a blue print of Q1 with Vincent pushing hard right from the start. Twi laps before the end of his run, his car started to accelerate erratically. Giovanni smelled that Vincent had a problem and drove the wheels off his car. He missed the TQ by only 0.02 with Manu a further 0.4 behind. This result meant that Vincent now had the overall TQ and that he could sit out Q3. Because the other racers weren't sure of their grid positions, they had to run the last qualifier and thus handing Vincent an even greater advantage, so the top 5 after the qualifying was Vincent Van Gansen, Giovanni Moguez (Xray), Manu Wagner (Xray), Nicolas Delisé (Xray) and Peter Degrande (Awesomatix).
Vincent's tyre strategy paid dividends and he dully won A1 by nearly 4 seconds over Giovanni Moguez. Manu Wagner was the biggest victim of a first corner pile-up and he had to retire his car. Nicolas Delisé inherited P3 and he kept it until the finish. He was followed by Peter Degrande and a very strong Stefan Rommens (Yokomo).
A2 started as a thriller. Giovanni took a brilliant start and jumped in the lead on the first corner. Vincent gave Giovanni enough room as both these drivers have huge respect for each other. Vincent chased Gio down and kept in his slipstream for the following three laps. Giovanni then made a rare error and rolled his car on a kerb. This promoted Manu in P2 and set Giovanni back to P8. Gio started to claw his way back to the front and set fastest lap after fastest lap, his pace only hampered when passing backmarkers. He finished in Manu's slipstream while Vincent took a great and deserved victory. Nicolas Delisé and Peter Degrande finished in P4 and P5 respectively.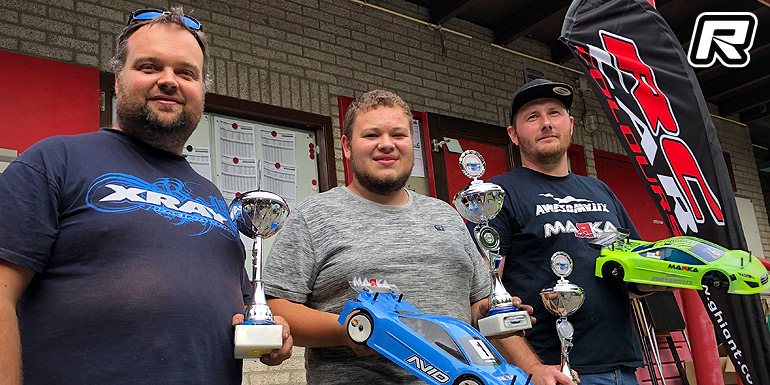 As Vincent sat out A3, Giovanni easily won this last final and set his personal best laptime of the finals. Giovanni was handed an easy victory when on lap two several cars touched. Stefan Rommens handily avoided the wreckage and finished the final in P2. The battle for P3 was a great one, with Peter Degrande finally winning it from Xavier Debroye (Xray) and Manu Wagner, all finishing withing .6 of a second. The final ranking was Vincent Van Gansen, Giovanni Moguez (Xray), Peter Degrande (Awesomatix), Stefan Rommens (Yokomo) and Nicolas Delisé (Xray). Just like Peter, Manu Wagner had 7 points, but he finished in P6.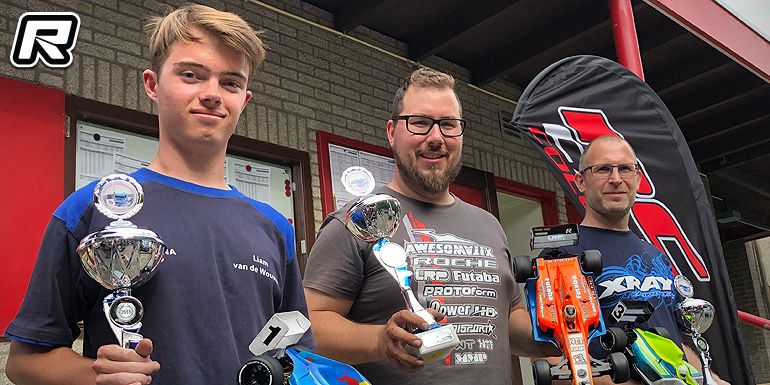 Just like in most other series, the Formula class is a bit down in popularity recently. Young Liam Van de Wouwer proved however that it still is a fun and competitive class to race in as he put his Xray on pole. Liam not only had good fastest lap pace, but also a very good pace over the full seven minutes of racing. For the first time this season, Olli Bultyinck had to settle for P2 on the grid while Niels Meurs (Roche), Kris Vanbleu (Xray) and Ludo Van Hoeydonck (Tamiya) rounded off the top 5. In the finals Olli held the upper hand by fully exploiting his experience and race craft. Liam always managed to keep the lead on lap 1. Olivier however exploited the small openings Liam left to take the lead. Liam always finished within four to five seconds of Olivier which is a great performance in itself. Kris Vanbleu, Niels Meurs and Ludo Van Hoeydonck rounded off the top 5.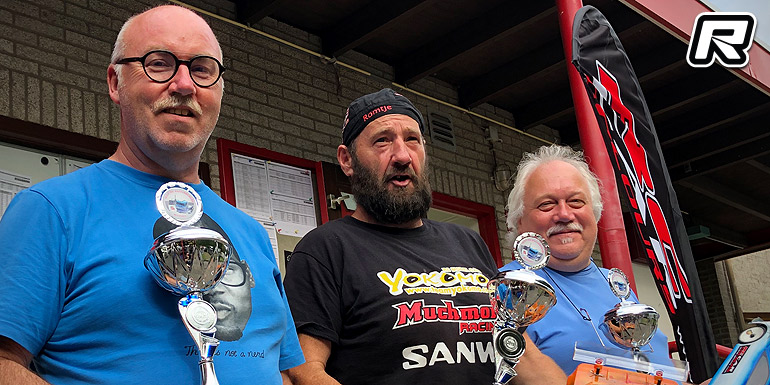 The Fun Touring entry level class, run with spec 17.5 motors, seems to gain in popularity in every race. The rather slow but evenly matched motors make the action on the track quite fun. After qualifying, it was clear that Jannick Rommens would be the man to beat in his Yokomo. He left Krist Bultynck trailing by two seconds with Marc Joosens a further second back. David Joos and championship leader Herman Van Gansen rounded off the top 5. Jannick also had quite a walkover in the finals, winning the three of them quite easily. The battle for the remaining podium spots was great to watch between Krist Bultynck and Marc Joosens. Marc benefited from a slightly faster motor while Krist had more corner speed in his Awesomatix. In the end the final ranking was: Jannick Rommens (Yokomo), Krist Bultynck (Awesomatix), Marc Joosens (Yokomo), David Joos (Xray) and Luc Wauters (Xray).
Source: David Joos & FBA [fba-rc.be]
---