August 19, 2019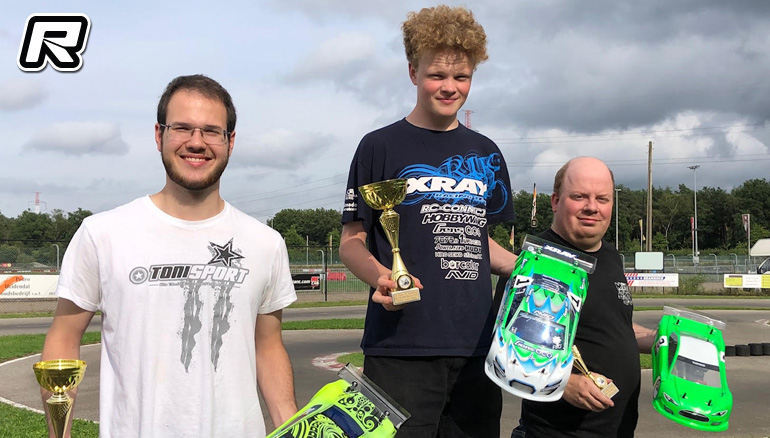 Round 5 of the Belgian nationals was held at the track of MRG Genk. This track is situated in a motorsport nirvana with a karting and MX track nearby. Because of the dust from the MX track, the grip is low to medium. As it started raining on Saturday already, the grip levels were even lower. Most front runners were already testing their cars on Saturday, because rain was forecasted at least until A-main 2 on Sunday.
Modified
During the testing on Saturday, championship leader Florian Joos didn't quite have the pace of multiple vice champion Mitchell Van Es. The young Dutchman was flying in the wet, and even went faster than current Belgian and European champion Olivier Bultynck.
On Sunday morning however, the rain increased even more. This seemed to reshuffle the cards as strangely enough the grip increased. For Oli, everything went terribly wrong after lap 1 when his electronics got damp. The battle for Q1 was quite close between Mitchell and Florian. Florian set the fastest laptime and when Mitchell also ran into electronic problem, Florian took an easy win from Rico Claeys and Liam Van de Wouwer.
In Q2, Mitchell's Schumacher was the fastest car on the track, but when his Lipo died, the 3-way battle between Mitchell, Florian and Rico became a 2 horse fight. Rico held a narrow lead, but when Florian put the hammer down from lap 8 onwards, he managed to clinch the overall TQ. Liam again came home in third whereas Olivier saw his championship hopes evaporate with yet again an unfortunate DNF due to electronic problems.
Q3 was run on a less wet track, and in these conditions Mitchell excelled. He took Q3 in style from Rico, Florian and Liam. Olivier opted not to run in the last qualifier and hoped for dry finals. A1 proved to be a tough one for most competitors. The track was too dry for wet tires but too moist for dry tyres. In the end, the front runners all went for the safe way and opted to race on wet tyres. Rico had a quite bad opening lap, but managed to put some distance between himself and Mitchell afterwards. He pushed hard and came back to within 1 second from Florian who took the win. Mitchell finished in P3.
At the start of A2, the track still had some damp patches, but was mostly dry. Still, the tyre choice proved to be a crucial one. Olivier started from P5 and opted for run in slicks. The other drivers were on new tyres. Florian took the holeshot and led lap 1 from Olivier who overtook 3 cars on the first corner! Florian's car was however better dialed and the youngster took A2 and won the event. Olivier finished in P2, in front of Mitchell, Rico and Liam.
Florian opted not to run in A3. Everyone excepted Oli to easily win A3, but his car was too tricky to drive in the still low-grip conditions. Mitchell took a great victory in front of Oli, Rico and Liam. Unfortunately for Olivier, the roof line of his body was found too low at the technical inspection. As the driver already had a first warning, it meant he lost his P3 position to Rico Claeys. The overall ranking was: Florian Joos (Xray), Mitchell Van Es (Awesomatix), Rico Claeys (Xray), Olivier Bultynck (Awesomatix), Liam Van de Wouwer (ARC).
By winning his fourth race of the season, Florian Joos also became the 2019 champion, ending Olivier Bultynck's 11 consecutive title run. At 15 years old, Florian also became the youngest ever Belgian modified champion.
Stock
Just like in Modified, a champion could be crowned on this event. Vincent Van Gansen, the 2017 stock champion, already won 3 races this season. If he would finish one place up of Giovanni Moguez, his only title contender, he would clinch his second national title.
Giovanni was determined to win this event however. Just like Vincent, he entered an Awesomatix car for this event in order to gain an extra advantage. In the rain however, most drivers ran their older cars.
Vincent has been the man to beat this season. On most tracks and in all the different conditions, he really dominated the field. During the washed out Q1, he dully did the same and won by a massive 7 seconds with his Xray rain car over Stefan Rommens (Yokomo) and Giovanni Moguez (Xray).
Vincent's biggest challenger was Peter De Grande. Peter's Infinity rain car seemed to be absolutely dialed, but when he made an error, he dropped down to fourth, just in front of young Alexander Van Gansen, Vincent's younger brother.
Q2 was again dominated by Vincent, but this time Stefan as much closer to him. Peter upped his game and finished in P3, just in front of the youngsters Alexander and Niels Degryze (Xray). Giovanni Moguez's speedo was broken and he opted not to run in Q2.
As his car was dialed, Vincent didn't opt to run in Q3. Stefan Rommens continued to be the best of the rest and won Q3, in front of Giovanni Moguez and Jeremy Deram (Xray). Peter and Niels came home in 4th and 5th respectively.
The overall qualifying ranking was Vincent Van Gansen (Xray), Stefan Rommens (Yokomo), Giovanni Moguez (Xray), Peter Degrande (Infinity) and French driver Jeremy Deram (Xray). Jeremy participates at some rounds of the Belgian nats and always does so with great enthusiasm.
In the damp first final, Giovanni decided to use his slicks. His strategy seemed to work during his warm up laps, but when the race got underway, the temperature of his tires dropped too much and he had traction problems. At the first lap melée, Stefan Rommens was the biggest victim and he dropped down the order. Out in front, Vincent cruised to an easy victory in front of Giovanni, Jeremy, Peter and Niels.
For A2, most drivers decided to use their dry weather cars with slicks. Giovanni passed Vincent and a spectacular duel followed. Vincent was much faster in the long sweeper preceding the straight. He could accelerate much harder, which gave him a higher top speed down the straight. The cars passed each other several times, but the inevitable happened when they touched again and Vincent dropped down the order. He tried everything to pass Stefan Rommens, but he just couldn't make it stick. Giovanni powered his Awesomatix to the victory, in front of Stevan, Vincent (Awesomatix), Peter (Awesomatix) and Niels (Xray).
The third final would be crucial for Giovanni to keep his title hope alive. He started quite well, and when Stefan Rommens lost traction he managed to creep up a spot. Giovanni started pushing hard and crept closer and closer to Vincent. Unfortunately Giovanni put two wheels into the grass and this sent his car spinning. It ended his hopes for the victory. After his first lap mishap, Stefan dropped down the order and finished in P6. P5 went to Peter Degrande with Jeremy taking a crucial P4, just behind young Alexander Van Gansen.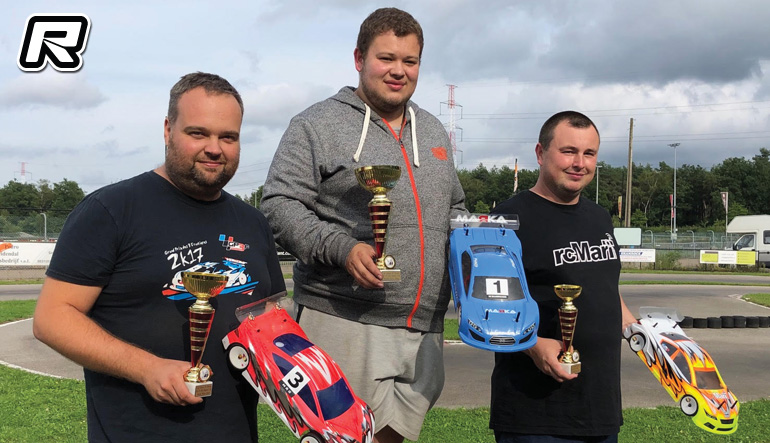 The overall ranking was Vincent Van Gansen (Awesomatix), Giovanni Moguez (Awesomatix), Jeremy Deram (Xray), Peter Degrande (Awesomatix) and Stefan Rommens (Yokomo). His fourth victory of the season meant that Vincent also became the 2019 Belgian stock champion with one race to go.
F1
Due to the bad weather, only 3 cars participated in this round of the Belgian nationals. In the full wet, Liam Van de Wouwer was in a class of his own. He convincingly earned himself the TQ spot, with Kris Vanbleu in P2 and local driver Kenneth Meisters in P3.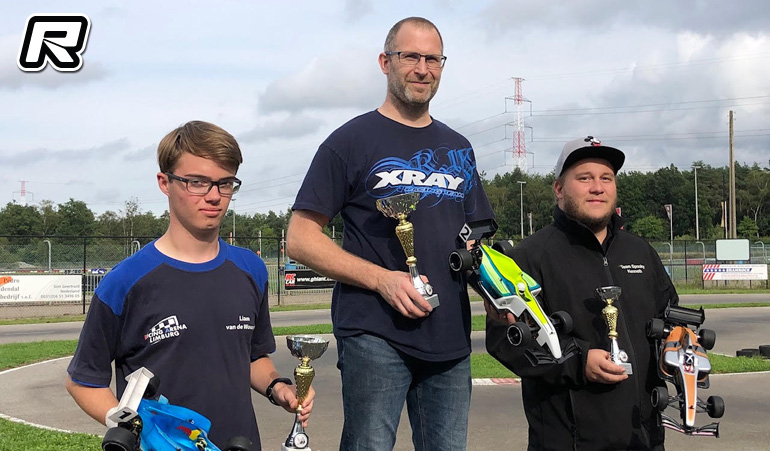 In the first wet A main, Liam still had the upper hand, but on the drying track, Kris found some more speed and convincingly won A2 and A3 and clinching his first ever victory in the Belgian nationals. The overall result was Kris Vanbleu (Xray), Liam Van de Wouwer (Xray) and Kenneth Meisters (Tamiya).
Fun
The supporting Fun class is run with a fixed timing 17.5 motor. After 3 rounds of qualifying, Krist Bultynck (Awesomatix) earned the TQ spot in front of the Yokomo's of Herman Van Gansen, Jannick Rommens and Marc Joosens and the Xray of Rony Claeys.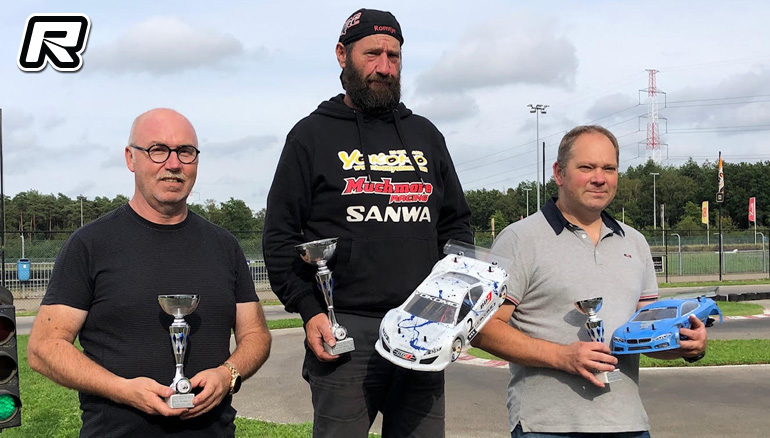 Jannick dominated the finals and won the overall event. Both Krist and Herman were tied on points, but thanks to a better third final, Krist earned himself the runner up spot in front of Herman, Dieter Stock (Xray) and Claude Gyselinck (Tamiya).
Source: David Joos & FBA [fba-rc.be]
---