October 21, 2019
Round one of the 2019/20 BRCA LMP12 Nationals took place in Eastbourne last weekend. A healthy entry of 60 drivers took part in the weekend's racing which bodes well for the season ahead. The Eastbourne club has the largest track layout of the season and this year they laid a fast and flowing circuit which was extremely good to drive. As per previous years organisation of the event and the onsite catering kept racers happy all weekend. This year's BRCA nationals will be even more important with many drivers preparing for the 2020 IFMAR World Championships being held in the UK in January 2020. Saturday is traditionally stock racing day and this year a new class running 17.5 turn motors with blinky speed controllers has been introduced. Alongside this is the 13.5 blinky class which is split into a F1 and F2 Championship.
13.5 qualifying was a captivating battle with defending champion David Spashett setting the early pace before ultimately losing out on pole position to Olly Jeffries with Adam Catchpole pushing David down to third. The top three were the only drivers to record a 40 lap run but very close behind was Mark Stiles, Andy Murray and Matthew Varah all separated by a few seconds. The final did not disappoint with some excellent racing. Olly Jeffries would capitalise on his pole position taking a tone to tone victory with a commanding drive. The final positions on the podium though would see an epic battle with second to fifth racing nose to tail for a good proportion of the race. By the final minute the race for second and third was between Adam Catchpole and David Spashett. This was thrilling to watch with David trying different lines to try and find a way past Adam who was keeping his car on line under intense pressure. A last corner move would see David find a way past with Adam finishing in third place.
F1 13.5 final result:
1. Olly Jeffries – Schumacher
2 David Spashett – Roche
3. Adam Catchpole – Capricorn
4. Andy Murray – Schumacher
5. Matthew Varah – Team Associated
6. Andrew Smith – CRC
7. Louis Parker – Schumacher
8. Mark Stiles – Team Associated
9. Ben Vincent – Roche
10.Matthew Lax – Xray
The F2 final would see Morgan Williams line up at the front of the grid from Kenneth Rogers in second and Ben Moorey in third. This race would be no less keenly contested with an early mistake from Morgan allowing Kenneth and Ben through. Morgan recovered quickly with the lead three cars circling very close together before a mistake from Kenneth would drop him back to third. A mistake from Ben would drop him out of the race with a damaged car promoting Morgan into the lead. Morgan was able to pull a gap on Kenneth in second before a mistake dropped him back allowing Kenneth to take the win. Morgan would finish in second place ahead of Ryan Coxall who in an excellent drive had come from tenth on the grid to take third.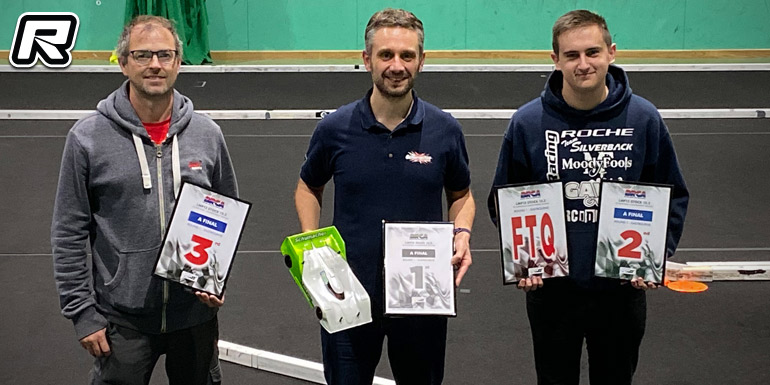 F2 13.5 final result:
1. Kenneth Rogers – Schumacher
2. Morgan Williams – Roche
3. Ryan Coxall – Team Associated
4. Damien Giddins – Xray
5. Geraint Williams – Xray
6. Chris House – Roche
7. Richard Norris – Team Associated
8. Ben Moorey – Team Associated
9. Michael Bird – Roche
10.Steve Donald – Schumacher
Although the field was smaller for the 17.5 runners the front positions were no less keenly contested. Marcus Askell would line up on pole a few seconds clear from Niall Cochran in second, Andy Sawyer third and Gavin Clinch fourth. A first lap mistake from Marcus would see Andy move into the lead. Marcus and Niall would give chase before a mistake from Niall would take him out of contention. It wasn't long before Marcus caught up with Andy and after following closely for a while an excellent pass on the entrance to the straight would see him then bring his car home for the win. Andy would come home second and Gavin Clinch recovered brilliantly to claim third place after an early problem dropped him down the order.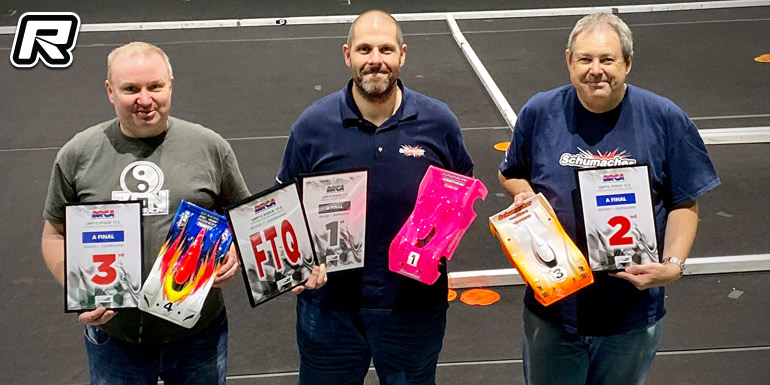 17.5 final result:
1. Marcus Askell – Schumacher
2. Andy Sawyer – Schumacher
3. Gavin Clinch – Destiny
4. Niall Cochran – CRC
5. Simon Cleaver – Destiny
6. Matt Baker – Destiny
7. Charlie Colby – Roche
8. Matthew Coverly – Roche
9. Peter Winton – Zen
10.James Cann – Zen
Sunday would see the return of the open modified class. Last year modified was limited to 6.5 turn motors and blinky speed controls but the decision was made to run the class to IFMAR worlds specification and this meant open motors and speed controllers. Most of the field opting to run 3.5 turn motors giving the most rapid cars seen at a BRCA national in a few years. 13.5 motors would also continue to run in the very competitive Sports class.
In Modified Olly Jeffries provided a masterclass in very fast clean driving and qualified a lap ahead of the field. Louis Parker showed that his form that he showed earlier in the year when he made the European Championship A final was continuing to develop as he drove to his best qualifying position at a BRCA national lining up second with Andy Murray not far behind in third. Adam Catchpole and Mark Stiles would complete the top half of the field. The final was again led tone to tone by Olly who stretched an early lead and maintained this to finish ahead by over half a lap. The battle for second was more intense between Louis and Andy with the two cars swapping places throughout the race with Andy winning out and finishing second just ahead of Louis.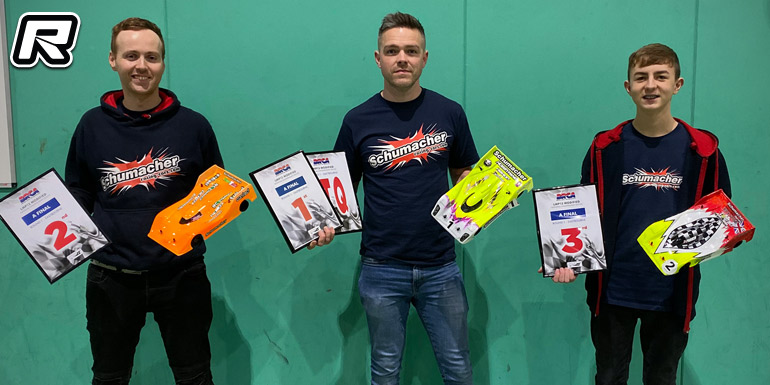 Modified result:
1. Olly Jeffries – Schumacher
2. Andy Murray – Schumacher
3. Louis Parker – Schumacher
4. Adam Catchpole – Capricorn
5. Andy Sawyer – Schumacher
6. Daniel Robins – Schumacher
7. Stephane Fiorini – Roche
8. Jonathan Simblet – Roche
9. Mark Stiles – Team Associated
10.Patrick Bandeira – Roche
The sports class was dominated by David Spashett who piloted his car to first place on the grid almost lapping the whole field. Matthew Varah was the only other man to qualify on the same number of laps as David in second. Last year's Champion in this class Ben Vincent would line up third ahead of Nathanael Goodban and last year's F2 Stock Champion Andrew Smith. From the tone David stretched an early lead and despite a problem while passing a back marker dropping him back towards the chasing field he was always in control of the race winning comfortably. The race for the remaining places on the podium was the usual enthralling affair we have grown accustomed to in this class. Despite running with excellent pace it was not to be Matt Varah's day as a mistake around the half way point would see him retire with a damaged car. Andy produced a solid consistent drive which rewarded him with second place and after recovering from an early incident Nathanael finished strongly to complete the podium in third.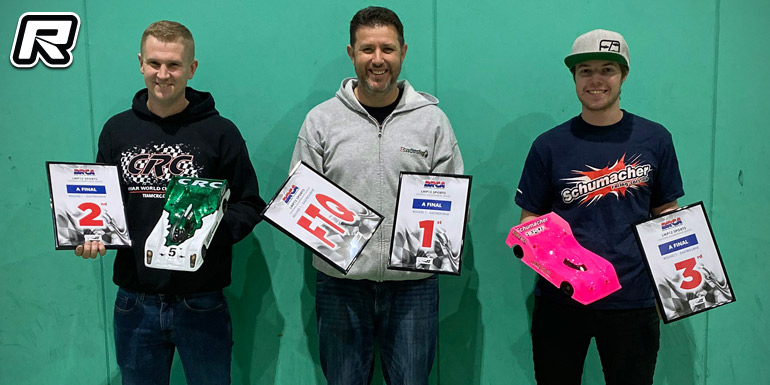 Sports result:
1. David Spashett – Roche
2. Andrew Smith – CRC
3. Nathanael Goodban – Schumacher
4. Ben Vincent – Roche
5. Mark Jewitt – Schumacher
6. Mick Farrell – Destiny
7. Matthew Lax – Xray
8. Adam Mackman – Schumacher
9. Matthew Varah – Team Associated
10.Niall Cochran – CRC
The next round of the Championship stays in the south of the country and takes place in Poole in November.
Source: BRCA [brca.org]
---