February 26, 2020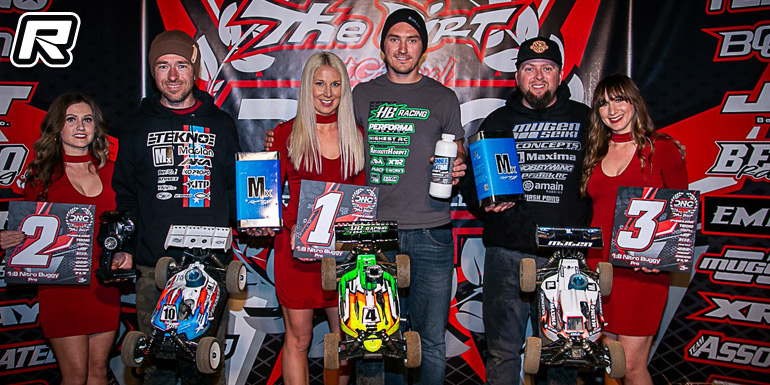 There are races and then there's the Dirt Nitro Challenge. It's unlike any race in the entire world and year after year, it attracts the best in the world to compete on one of the gnarliest tracks ever created. These two factors alone make this race, in every bit of the word … legendary. The Dirt Crew has built a reputation of creating some of the most technical and challenging tracks and no one does it better than Joey and Aaron. Thanks to their hard work and unique track building style, drivers are blessed with some epic racing that's not often seen at other events. The DNC only happens once a year and in many ways, this is a very good thing as it keeps this event truly unique making drivers thirst for a full year before they get to experience it again. This year's track layout was awesome. By transforming a simple straightaway into a tough rhythm jump section made for more jumps, more air, and more fun. This layout featured a lot of turns with intense angles and jump sections that increased the degree of difficulty significantly. However, many found the challenge very rewarding as you could really see the separation of driver talent as well as equipment. Throughout the weekend, the track just kept getting worse, but in some ways made the racing even better as the track became the speed equalizer for everyone. By the mains, it was one of the most blown out tracks ever to hold a Pro Nitro Buggy race, yet featured some of the best racing in history.
As usual the event was held in a multitude of Sportsman, Intermediate, Open, and Pro classes and much like last year, HB Racing's David Ronnefalk was the driver to beat in the Pro Nitro Buggy class, but an off-course collision with a light pole ended his race prematurely. This year, no light poles – no problems, saw the Swedish star out front and in command after a short battle for 1st with 5 other top drivers. Once David was able to get comfortable, he put in clean laps and cleared the field as the rest were all fighting for position. With a near-flawless performance by David, saw him finally capture the win that eluded him last year. Tekno's Jared Tebo left it all on the track and raced his way from 10th to 2nd as it was a true testament to his dedication and talent. Mugen's Ryan Maifield finished 3rd after coming from 8th on the grid and the only Pro driver to make all three podiums at this year's DNC.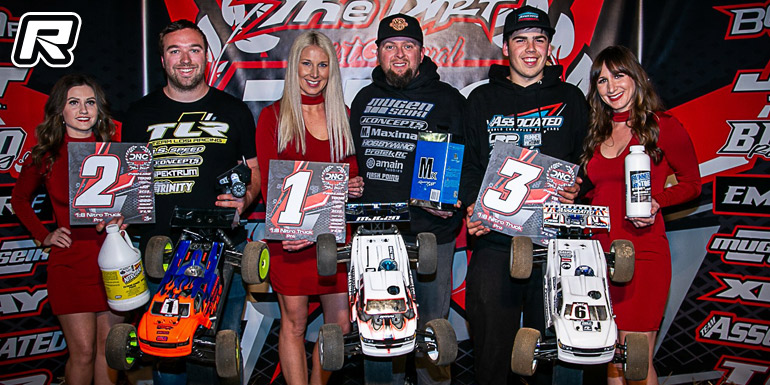 Once again, on a mission to repeat his 2019 efforts, Mugen's Ryan Maifield, was fully up to the challenge as the mains rolled around. Despite having qualified 4th on the grid, Ryan played it smart early on and moved into position right behind class TQ, TLR's Dakotah Phend. The two drivers raced each other hard, but with the utmost respect and put together one of the greatest races ever seen in Nitro Truck. After the dust settled, Ryan Maifield completed his mission of repeating as 2020 DNC Nitro Truck Champion. Equaling his best finish at the DNC, Dakotah Phend finished out the night in 2nd. Not known to ever race Truggy but definitely capable, Italy's own Davide Ongaro closed out the podium in 3rd for Team Associated.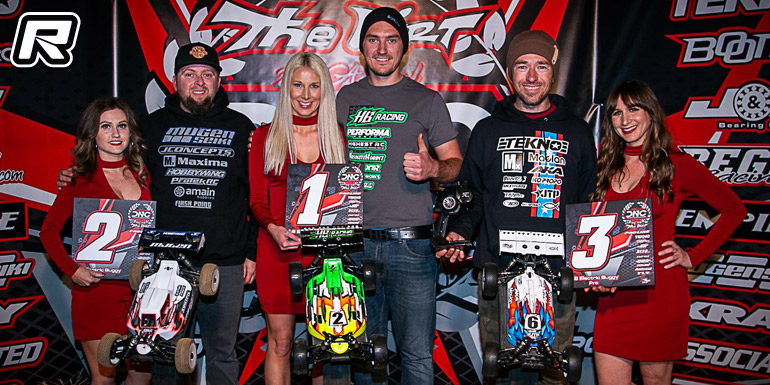 HB Racing's David Ronnefalk was able to repeat last year's effort with another great win in the single 10 minute, wildly-fast Pro E-Buggy A-Main. With the best in the world on hand, it was a quick sprint to the finish line and once again, proving to be the fastest in E-Buggy at the DNC this year was David Ronnefalk. However, in very typical David fashion, made it quite dramatic with a last-lap crash that nearly saw 2nd place finisher, Mugen's Ryan Maifield come in and steal the show. Tekno's Jared Tebo was determined and drove with great speed to move up 3 spots from 6th on the grid to finish 3rd on the podium.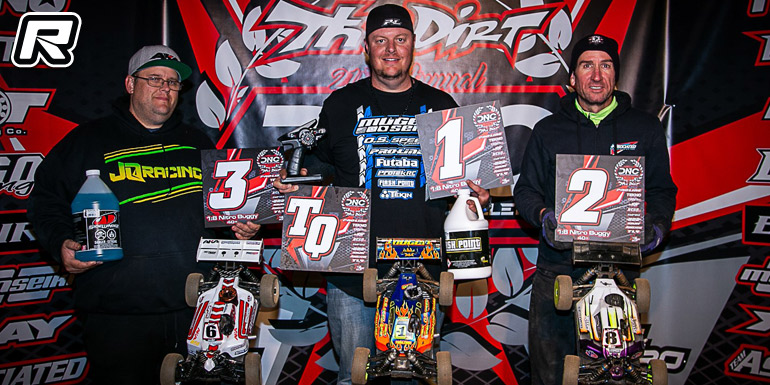 It was a dominant performance for Mugen Seiki's, Adam Drake, in the 40+ Nitro Class. With tons of experience to back up his talent, Adam cleared the field by over 2 laps to take an uncontested win. On duty, but having fun at the same time, The King, Team Associated's Richard Saxton put himself 2nd overall with a fine drive and 10 seconds in front of 3rd place finisher, JQRacing's Greg Degani.
Full results can be found here.
Source: JConcepts [jconcepts.net]
---