March 11, 2020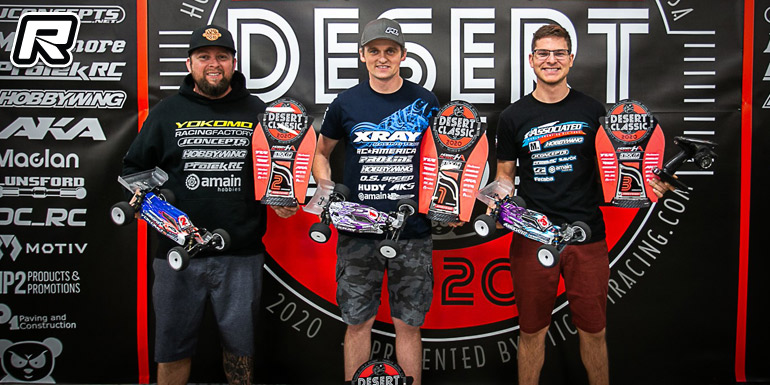 The 4th annual Desert Classic was held at Hobby Action R/C Raceway in Chandler, Arizona last weekend. Relatively new to the big race scene, the Desert Classic is now in its 4th year and just keeps getting better with each iteration. This year's layout was fabulous. Many of the racers in the pits commented that the layout was fun, easy, but had a nice degree of difficulty that was just enough to make racing interesting. It had a tremendous amount of flow mixed with a very tricky rhythm section that cut back towards the middle of the track. The jumps weren't so straight forward either as they had a high degree of difficulty; like the set of double-doubles on the right side. You had to land your car perfectly on the downslope of the 2nd set to gain time. If you missed it, you would have to wait for the car to settle before getting on the gas losing valuable tenths. Overall, the layout was perfect for racing and the track smoothness was the best it has ever been at Hobby Action. Another plus was the consistency of the track as the watering system was on point and made fair for all. Xray's Ty Tessman was on fire in 2WD Modified. The Canadian superstar captured the overall TQ in qualifying and used it to win A1 and A2 to wrap up the overall 2WD win. Yokomo'S Ryan Maifield found a good groove in qualifying and looked ultra-competitive in 2WD and was able to win A3 to finished 2nd. Team Associated's Spencer Rivkin was Mr. Consistency and was the only driver to make all three modified podiums by landing himself 3rd in Truck, 4WD, and 2WD Modified.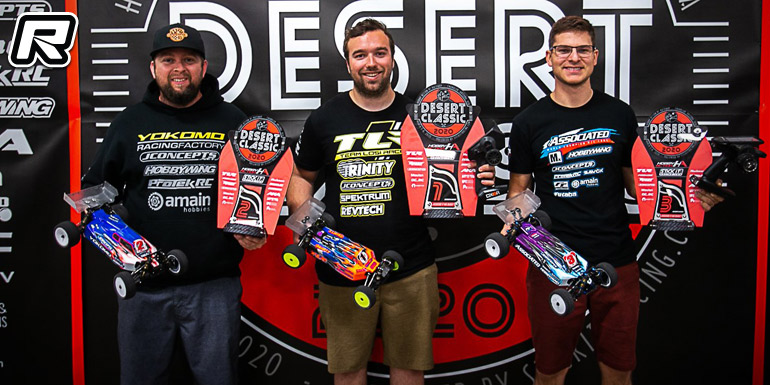 It was a near-flawless weekend for TLR's Dakotah Phend in the 4WD Modified class as the Michigan native TQ'd 3 of 4 rounds and went on to win the overall by winning A1 and A2. Also looking deadly fast throughout the weekend, Yokomo'S Ryan Maifield went on to have a great race with his YZ4-SF and placed himself 2nd on the box. Team Associated's Spencer Rivkin carried his momentum in qualifying, through to the mains and finished 3rd overall.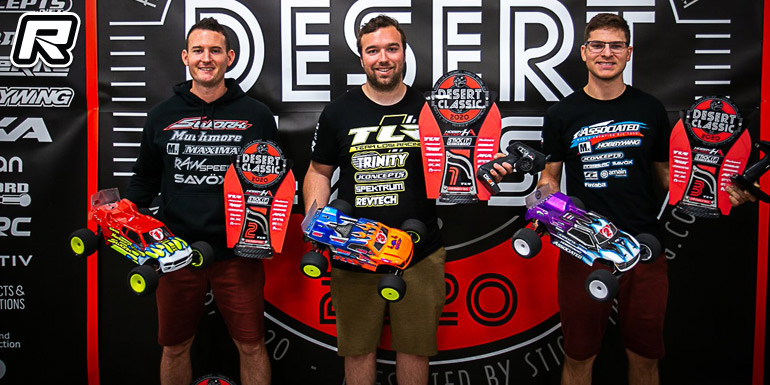 In Modified Stadium Truck it was a, come from behind, win for TLR's Dakotah Phend as he converted his 3rd place qualifying position into a fabulous win with some seriously fast driving. SWorkz's Ryan Cavalieri showed great speed all weekend and finished 2nd while Team Associated's Spencer Rivkin took home 3rd.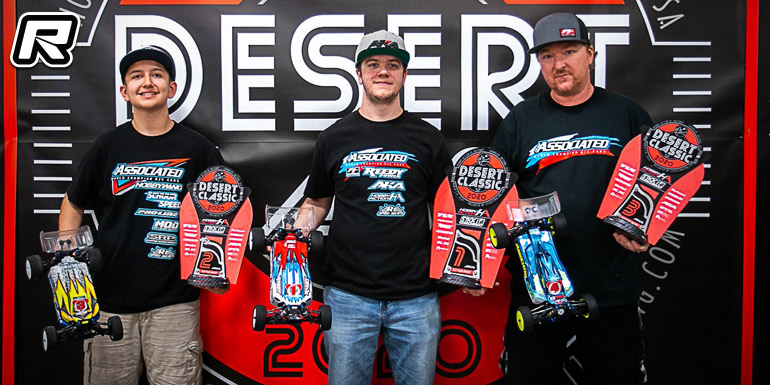 The action was hot in the 13.5 4WD class and this time, Team Associated's Ezra Keller wasn't to be denied. With mega drives in A1 and A3, Keller's two wins would lock him in 1st place overall. Team Associated's Antonio Counsil put his driving skills on display, this time his talents took him to 2nd place on the podium. Team Associated's James Gallatin was in the hunt all weekend proving to be one of the elites, finished 3rd overall.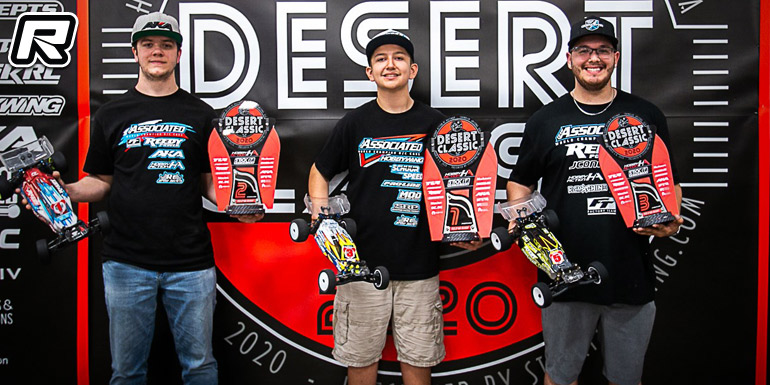 Team Associated's Antonio Counsil brought the fight this weekend as he stepped up his driving for the 5-minute triple A-mains in 17.5 2WD Stock Buggy. Having qualified 3rd, Antonio put the hammer down in A2 and A3 finishing 1st and 2nd and took the overall win by tie-breaker. Team Associated's Ezra Keller matched Antonio's points total with 1st and 2nd place finishes but was edged out by the combined times. Team Associated Riley Schaeffer also rose to the occasion when it mattered most and delivered a killer driver in A1 and A3 to place 3rd overall.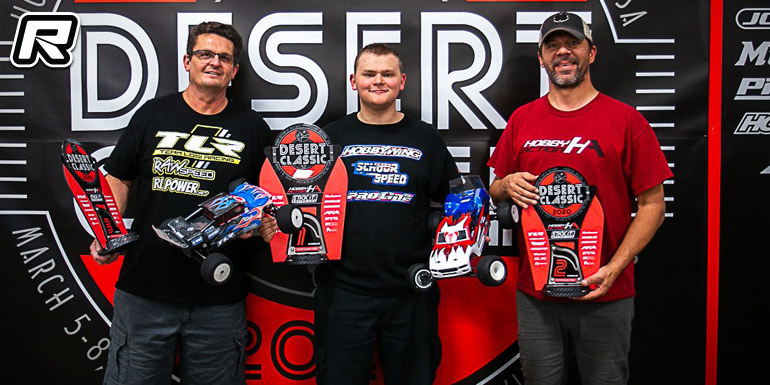 Nolan Whitley was the driver to beat in 17.5 Stadium Truck with a dominating performance in qualifying and finished the weekend on top with an awesome performance in the 10-minute A-Main. Jerry Walter was Nolan's closest competitor, finishing 2nd and on lead lap. Taking the 3rd and final spot on the podium was the Arizona native, Randy Locken.
The race was on in the 17.5 2WD Short Course class as the top 3 drivers battled for the lead for the entire 10-minute A-main. Using the TQ spot to his full advantage, Caden Lindsell led the field from tone to tone despite hard charges from Travis Lewis and Craig Schlegel. Caden kept it cool and took the win while Travis and Craig finished 2nd and 3rd.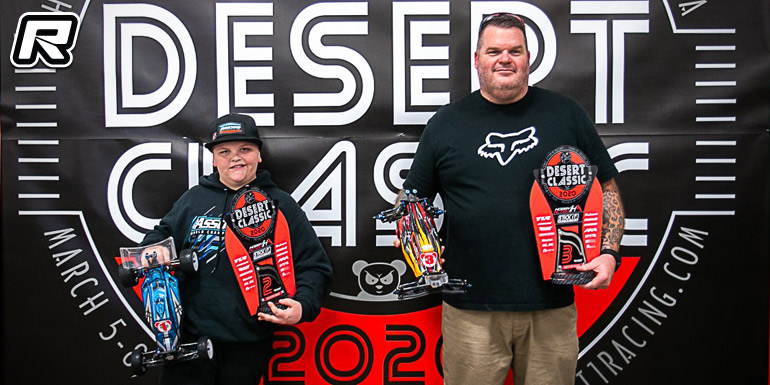 With 21.5 motors provided by Reedy as the official event handout motor, the 21.5 Independent class saw non-sponsored drivers go head to head in a fun and fair race event that brought smiles to every racer's face. We all know what it's like to attend a big race when you're new or perhaps coming back from a long break because of life changes, so it was exciting to watch that all go down in the 21.5 2WD class. It was a remarkable race for Jesus Greer, as he was the 10th place qualifier, but managed to work his way into 1st place after seven laps. Greer crossed the line in 1st, but unfortunately, was unable to stay for the podium pictures. Class TQ, Chase Boyd, was kept it close and after 10 minutes of hard racing and was only 2.38 seconds behind Greer at the finish. Also making the podium in the 21.5 2wd class was Jason Smith, who's taken a few years off and made the Desert Classic his first race back.
Source: JConcepts [jconcepts.net]
---