March 9, 2020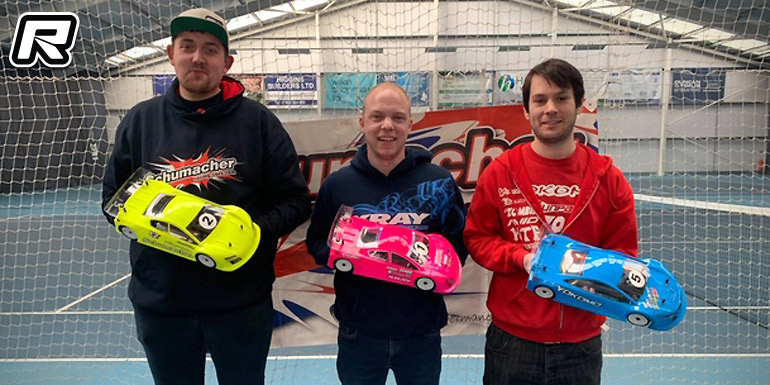 The sixth and final round of the Schumacher Winter Series presented by the Louth Radio Control Car Club took place over the last weekend. A new venue and new carpet offering improved grip, would give the drivers something new to get to grips with. The contact A30 club tyres were of choice for this meeting, handling the improved grip well. In 13.5T touring Chris Lovely would set the early pace take three TQ runs with his Xray, Alex Brocklebank would take the final round of qualifying to place himself into second with his Schumacher. Mitch Fiddling would make it two Schumachers in the top 3 with consistent rounds, Jason Lovely would show well on his return after a three month lay off in 4th with his aging 2019 Xray chassis. Joseph Cocking would sit into 5th with his a Yokomo, ahead Callum Chapman and Daniel Burks with their Xray cars.
In the single headed final Chris would lead away and cover off the first corner, but run wide for the second allow Alex and Mitch through. The rest of the back came bunches as Daniel Burks made his way through form the back of the pack. Chris would make his way past Mitch after a mistake, it wasn't until the leaders caught traffic that Alex would get caught up, allowing Chris through. Joseph Cocking fought his way through to 3rd. Cars fell by the way side mixing the order up slightly. Chris would come through to win ahead of Alex and Joseph.
Touring 13.5T final result:
1. Chris Lovely – Xray
2. Alex Brocklebank – Schumacher
3. Joseph Cocking – Yokomo
4. Callum Chapman – Xray
5. Daniel Burks – Xray
6. Jason Lovely – Xray
7. Mitch Fiddling – Schumacher
The 17.5 championship has been a close one throughout the year. During the year many have moved over to blinky, and with the cars being smoother and easier to drive, drivers are getting the most from them. Stewart Mcleod was a late addition to the meeting but would set the stall early doors with opening top qualifying runs. Jonathon Edwards made a return to the club and seeded in the lower heats made the most of it, settling into 2nd overall, another driver finding the sweet spot was Chris Chapman have solid rounds to round out 3rd. With championship rival Peter Covell not at the meeting Harvey Greenfield had it all to do from 4th on the grid. Ian Taylor showed well, ahead of Martin Lawson. Another a final appearance for Richard Howells and Paul Heyhoe would show well and round out the A-main positions.
One last five minute final to decide the championship. And it was chaos from the start due to the early chicane in the layout. Stewart Mcleod was under pressure from the blinky cars as he struggled with his car. Many drivers came through to challenge and it looked like that would be Chris Chapman who applied pressure early on. With traffic and mistakes, Jonathon would come back through to 2nd applying his own pressure but again mistakes crept in. Harvey Greenfield has one eye on the top prize but again mistakes happened. It came down to the last corner as Jonathon was side by side with Stewart, the timing screen giving it to Stewart ahead of Jonathon. Harvey recovered to 3rd ahead of Chris. Richard would come through the order ahead of Paul, with retirements to Ian and Martin. This result would give Harvey a well deserved championship.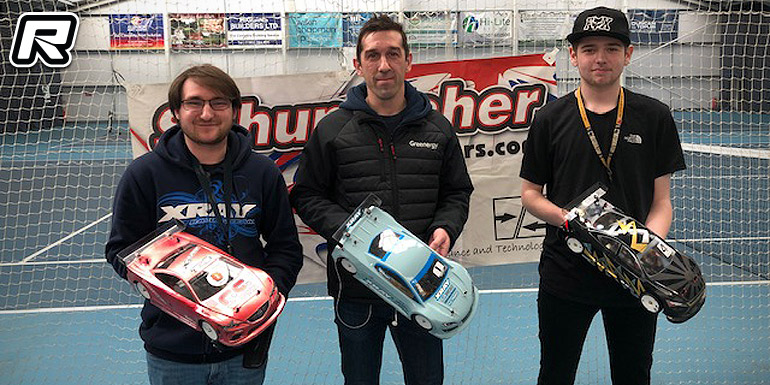 Touring 17.5T Open final result:
1. Stewart Mcleod – Xray
2. Jonathon Edwards – Xray
3. Harvey Greenfield – Xray
4. Chris Chapman – Xray
5. Paul Heyhoe – Xray
6. Ian Taylor – Schumacher
7. Martin Lawson – Serpent
The Tamiya Euro Truck class saw a boost in drivers for this round. With everything near to kit, it keeps these cars simple and easy for the drivers. Callum Chapman had the championship down up and would sit out of this round. Richard Howells would pick up the top spot, it was close between himself and Shaun Hensby who was making his debut in the class. Paul Vincent swapped over from GT12 to grab the 3rd spot, 4th place would below to Simon Babb. Adam Jessop would be 5th ahead of Matt Dutfield juggling two classes ahead Garry Hobson.
The final was a simple affair at the front of the field, a clean start from all the drivers. Richard Howells would be closely followed by Shaun but mid-race would be able to pull the gap. The pair holding place till the flag and a comfortable two lap gap over the rest of the field. Adam Jessop showed late on in qualifying that he had the speed and found it during the finals making some decisive moves and moving up to 3rd for a solid result. Paul would drop back a place to 4th, Simon would slip back, Matt Dutfield and Garry Hobson would have a strong final and hold station.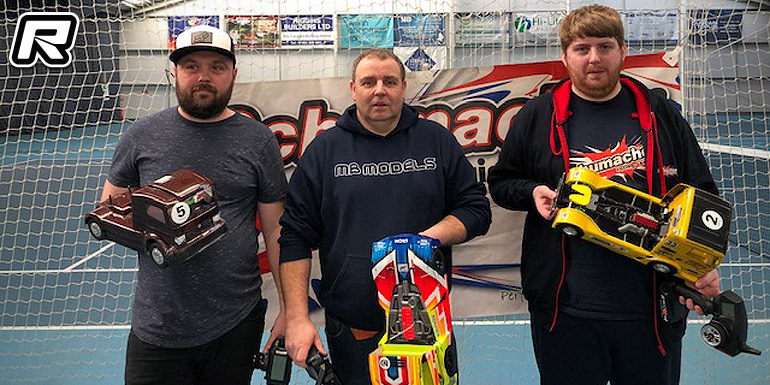 Tamiya Euro Truck final result:
1. Richard Howells
2. Shaun Hensby
3. Adam Jessop
4. Paul Vincent
5 Simon Babb
6 Matt Dutfield
7. Garry Hobson
The MTC and Tamiya M-Chassis has been a fun class for all this year. The MTC has started to grow and the Tamiya chassis mix in well with this class. Lisa Keen with her Xpress chassis would be the clear top qualifier taking the TQ position. Lee Ward who ha a been the spear head for the class slotted into 2nd, troubled day for Daniel Burks with his carten Ahead of the Tamiya duo of Simon Babb who mixed it well early doors and Jonathon Edwards.
The final was thick and fast with Lisa pulling the gap she needed early doors. Daniel found the speed and consistency to challenge after finding a way through Lee. The Tamiya chassis cars wouldn't have the match of the 4WD counter parts but non the less was great to see them out on track. The overall would finish with Lisa taking the win from Daniel, Lee, Simon and Jonathon.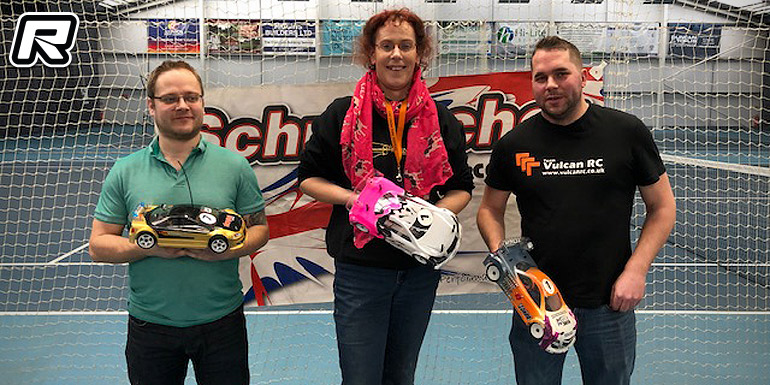 MTC/Tamiya final result:
1. Lisa Kenn – Xpress
2. Daniel Burks – Carten
3. Lee Ward – Xpress
4. Simon Babb – Tamiya
5. Jonathon Edwards – Tamiya
In GT12 it was Lee Stokes who set the pace early doors. Chris Whiteside has to adapt to the newer and grippier carpet, settling into 2nd. Craig Illingworth would also be close in case of mistake but would settle for 3rd. Adrian Hensby would show well with his Schumacher chassis in 4th, ahead of Matt Dutfield in his second class of the day. Lee had to overcome back pain and sit for the final but it didn't put him off as he set a fast early pace able to breakaway form the chasing pack. Chris would have an uncharacteristic slow start and Craig would jump him early doors, only for Chris to get into the groove and pull it back. Adrian would be comfortable in 4th position, as Matt struggled with gremlins in his car all day.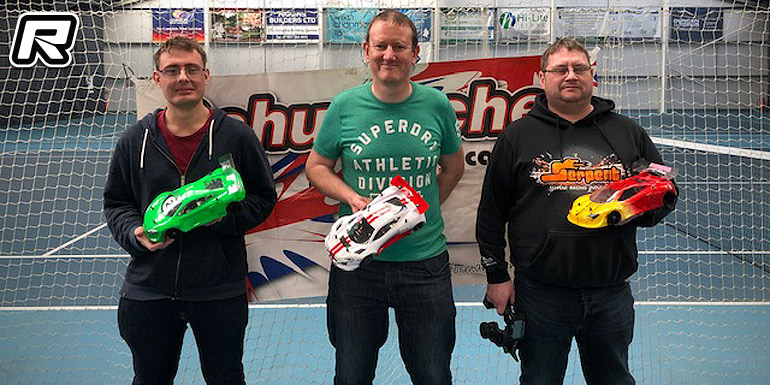 GT12 final result:
1. Lee Stokes – Schumacher
2. Chris Whiteside – Schumacher
3. Craig Illingworth – Schumacher
4. Adrian Hensby – Schumacher
5. Matt Dutfield – Schumacher
With the final race over it was time for the presentation and raffle.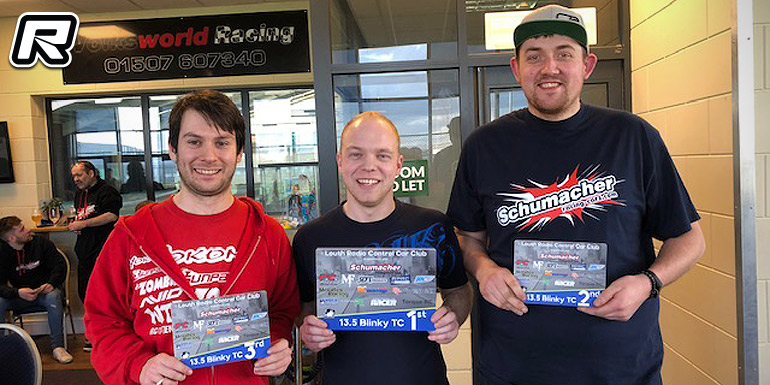 13.5T overall top 3:
1. Chris lovely
2. Alex Brocklebank
3. Joseph Cocking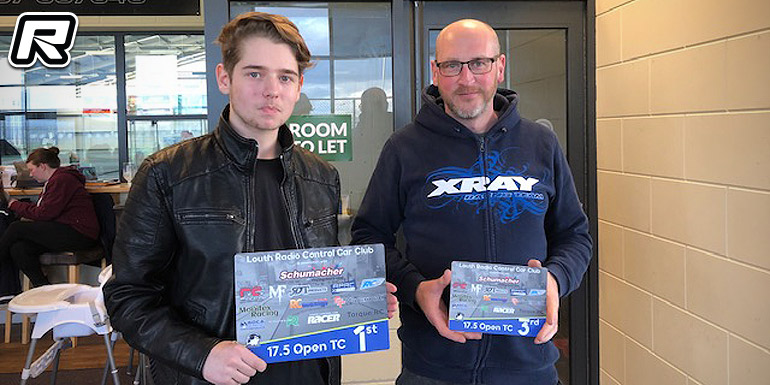 17.5T overall top 3:
1. Harvey Greenfield
2. Peter Covell
3. Chris Chapman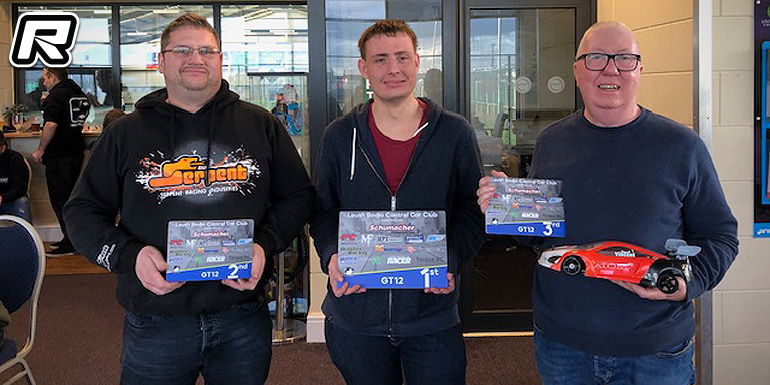 GT12 overall top 3:
1. Chris Whiteside
2. Craig illingworth
3. Paul Vincent
Tamiya overall top 2:
1. Simon Babb
2. Michael Burks
For the upcoming Spring and Summer events, please visit the club's social media here and web site here.
Thanks to Chris Lovely for the report.
---