March 6, 2020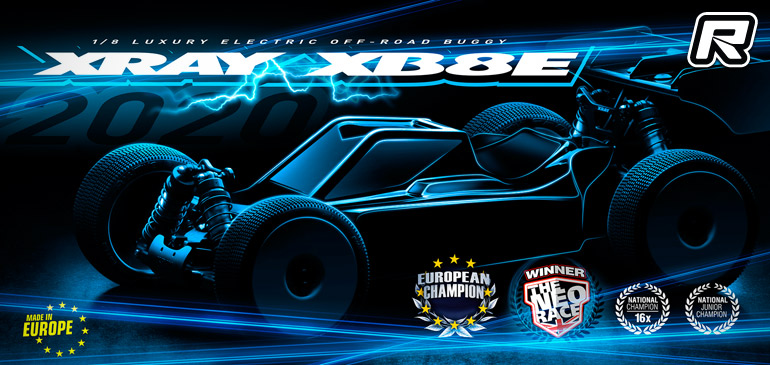 Following the release of their new XB8 nitro buggy Xray now also introduce the XB8E 2020 1/8th scale electric buggy kit. The EFRA Euros winning platform makes use of many of the features introduced with the XB8 2020, such as a new +4mm longer main chassis for improved stability and easier handling, a refined front shock tower with added upper shock mounting positions, upgraded shock absorbers or equal front and rear large volume gear differentials.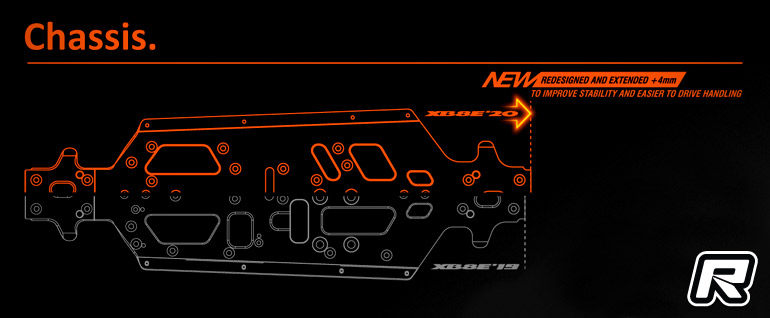 The chassis was refined and extended by 4mm to improve stability and handling characteristics. The longer main plate provides more wheelbase choices to maximise performance in every track condition and it is CNC-machined from 3mm high-quality Swiss 7075 T6 aluminium. It is strategically machined in low-stress areas and anodised to make it as light as possible without affecting strength or rigidity.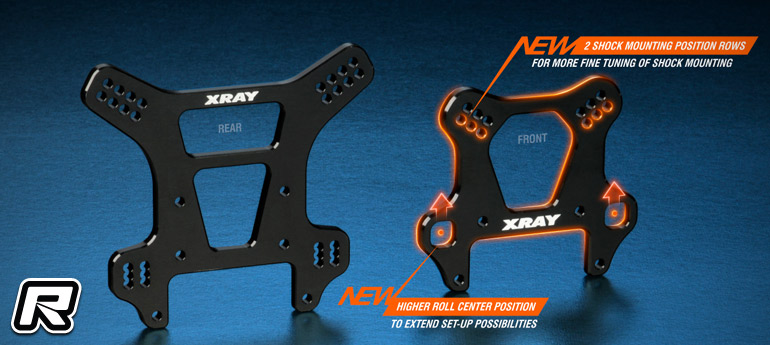 New for the 2020 XB8E is also a new aluminium front shock tower with a second row of upper shock mounting positions and higher placed upper arm insert windows for extended setup possibilities.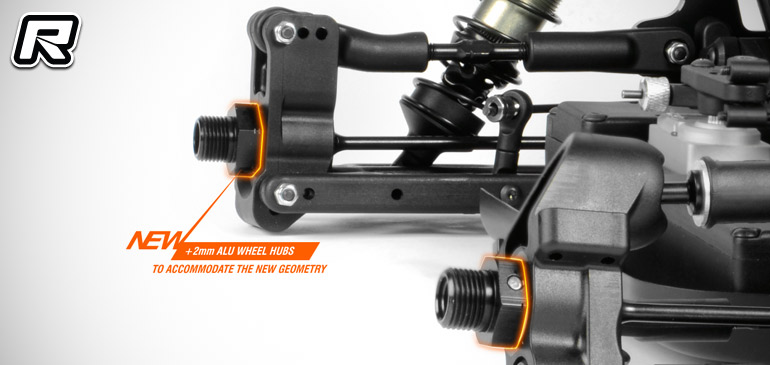 Included with the XB8E 2020 are rear wheel hubs with a +2mm off-set while the front features the +1mm off-set hubs. The ultra-lightweight 17mm wheel hex drive hubs are CNC-machined from Swiss 7075 T6 black-coated aluminium and they are specially machined to reduce rotating weight while guaranteeing wobble-free wheel mounting.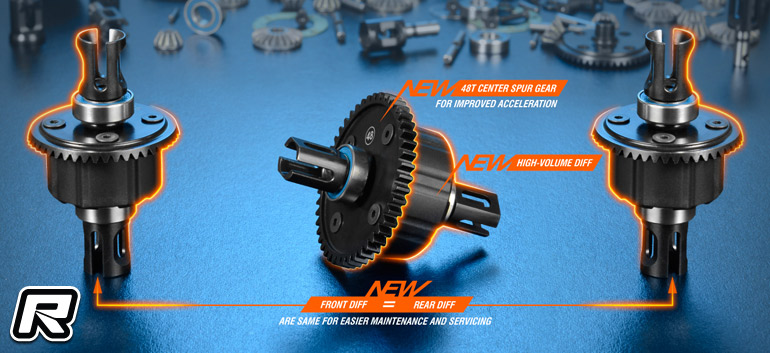 Both front and rear differentials are now identical for easier maintenance and servicing. The large volume diffs feature higher capacity cases, stronger diff pins, and large internal gears with more teeth for improved differential action, consistency and overall reliability. The larger volume of the differential and the shape of the gear teeth help reduce oil overheating.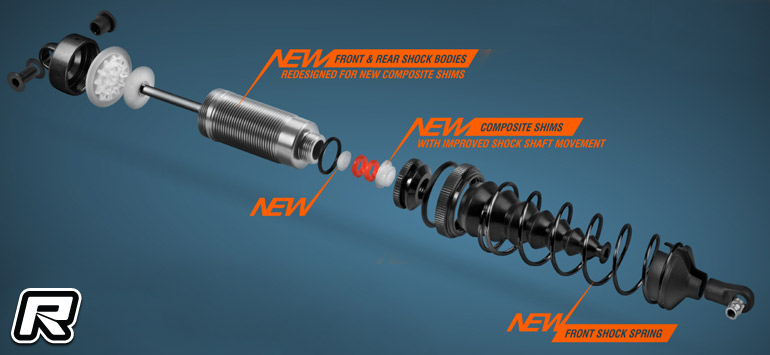 The XB8E's shocks were improved with updated shock bodies redesigned to fit the new composite lower shims for improved shock shaft movement. The shock caps feature four bleed holes for easier building and more precise rebound control. The longer shock shafts allow for increased suspension travel. Multiple shock membrane choices are available to tune the suspension to a wide variety of track conditions. The oversized big-bore shocks featuring 16.2mm internal diameter shock bodies are externally threaded with an adjustable collar for quick and easy spring preload adjustment. The shock bodies are hard-coated in a titanium colour and feature a 1-piece alu shock cap. Included with the kit come 4-dot front springs.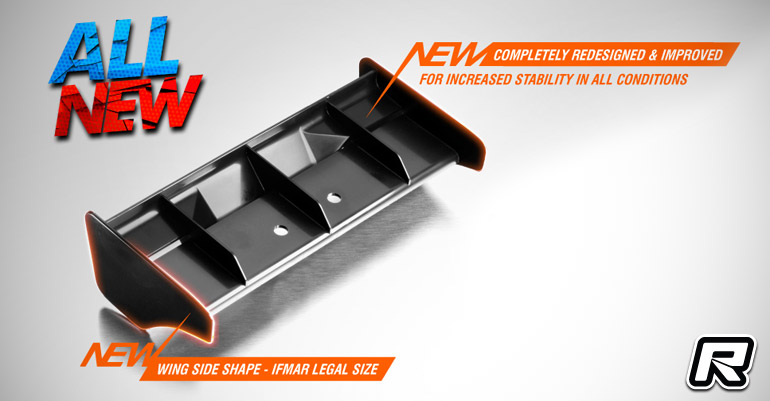 The XB8E's moulded wing was completely redesigned for 2020. The new shape of the wing increases the stability of the car in all conditions and is legal under the new IFMAR wing specifications. Made from a strong special composite mixture, the wing was designed to survive severe abusive and extreme crashes while keeping its shape.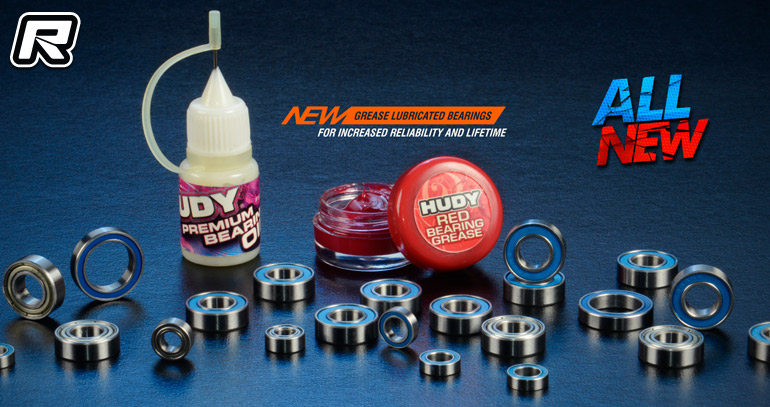 To improve the acceleration of the XB8E the central spur gear is larger with the 2020 kit including a 46T variant. A full set of 22 high-speed ball-bearings are used throughout the XB8E's drivetrain. All-new grease lubricated bearings are included for the pinion gears and diffs to increase reliability and lifespan, especially in dusty conditions. The remaining bearings are degreased and oiled with AeroShell Fluid 12 to reduce drag and maximise driveline efficiency.
Key features:
– All-new longer chassis +4mm for improved stability and easier to drive handling
– All-new front shock tower with two rows of shock mounting positions with new lower shock positions for tracks requiring higher corner speed and more stability
– Updated roll centre position on front shock tower to extend set-up possibilities
– All-new longer central driveshaft to accommodate the longer chassis
– All-new grease lubricated bearings for pinion gears and diffs for increased reliability and lifetime
– All-new completely redesigned IFMAR legal rear wing increases stability in all traction conditions
– Now front and rear differential are same for easier maintenance and servicing
– New shock bodies for new composite shims with improved shock shaft movement
– Now included 4-strip front shock springs for more stable front of the car
– New larger spur gear for improved acceleration
– Now included +2mm offset wheel axles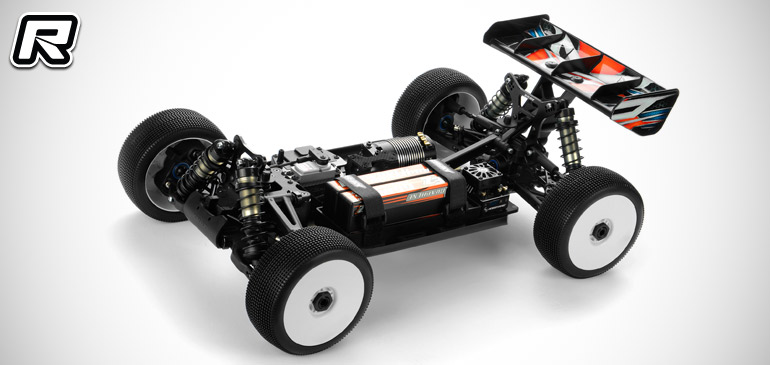 Find the full presentation here.
Source: Xray [teamxray.com]
---