June 5, 2020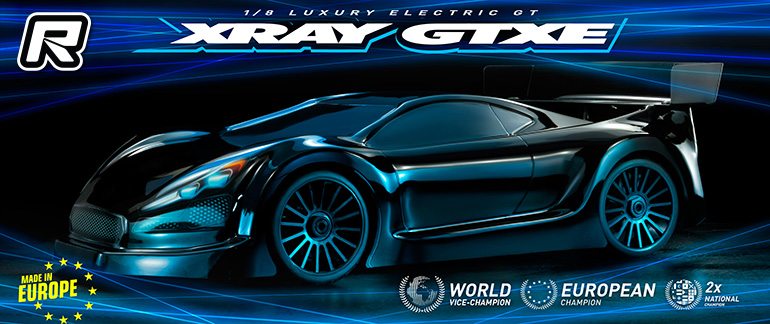 Following on from the recent release of the new GTX8 Nitro GT chassis, Xray have now introduced their new GTXE 1/8th scale Electric GT kit. The 2021 version of the EFRA European-Championship winning car is understandably similar to its Nitro counterpart, with focus on a redesigned and reinforced aluminium chassis whose rear section was reinforced for less on-power flex, which increases the stability of the car and ensures improved on-power control. The new chassis was also redesigned to fit both the soft and hard composite radio boxes without modification.
The chassis is CNC-machined from 3mm high-quality Swiss 7075 T6 aluminium, strategically machined in low-stress areas, and then anodised to make it as light as possible without affecting strength or rigidity.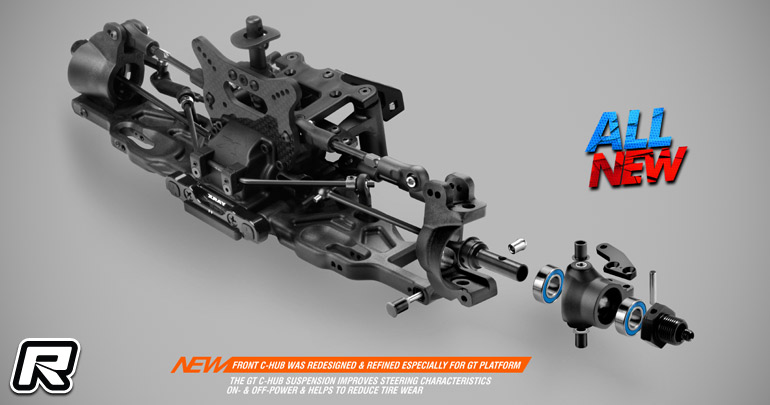 Up front the suspension's C-hub concept was redesigned and refined especially for the GT on-road platform. The GT C-hub suspension improves steering characteristics on and off-power and helps to reduce tyre wear. The caster is now easily adjustable by changing bushings in the suspension arm. The C-hub suspension features C-hubs with pre-set 16 degree caster as a good starting point for every track.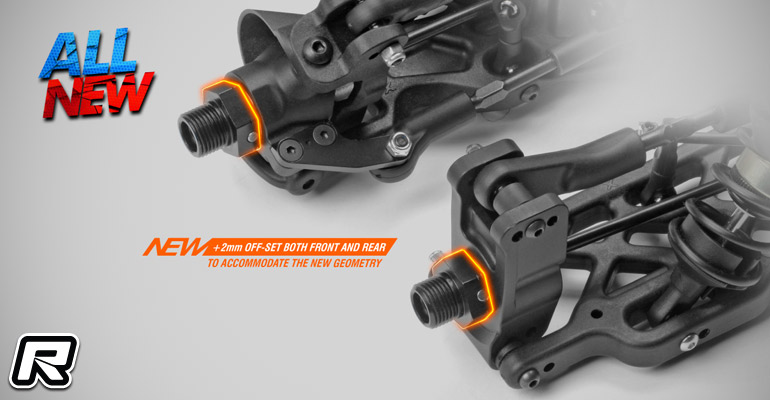 To accommodate the new suspension geometry, the kit includes +2mm off-set both front and rear. Ultra-lightweight 17mm wheel hex drive hubs are CNC-machined from Swiss 7075 T6 black-coated aluminium. The alloy hex hubs are specially machined to reduce rotating weight while guaranteeing wobble-free wheel mounting.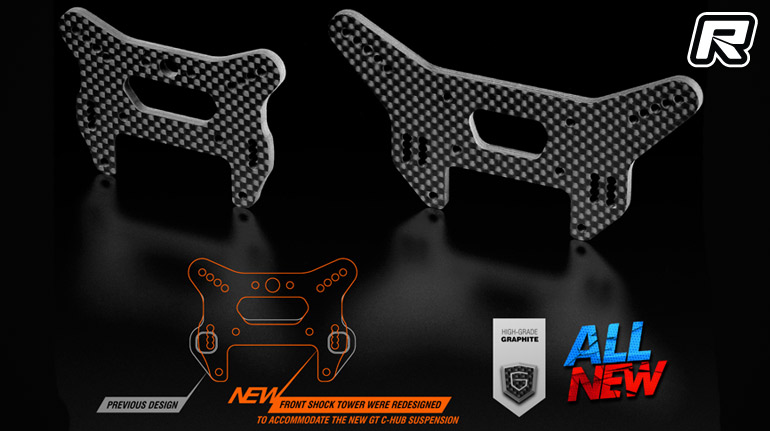 To accommodate the new GT C-hub suspension, also the front shock tower was redesigned. Machined from extra-thick premium-grade graphite, both shock towers are light of weight and very strong. The front and rear shock towers include multiple shock positions as well as multiple roll centre positions.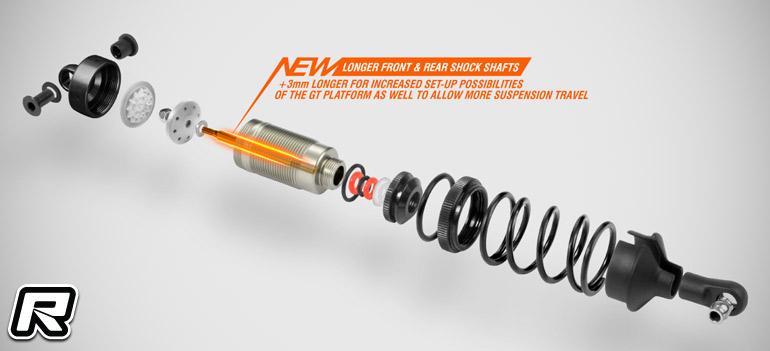 The front and rear shock shafts are now 3mm longer for increased set-up possibilities and to allow more suspension travel. The shock caps feature four bleed holes for easier building and more precise rebound control. Multiple shock membrane choices are available to tune the suspension to a wide variety of track conditions. Oversized big-bore shocks featuring 16.2mm inner diameter shock bodies are externally threaded with an adjustable collar for quick and easy spring preload adjustment. The shock bodies are hard-coated in a titanium colour and feature a 1-piece aluminium shock cap.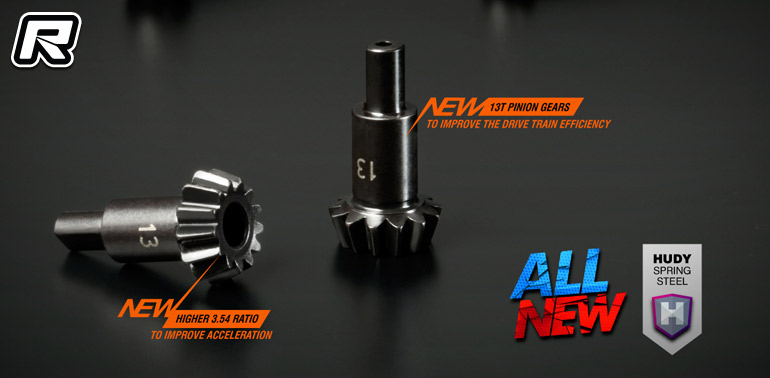 To improve drivetrain efficiency, the 13T pinion gears are now included for both front and rear bulkheads. Thanks to the higher 3.54:1 internal ratio, the vehicle's acceleration has also been improved.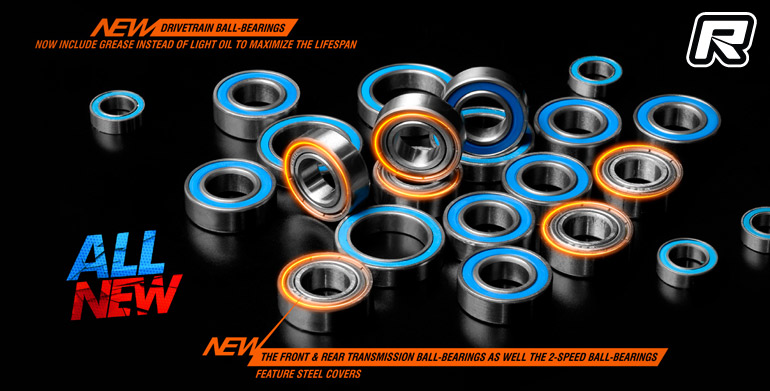 The included drivetrain ball-bearings are now greased instead of oiled to maximise the lifespan of the ball-bearings, especially in dusty conditions. For increased reliability, the front and rear transmission ball-bearings as well the 2-speed ball-bearings feature metal shields.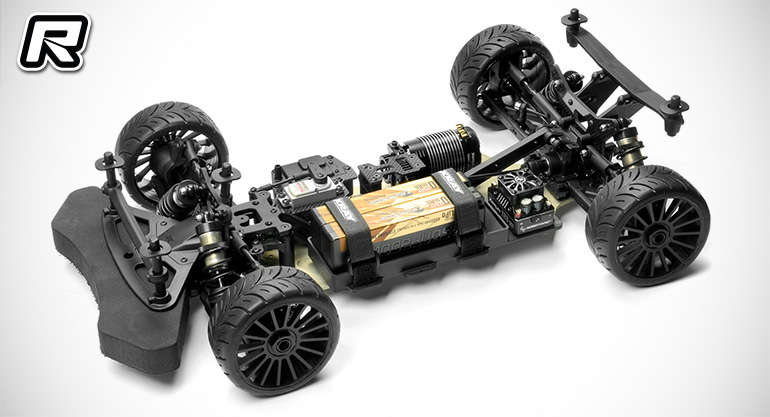 Key features:
– All-new reinforced chassis for increased stability
– All-new C-hub suspension refined for GT platform
– Improved handling characteristics with increased steering and more predictable handling
– All-new front shock tower redesigned for C-hub suspension
– New +2mm offset wheel hubs for increased stability
– All-new longer front & rear shock shafts +3mm for increased set-up possibilities
– All-new ball-bearings with grease for pinion gears and diff housing for increased lifetime and reliability
– Now included front and rear 13T pinion gear for improved drive train efficiency and improved acceleration thanks to higher 3.54 ratio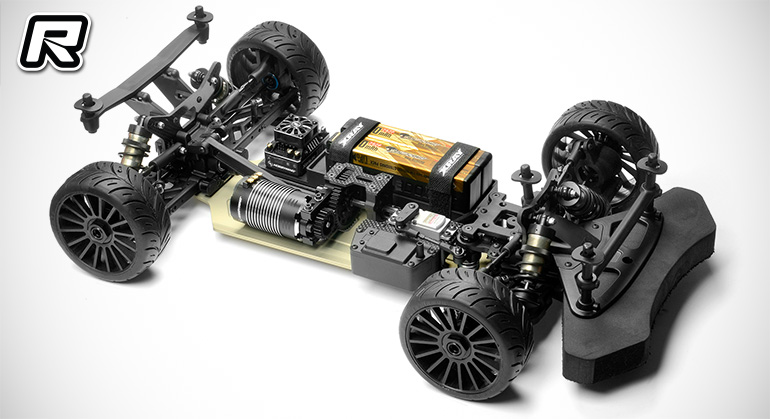 View the full presentation here.
Source: Xray [teamxray.com]
---