September 15, 2020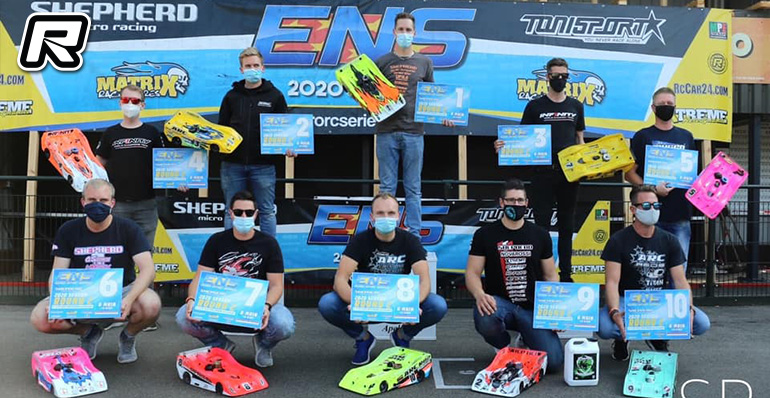 The winners of the 1:8 Scale and 1:10 Scale Class of the opening round of the 2020 Euro Nitro Series last month were once again the drivers to beat in their respective 45 minute long finals at Round 2 of the shortened series, which took place at the famous Apeldoorn circuit in the Netherlands. Due to the seemingly ever-changing travel restrictions in place, it was unfortunate that some drivers had to make a last-minute cancellation to their entry – perhaps the most notable being the Italian Infinity pairing of Dario Balestri and Carmine Raiola. However, their role to lead the 1:8 Scale Class for the team was taken up by the Dutch pairing of Jeffrey Rietveld and Rick Vrielijnck, who performed admirably – Rietveld even topping the Controlled Practice to be the top seed for Qualifying. Teemu Leino was again absent due to the conditions imposed by his native Finland, so once again Milan Holthuis slotted into the front of the Infinty team's 1:10 Scale assault.
In the 1:8 Scale Class, Simon Kurzbuch started on pole position after a tight battle in Qualifying with Shepherd team mate Toni Gruber, fellow Swiss driver Silvio Hachler, and Infinity's young gun Jeffrey Rietveld. Simon led the final away with Gruber initially his pursuer. However, in the early runnings, Gruber had to turn his attention to fending off Hachler behind him, rather than being able to attack Kurzbuch for the lead. The second round of fuel stops saw Hachler finally able to get his ARC past Gruber, but he was now around half a lap behind his countryman. The technical but high-speed Apeldoorn track saw pretty much the whole field taking two full tyre changes – with Kurzbuch choosing to pit early for his first change in order to keep the pressure on the field. With Hachler also pitting for four fresh tyres, about 3 laps later, this moved Gruber through to the lead again. However, once he then pitted for tyres one fuel stop later, the advantage moved back to the Swiss drivers. One of the few drivers to adopt an alternate tyre strategy was John Ermen, who stayed out a long time on his first set, even moving through to lead a lap during the cycle – before he too pitted.
As the race progressed, the gap at the front changed a little each lap, with Hachler running slightly longer on fuel, allowing him to get the gap down to as little as 2.5 seconds at some point. Overall, Kurzbuch remained in control at the front. Behind, a late issue for Gruber took him out of the race and saw him not able to capitalise on the strong pace he had shown until that point. This allowed Rick Vrielijnck up to third place, the Dutch Infinity driver having started seventh on the grid and carefully picked his way through the field and run a solid, consistent race.
1:8 Scale A-Main Results
1. Simon Kurzbuch – Shepherd/OS Speed
2. Silvio Hachler – ARC/OS Speed
3. Rick Vrielijnck – Infinity/Max Power
4. Jeffrey Rietveld – Infinity/Picco
5. Steven Cuypers – Mugen/Picco
6. Timo Schroder – Shepherd/OS Speed
7. Arnaud Mathieu – Capricorn/ONE
8. Robbin Hertong – ARC/Reds
9. Toni Gruber – Shepherd/Novarossi
10.John Ermen – ARC/Reds
In the 1:10 Scale Class, Dominic Greiner led Jilles Groskamp in qualifying, and these two drivers opened up an early gap on the field as the race got underway. Groskamp kept his Infinity within one second of the Capricorn of the race leader during the early stage of the race and looked to apply pressure to the former World Champion. In the first fuel stops, Groskamp suffered a slight body tuck, with the shell being caught up on the side body post. He was able to continue at a similar pace and chose to wait until the next fuel stop to fix the problem. That second fuel stop, including the fix to the bodyshell, cost the Dutchman around 4 seconds to Greiner, allowing the German a little bit of space at the front. The two drivers continued to match lap times, meaning that despite his slight advantage, Greiner couldn't let up for risk of putting Groskamp within striking distance.
Both drivers chose to change all four tyres once at the half way point – and it was here that Greiner again had the advantage, his stop being just over five seconds quicker than the work of Groskamp's team. From that point, Groskamp occasionally showed a little extra speed, reducing the gap down to 7.5 seconds at one point, but Greiner was in control and able to hold the lead until the end.
A tough battle for third place saw all the other drivers suffering from some kind of issues throughout the race. Initially, Milan Holthuis (Infinity) maintained his third place starting position, but suffered a flame out and then struggled to make fuel milage. This promoted the Capricorn of Melvin Diekmann up to a podium position, but later on he too ran short on fuel. Thilo Todtmann, meanwhile, encountered his issues on the very first lap, dropping down to the back of the field. From there, he had a consistent, if rather lonely, drive back through the field, and was able to take advantage of his rival's mistakes to cross the line in third place with his Capricorn car.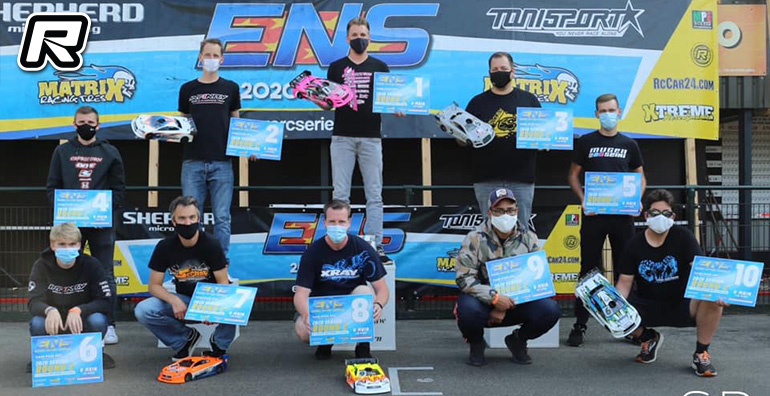 1:10 Scale A-Main Results
1. Dominic Greiner – Capricorn/OS Speed
2. Jilles Groskamp – Infinity/OS Speed
3. Thilo Todtmann – Capricorn/ONE
4. Melvin Diekmann – Capricorn/ONE
5. Dirk Wischnewski – Mugen/Orcan
6. Milan Holthuis – Infinity/Ielasi Tuned
7. Julius Kolff – Serpent/VS Rody
8. Patrick Fankhauser – Xray/FX
9. Fahd Labik – Mugen/OS Speed
10.Patrick Schafer – Shepherd/Gimar
Finally, the 1:8 +40 Masters class had former champion Arie Manten starting up front, ahead of former World Champion and winner of R1, Michael Salven. These two led the early runnings, but as the race progressed, it was Belgian John Lenears who was able to move through to the front, thanks to a combination of his own speed but also with his pit crew consistently netting the fastest fuel and tyre changes. Following a number of position changes as a result of fuel strategy, tyre strategy, and a variety of good and bad luck with some lapped cars, Salven came through to take second place with Manten rounding out the podium.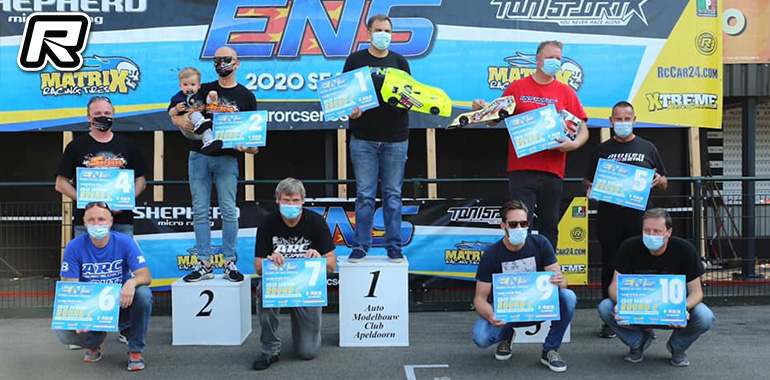 1:8 +40 Masters A-Main Results
1. John Lenears
2. Michael Salven
3. Arie Manten
4. Martin Zevenhoven
5. Martin Wenger
6. Olaf Engelmann
7. Andrea Hachler
8. Addie Van de Ven
9. Tim Bosmann
10.Remy Hasler
The series is set to conclude in late October in Fiorano, Italy.
Thanks to Oli Meggitt for the report / Images: Susanne Sue Pfeffer
---