February 28, 2022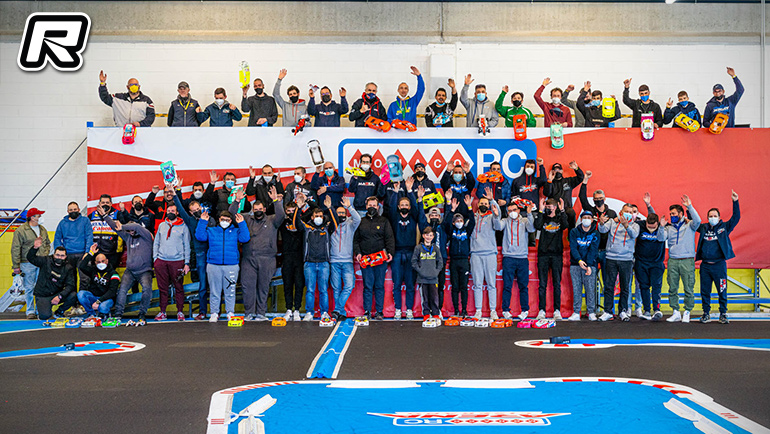 This weekend the first round of the AMSCI National Championship took place on the MonacoRC Arena indoor track. Thanks to the asphalt surface of the MonacoRC Arena it was possible to see consistent performance with excellent grip for both days of competition. The event was open to 5 classes, Touring Stock 13.5 F1, Touring Stock 13.5 F2, Modified Touring, Touring FWD 17.5 and F1 21.5. In the Touring Stock 13.5 F1 class, the poleman Federico Barbieri, following an unfortunate first final, managed to take home the victory followed by the ever faster Filippo Domanin who despite his very young age is getting us used to seeing him always high in the standings. Andera Simari completed the podium.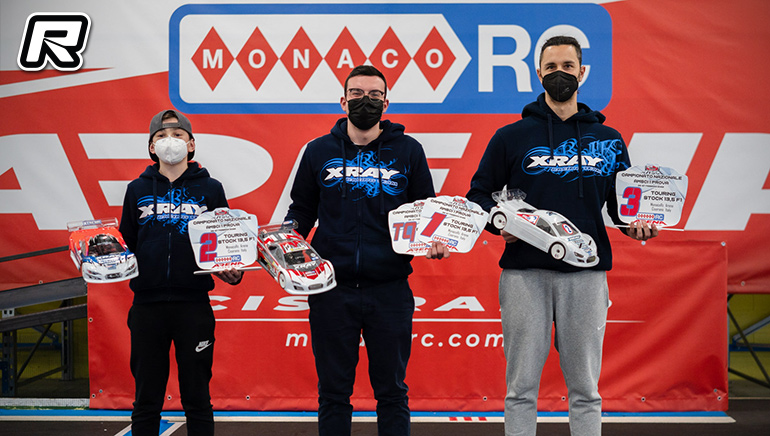 1. Barbieri Federico – Xray
2. Filippo Domanin Xray
3. Andrea Simari – Xray
4. Luca Romagnoli – Xray
5. Alessip Mancini – Xray
6. Roberto Fabiano – Xray
7. Flavio Paladin – Xray
8. Massimo Aliprandi – Awesomatix
9. Diego Locatelli – Serpent
10.Alessio Forgnoli – Xray
In the Touring Stock 13.5 F2 class dedicated to new drivers or to those who do not want to race in the most extreme F1, Alessandro Politano stands out and takes home the victory having also taken the TQ spot. Jacopo Corna manages to take home a second place, starting from the seventh position. Luca Ielasi closes out the podium, another driver to keep an eye on.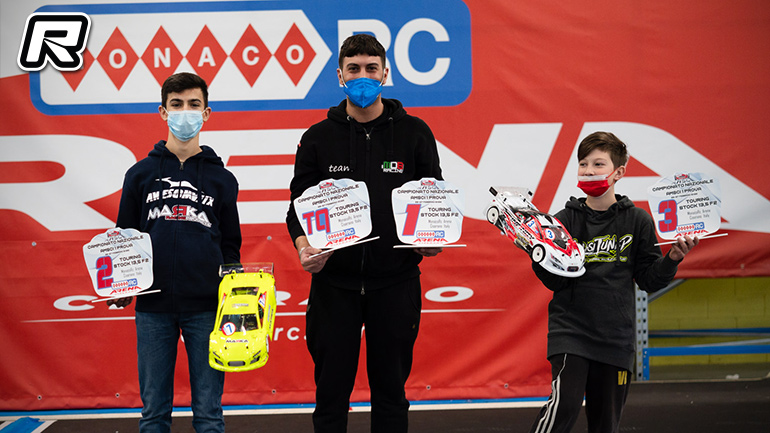 1. Alessandro Politano – Xray
2. Jacopo Corna – Awesomatix
3. Luca Ielasi – Infinity
4. Andrea Novati –
5. Matteo d'Ambrosio
6. Tony Simari – Xray
7. Davide Paduano – Awesomatix
8. Andrea Tonini – Awesomatix
9. Jacopo Antonelli
10.Diego Abbati
The Touring Mod class saw a very high level of drivers not seen for years in a National Championship in Italy. It is immediately clear that the battle for the top positions will be between Michele Manzo (Awesomatix) and Alessio Menicucci (Xray). Mattia Collina is also very close and at his debut with his new Schumacher proves to have found a good feeling. In 4th place was the Italian Campion Berselli (Awesomatix) followed by an always fit Romagnoli (Mugen). Jonatan Gandin as well as Alessio Mazzeo (Serpent) get involved in the electric category and do well. A good Ghilotti (Awesomatix) took 8th who was on the back foot having found the set up of his car too late. A World champion is World champion for life, Daniele Ielasi with his Infinity honoured everyone with his presence and took 9th. Rounding out the top 10, Mirko Salemi with Capricorn has dealt with bad luck.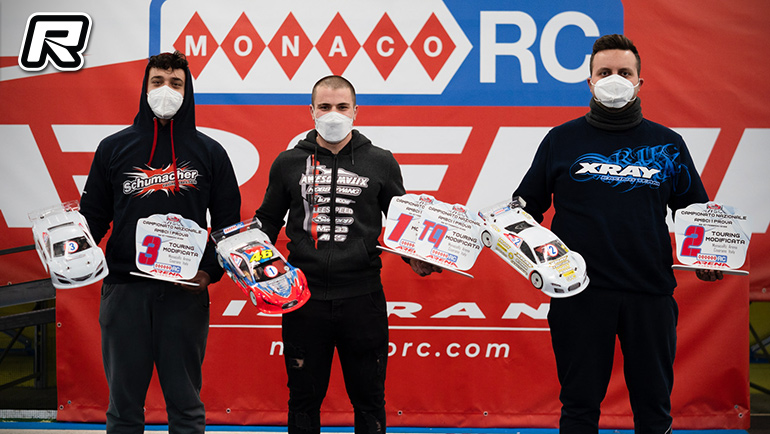 1. Michele Manzo – Awesomatix
2. Alessio Menicucci – Xray
3. Mattia Coliina – Shumacher
4. Gabriele Berselli – Awesomatix
5. Michele Romagnoli – Mugen
6. Jonatan Gandin – Serpent
7. Alessio Mazzeo – Serpent
8. Andrea Ghilotti – Awesomatix
9. Daniele Ielasi – Infinity
10.Mirko Salemi – Capricorn
The success of the Touring FWD 17.5 also arrived in Italy and the number as well as the quality of the drivers participating in it is always increasing. After the qualifications that see Roberto Fabiano (Xray) impose himself, Gilles Marletta (Awsomatix) manages to take the race home in the finals. Andrea Tonini (Awesomatix) closes out the podium.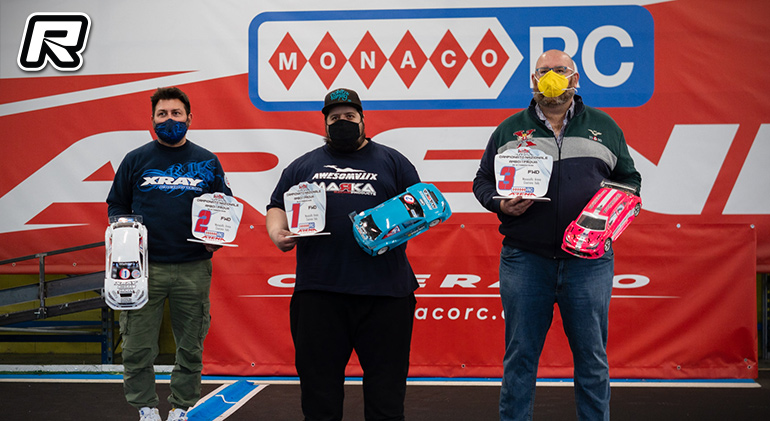 1. Gilles Marletta – Awesomatix
2. Roberto Fabiano – Xray
3. Andrea Tonini – Awesomatix
4. Simone Brocca – Xray
5. Siandro Antognetti
6. Vincenzo Basile
7. Max Merchants – Serpent
8. Giampiero Ferri – Associated
9. Alex Caminati – WRC
10.Sandro Gavazzoni
After the three finals in the F1 class the ranking only saw a change of position between the sixth and seventh. A very tight race between the first two Ferrara and Villa who finish the first two finals always within 2 tenths of each other, followed very closely by Berlincioni (Fenix).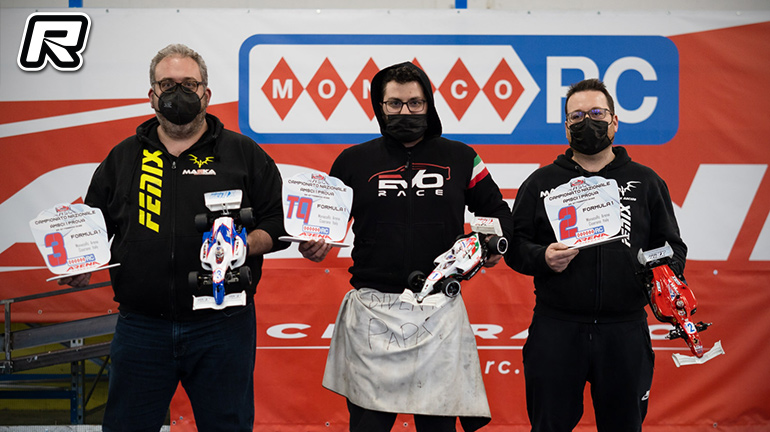 1. Bryan Ferrara – Fenix
2. Fabrizio Villa – Fenix
3. Matteo Berlincioni – Fenix
4. Simone Pavanello – Fenix
5. William Carrato – Fenix
6. Stefano Now – Fenix
7. Alex Caminati – Fenix
8. Massimo Cafferata – Xray
Source: Monaco RC [monacorc.com]
---