March 18, 2022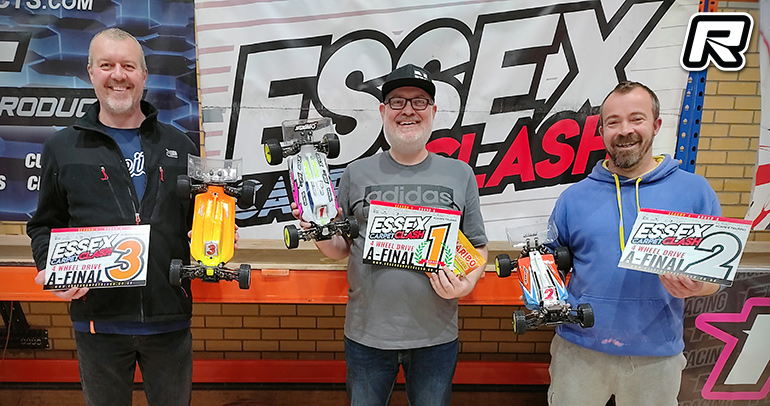 The final round took place last Sunday, for the well attended EssexCarpetClash series. To round off the series a quick and enjoyable track was laid for all drivers to race on. After a single round of practice, the 4 rounds of qualifying took place and it was clear in both 2WD and 4WD that the pole sitter meant business by topping the score sheets in all qualifying. 4wd saw John Painter line up in pole position ahead of Steve Kelly and Paul Evans. In 2wd, Kyle Moon would be car 1, ahead of a very fast and chasing Ellis Stafford. Christopher Delves would manage 3rd on the grid, while team mates Luke Mills and Will Johnson would line up 4th and 5th.
The overall result of the 4wd would stay the same as qualifying, although Painter put the pressure on himself, after having to retire in leg 1 with a broken car.
4wd A-main results
1. John Painter
2. Steven Kelly
3. Paul Evans
With a number of fast drivers in the A all wanting to get the best result possible, some great racing was seen. Pole man Moon managed to keep his cool and finish in the 1 spot for all the 3 leg finals, but it was close even to the line, with only a second between positions. Delves would take the 2nd step on the podium after some close fighting on track finishing 2nd in 2 of the 3 legs. Johnson made the most of his mid pack position and was able to complete the podium positions.
2wd A-main results
1. Kyle Moon
2. Christopher Delves
3. Will Johnson
With 4 of the 6 rounds to count towards the championship, the overall championship would conclude as below:
2wd Final series standings
1. Kyle Moon – 402pt
2. Ellis Stafford – 398pt
3. Stephen Brown – 382pt
4. Christopher Delves – 381pt
5. Will Johnson – 381pt
6. Richard Gasson – 380pt
7. Richmond Rogers – 374pt
8. Stuart Joyce – 372pt
9. Simon Hadley – 362pt
10.Kristian Gibbs – 356pt
4wd Final series standings
1. Harley Eldridge – 402pt
2. Stephen Brown – 400pt
3. John Painter – 393pt
Source: Essex Carpet Clash [essexcarpetclash.co.uk]
---