April 28, 2022
The FSEARA was again back to the old school style parking lot races for the first time this season. Chris Crowder was able to build up a steady routine schedule of this parking lot racing for the Daytona locals to participate. With the loss of 386 Raceway, a lot of RC enthusiasts had to travel hours away to race. Special thanks to Chris Crowder and his crew they were able to work with woody BBQ to provide their parking lot for this show to go on. In the Flagler plaza, there are also a Winn-Dixie and Ace Hardware to generate a ton of traffic and spectators. The race atmosphere was exciting with all of the spectators cheering and rooting for their favourite car to crash. All fun and exciting crew of people.
In Super Stock Tc 17.5, Corey Record swung out of the gate an excellent Q1 ahead of the field, but in Q2 the series Director Dave Vera recovered from a bad Q1 to reset the pace even in a hotter overall condition track. Corey was still the fastest car on the track, but just wasn't able to put a clean run together to hold off Dave's consistency.
At the start of the A main, Dave Vera comfortably led the pack of mixed battle between Corey Record, Furman Walker and Monti Panzica. It was the battle of Awesomatix between all drivers behind Dave's Infinity. In the end, Corey made a small mistake and allowed Furman and Monti to overtake. Furman was able to finish 2nd and Monti finished 3rd.
1. Dave Vera
2. Furman Walker
3. Monti Panzica
In Mod TC it was once again Xpress Driver Felix Law who was untouchable in Qualifying. Using a plastic/fiberglass XQ2S mid motor chassis this weekend in the modified class was something not so much has seen before. Possibly due to the parking lot track condition, Felix was able to take overall TQ by more than 1 lap over 2nd place.
In the A main, Felix was able to reset the fastest lap of the weekend with a 13.1sec lap but only to suffer an unlucky incident to end the race. The best of the rest goes to Infinity driver Dave Vera, Xray driver Brian Larkin and Serpent Ceo Joaquin Desoto. Dave was able to take the win 1 lap over Brian while Brain also pulled a 1 lap gap from Joaquin.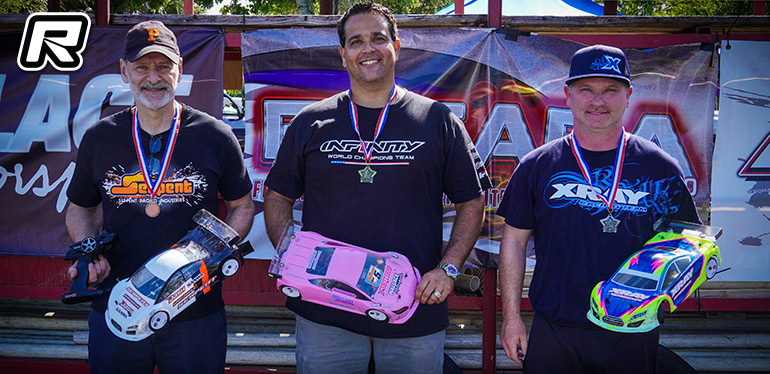 1. Dave Vera
2. Brain Larkin
3. Joaquin Desoto
In USGT your Points leader Eddie Shaffer had some intense competition in this race. Our Series F1 champion Sean Wager was able to keep Eddie busy in this class. Having to TQ the Rd1, Eddie was able to find extra speed in RD2 to reset TQ.
In the Amain, Battle of the Xray continues, X4 vs T4 battle with Eddie leading the way. A small mistake after 2 laps allowed Sean to take the lead. Then the intense battle goes on. With Eddie applying constant pressure on Sean, finally at the 5 min mark, Eddie was able to overtake Sean for the lead to win the main. Sean put up a good fight in 2nd, while the best of the rest went to Abner Telebrico in 3rd.
1. Eddie Shaffer
2. Sean Wager
3. Abner Telebrico
In 21.5 TC Eddie once again the man on top, taking RD1 TQ, but the battle in qualifying cut short for Eddie, in RD2, He suffered a DNF knocking him out early. Michael RC hobbies owner Michael Bruce was able to step up his pace and gap overall TQ.
In the Main, Michael suffered multiple bad luck and caused him to fall to the back and unable to recover, while Eddie was able to check out to a 1 lap lead while Starling Gibson and Abner Telebrico were able to move up into the podium spot.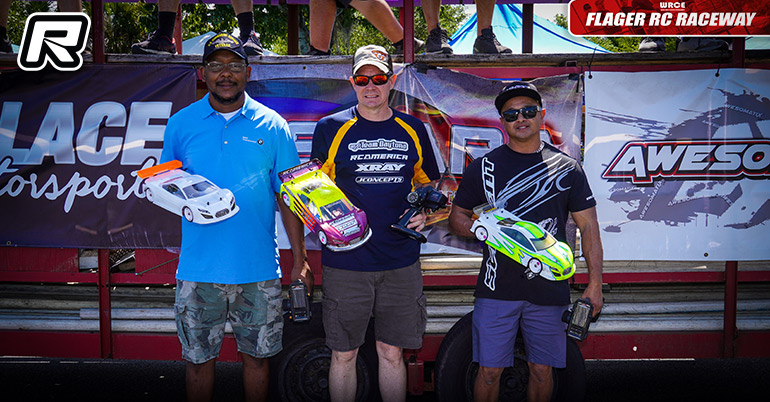 1. Eddie Shaffer
2. Starling Gibson
3. Abner Telebrico
VTA once again between the 2 VTA specialists. Jake Engstrom driving the TC3 and Greg Rojna driving a new S64 3 racing chassis. Jake was able gap the early RD1 TQ, but Greg was able gap it back in RD2. It was an intense battle between the 2.
In the Amain, Jake was able to overtake Greg quickly and off to a huge lead. But with 2 min left in the race, a mechanical failure happened to take Jake out of the race, and Greg was able to cruise to take the win. The best of the rest go to Chad Outlaw and Dennis Ogdahl finishing on the podium.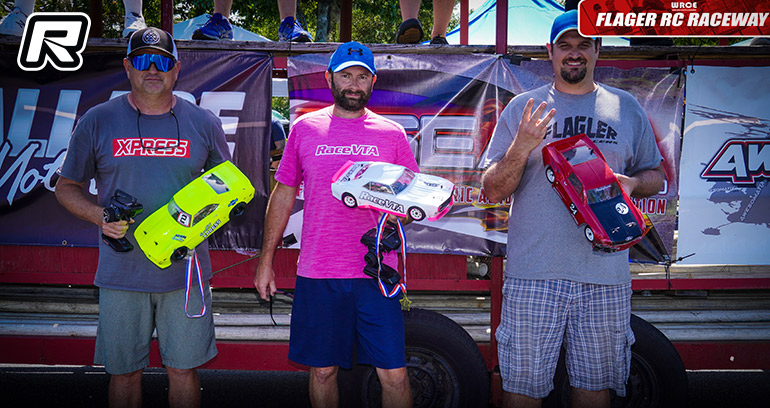 1. Greg Rojna
2. Chad Outlaw
3. Dennis Ogdahl
A new challenger in the GT12 class, Wesley Ramsdell, has been making a lot of noise lately and has put himself in the right direction. He was able to find some pace at this event and come out on top in qualifying. The class favorite Mike bean in 2nd and the series point contender Richard Johnston in 3rd.
In the main, Wesley made a huge mistake and got stuck in the pipe while Mike bean went on a cruise control model to lead the race. Richard Johnston was able to follow mike's lead and slowly creep up to Mike, by the end of the race, it was a close race while Mike's car seem to faint off badly, Richard took advantage to attack, but only to fell short and finish just 0.4 sec behind, Wesley did his best to recover his position finish just 1.6 sec behind Richard.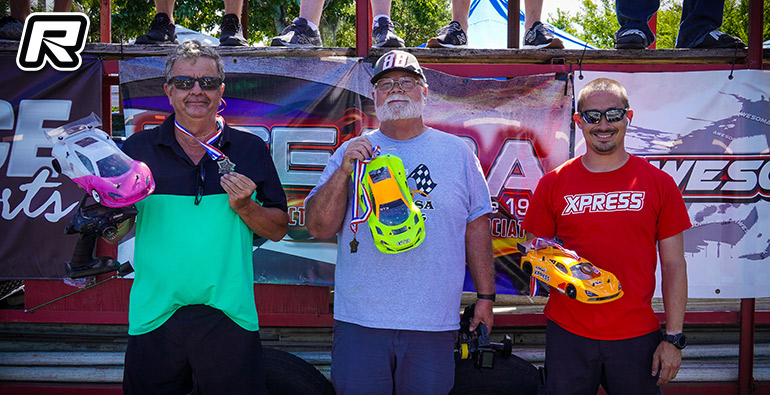 1. Mike Bean
2. Richard Johnson
3. Wesley Ramsdell
In F1 Sean Wager once again brought his A game. But this time, Andy st. Germain was able to keep the challenge in qualifying.
In the main, Sean had the lead, but Andy had the faster car and was able to overtake Sean with Izzy Santiago following closely behind. But Andy couldn't hold off Sean's consistency and gave up his lead with a mistake 3 laps later. Andy's mistake allowed Sean to cruise the remainder of the race to take the win, Andy finished 2nd and Izzy finished 3rd.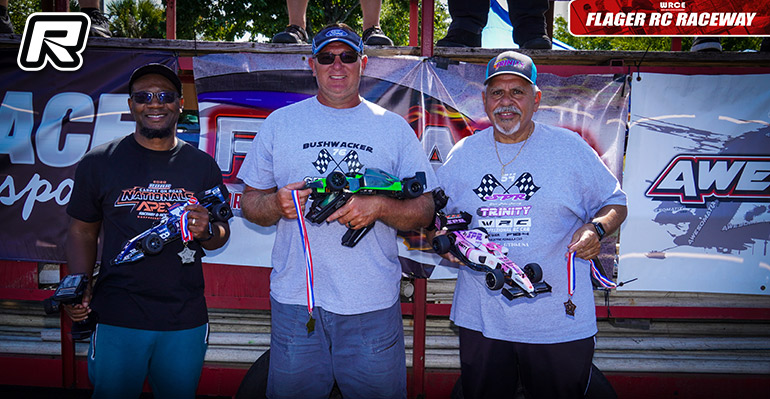 1. Sean Wager
2. Andy st. Germain
3. Izzy Santiago
The FWD class by itself was able to be popular each round in the series. Your series point leader Anthony Schimizzi was able to once again gap himself in qualifier. 2nd closest was Wesley Ramsdell. In the A main, Anthony once again checks out and never looks back. He 2 lapped the entire field. Wesley Ramsdell finish 2nd and Jake finish 3rd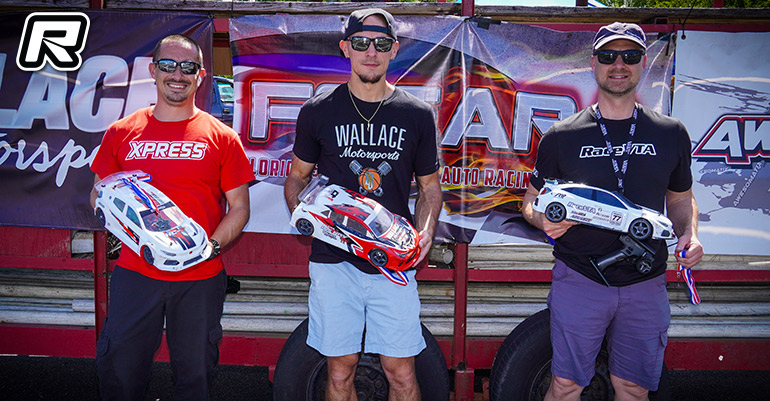 1. Anthony Schimizzi
2. Wesley Ramsdell
3. Jake Engstrom
One of the most popular classes at Flagler RC Euro truck is also the most important class here due to the beginner orientated target to build up the Radio control hobby. Once again the man the beat in this class was Allen Hall. But Wesley Ramsdell was able to put up a challenge here at Flagler RC and took the overall TQ in RD2.
In the Main, Huge mistake once again by Wesley allowed Allen to regain his pole position from start to finish. Wesley drops to 4th place and recovers to 2nd but unable to put pressure and challenge Allen. Mathew Metzger was able to hold 3rd till last 30 sec and allow Dennis Ogdahl to over take at the last 2lap for 3rd.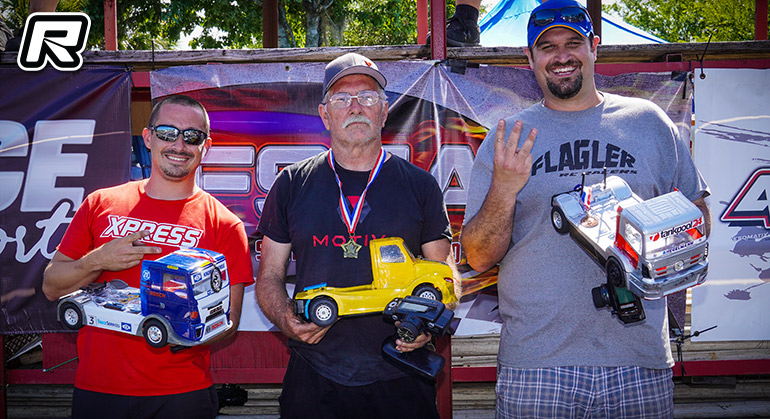 1. Allen Hall
2. Wesley Ramsdell
3. Dennis Ogdahl
Source: FSEARA [facebook.com]
---