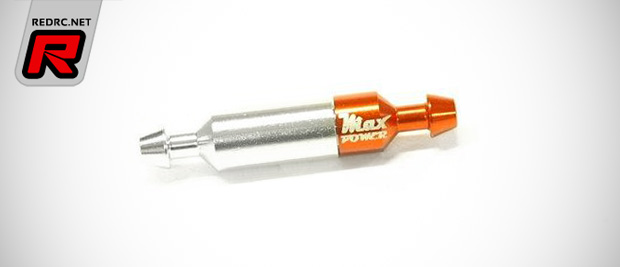 New from Max Power comes a small and lightweight fuel filter for nitro engines. Made from aluminium and offering a bi-colour 2-piece design the filter is easy to disassemble for cleaning purposes while the low-profile design makes it easy to fit it into the fuel line even in crowded surroundings.
Click here to view another photo
Wednesday, July 1, 2015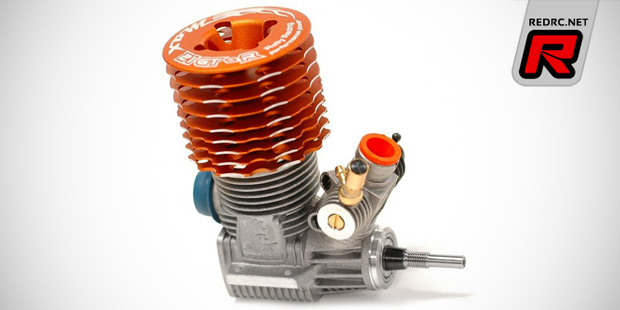 Max Power have introduced the Fantini-tuned GT-R 3.5cc nitro on-road engine. Intended mainly for Rally Game and GT cars the 5-power engine features a "booster" sleeve, a highly tuned, balanced and silicone-filled crankshaft and the piston is made of a special alloy material with a high amount of silicium. The engine comes with a 2-needle carburettor with interchangeable venturi inserts and it is designed to offers both good mileage and high torque.
Click here to view more photos
Tuesday, June 30, 2015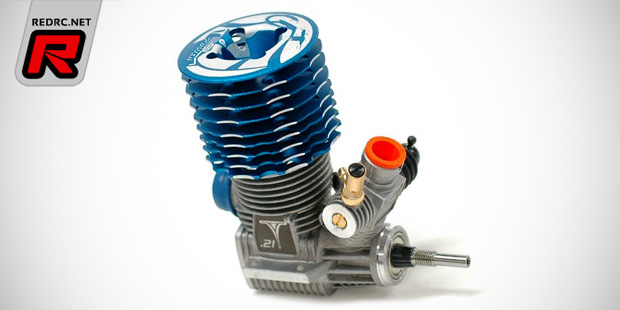 Capricorn have introduced the Tesla 21 GT nitro engine for 1/8th GT vehicles. Built using a same crankcase and crankshaft as Tesla's 1/8th on-road engine the GT features a class specific timing, and a 5-port liner and 7mm venturi insert to comply with the classes' rule book.
Click here to view more photos
Monday, June 29, 2015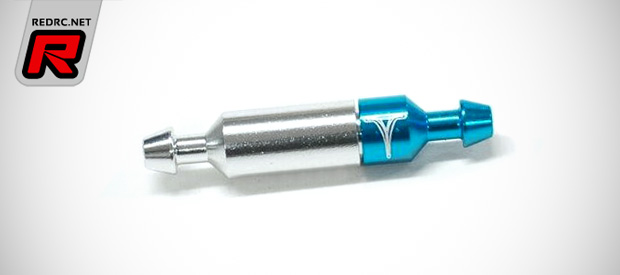 Coming from Capricorn and made for most 1/8th and 1/10th nitro applications is a low-profile fuel filter. The filter's body is of a 2-piece design that allows to easily clean the inner micro mesh element from any dust and dirt. The filter is made from aluminium with one side coming anodised in Tesla's signature blue colour with a laser etched logo.
Click here to view another photo
Friday, June 26, 2015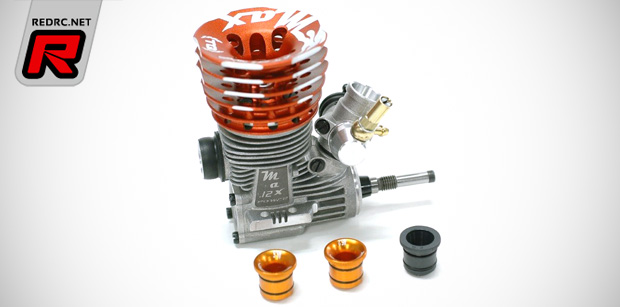 Italian company Max Power have a new 2.1cc nitro on-road engine available, the MX 12 TQ 2015. Build using a redesigned crankcase and offering updated inner and a revised exhaust port the engine also comes with a new crankshaft for improved top speed and exceptional fuel economy. A new chroming process for the sleeve and a CNC-machined and highly precise piston will improve the durability of the engine whose last but not least new feature is a lighter yet more rigid conrod. The .12 engine comes including a set of venturi inserts to fine-tune the performance and mileage.
Click here to view more photos
Thursday, June 25, 2015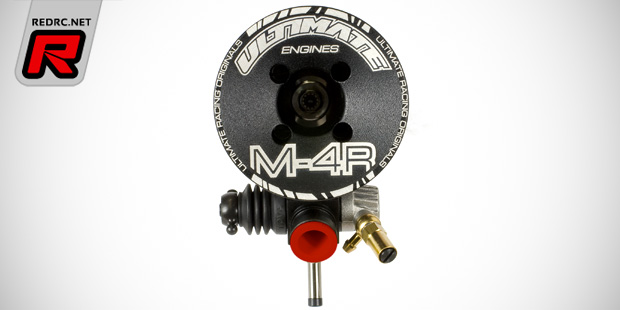 Modelix Racing introduce the new M-4R Tuned nitro off-road engine which was developed by the Modelix research & development team with the input of international top level drivers such as Yannick Aigoin, Miguel Matias and Robert Batlle. Produced by Novarossi the 4-port engine features a tuned crankshaft and it is meant to be the most powerful and speedy off-road engine so far in the Ultimate range of engines, offering exceptional power through the whole powerband.
Click here to view more photos
Monday, June 15, 2015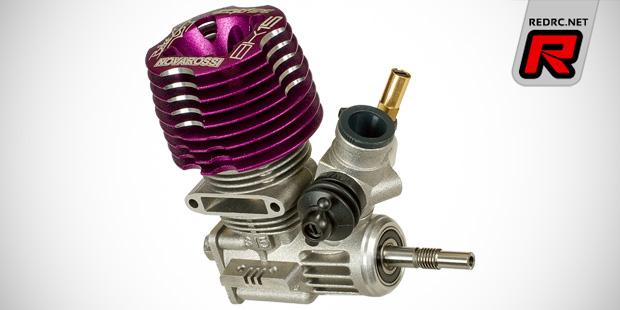 New from Novarossi comes the BK15SL3 nitro engine for radio controlled bikes. The 2.49cc short stroke engine is of a 3-port design and features a 11.5mm turbo crankshaft, 6.5mm aluminium carburettor and a starter adapter plate from stock. The crankshaft is manufactured with a larger bore intake to increase the mixture flow while the special shape makes for optimised gas flow within the engine.
Click here to view the specifications and another photo
Wednesday, June 10, 2015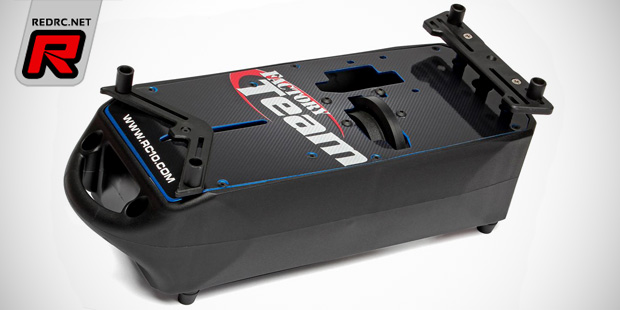 Team Associated have introduced their Factory Team Compact Starter Box for 1/8th and 1/10th scale nitro vehicles. Featuring a single heavy-duty 775-size motor and being useable with two 6-cell NiMH or 2S LiPo packs the starter box is powerful enough to even bring factory-new engines to life. The case features a built-in handle and the top surface is customisable using the supplied Factory Team decal. The package is rounded out by wiring and alligator clips for hooking up the box to an optional external 12V power source.
Click here to view the features and more photos
Wednesday, June 3, 2015