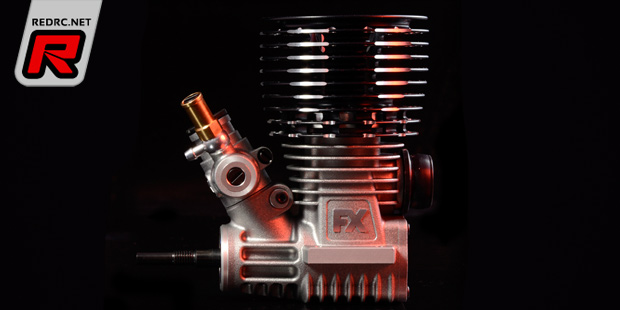 New from FX comes the K5 DC 1/8th off-road competition racing engine. It is based on the 5K and brings all the refinements and improvements based on the experiences gained from the previous racing seasons and a European vice-Champion title. The refined engine features a new, sealed combustion chamber insert with larger surface for improved heat transition to the engine head, a redesigned lightweight engine head with improved cooling, a new carburettor with optimised needles which lead to easier to adjust mixture settings and the K5 also has a more linear power supply. The engine uses a refined manufacturing process and it comes with a DLC diamond coated crankshaft, a high-precision German rear ceramic bearing and a premium Japanese front bearing. The K5 is available as engine only or including muffler and manifold.
Click here to view the specifications list
Monday, March 2, 2015
Ty Tessmann tore up the track at the 2014 IFMAR 1/8 Scale Off-Road World Championships running an O.S. Speed Tuned B2101 engine tailored to his winning specs. Now O.S. makes that same setup available to other drivers — in the Ty Tessmann Limited Edition Speed Tuned B2101. The engine features the same tuned pipe, manifold and carb restrictor used by Ty to win the 2014 IFMAR Championships. Its T-2090SC pipe is paired with an M2002SC manifold whose added length increases torque in the low to middle range. The 5.8mm restrictor — not available on any other O.S. engine — matches what O.S. supplied to Ty for extending run time in competition. Like the standard B2101, this version has a lowered cylinder head, DLC crankshaft with balanced tungsten weights, and a Type 21J carburettor. Only a small number are being produced, making this engine both competitive and collectible. The Ty Tessmann Limited Edition Speed Tuned B2101 is easy to distinguish from the standard model due to the natural-colour cylinder head and Ty's name laser-etched onto the crankcase, crankshaft and tuned pipe.
Click here to view the specifications
Sunday, March 1, 2015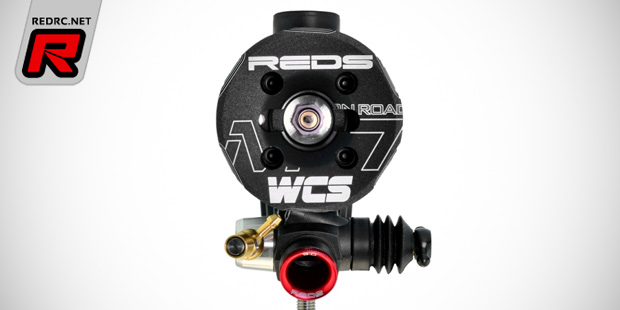 New from Reds Racing is the new  M7 World Cup S V2.0 3.5cc 1/8 on-road racing engine. Optimised and featuring the newest technology to guarantee the best performance and reliability the M7 World Cup S has been provided with a new flat piston and a new combustion chamber which allow to increase torque. The new flat piston guarantees additional power at low and medium RPM while offering optimised fuel consumption. The WCS is also one of the lightest engines in its category thanks to a redesigned cooling head and due to a new combustion chamber and back-plate design. The WCS is hand-tuned by Mario Rossi and comes with a silicone-filled, balanced and tuned crankshaft, rear ceramic bearing, and RDC hard-coated backplate. Before leaving the factory each engine is hand inspected and compression checked by Mario Rossi for maximised performance. On top of that there are also already broken-in engines available.
Click here to view more photos
Friday, February 27, 2015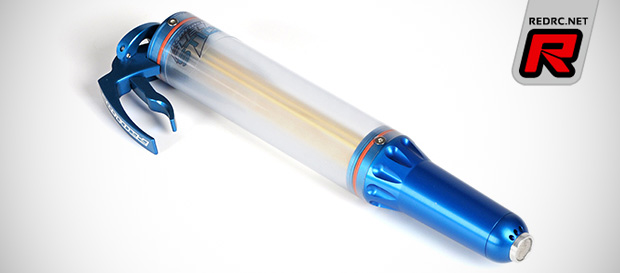 Pro-Line introduce the "very limited edition" Fuel Stick. Used in Ty Tessmann's dominating performance at the 2014 IFMAR Buggy Worlds, the Fuel Stick is designed as a no expense spared successor to the original Pro-Line Fuel Gun. Built for ultra-fast refuelling, the nozzle tip is also designed to fill the tank completely. The diffuser screen covering the outlet prevents excess splashing and prevents large bubbles from forming during filling. The vertical trigger orientation makes refuelling a truck or buggy more ergonomic especially when doing so over high pit walls and it is also good for use with 1/8th and 1/10th cars. An easy to read gauge marked in 10cc increments helps to estimate mileage at a glance. Continuing the over-the-top theme, the nozzle and trigger assemblies are made of machined billet aluminium anodised in Pro-Line blue. Each Fuel Stick is stamped with a unique serial number and certificate of authenticity verifying that it was fully made in the USA and hand assembled in Pro-Line's Southern California headquarters.
Click here to view the features and more photos
Wednesday, February 25, 2015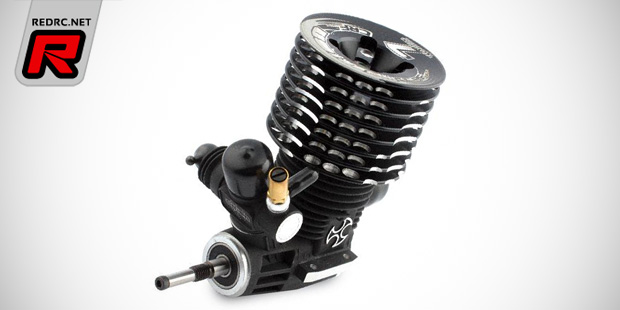 Team Orion introduce the new CRF 21 7-port Factory Tuned truggy engine, specially designed for the use in 1/8th off-road trucks. Compared to its predecessor the engine features a reduced displacement of now 3.5cc, a reinforced crankcase and a 9-sphere rear ceramic ball bearing. The engine, that is also good for the use in 1/8th buggies, comes with a 2-needle aluminium carburettor and it is of a long stroke design.
Click here to view the specifications
Thursday, February 19, 2015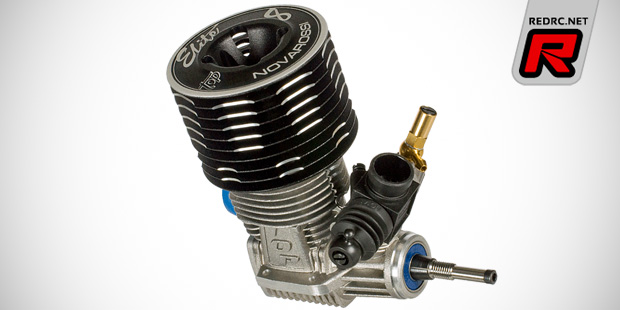 New from Novarossi comes the 2015 Elite range of TOP engines for off-road and on-road applications. Starting with the top-of-the-foodchain Elite 8 Off Road, the engine is of a long stroke design and features an 8-port sleeve. Coming with a turbo glowplug combustion camber insert and 14mm turbo crankshaft the engine is available with standard steel or high-quality ceramic ball bearings.
Click here to continue reading
Friday, February 13, 2015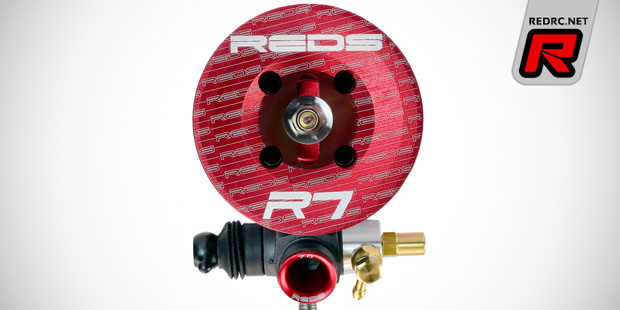 New from Reds Racing and made for low-grip and tight off-road tracks is the R7 Evoke V2.0 off-road engine. The V2.0, derived from the popular R7 Evoke V1.0, offers a special toque curve than can be beneficial on those smaller or not-so-grippy tracks. The features list include a 7-port sleeve with exhaust port boosters, a silicon filled, balanced and tuned crankshaft, a front high sealing and rear ceramic bearing as well as the RDC hard coating back plate. Also part of the package is Reds Racing's revolutionary HCX horizontal long needle carburettor that was first seen during last year's IFMAR 1/8th Buggy Worlds in Italy. On top of that each engine is hand-tuned, hand-inspected and compression checked by Marion Rossi before leaving the factory to ensure a maximum in performance and quality control.
Click here to view more photos
Thursday, February 12, 2015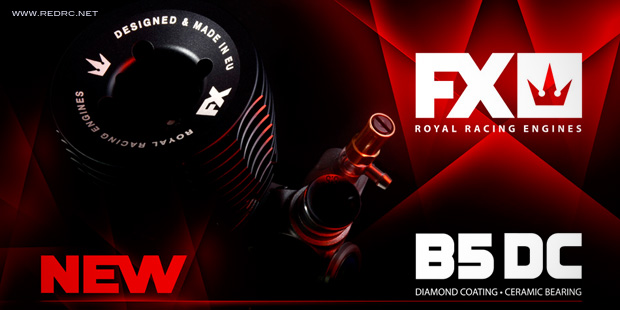 FX Engines announces the soon release of the all-new FX B5 nitro buggy engine. Based on the 5K, the engine that allowed Xray's Martin Wollanka to take the European Vice-championship, the power plant will feature several refinements and improvements such as a diamond-coated crankshaft and ceramic bearings. The engine will become available separately or as a combo set including a suitable muffler and manifold set. More information on features and specifications are available very soon.
Click here to read a brief engine introduction of FX' Juraj Hudy
Tuesday, February 10, 2015