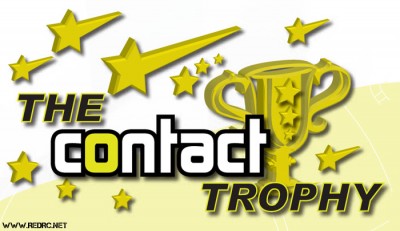 Schumacher have announced the Contact Trophy race happening at the Miniautodromo Jody Scheckter in Fiorano, Italy from the 12th to 13th of March. Open to 1/8th and 1/10th scale gas on road, this exciting race which will be attended by a host of top drivers including European Champion Robert Pietsch, Simon Kurzbuch and Jerome Renaux. For more information and registration, check out the host club's website here or for further info contact piero[at]racing-cars.com.
Source: Schumacher [racing-cars.com]
Tuesday, February 22, 2011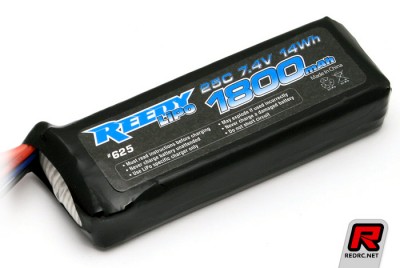 Specifically designed and configured for 1:18 scale vehicles, Reedy's 1800mAh 25C battery is capable of powering the hottest aftermarket brushed and brushless motors to incredible top speeds with ease. A factory-installed Deans® Ultra Plug connector with 14-gauge wires reduces power-robbing resistance, while an industry-standard JST XH balance connector makes balancing simple and convenient.
Source: Reedy [rc10.com]
Tuesday, February 22, 2011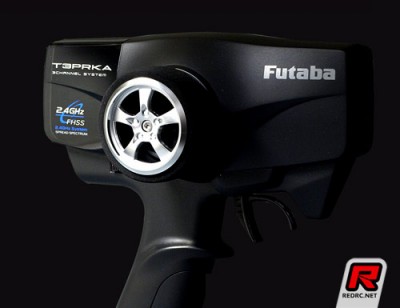 Futaba have shown a teaser image of their new 3PRKA pistol grip transmitter. It is essentially a remodeled version of their best selling Megatech Junior 3 channel entry level transmitter fitted with their FHSS 2.4Ghz technology. Expect a March release, when we hope to get more information.
Source: Futaba [rc.futaba.co.jp]
Tuesday, February 22, 2011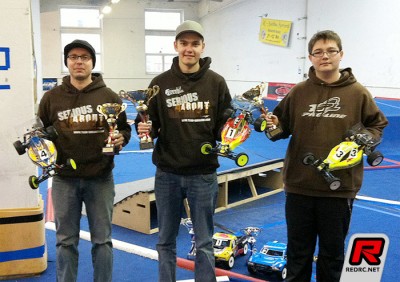 The 2nd annual Vienna Winterchamps, indoor off-road race was held over the weekend of 18-20th February at the RC-Carpetfun track in Vienna, Austria, with 2WD, 4WD and Short Course 2WD classes. Team Durango driver Jörn Neumann took the overall TQ in both 2WD and 4WD buggy classes with his DEX210 Prototype and DEX410 2010 spec buggies. Hupo Hönigl and Martin Kriel made it a 1-2-3 for Team Durango in 4WD qualifying with Hupo also placing 4th overall in 2WD qualifying after the 5-rounds. In the 3-leg finals, Jörn Neumann took all three legs of the 2WD class to show his blisteringly quick form at the moment, taking the win with Hupo Hönigl third piloting another DEX210 Prototype. In the 4WD class Jörn had taken TQ but it was his Team Durango team mate Hupo Hönigl that secured the victory with his DEX410. Jörn finished second and Rene Trauner in third gave Team Durango a clean sweep for the 4WD podium.
Tuesday, February 22, 2011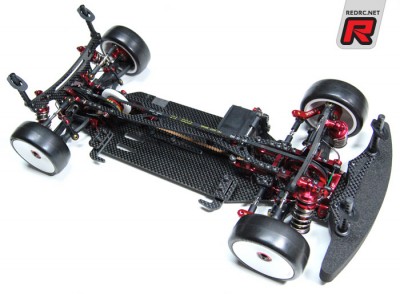 Exotek Racing have released the new AVX LiPo chassis for the Robitronic Avid 2 touring car. This high performance multi adjustment ultra narrow LiPo chassis is only 90mm wide across and at 2.25mm thick it improves flex all while reducing the overall center of gravity over the stock chassis. The new design allows for 2 side ways battery mounting positions and 2 front or back battery mounting position while the 3 piece battery cups insures tweak free secure battery mounting.
View more images of the chassis here
Tuesday, February 22, 2011
The new Short Course truck class at Rd5 of the Schumacher Indoor Masters held at the immensely popular Worksop venue saw Team Durango's Adam Skelding dominate qualifying with the new DESC410R, taking 3 of the 4 rounds to take overall TQ in the 16-car final. The 8-minute final quickly changed into 11 minutes during the race as the organisers played with the timing. By the end of the 11 minutes it was Nathan Waters again taking the win, with Adam Skelding 2nd, giving the DESC410R a healthy 1-2 in its first outing at Worksop.
Source: Durango [team-durango.com]
Monday, February 21, 2011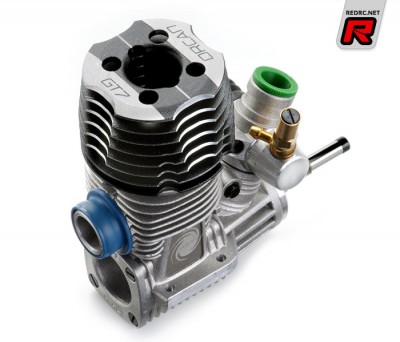 Having written briefly about this new engine in the past, SMI Motorsport have released their first .21 on-road engine, the Orcan GT7. This new motor is excellent value for money and being based on a Novarossi it is easy to adjust and deploys its power evenly across the power band to ensure great driveability making it highly competitive. Additionally the Orcan GT7 is available as a MH version, optimized by engine tuner Michael Heinrich. The MH version is completely re-worked and comes with a modified liner as well as a crankshaft with a revised timing to provide more power across the whole RPM range. At the launch the GT7 is only available in combination with a pipe (EFRA 2015) and a short manifold and the set comes in an Orcan multifunction bag.
Source: SMI [smi-motorsport.de]
Monday, February 21, 2011
Seen during our toy fair coverage, Xceed have released this new 1/8 scale body-shell called the C5. Developed in Germany according to the new IFMAR regulations for the 1/8 scale class which stipulates lower sides, this shell is EFRA homologated #31524. Featuring easy handling, with lots of downforce, the new front end design and recessed central front area creates lots of steering too. Made from high quality clear polycarbonate and available in standard 1mm or light 0.75mm thick versions.
View more images of the body shell here
Monday, February 21, 2011