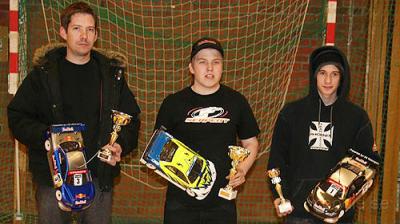 Serpent have a brief report from their young team driver Niclas Nilsson, who was in action again last weekend with his S400 for the 7th round of the Middle Swedish Cup where he took another win. A leading force in the Swedish EP Touring Car scene, Nilsson and his S400 had the pace throughout the event winning all legs of the A-main to take the overall victory over 2nd placed Kenneth Malksson and Niklas Filnk in 3rd.
Source: Serpent [serpent.com]
Wednesday, March 12, 2008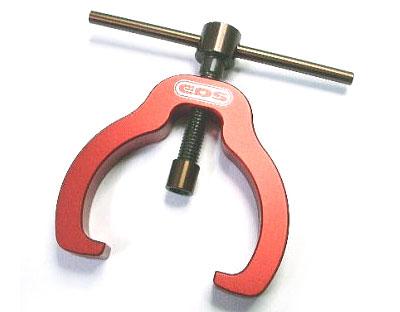 Most tool manufacturers have a flywheel puller in their product range and now EDS does also. Made from red anodised aluminium, the tips grab the back of the flywheel, while a threaded spring steel shaft applies pressure to the crankshaft working the flywheel free.
Source: Honest [teamhonest.jp]
Wednesday, March 12, 2008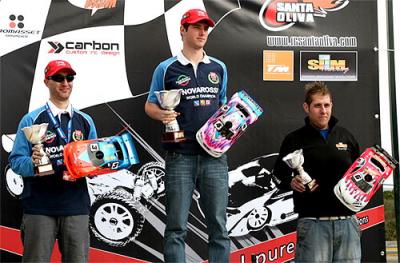 The Opening round of the Spanish 1/10th 200mm National Championships was run last weekend at the RC Club Santa Oliva in the east of Spain. The race was held in dry conditions and after qualifying it was Eduardo Escandon that took the pole position ahead of Josue Artiles in 2nd and Ramon Guash 3rd. The beginning of the final saw a good start for Martin Sevilla, who moved into the lead early on with pole man Escandon having some problems and dropping down the order. A steady beginning from Juanito Hidalgo saw him move up the order to take the lead from Sevilla around the 10 minute mark and then proceeded to pull out a lap lead by the end of the race, taking the win from Ramon Guash in 2nd with Jonnhy Pastor in 3rd, a further 2 laps back.
Source: RC Santa Oliva [rcsantaoliva.com]
Wednesday, March 12, 2008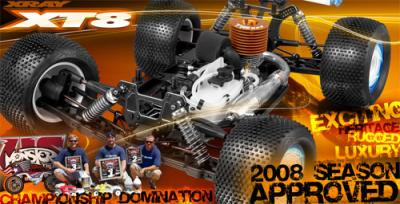 A bit of non news from Xray, who have officially confirmed what they told us in Nuremberg last month, that the XT8 truggy will remain unchanged for this season.
The XT8 has been extremely successful since its release, and the long development time has paid off as the car has been proven to be 'bulletproof' and its performance has been at the very highest level. We have followed all reports, feedback and exeriences very closely, not only from team drivers but also from our customers around the world… and as such I am happy to confirm that there are no immediate plans to alter the XT8 and it will remain with the same specifications for the 2008 season. I hope everybody enjoys the XT8 and I wish everybody great success in the 2008 racing season.
Source: Xray [teamxray.com]
Wednesday, March 12, 2008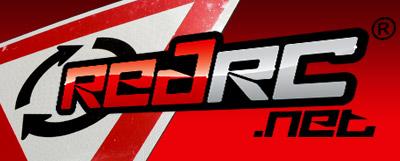 A summary of other news pieces from around the internet today in our Red RC Round-up:
> Jacky Mouton TQ's 720 08 at French Nationals – Link [serpent.com]
> Jonnhy Pastor wins Trophy Touring Gas Magdalena – Link [teamxray.com]
> Truhe Wins Silver State with Tuned Flex Chassis – Link [losi.com]
> Report from Rd3 of BRCA Micro Nats Series – Link [cmldistribution.co.uk]
> Dempsey TQ's Irish season opener – Link [serpent.com]
> Lee Woodhams ends Carpet Wars 5-cell Mod 3rd – Link [cmldistribution.co.uk]
> CML Nitro Winter Series report – Link [cmldistribution.co.uk]
> Mr. Franco Sabattini had passed away – Link [neobuggy.com]
Entry is open for ETS Rd2 in Denmark, March 14th-16th
Tuesday, March 11, 2008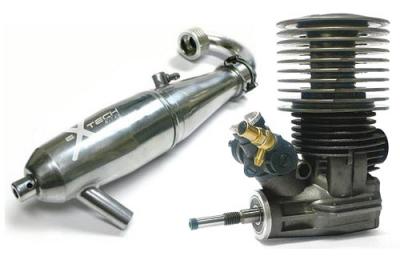 RCCA have the word that Trinity is later this month launching a new high end nitro engine line for serious 1/8th off-road racing and for the monster truck racer that demands the best. The new "Extech Nitro" Sirio based engine line is built in Italy to the highest tolerances using all the latest nitro motor technology and high tech materials. The company's first 3 releases will be a racing .21 for 1/8th off road and a tuned pipe as well as a roto-start .32 designed especially for monster trucks. Also due in the range are pipes for monster trucks, plugs and a hand blueprinted line of engines.
Source: RCCA [rccaraction.com]
Tuesday, March 11, 2008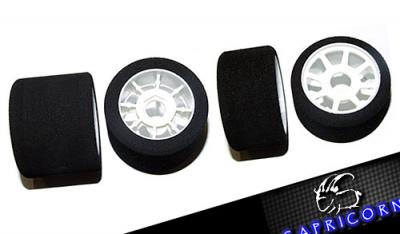 Our site sponsors Capricorn RC from Italy have asked us to let all of our readers know about their great range of Kyosho Spada tires. Mounted on original white Kyosho wheels, they have been fitted with Enneti foam and are available in a number of shores for both the front the rear. Sold pre glued and trued they can be bought for USD16.70 for a pair of fronts and USD18.60 for a pair of rears.
To get your hands on these great tires visit the product pages here and here.
Tuesday, March 11, 2008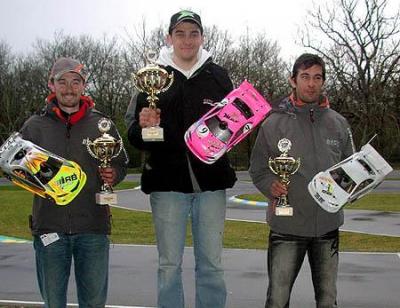 More French National results with the first round of the 1/10th 200mm Championships taking place last weekend in Toulouse in very south of France. With 87 racers present and split into 2 categories, Elite and National, it was Serpent racer Jacky Mouton that claimed the pole position ahead of his RB team mate Arnaud Chaussard, racing the Xray NT1. The National class saw Kyosho racer Romain Jaureguy take the top starting spot in front of the Mugen pairing of Frédéric Bourillon and Aurélien Goutiau. As with the 1/8th round, the finals were wet and in the Elite final it was a battle between Thomas Desmaries, Basile Concialdi, Arnaud Chaussard and Thomas Eytard. Desmaries was able to stay in front and took the win for Mugen ahead of the Xray pairing of Thomas Eytard and Arnaud Chaussard. The National class saw a dominant win for Frédéric Bourrillon, winning by 3 laps in front of 2nd placed Jean-Philippe Michel and 3rd placed Julien Colas.
Source: RB Products [rbproducts.com]
Tuesday, March 11, 2008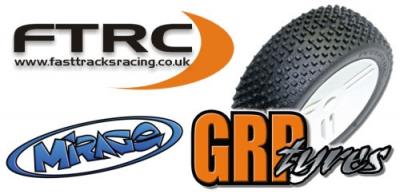 Mirage Racing have announced that they are teaming up with Fast Tracks Racing club to create the GRP Clubmans championship, which will be held at the new grass/dirt track in Mere Green, Sutton Coldfield, West Midlands. The series will run over 4 rounds with points awarded from each round to give a overall score which will then give you a grid place in the final race. The whole series will be run on a controlled tyre which will be GRP Cone Spikes and trophies will be given to 1st 2nd and 3rd in each of the finals on the finals day.
For more information on the series go here.
Tuesday, March 11, 2008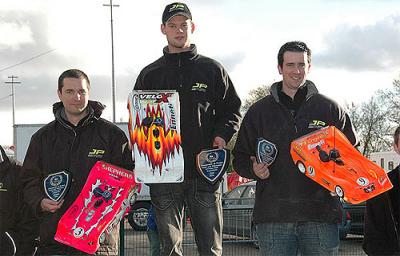 The first round of the French 1/8th scale on road Nationals was run last weekend in Angouleme in the west of the country. Saturday's qualifying eventually saw dry conditions after a wet start to the day and in the Elite class it was newly signed Shepherd racer Richard Volta that was quickest followed by Kyosho driver Adrien Siegfried in 2nd and Sebasian Zatla racing a Motonica in 3rd. In the National class it was young Serpent driver Mickaël Tequi who was on pole at the end of 3 rounds in front of another Serpent racer Gérald Colinet in 2nd and Jérôme Berthelot, racing a Mugen in 3rd. For Sunday's finals the rain had arrived and this made the conditions very tricky. In the National final, the top 3 qualifiers got a clean start but some consistent driving from David Loglisci meant that he could move to the front where he could take the win ahead of Philippe Cima in 2nd and Romain Fournery in 3rd. In the Elite final, pole man Volta took a while to get used to the conditions and was 3rd behind Velox team mate Laurent Pageneau and Motonica racer S. Zatla. Volta was able to gain speed later in the race and could pass the pairing in front of him for the win and after Zatla had problems this meant that Bouche could move into 3rd, giving the new Velox a podium lockout in its first race in France.
Click more for the final standings… (more…)
Tuesday, March 11, 2008