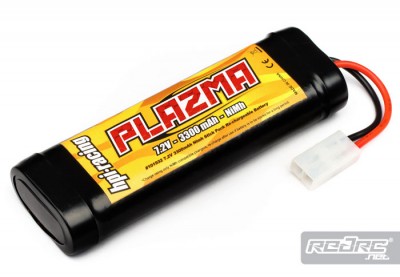 Some new battery options from HPI with the release of this new stick pack and AA cells. The HPI Plazma 7.2V 3300mAh battery pack features durable and reliable rechargeable Nickel-Metal Hydride battery cells. It's pre-assembled with a plug installed, making it a quick and easy way to power cars like the E10, Brama 10B and Formula Ten and the standard rounded stick pack configuration makes it a universal fit in many electric-powered vehicles and battery-powered accessories like the HPI Roto Start. The HPI Plazma 1.5V Alkaline AA batteries are perfect for a wide variety of applications and their alkaline construction means they're ready to go right out of the package, with long shelf life and reliable performance. Sold in packs of 4 batteries.
Click here to see the alkaline batteries
Saturday, July 24, 2010
New for the HPI Blitz is this aluminium 5 degree front suspension arm mount. Available in anodised orange or silver, bolt on this part for quicker steering response. It replaces the stock plastic mount and reduces the front kick-up by 5 degrees. It can also be used on the Blitz ESE to replace the stock 0 degree aluminium front mount.
Source: HPI [hpiracing.com]
Saturday, July 24, 2010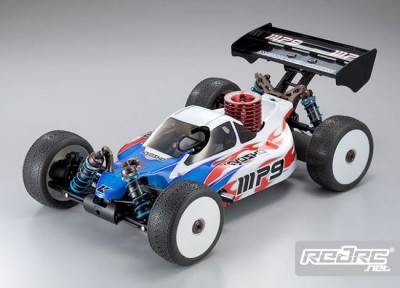 New from Kyosho, the Inferno MP9 TKI 2 race kit has been tested and proven at numerous international racing events, and some design upgrades have evolved multiple areas of the chassis platform to a new level. However perhaps the greatest innovation has been the dramatic reduction in cost, despite the significant upgrades and performance improvements. The chassis design focus is on efficient traction and is realized through short suspension arms and unique rear hubs that produce effective traction with light suspension stroke. Shock absorber design has changed from spacer setting adjustment to dial adjustment and incorporates the previously optional shock pistons with tapered holes that produce optimal piston speed and damping power over long running times. Other features include a new low-height body design with less front-end resistance that generates aerodynamics for a competitive edge and stable posture through the air.
Click here for more details and images
Saturday, July 24, 2010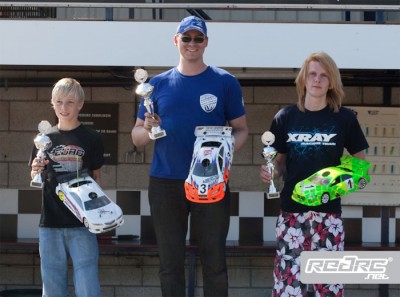 The 4th round of the Dutch 1/10th 200mm Nationals was held last weekend at the MACH track in Heemstede. Qualifying for the NK class saw reigning champion Pedro Rombouts take the pole position ahead of Rik Prins, Arco de Jong and round 3 winner Maxim Claes. Some close battles in the main final, saw Arco de Jong leading the way following a problem for pole man Rombouts who would eventually recover to 3rd. Maxim Claes struggled to find pace in the 30 minute race and regular front runner Daan Jacobs had a lot of engine trouble which halted his race early. In the end Arco took the win by just over 2 tenths of a second from young Rik Prins in 2nd with Pedro 3rd. In the NOMAC class it was Rik Meijeren that won by 4 laps from Theun Zoethout in 2nd and Arne Schober in 3rd, while in the 1/8th Promo class it saw a win for Mario Gerssen, 3 laps in front of Pasquale Gagliardi who was closely followed home by John Rusman.
View the other class podiums here
Friday, July 23, 2010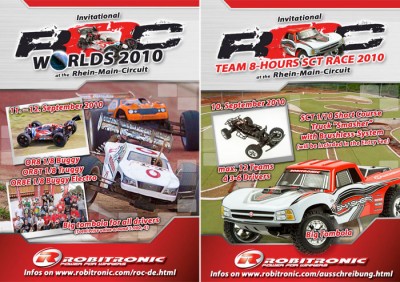 Robitronic were in contact to tell us about their pair of ROC events that they are running from the 10th to the 12th of September this year at the Rhein-Main Circuit in Bischofsheim. The event starts on Friday the 10th with an 8 hour short course race which is open to 12 teams with a minimum of 3 (max 6) drivers per team. Each team will receive in their entry a Robitronic Smasher SCT 1/10th scale truck with brushless system to run the event. On the Saturday the race for the big boys, the ROC Worlds, takes place with practice for the 3 classes, 1/8th buggy, 1/8th truggy and 1/8th BL buggy followed by rounds 1-4 of qualifying. Sunday is finals day with a big giveaway of Robitronic goodies worth €5000. Entry is now open for both events and closes on the 5th of September or sooner if the entry fills.
View more information on the ROC SC race here or the ROC Worlds race here.
Friday, July 23, 2010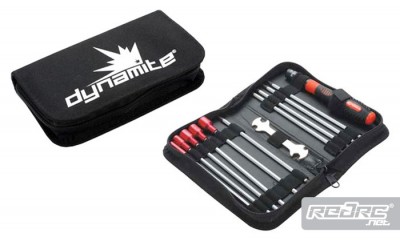 New from Dynamite is this startup tool sets which comes in either metric or US sizes and is packaged in a convenient zipper pouch providing users with the ultimate in utility and flexibility. Containing almost every tool needed in order to maintain a vehicle these tool sets are the perfect add on for users looking for an easy and affordable tool set for their RC collection.
Source: Dynamite [dynamiterc.com]
Friday, July 23, 2010
New from OFNA for their SCRT10 short course truck is this pivot ball conversion kit. Making the car more aggressive yet smooth in the corners it offers other tuning advantages to further increase performance including adjustable track width, caster, camber, toe and kick up. Plus with the added strength means your SCRT can drive and jump like a 1/8th scale buggy. Chrome pillow balls react smoothly and respond well into the bumpy sections  and turn tight and solid into hairpin turns. The kit includes everything you need to convert your standard truck.
Source: OFNA [ofna.com]
Friday, July 23, 2010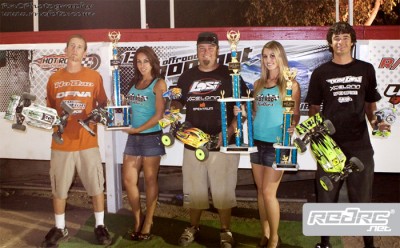 Mike Truhe is reporting that this past weekend he competed in Expert 1/8 Electric Buggy at the Hot Rod Hobbies Shootout. The track was a very tight, small track for the bigger 1/8 cars with tons of traction. Things started off going well, and after some testing, chose to run the Team Losi Racing Taper Pin Tires. I preferred Red compound for rears and silver compound for fronts. Racing started and my car was excellent. I went on to TQ 3 out of the 4 rounds and convincingly won the first two finals taking the overall win. Piloting another Team Losi Racing and Xcelorin equipped vehicle, Matt Chambers rounded out the podium finishing 3rd just behind Jeremy Kortz and his Xcelorin powered buggy.
Photo: RnC Photography [rncfoto.com]
Thursday, July 22, 2010