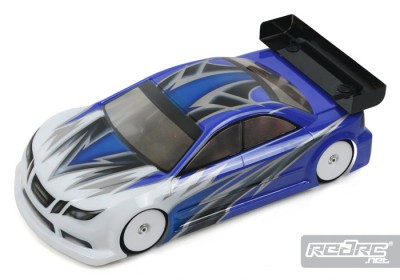 New from Team Titan and based on the SAAB 93 Aero, the S93 200mm body was designed to have shorter body length and smaller roof that standard shells. Testing showed that this gave it very good low and mid speed steering with quicker response. The big adjustable rear wing give also makes the car very stable in high speed corners. Made by 0.8mm high quality polycarbonate there is also a 0.7mm and 0.6mm ultra light version which can save 30% weight compared with the standard one. Supplied with highly detailed light decals and good quality window mask, all body sizes follow EFRA GBS rules and they expect it to get EFRA homologation for the coming season. Team Titan have also released their flywheel puller. Made by 7075-T6 aluminium and hard coated, it features a hardened steel screw. Suitable for all .12 and .21 engine flywheels.
View more images of the new products here
Tuesday, September 14, 2010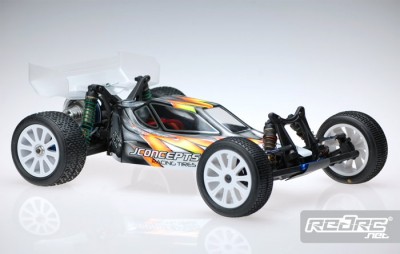 Seen back in August the Punisher body by JConcepts for the B4.1 is now available. Debuted at the 2010 ROAR Off-Road Nationals, the radical new body stares you down like a trained fighter. The slight cab-forward treatment is amongst the most aggressive in class giving the Punisher top notch performance. Blended wing / body design gives additional down-force to the side-pods and windshield which increases drive-ability, corner speed and jump control. The rear base of the cab area represents the latest offering for 1/10th buggy racing featuring a super low profile design for increased air flow, escape and body placement. In addition to the newly designed body JConcepts has included 2 of the popular 6.5″ wide high downforce V-wings that are commonly used around the world.
View more images of the body here
Tuesday, September 14, 2010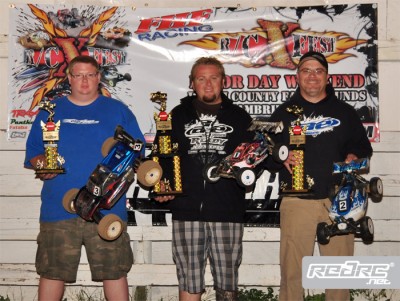 For R/C racers, Labor Day weekend in Minnesota has become RC X-Fest weekend. For the 6th annual event, many of the fastest drivers in the world converged in Cambridge, Minnesota for a weekend of excitement and no-holds barred entertainment. With an event known for a multitude of classes and special events, the RC X-Fest has become something to remember for all participants. Ryan Maifield was in Minnesota to do business with his JConcepts equipped RC8B and RC8-E. Ryan was at the top of the field all weekend included TQing the E-buggy class and qualifying 2nd in 1/8th buggy. However, it didn't come easy as the bumpy surface provided a challenge for the experienced driver from sunny Arizona.
Continue reading the report here
Tuesday, September 14, 2010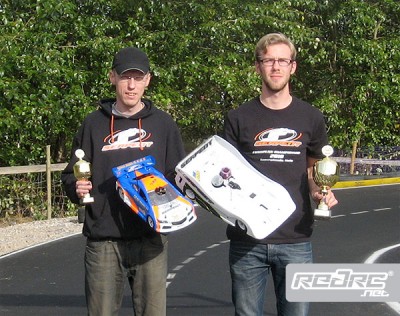 This past weekend the 2010 Swedish national nitro onroad cup had its final race in Eskilstuna. The cup started in May in Vaxjo, then followed by Orebro in June and Trollhattan in July and now the final race in Eskilstuna. Before the final race the two best out of three scores was to be counted with the fourth and final race being mandatory for all racers. Driven in semi dry conditions making everything very challenging and exciting, the 1/10th 200mm race was won by Niclas Nilsson racing a Max powered Xray NT1 borrowed from his friend Alexander Hagberg. In the 1/8th class the race victory was taken by Marcus Lindner racing his Novarossi powered Serpent 966. With the results added up it was Per-Ola Hard that won the 1/10th 200mm series, with Marcus Lindner taking the 1/8th series.
View the final series standings here
Monday, September 13, 2010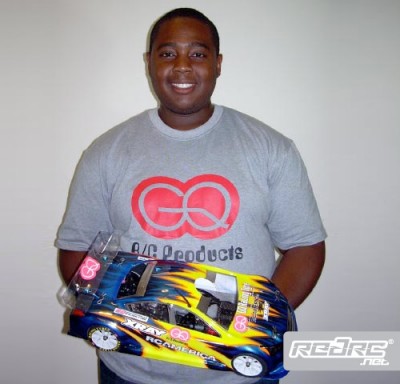 TMA Motorsports and GQ America have announced the signing of Diatta Collymore to Team GQ Racing Tires for 2010 and 2011. Diatta, a young and very fast driver took a 6th place finish at the 2010 US Nationals in the 1:10th Nitro Sedan Class and with his TQ and win at the Region 1 Nitro On-Road Championships, Diatta has had a successful summer campaign. Diatta is now using GQ Tires on his Nitro and Electric cars.
I'm very happy to have GQ Tires and TMA Motorsports as my tire sponsor for the 2010-2011 racing season. After first trying them in the same shores I used to run from other brands on my nitro car, I felt an increase in traction and consistency. On top of that, the wear on my tires was minimal. I know we will be seeing some great results in the near future.
Source: TMA Motorsports [tma-motorsports.com]
Monday, September 13, 2010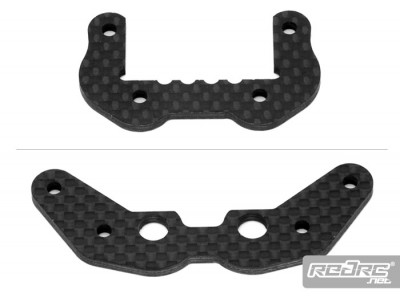 Schumacher have announced the released of these two new option parts for the Mi4 and Cougar SV chassis'. The Schumacher Team have been testing these items for some time and they are this 37mm 4 groove carbon fibre link mount (top) for the Mi4 that gives a longer upper camber link, especially good on high speed circuits. The other new part is the 60mm carbon fibre link mount bracket for the Cougar that shortens the front camber link, reducing front end bite.
Source: Schumacher [racing-cars.com]
Monday, September 13, 2010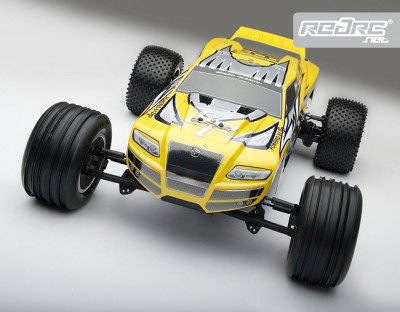 Speed Passion have released two cars in their new line of RTR cars aimed at entry level drivers. First up is the RTR RS2 Stadium Truck, which features full ball bearings, oil filled shocks, adjustable geometry and is ready to race right out of the box. It features the new Cirtix Inspire 2.0 brushless ESC and Sport Tuned 4000kv motor, giving you more than enough power for the track or your favorite bashing spot to tear up any terrain. And no worries about frequency conflicts either, because the RS2 comes complete with a 2.4Ghz radio system for glitch free operation anywhere. The RS1 is a 1/10th Scale 4wd shaft driven sedan. It too sports the Cirtix Inspire 2.0 ESC with easy forward / reverse operation. The ESC Digital racing respond system uses the same DNA from the 2010 IFMAR World Champion, giving you the choice of 9 levels of power, which allow you to adjust the power to your ability. Supplied with the Sport Tuned 3000kv motor.
View more images of the cars here
Monday, September 13, 2010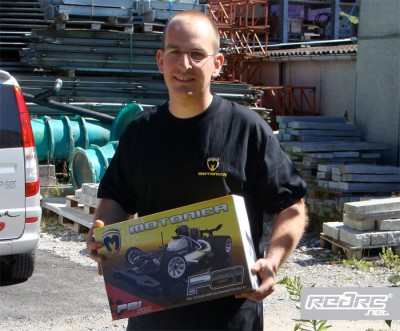 Motonica Switzerland are pleased to announce that they have signed front running National driver Christophe Pethoud. The former Amateur Champion will run the Motonica P81, having switched from Mugen, and will continue to use Sirio engines. Christophe will also run Blitz bodies in the remaining races this year and throughout next year's National series.
Source: Modellbau Lackner [modellbau-lackner.ch]
Monday, September 13, 2010