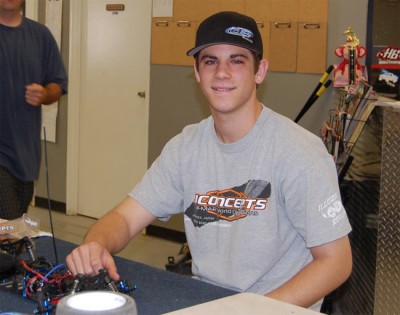 Having recently signed for Team Associated, Steven Hartson has joined the JConcepts team to race their full line of tires, wheels, bodies and accessories. Although Steven has been a team member and running the JConcepts 1/10th scale line-up for quite some time, this announcement comes as Hartson brings his skills to the 1/8th division. Hartson brings the out-right speed comparable to the top electric racers in the world, but as of yet has not had the opportunities to showcase his talents in the 1:8 scene. With multiple A-Main finishes in 1:10 National Championships and major International events, Hartson looks to transfer these results to the ultra- competitive U.S. 1:8 scale scene. Local to Southern California, he's sure to get his feet wet fast with weekly competitors such as Ryan Cavalieri, Cody King, Adam Drake, Mike Truhe, Ryan Lutz and so on.
Source: JConcept [jconcepts.net]
Thursday, December 17, 2009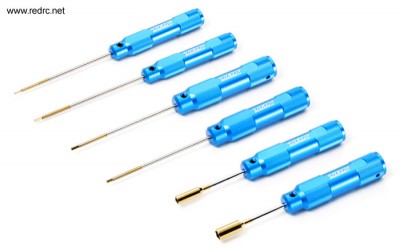 Tamiya have announced the release of their updated range of TRF tools. Similar to those previously available from the Japanese company, they feature new titanium coated tips for added durability and updated signature Tamiya blue knurled aluminium handles. Available in 1.5mm, 2.0mm, 2.5mm hex tips, 2.5mm hex ball tip and 5.5mm and 7.0mm nut spinners, there are also spare 1.5mm and 2.0mm hex tips available.
Source: Tamiya [teamtrf.com]
Thursday, December 17, 2009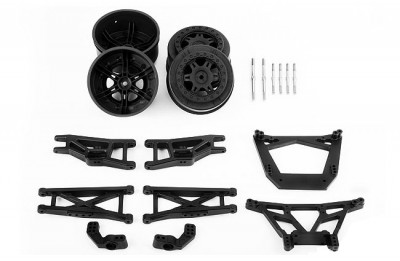 Pro-Line have introduced some new hardware for the Traxxas Slash starting with this ProTrac suspension kit. This single easy to install kit greatly increases forward acceleration, corner speed, consistency and drivability and is supplied with new front and rear arms, front and rear shock towers, rear hub carriers, ProTrac Split six wheels and camber & steering links. Also new for the Slash is the PowerStroke shocks that enhance the overall performance of the car by offering true dual stage spring rate and infinite spring pre load adjustments. Coming pre assembled, they feature an aluminium body and shock cap together with beefy 3.5mm shock shafts, another great upgrade for your Slash.
Click here to see the PowerStroke shocks
Thursday, December 17, 2009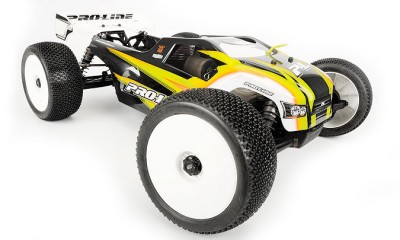 Following on Pro-Line's previous releases of the Bull Dog truggy shell for the Associated RC8T, Hot Bodies D8T and Mugen MBX-6T, comes a version for the Losi 8ight-T 2.0. Made from Genuine GE .060 lexan, its bull nose front end increases corner speed, while the elongated bed increases air flow to the wing. Overall down force has been greatly improved over traditional 1:8 truck bodies with the engine head exposed for easy temp checks and igniter accessibility. Paint then peel overspray film, sticker sheet, and window masks included.
Click here for another image of the shell
Thursday, December 17, 2009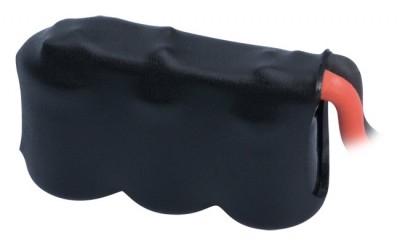 Nosram have introduced this new high-performance power capacitor which is based on the same brand new polymer technology of the Pearl speed controls. It features the lowest possible internal resistance and even more power due to the series connected capacitor. Use with batteries with high-voltage 6.0-7.4V/2S.
Source: Nosram [nosram.com]
Thursday, December 17, 2009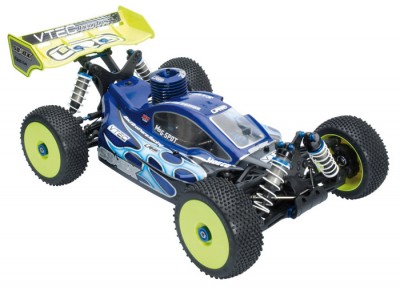 Seen for the first time at the European Championships in Austria earlier in the year, LRP have released the new airflow optimized Evo 2 crystal clear body shell for the S8 BX buggy. It features a completely new design with improvements to the top end of the body which gives the car a much smoother handling both in the corners and in the air. Also new is the high-downforce wing that fits both the S8 BX and S8 TX offroad vehicles and increases the rear traction of your buggy, making it easier to drive. Perfect on dusty and slippery conditions.
Thursday, December 17, 2009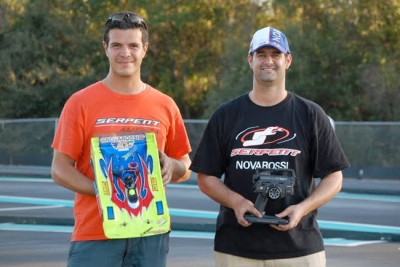 DJ Apolaro has a report from this past weekend's 4th round of the Florida State Series. Normally I run sedan or both 1/8 scale and sedan. I am leading the points for sedan, however I made a choice to concentrate more on 1/8 scale for the next few months, as the competition is higher in the 1/8 scale class. I got to the track with my friends on Friday morning and we set up out pits. I was the only one of us running 1/8 scale and I was going to help them battle for the sedan class. I was looking to learn more about the 1/8 scale, as I am never really satisfied, like I am with the sedan. I started with a basic setup and the car was OK, but needed a lot of work. First I ran in a motor while the track was still green. By the end of Friday my car was pretty good and I was excited about the race weekend. The faster racers at this event where Paolo, Scotty, Ronnie, myself and a few others.
Continue reading the report here
Thursday, December 17, 2009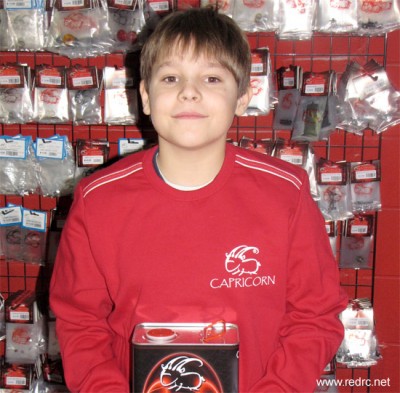 Italian company Capricorn RC have signed young 11 year old Italian racer Simone Pausini to use their fuel for the 2010 season. This very promising driver will compete in the Italian Junior Championships as well as the European 1/8th scale 'B' Championships in Monaco using his IDM powered Shepherd Velox V8, fueled by Capricorn's competition fuel.
Source: Capricorn RC [capricornrc.com]
Thursday, December 17, 2009