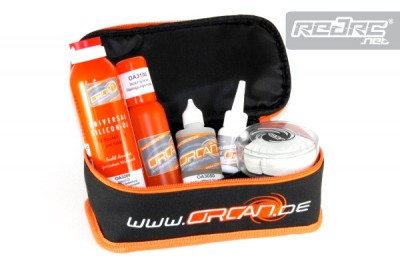 Proper maintenance is essential not only for the life time of every single part and the car as a whole, but also for the general performance. Nitro cars especially need intensive care and attention so with that in mind SMI Motorsport offers a new Orcan maintenance set for nitro cars that includes five products to keep the car's parts running well and looking good. First of all, an engine maintenance oil which lubricates the bearings and avoids rust and oxidation. Second, a special oil for a perfect air filter. Third, a silicone spray to make the belts run smooth and the plastic parts look great. Fourth, isopropyl alcohol to clean the car and engines. And fifth, a well-known putty for easy dirt removal. All these products come in a handy Orcan multifunction bag.
Source: SMI Motorsport [smi-motorsport.de]
Friday, June 4, 2010
Chad Bradley TQ's and wins the Tuesday Night Nationals at Hot Rod Hobbies in Santa Clarita Ca. This was the first night Chad used Pro-Line's new Hole Shot SC tire in M3 compound, Chad also used the new Novak Ballistic 4.5 motor and Havok Pro SC ESC.
Friday, June 4, 2010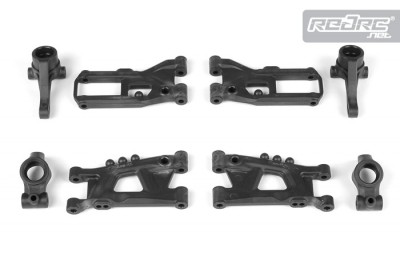 New from Spec-R are these suspension arms for the Xray T3 touring car. These new arms are shorter than the original versions by 1mm, which helps ensure better traction and handling. Made from a long lasting hard nylon, they are available for the front and rear of the car along with steering knuckles and rear uprights, which while similar in design to the originals, are made of the same material as the wishbones.
Source: Spec-R [spec-r.com]
Friday, June 4, 2010
Running a pre-production prototype of the Gambler SC truck, Venom's own Rick McCrery took TQ and 1st Place in the Short Course Truck class at the annual Hank Perry 240 in Spokane, Washington. The 3-day race weekend saw a total of 265 entries across 9 classes and the popular Short Course Class had enough entries for a D Main. Despite tricky weather conditions and rain delays that only allowed for two qualifying heats, the Gambler proved that it's up to speed against other manufacturers' platforms by taking the top qualifying position, the win and fastest lap. The Venom Gambler will be released to the public later this summer.
Source: Venom [venom-group.com]
Friday, June 4, 2010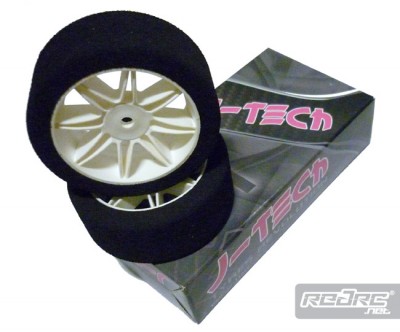 After months of testing J-tech have introduced a new line of wheels and tires for 1/10th touring car. A totally new product, the design of the rim helps maintain consistent performance throughout the life of the tire. Available for front and rear, in the usual range of shores, made using high quality Japanese foam.
Source: F.V.S.S. [fvssshop.it]
Friday, June 4, 2010
Pro-Line are reporting that their team driver Travis Amezcua has been working with the development team doing some short course testing. To do so, Pro-Line has outfitted Travis with a ProTrac suspension Slash and the goal is for Travis to provide users of the ProTrac suspension kit and Power Stroke shocks, car set-ups derived from Travis's hands on testing. Travis hit his first club race with his Slash a Thunder Alley last night where he proceeded to TQ and win the main event. This was Travis's first chance to run the new Hole-Shot SC, which provided excellent performance according to Travis.
Source: Pro-Line [prolineracing.com]
Friday, June 4, 2010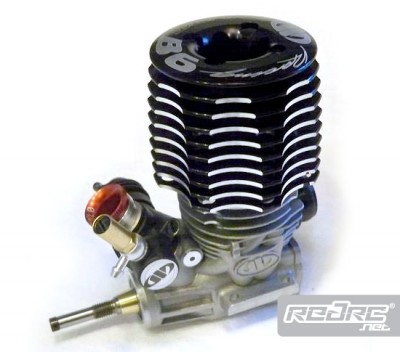 Following on the success of their B5 .21 engine, Werks Racing is pleased to announce the release of the new B6 .21 competition off-road engine. Specifically made for use in today's competition level off-road buggies, the B6 utilizes a true 5 port sleeve design. The Italian made B6 engine provides a buttery smooth, super linear power band with strong mid and top end, perfect for the precise control that is required to compete at the highest levels of off-road buggy racing. Most importantly the B6 also possesses one of the most key ingredients for competition today, efficiency, providing run times amongst the best in the industry.
Source: Werks Racing [werksracing.com]
Friday, June 4, 2010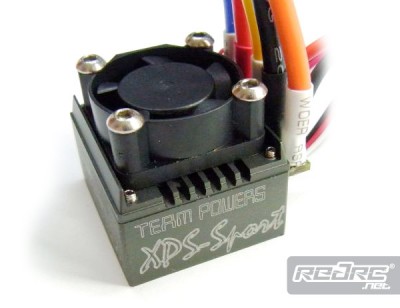 Team-Powers have released the XPS-Sport, a 'True-Stock' speed controller. Returning to the original spirit of Stock racing, the XPS-Sport doesn't have any turbo or power modes, but does feature temp. and voltage cut off, throttle push level, brake mode or automatic brake. Supplied with setting card, cooling fan and high quality power wires. Also new from Team Powers is this 5600mAh 50C LiPo that sports a carbon look hard case, 4mm gold-plug connectors and a 2mm gold-plug balancer connector.
Thursday, June 3, 2010