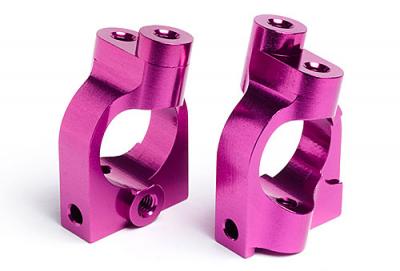 Hot Bodies have released 2 new items, for both their Cyclone D4 4wd electric buggy and for general touring car use. Beef up your D4 with these tough purple anodised aluminium front hub carriers, included with the Worlds Edition they are now available for the standard D4. Sold in a pair of 2 and supplied with purple anodised roll centre adjustment washers, they are available in both 0 and 13 degree versions. Also new from HB is a range of 64 pitch spur gears, available in one-tooth steps from 88 to 94 teeth and 101 to 110 teeth, so now you can select the ultimate gear ratio for your touring car, pan car or other racing vehicle.
Click more to see the spur gear… (more…)
Wednesday, March 5, 2008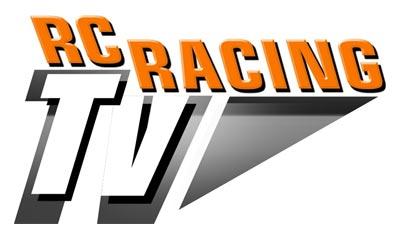 The producers of the great RC TV show RC Racing were once again in contact to inform us of the upcoming Episode 5 which premieres this Wednesday on European cable channel Motors TV.
This month we have a "Best of Racing" special, another chance to see the best races from the series so far. We're back with all new content next month and upcoming episodes includes exclusive coverage of the Neo 08 (yes Nick is having another go!) more IIC action, latest product reviews including an in depth look at the return of an off-road legend and reports from Aprils' 1/12th European championships in Germany.
Click more for the UK times… (more…)
Wednesday, March 5, 2008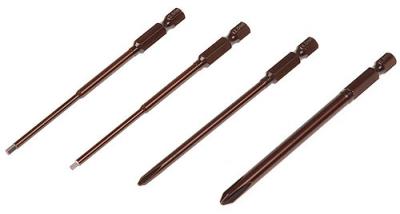 More new products from Xceed this week with the release of this handy power tool tip set. Made using the same high quality hardened steel as on the standard tools, these versions can be used with your favourite electric screw driver. Making the assembly and disassembly of your car super easy, the set includes 2 hex head tips, in 2.0mm and 2.5mm, as well as 2 Philips head screw driver tips, in 4.0mm and 5.8mm. Each tip is 100mm long and available to buy separately.
Source: Xceed [xceedrc.com]
Wednesday, March 5, 2008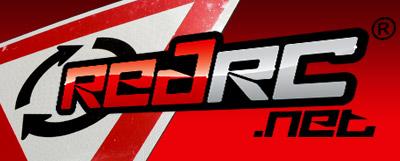 A summary of other news pieces from around the internet today in our Red RC Round-up:
> S400 wins Modellzona Cup at penultimate round – Link [serpent.com]
> Debut win for RB WS7 L2G and Byron GEN2 – Link [cmldistribution.co.uk]
> Hat-Trick for Nitro Hobbies Team Drivers in Rd 2 – Link [teammagic.com.tw]
> Jones Win Southern Clash in New Zealand – Link [teamxray.com]
> Francesco Tironi wins Riccione 1/10 Touring race – Link [automodellismo.net]
Entry is open for ETS Rd2 in Denmark, March 14th-16th
Tuesday, March 4, 2008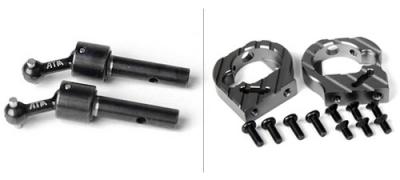 Hong Kong based Atomic RC, makers of aftermarket parts for many current cars, have put their hand to making some parts for the Kyosho Spada gas car. The new parts include some new front CVD's as well as some lightweight aluminium parts, which include the rear axle blocks shown above. Other alu. parts are available in the form of front bulkheads, middle main shaft mounts and finally they have also released a new lightweight central main shaft to complete your lightweight, high performance conversion.
Click here to see the other new products… (more…)
Tuesday, March 4, 2008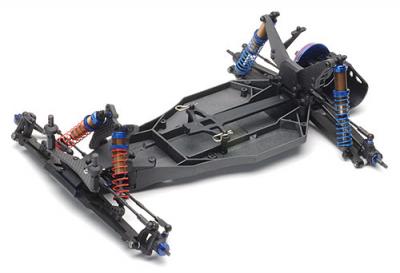 Over the weekend we showed you pictures from R/C Car magazine of the new prototype Kyosho Stadium truck during testing, with the working name of RT-5 or RB5-T. Now their counterparts at RC Car Action have gotten their hands on a clean prototype for a more close up look at the car as well as some fresh new studio pictures. RCCA don't have many more details about the truck that we didn't already know but confirmed that the chassis is an extended version of the RB5 buggy, which will push the truck out to the maximum allowable ROAR legal wheelbase. A lot of the carbon parts, including the shock towers and front body post mount, will be moulded parts in the production version, and of course the carbon wishbones will be replaced by the standard moulded type. Longer aluminum-body threaded shocks will be standard and the truck will probably feature the same C-hubs, steering knuckles and rear hub carriers as the RB5 for parts compatibility between vehicles.
Click here for more pictures… (more…)
Tuesday, March 4, 2008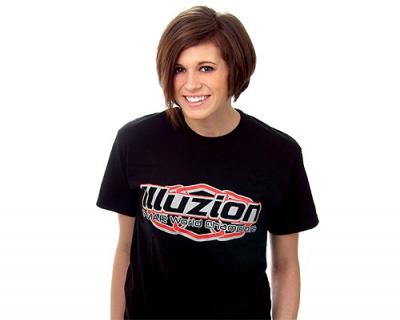 JConcepts have released a number of new items beginning with this black t-shirt, which sports a large 2 colour Illuzion logo screen print on the front and is available in the usual range of sizes. JConcepts have also announced that the the Traxxas Jato truck will be getting the "Hi-Speed" styling treatment which presents a flowing design while incorporating many radical outlets and coves for additional air flow for electrical cooling. The body is also the first to include a separate rear wing with side dams that attaches to the rear of the truck bed for superior fit and finish. Race inspired aggressive styling, Illuzionized cab and cove hood scoop combined with a durable flowing bed design are just some of the features. Made from clear heavy-duty thickness polycarbonate, it comes supplied with protective film, window masks and detailed Illuzion decal sheet.
Click more to see the Jato body… (more…)
Tuesday, March 4, 2008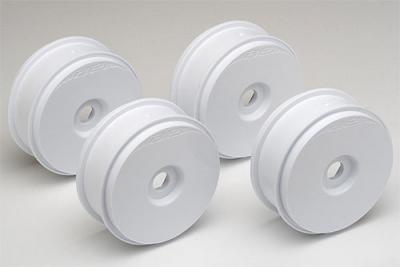 Team Associated have release some new items for their RC8 1/8th scale buggy, starting with these great new wheels. Excellent value for 1/8 scale enthusiasts, these lightweight, super-strong anti-wobble wheels stay true and resist bending under the toughest conditions. Each wheel is only 34 grams which means less rotating weight ensuring maximum punch, while a 4.2mm deep-set hex helps prevent the wheel from stripping and ruining your tires. Tough internal webbing with a central strengthening rib also helps prevents the wheel from warping or distorting and a half-depth vent hole allowing a choice of venting options. Sold in a pack of 4, they are available in white or yellow and work on other cars with the same size hex. Also new for the RC8, are internal snap rings, a perfect upgrade to bulletproof your cars shocks. Simply replace the stock G-ring shock retainers for an extra level of security and longevity for your RC8's shocks.
Click here to see the other products… (more…)
Tuesday, March 4, 2008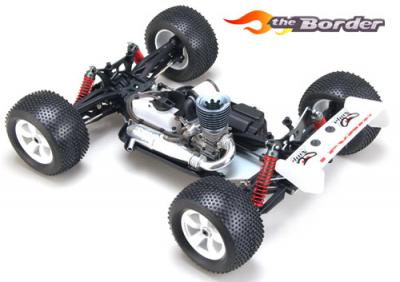 Our site sponsors, The Border, have been in touch to inform our visitors about a great new offer that is running on their site at the moment. Selling at a fantastic price in their store now, is the Mugen MBX5T truggy, this off roader is packed with some great features and is a true competition racer. Sold as a kit, you can get yours now for the low price of only EUR 349.99, while stocks last. To power your truggy and in fact any 1/8th scale buggy, The Border are taking pre orders on the new Ninja JX21-B01, this O.S. made top end motor is selling for EUR 299.99 and should be in stock in 2 weeks from now.
To avail of the great MBX5T offer, go here. To pre order the Ninja JX21-B01, go here.
Tuesday, March 4, 2008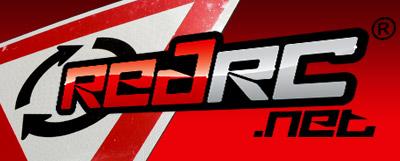 A summary of other news pieces from around the internet today in our Red RC Round-up:
> T2'008 2nd at Carpet Wars 2 Day World Cup – Link [teamxray.com]
> Power Save Racing release new bearing sets – Link [power-save-racing.de]
> OFNA foam insert profiles for ProLine tires – Link [ofna.com]
> Hornum & Madsen win DRCMU Rd3 – Link [teamxray.com]
Entry is open for ETS Rd2 in Denmark, March 14th-16th
Monday, March 3, 2008