Add durability to the Blitz RTR short course truck with this pair of lightweight and strong grade 5 titanium turnbuckles. Your truck will have less weight for fast acceleration and braking, plus extra durability when battling with the competition.
Source: HPI [hpieurope.com]
Thursday, May 20, 2010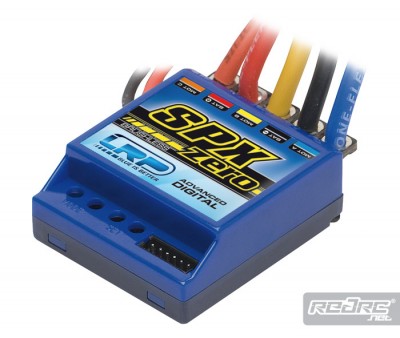 With the latest generation of stock speed controls providing extremely high top speeds, which almost lifts them up to modified level, it has left many drivers and organisers feeling that the power has reached too high a level. The brand new LRP SPX Zero aims to offers an easy solution. With the Boost Zero Mode, the power stays in a constant performance limit and the motor runs extremely efficiently and every racer will quickly and without any problems be able to find the optimal speed control setting for each race track. The significant difference in performance between speed controls will now be a thing of the past.
Source: LRP [lrp.cc]
Thursday, May 20, 2010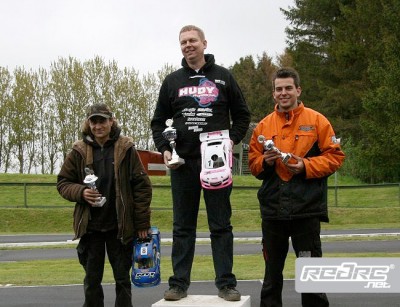 Last weekend the second round of the Danish championship took place at the beautiful area of North Zealand. Saturday saw the track receive 24 mm of rain, so it was difficult conditions and on Sunday the track was still not completely dry, there was always a little drizzle. Qualifying saw Martin Lissau take TQ and for the final the track was almost dry, but there were still some wet spots. Some selected normal tires, others rubber and the start saw Lissau take the lead quickly mastering the wet track. Claus Ryeskov took it easy and drove sensibly staying on track and approximately 10 minutes before the finish Lissau's rear belt was no more and Claus could take the win.
Thursday, May 20, 2010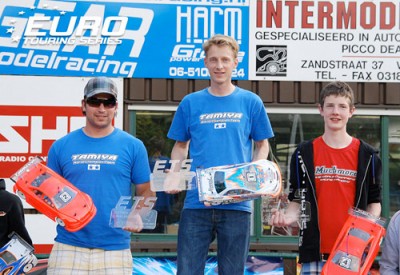 The Xenon Racing backed Euro Touring Series moves outdoors this weekend (May 21-23) as it travels to the Netherlands where Jilles Groskamp makes a welcome return to the series that he has been champion of since its inception three years ago. Having moved to Thailand last year, the reigning European Champion has been unable to defend his ETS title this season but with the MACH still very much his home track the Tamiya Racing Factory driver will be hard to beat at the fifth round of the 2009/2010 Series.
Continue reading the preview here
Thursday, May 20, 2010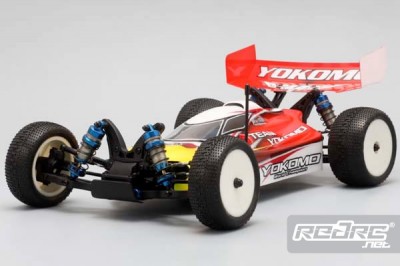 The Yokomo B-Max4 has received the factory treatment, upping performance and beefing up the car against crash damage. Included in this new package is the big bore X shock set, aluminium servo saver mount, aluminium center link, special front brace, aluminium main gear cover, special motor mount, advanced stabilizer set, aluminium rear hub carrier (0 degrees), aluminium shock cap ball, aluminium shock ended ball, carbon battery plate & rear X shock springs (Orange/software). This new version was used successfully to clinch the Japanese Championships although driver of the regular B-Max will need no convincing of it's fantastic capabilities.
View the full feature list here
Thursday, May 20, 2010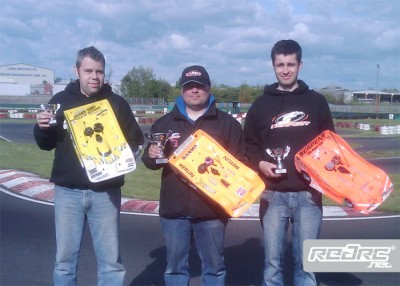 The second round of this years BRCA 1/8th circuit national championship was located at the famous Wombwell circuit, which is part of a large Karting complex. This track is loved by all the drivers since it contains a combination of slow and fast flowing corners which is a joy to drive when driven on the edge. The weather forecast did not look too good for Sunday, but thankfully it was a dry weekend. With time restrictions in place due to the noise levels, the Committee decided to run open practice with a lunch break. This made the track at times very congested with a lot of fast cars easily catching up the slower cars and damage was inevitable.
Continue reading the report here
Thursday, May 20, 2010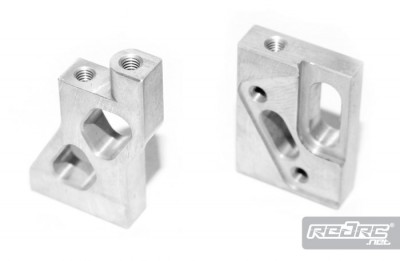 New for the European 'B' Champion LAB-C01, Capricorn have introduced these new radio plate & belt tensioner support brackets. Made from magnesium they are 43% lighter than the standard aluminium part and help lower the car's centre of gravity. Available soon.
Source: Capricorn [capricornrc.com]
Thursday, May 20, 2010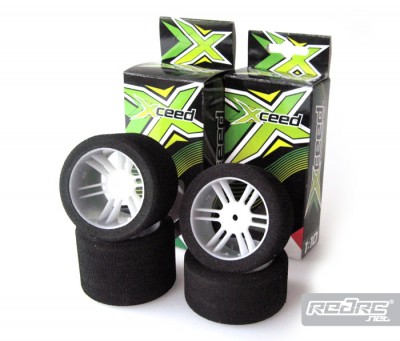 Xceed have introduced a new line of wheels and tires for the growing Super Barchetta class, which is 1/10 scale 220mm racing with 1/10 nitro-cars and Lola style bodies. Using high quality Italian foam racing tires on standard or light race-design wheels, they have been precision glued and trued to perfection. Available of front and rear, they are available in a wide range of shores.
Source: Xceed [xceedrc.com]
Thursday, May 20, 2010