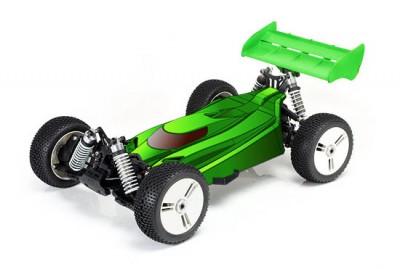 Taiwanese company Team Magic have released some details on their upcoming M8ER RTR 'Concept car'. Based on the company's M8 off road chassis, it will essentially be a brushless powered 1/8th scale buggy and I wouldn't read anything into the image. Further details as they become available.
Source: Team Magic [teammagic.com.tw]
Tuesday, December 15, 2009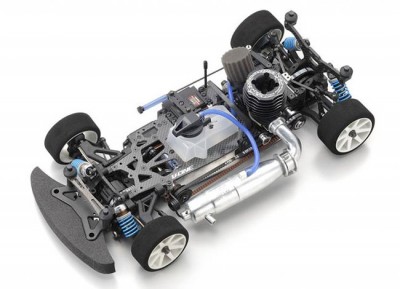 Shown for the first time during the Tokyo hobby Show a few months ago, Kyosho have released full details on the new V-One RRR Shim Edition. This special version features many not yet released option parts and the whole car is finished off in Shimo's signature silver color. Heading the list of upgrades is the new smaller diameter clutch unit as well as the new 'Velvet coated' V-One shocks for smoother shock action as well as other nice touches like the different belt tensioner, ventilated brake disk, new 3mm carbon shock tower and hard coated pillow balls for better durability.
Check out the full list of new features here
Tuesday, December 15, 2009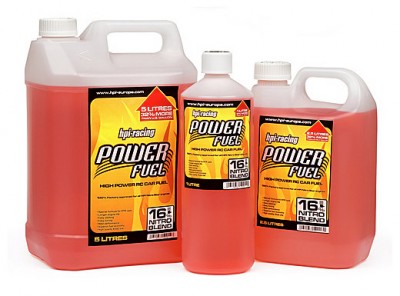 HPI's new Power Fuel was developed especially for modern RTR nitro engines, the company choosing to work with the manufacturers of the popular OptiFuel line of fuels, Europe's most popular brand of helicopter fuel used by serious competitors and uses the same high quality Klotz synthetic oils as OptiFuel Optimix-Race blends. Available in 25%, 20% and 16% it makes starting and tuning nitros engines easy because its specific blend is more tolerant of incorrect settings and of temperature and humidity changes. The consistent burning provides a steady smoke trail allowing car and buggy owners to easily see the effects of engine tuning. Sold in 5L, 2.5L and 1L drums.
Source: HPI [hpieurope.com]
Tuesday, December 15, 2009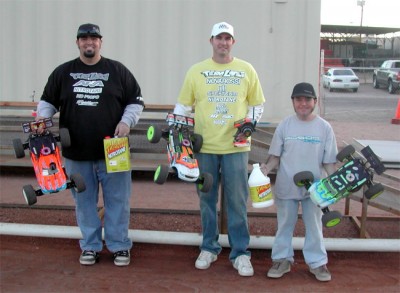 Round one of the Arizona State Championship Series took place this last weekend at Arizona's newest nitro facility. Expert Truggy saw Losi's Casey Peck taking the TQ and win with Brian Kinwald in the second spot. Losi teammate Trevor Clement fought a great battle and came from a bad start to finish third. In the Expert Buggy class Trevor Clement TQ'd with his 8ight 2.0 buggy, but in the main Casey Peck and Mike Friery took a 1-2 finish. The Intermediate buggy class saw the Nitrotane-powered buggy of Losi driver Autie Bender able to take the main event win by a full lap over the competition, while in Intermediate truggy Danny Travino took down the field by 2 laps to take the top spot on the podium.
Source: Losi [losi.com]
Tuesday, December 15, 2009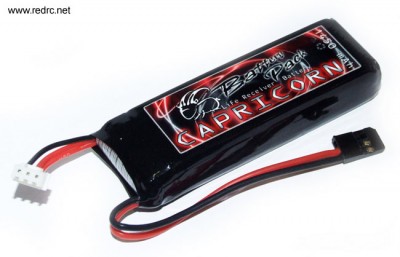 Capricorn RC have released a new LiFe RX battery. This 2 cell 6.6 volt 1450mAh pack comes in a traditional stick configuration and is supplied with a balance connector. Weighing in at only 70 grams, the cables are soft silicone and the pack will fit perfectly into all 1/10th nitro cars, with the exception of the Velox V10.
Source: Capricorn RC [capricornrc.com]
Tuesday, December 15, 2009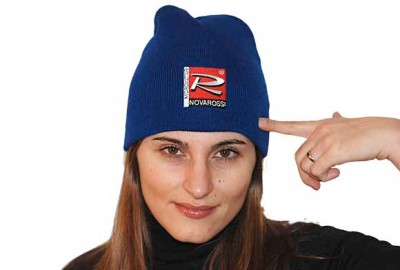 Keep your head warm at those cold outdoor races with this new winter hat from Novarossi. Available in blue and sporting the familiar Novarossi emblem embroidered on the front, this hat looks good and will help keep your brain warm allowing you to concentrate on the racing at hand.
Source: Racing Experience [racing-experience.eu]
Tuesday, December 15, 2009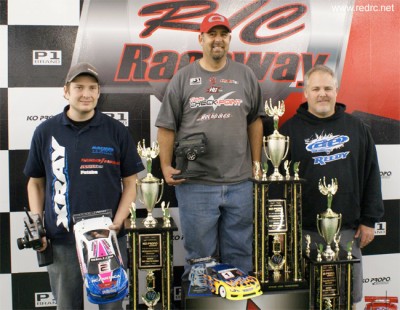 The 2009 KO Grand Prix took place last weekend at West Coast RC Raceway in California. Barry Baker was in attendance with his Hot Bodies Cyclone and was untouchable all weekend, setting the TQ in both the modified and 13.5 class. The former National Champion would go on to win both classes as well, beating out Xray driver Paul Lemieux and Associated racer Rick Hohwart who finished 2nd and 3rd in Mod and Rick Hohwart and another Associated driver Keven Herbert in the 13.5 class.
Click here to see the 13.5 podium
Tuesday, December 15, 2009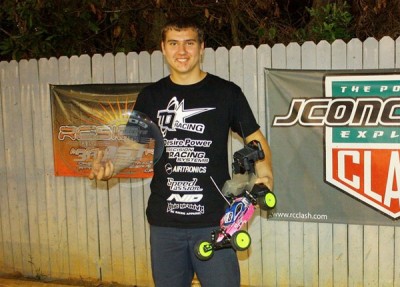 TQ Racing were in touch to tell us about their driver JP Richards winning the Super Stock title at the 2009 JConcepts Clash. JP joined the TQ team only three short weeks ago and has had nothing but success since making the move. The class this year was filled with some of the fastest super stock racers in the country, with X-Factory driver Leon Mcintosh in second place with third going to Luke Richards. JP also went on to finish 3rd in 2wd Mod behind Jared Tebo and winner Ryan Maifield.
Source: TQ Racing [tqracing.net]
Tuesday, December 15, 2009