http://video.google.com/videoplay?docid=-5283810288196043852
Episode 1 of the second series of RC Racing, shown in Europe on cable channel Motors TV is now online and can be watched in the player above.
Presenter Nick Daman tries his hand at racing again, this time at the 12th scale nationals in Milton Keynes. After his exploits in 1/8th Rallycross could he be heading for another fall? (Or crash). There is also topline action as the cream of British touring car racers come together for the BRCA finals at the Cotswolds club, where they also chat to Andy Moore about his recent 12th Euros success and review the latest RC cars and trucks.
Source: RC Racing [rcracing.tv]
Wednesday, November 28, 2007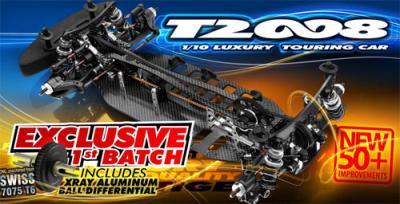 Along with announcing that the T2'008 190mm touring car is now shipping, Xray also announced that the first batch only will be supplied with aluminum externally-adjustable ball differentials. This is due to the fact that the mold for the new Composite Diffs was not finalized for mass production in time for the export of kits, and as such the first batch of kits feature this aluminum version. The US Foam-Spec edition features two alu ball differentials and the EU Rubber-Spec edition features the aluminum ball differential in rear only. Both kits include the appropriate amount of the new 3.5mm drive shaft composite blades.
Source: Xray [teamxray.com]
Wednesday, November 28, 2007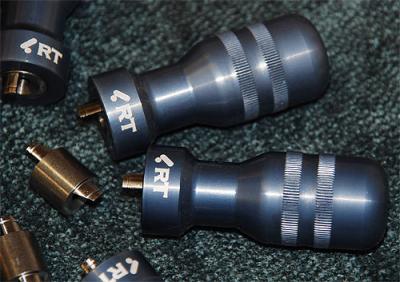 Vita Tuning from Germany has created this handy clutch assembly and disassembly tool, and will be made available under the All Mod and Reckward Tuning brand names. Designed to work with the Speed 2.5 buggy clutch and Speed 2.5/28 truggy clutch, the tool helps the user mount the shoes by making it simple to pop the shoe springs into place. This is done by putting the shoe onto the flywheel pin, place the tool over the end of the crankshaft and turning it anti-clockwise, while pushing, to remove them again just do the same but pull.
Click more to see the All Mod version… (more…)
Wednesday, November 28, 2007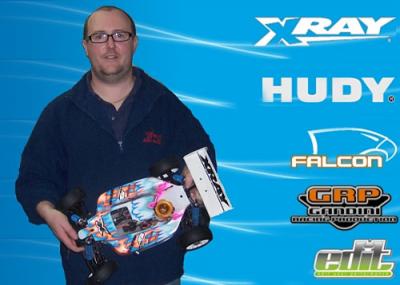 Mirage Racing have announced that top UK racer Kevin Brunsden has made the switch over to Team Xray to race the XB8EC and XT8 for the 2008 season. Kevin is a well know National winning touring car driver that recently made the switch over the ultra competitive 1/8th buggy class last season and immediately impressed. Kevin will be using Falcon Engines and GRP tyres at all Nationals this coming season and will certainly be a regular contender at the top of the timesheets.
Source: Mirage Racing [mirageracing.com]
Wednesday, November 28, 2007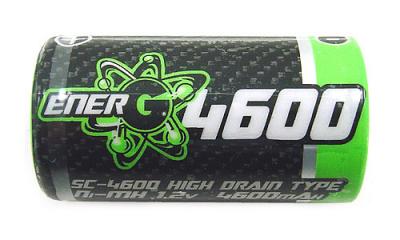 Pro Match Racing have announced the impending release of this new all new EnerG 4600MAh cell. Created in partnership with SMC Racing, this high drain type Ni-MH cell will go on sale from the 10th of December and will provide lots of power as well as great run times. Expect more information closer to its release.
Source: Pro Match [promatchracing.com]
Wednesday, November 28, 2007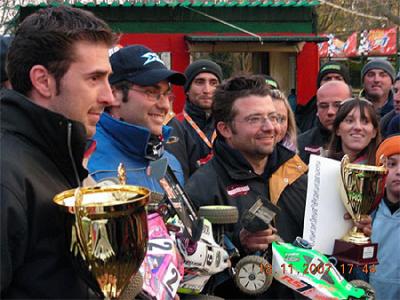 Xray are reporting from the recent Radiosistemi trophy that was run for 1/8th scale off road in Toscana, Italy. A total of 81 senior drivers and 41 junior drivers were present to run on the bumpy track, where a perfect set-up was necessary to contend with the bumps, while at the same time being quick. In the senior class, it was Crono racer Davide Tortorici that got TQ followed by another Crono, that of French racer Jerome Sartel in 2nd. In the final everyone managed to get a good start with Sartel leading, followed by Tortorici, Laffranchi, and Perin. Laffranchi was fastest and after some great driving managed to take the lead. With the Xray racer up front, Tortorici then ran into some problems due to the difficult track conditions and dropped back, leaving Jerome Sartel and another Crono driver Stefano Rossi to finish in 2nd and 3rd place.
Source: Xray [teamxray.com]
Wednesday, November 28, 2007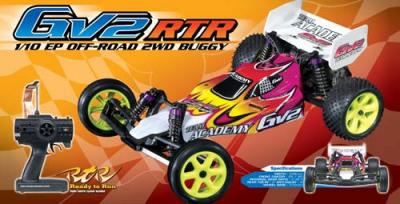 Korean manufacturer Academy have released a ready to run version of their electric powered 1/10th scale 2wd buggy, the GV2. Supplied with a pre painted body, the car comes fully assembled and includes pre made oil dampers, electronic speed controller, 7.2V battery with charger, RS540 motor and pistol grip radio. The car uses the same geometry as the competition version and also features rear gear differential, multi length pivot system, moulded drive shafts and finally a 3 piece moulded chassis.
Click here to see more photos… (more…)
Wednesday, November 28, 2007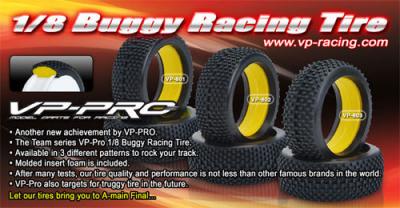 VP Racing have introduced these team series VP-Pro 1/8 Buggy Racing Tires. Available in 3 different patterns, they are supplied with the molded foam insert and have been extensively tested to bring the tire quality and performance up to the same standards as other top brands on the market. VP-Pro also aim to release similar tires for truggies in the near future.
Source: VP Pro [vp-racing.com]
Wednesday, November 28, 2007
Kyosho was in contact to tell us that their Factory Driver Ryan Lutz and a number of other Kyosho drivers attended the final race of the season for the popular Southern California JBRL (Jimmy Babcock Racing League) Series. Lutz went into the final race of the series having already clinched the Truggy title, but if there were any question why the championship was already locked up, Lutz and the ST-RR made it abundantly clear. Lutz jumped out to an early lead over TQ Levi Jackson, also driving an ST-RR with a short chassis, and didn't look back. His Sirio CL7B-powered ST-RR was very fast and agile, stretching out nearly a two-lap lead at the end of 15 minutes. Kyosho drivers Levi Jackson and Jimmy Wright finished second and third respectively making it an all-Kyosho podium. Jackson also took third overall for the series, giving Kyosho two of the three podium positions for the series. Cody King and Ryan Lutz also finished second and third for the series with their Sirio-powered Inferno 777 WC cars.
Source: Kyosho [kyoshoamerica.com]
Wednesday, November 28, 2007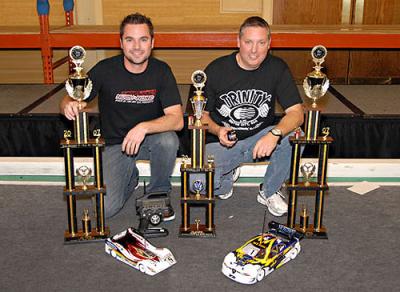 Last weekend saw the 28th annual US Indoor Champs take place at the Holiday Inn Hotel in Independence, Ohio with the event open to both Touring car and 1/12th scale classes. In TC Mod it was pole man Ralph Burch, racing for Xray, that made the best start and was able to pull out a gap and cruise to the win in front of Kyosho racer Josh Cyrul in 2nd and another Xray, that of Paul LeMieux in 3rd. In the 1/12th scale Mod class it was top qualifier Mike Blackstock that jumped into the lead at the start of the race and lead until some trouble with traffic took him out leaving Corally driver Chris Tosolini to take the lead and eventually the win in front of LeMieux in 2nd and Cyrul in 3rd.
Click here to see the full final results… (more…)
Tuesday, November 27, 2007