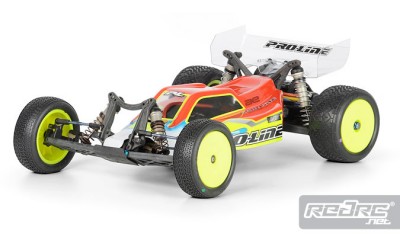 New for the Associated B4.1, Pro-Line have released the BullDog. After achieving such impressive results in the 1:8 ranks, the BullDog's cab forward technology has made its way to the 1:10 class. Advanced cab forward design generates unmatched off-power steering, while the low profile rear deck feeds the wing with clean air flow. Made from durable / genuine Lexan, its super-low styling giving your B4.1 the lowest center of gravity (CG) possible.
View more images of the shell here
Tuesday, September 21, 2010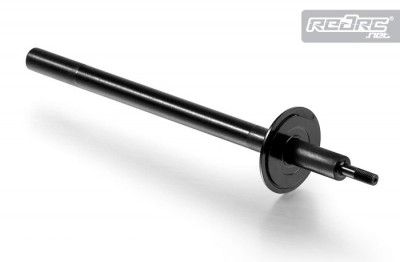 Xray have introduced this lightweight and strong rear axle assembly for the XII or X10. It features a super-light and tough Swiss 7075 T6 aluminium shaft that is specially machined to be perfectly balanced and smooth with zero run-out for vibration-free operation.
Source: Xray [teamxray.com]
Tuesday, September 21, 2010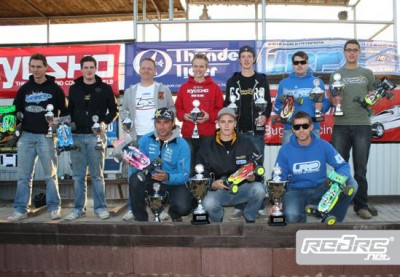 The German 4wd Nationals were held last weekend in Schenkenhorst, near Berlin with 72 drivers attend the event. The club did a good job preparing the track, which is normally for 1/8th offroad, so high speed for 1/10th cars but really nice to drive. On Saturday all drivers had 3 practice rounds and after that qualifying started with 3 rounds on Saturday and 2 more on Sunday and the best 2 out of 5 to count. Jörn Neumann took the TQ spot, Benni Gröschel was 2nd and Marc Rheinard 3rd. The finals saw a battle between these three drivers, but in the end Jörn could win the first two A-Mains and the German Championship with his LRP powered Yokomo, adding to his 2wd title he won last month. Second place went to Durango/LRP driver Benni Gröschel while in 3rd was Marc Rheinard with his Tamiya/Speed Passion. In the stock class Ebi Beck took an easy win.
Thanks to Jörn Neumann for the report.
Tuesday, September 21, 2010
Novak have announced that you can get the Havoc 3S Brushless/Brush ESC with Traxxas plugs. The Havoc 3S/Ballistic 8.5T Brushless System with Traxxas plug is also being introduced, and is part of the long line of TRA systems Novak offers. These products are equipped with a Traxxas compatible battery connector, able to handle high-current and ready for an easy installation. In other words, no soldering. To further simplify installation they include gold-plated bullet motor plugs, which eliminate tricky wiring and allow the system to be removed easily from the vehicle again without soldering.
Source: Novak [teamnovak.com]
Monday, September 20, 2010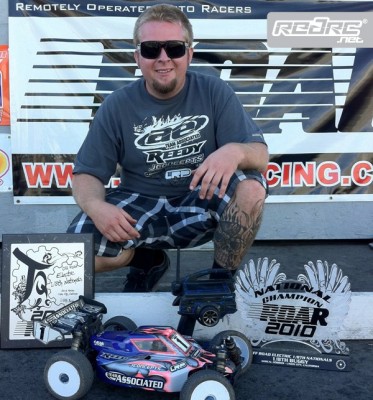 2010 marks the first year of an official ROAR National Championship for 1:8 electric buggy and truggy and Team Associated's Ryan Maifield traveled to Northern California to battle for the right to be called the first 1:8 Electric National Champion against a group of top level talent from every major manufacturer. The NorCal Hobbies track located near San Francisco Bay provided the perfect facility to crown a National Champion.  With technical rhythm sections and a large track layout, both the driver and equipment were equally challenged. For Maifield and his Reedy/LRP powered RC8Be two first place finishes in the IFMAR qualifying format meant he started on pole for the triple "A" main events on Sunday. As the tone sounded to start A1, Maifield jumped out to the lead and never looked back. 10 perfect minutes of driving by the Team Associated star put him one victory away from being crowned champion. A little over an hour later, A2 got underway and again Maifield jumped out to a strong start ahead of the other nine competitors. As time ticked off the clock, other racers tried to match the pace of Maifield but none could match his consistency lap after lap.  At the conclusion of A2, again it was Maifield who took the victory leading every lap of A1 & A2 and with two main event wins was crowned as the inaugural ROAR 1:8 Electric National Buggy Champion.
Source: Associated [rc10.com]
Monday, September 20, 2010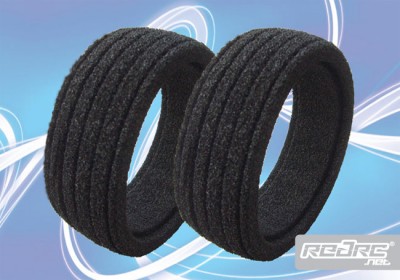 HongNor now offers an aftermarket closed cell insert for all tracks that require a firmer insert set-up. Sold in a set of 4, the grooves help capture the tire carcass and reduce flex to a minimum. Perfectly balanced, these lightweight inserts are 100% water safe, reusable and extremely durable.
Source: HongNor [hongnor.com.tw]
Monday, September 20, 2010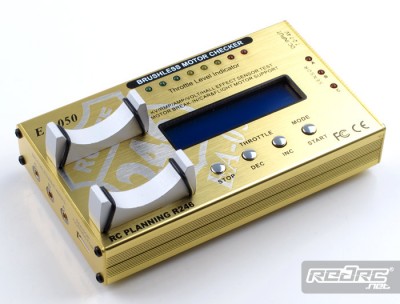 The EA-050 brushless motor checker from Route 246 is a precise instrument to measure the KV rating and RPM, as well as Voltage and Current, of brushless motors. It also checks existing hall effect sensors for correct function, with a 16 x 2 digit LC display indicating the different parameters. The motor checker is powered by a 7.2 to 7.4V power source and the package contains power cables for the motor checker as well as connecting cables for easy and swift monitoring of the motor's performance.
Monday, September 20, 2010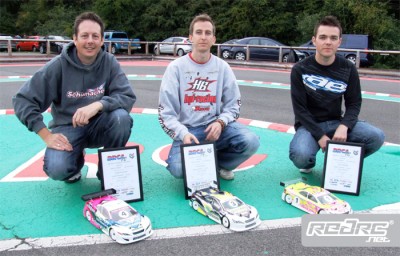 Andy Moore put a disappointing domestic season behind him to take the final round of this season's BRCA national touring car championship ahead of Olly Jefferies and Chris Grainger. Going in to the final round Chris Grainger was already crowned champion but second place was looking close between Olly Jefferies for Associated and Tamiya star Elliott Harper, Olly got off to the best start taking TQ and a new West London track record with his TC6, Elliott would line up behind Olly for the three leg finals with Andy Moore waiting to pounce in third. After three close fought legs Andy took the win for Hot Bodies ahead Olly Jefferies and Chris Grainger. The result meant a points tie in the series for Jefferies and Harper, the pair could not be split on number of A finals won or second places, in the end it came down to the number of third place finishes in the series and Elliott was given the decision over Olly.
Continue reading the report here
Monday, September 20, 2010