Vintesete, importers for Xray in Portugal, have been in touch to tell us about their 2010 multi round Xray Trophy series. Comprising of 7 two day events for both 1/8th off road and separately for gas on road, these fun series are open to any brand of car and have a focus on fun, while keeping the race costs low. Trophies will be given to the top 10 at each race day with trophies and prize money for the top 10 in the overall series.
More information in Portuguese can be found here (PDF) for offroad and here (PDF) for on road.
Source: Vintesete [vintesete.com]
Sunday, January 17, 2010

Here we have this weeks round up of product releases and race reports from our site sponsors Xray. Our summary includes everything published by the Slovakian manufacturer on their own website in the past week, so if you didn't find the time to visit, be sure to read on. This weeks round up includes the following stories.
- XB808'10 Podium Finish at Clanfield Winter Series R2
- NT1 Wins the 2009 Swedish Cup
- T3 Dominates Xmas Endurance 2009
- T2'009 Wins Winners69 Year-end Race
- XB808 & Agrafiotis Win Cyprus National Championship 2009
Click here to view the round-up
Sunday, January 17, 2010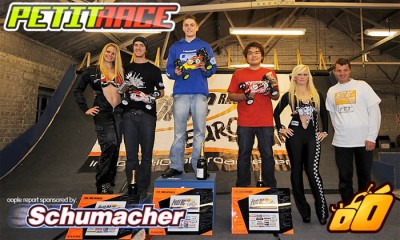 oOple are reporting that Ellis Stafford TQ'd the Petit Race 2WD class but had no luck in the three-leg finals. Instead, it was Joern Neumann that took impressive wins in legs one and two to take the crown and make it three 2WD titles in three appearances. Lee Martin claimed the final leg to take 2nd overall, while Shin Adachi was impressive all day and finished 3rd. In the truck class Richard Lowe, reigning Petit Truck champion, took the win from pole, taking the first two legs despite incredible pressure from Shin Adachi with Cyril Baldini taking third.
Check out the full report over at oOple here.
Source: oOple [oople.com]
Sunday, January 17, 2010
New for the OFNA Hyper 10SC 4×4 short course truck, ST Racing Concepts have new line of option parts is ready to take your truck to a whole new level of performance, durability and great looks. Starting with the CNC machined aluminium heavy duty 5mm front and rear shock tower that replaces the stock 3mm shock tower and greatly reduces flex and keep the shock towers from bending due to hard impact. Next up is the aluminium front steering upper plate and front chassis "H" brace which reduces the flex and increase the strength of the front end. The upper plate tightens up the steering and provide much stronger support for the upper arm mount, while the "H" brace further increase the strength of the front of your Hyper 10SC against hard impacts.
Click here to continue reading
Saturday, January 16, 2010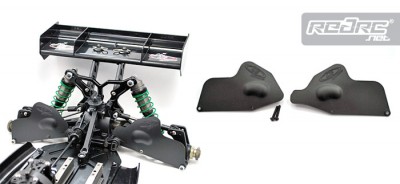 New from DE Racing, makers of a wide range of chassis protecting skid plates, comes their latest product, mud guards. The first car that they are available for is the Losi 8ight & 8ight T, these easy to install guards will protect the rear suspension and drive
 components against rocks, dirt and mud.  Scuff resistant with engineered durability, they are sold in a pair and are made in the U.S.A.
Source: DE Racing [deracing.net]
Saturday, January 16, 2010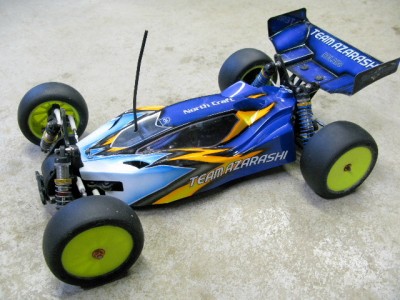 New for the Durango DEX410 from Team Azarashi is this new body shell called the Fettera. Still in the prototype phase, this shell is the result of extensive track testing which has resulted in its unique aerodynamic performance. Very stable, the creative design of the new undertray helps with this, while extra space around the electronics and cooling holes help keep their operating temperature low. Expect a March release date.
Click here for more images of the Fettera
Saturday, January 16, 2010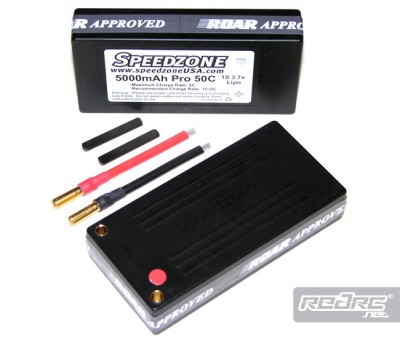 Speedzone have released their first 1S 3.7v Straight LiPo Pack. The 5000mAh pro series packs have a 50C rating and a maximum charge rate of 5C, come with high performance 4mm bullet connectors and will ship with Speedzone battery rails/guides. The purpose of the battery rails is to help maintain the position of the battery pack in the car. Packs are ROAR approved and will fit all popular 1/12 scale link cars and WGT cars and come with a 60-day manufacturing warranty and a 6-Month 'No Questions Asked' warranty.
Click here to view an image of the battery mounted
Saturday, January 16, 2010
With an incredible consistent run, German Frank Hättich has earned himself the 2009 World Championship title in 1:10 Touring car. He faced strong competition of 2009 World Series champ Luciano Assis and 2008 World Champ Ronald Volker, but they had no answer to Frank's flawless 45 minute final run. Frank's slowest lap was 17.740 sec. in his 88th lap of totally 159 laps, truly world championship material! Assis and Völker complete the podium 8 and 23 seconds behind Hättich.
Continue reading the report here
Saturday, January 16, 2010