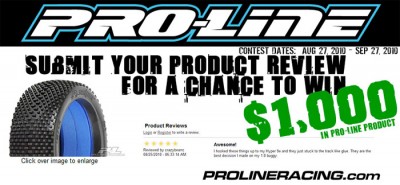 Our site sponsors Pro-Line want to hear from you. If you submit a review for one of their products on prolineracing.com between August 27th and September 27 2010, you will be in with a chance to win $1000 dollars worth of Pro-Line products. They are looking for the most detailed and fun product review, with runners up receiving a 15% discount code for use on their online store.
Source: Pro-Line [prolineracing.com]
Saturday, August 28, 2010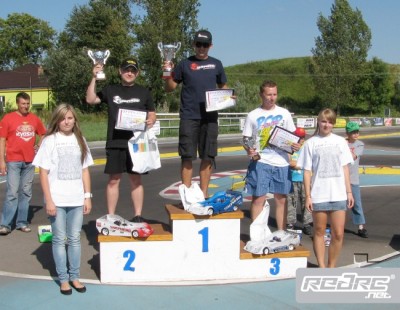 Last weekend saw a group of German drivers of the Race-Center-Munzig take up the invitation from their Polish friends to attend a race called the GP of Pacanòw. The race features a nice mixture of nitro an electric classes from 1/10 to 1/8 scale so visitors could get a good impression of what racing is all about. Although the track was very bumpy it featured a very nice layout with fast sweepers and tight corners and a quite long straight which made for it very demanding to set-up. In 1/8 scale Rafal Zeljas took the TQ honours with his Novarossi powered Shepherd Velox and a clear win on his home track finishing first in front of Norbert Omelanczuk and Marcin Marczyky, both also with Shepherd cars. In 1/10 200mm it was the German Capricorn LAB-C01 driver Frank Pudewell, coming from 5th position, that took the win setting the fastest lap of the race, ahead of young Polish talents Jakub Rozycki (TQ) and Filip Zaremba, both having a strong qualification and great race performance with their Kyosho chassis'.
Saturday, August 28, 2010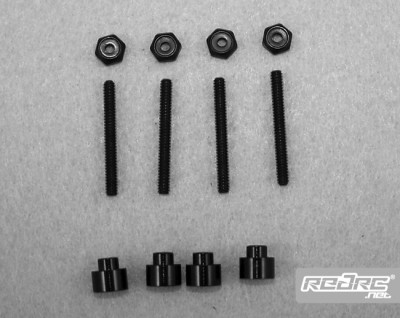 X Factory announces a new line of black anodised upgrade parts to fit the full range of X-Cars and, in some cases, many other brands of off-road 1/10 vehicles as well. All are designed by X Factory's chief engineer Paul Sinclair and this new line kicks off with four great items and will be expanded soon as Paul designs new parts. First up is the new battery stand-off kit. Four black aluminium pieces fit under the standard CF battery strap to raise the posts for ROAR-maximum height batteries.  Includes mounting studs & four black low-profile lock nuts and fits the X-6 Squared & X-60. Next is the motor plate, the same as the standard aluminium plate for X Factory's 4-Gear transmission, but it looks a whole lot better in black. The new servo mounts fit the X-6 Squared, X-60 and most 1/10 AE cars. Finally the black wheel washers are just dialed, and fit most 1/10 off-road cars with 3/16" diameter axles.
Saturday, August 28, 2010
The DuraTrax 1/8 Deluxe Hauler bag features a tough nylon exterior and three large drawers that hold a 1/8 scale, 1/10 scale or Short Course vehicle, with plenty of room remaining for your transmitter and other accessories. The drawers are made of super-strong corrugated plastic, not cardboard. The large back pocket carries your pit mat or set-up board, while the top compartment is great for holding tools and small parts. The 1/8 Deluxe Hauler Bag transports easily with a retractable handle and smooth-rolling wheels. Dimensions: 24.4" high x 23" wide x 18.9" deep.
Source: DuraTrax [duratrax.com]
Friday, August 27, 2010
Named after a rugged valley section of the prestigious Baja 500 and 1000 desert races, DE Racing brings you the 'Trinidad' SC wheel. The most detailed and scale wheel available for your Short Course RC truck. From the bead lock bolts and lug nuts to the seamless integration for our optional Hub Nutz, one look and you'll agree that these wheels form a package that is pure eye candy. Manufactured in the U.S.A. from the finest possible materials and utilizing an advanced ribbing design, 'Trinidad' wheels offer strength and durability while still remaining lightweight. Intended for the highest levels of competition they also feature ROAR legal widths and glue bead diameters, a one piece design, and are available in factory offsets for several models. DE Racing have also released two new models of Hub Nutz for use with Pro-line and JConcepts SC wheels. Made by over molding a steel nut with nylon, Hub Nuts mix the strength of steel with the holding power of nylon to create a fastener that a standard lock nut can't match. To allow for custom applications and simplify ordering they are packaged with 2 nuts and an adapter tool.
Friday, August 27, 2010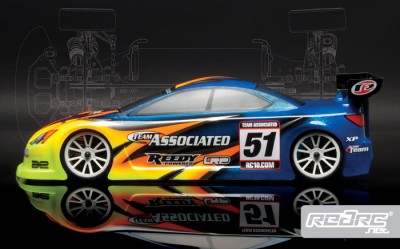 Having got the World Exclusive on the new TC6 at the World Championships in Burgdorf back in June, Team Associated have released full details on their new electric touring car chassis. Designed to take full advantage of all the latest technological advances made in 1:10 scale electronics, the TC6 has been optimized to use all of the benefits offered by brushless motor systems and LiPo batteries. The engineers behind the doors of Area 51 have been hard at work developing the TC6 to blend the best qualities of high performance and adjustability without sacrificing durability or ease of maintenance.
View more details and images here
Friday, August 27, 2010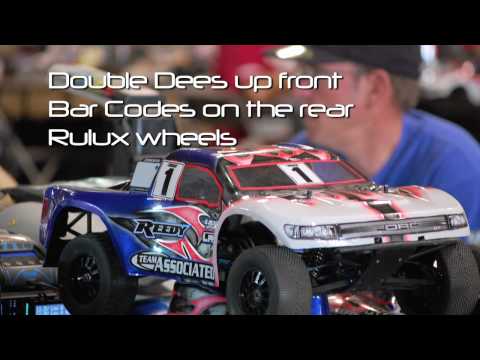 Ryan Maifield and JConcepts take 1st ever ROAR Short Course Open National Championship.  JConcepts picks up 4 ROAR National titles, 3 via control tire and 1 via open performance.  The scene was fresh and exciting at the 2010 ROAR Off-Road Nationals.  With many of the major teams putting in a push that hasn't been seen in many years, competition and stakes were at an all-time high.  With the introduction of Short Course and the steady popularity of 1/10th buggies and trucks, 305 entries assembled into Joliet, Illinois for the largest 1/10th Off-Road race of the year.   With an agreed upon or control tire used in 6 of 8 classes, a level playing field was present for all participating drivers.
Continue reading the report here
Friday, August 27, 2010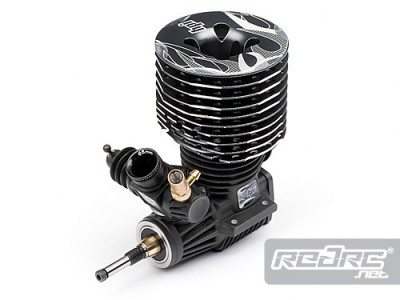 HPI have released their Nitro Star F3.5 Pro engine, which has been developed especially for off road racing. The HPI engraved oversized cooling head has been drilled and lowered over the crankcase for maximum heat dissipation and keep the weight as low as possible, fitting on top of a separate Turbo combustion chamber. A finned black-coated crankcase design not only adds strength and rigidity but will also help cool the engine. The F3.5 Pro is a 5 port 3.49cc ABC engine and has been optimised for performance and durability without compromising on run time. Tested with the HB and HPI Racing teams with great success this is an engine that can win at the highest level at a price that's ultra competitive.
Friday, August 27, 2010