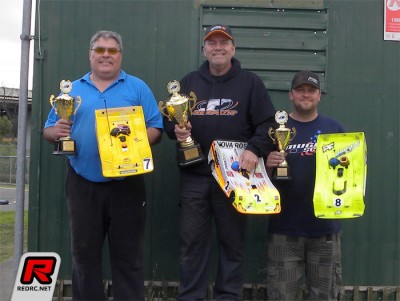 The 2011 New South Wales IC State Champs was held last weekend at Moorebank Raceway outside Sydney. Qualifying in the 1/8th scale class went the way of Capricorn driver Peter Jovanovic, with Serpent driver Ric Bartolozzi in 2nd, Steven Jovanovic in 3rd and Blake Young in 4th. In the final it was Bartolozzi that emerged the winner, taking the checkered flag 3 laps ahead of Capricorn racer Stewart Grant in 2nd and Mugen racer Ashley Seward given 3rd, following the disqualification of Legh Dytor from the position.
Source: Serpent [serpent.com]
Wednesday, April 27, 2011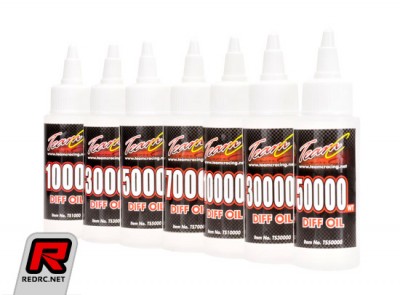 Team C have released a complete line of high quality temperature resistant silicone oils. Supplied in convenient bottles, there are ranges for shock absorbers and differentials. The shock oil comes in 300, 350, 400, 450, 500, 550, 600, 650, 700, 750 & 800CPS, while the diff oil is available in 1000, 3000, 5000, 7000, 10000, 30000 & 50000wt.
Source: Team C [teamcracing.net]
Wednesday, April 27, 2011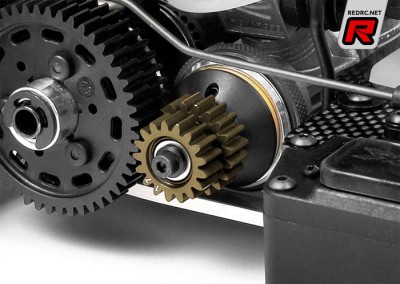 New for the RX8, Xray have released these high-strength pinion gears made from tough 7075 T6 alminium and specially hard coated for superior strength, light weight and high durability. Created on a special gear machine, all pinions feature ultra-precise tooth shaping and ultra-true running for vibration-free operation. Fine internal threading allows easy installation on XCA clutch bells (standard or lightweight versions). Each pinion is fine etched with the tooth number for easy & quick identification. Available in 16T, 17T & 18T 1st gears and 19T, 20T & 21T 2nd gears.
Source: Xray [teamxray.com]
Wednesday, April 27, 2011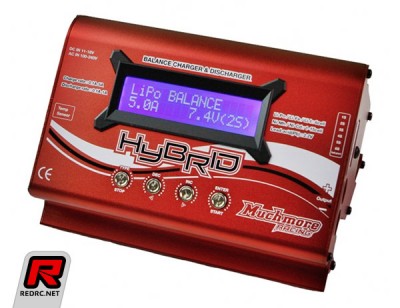 Much More have announced that their Hybrid balance charger and discharger will now also be available in red. It joins the standard black, blue, grey and recent addition purple and is available now.
Source: Much More [muchmoreracing.net]
Wednesday, April 27, 2011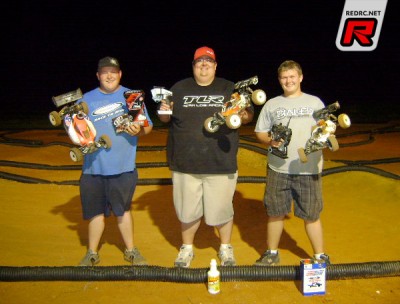 Last weekend was the first round of the I-20 series in Monroe, Louisiana. Racers from all over the area came to a freshly built track at Full Throttle Raceway. With the rain during the week the Track crew had some work ahead of them. By the time qualifiers started the track was in great shape. The Battle for TQ was close but TLR driver Matt "Puddin" Sistrunk took the top spot in buggy followed closely by TLR privateer Denver Houghton. Following the start of the main it was a three car battle with Denver taking the early lead followed by Matt and Allen McCoy. Matt and Denver battled for the lead the entire race with Allen in the shadows waiting for them to mess up. Matt passed Denver on the last lap of the race and they crossed the line .05 apart with Matt taking the win, Denver in 2nd and HB driver Allen McCoy in 3rd. In Truggy Matt started 3rd with Steve Traxler taking TQ. Matt took the lead in early going and never looked back, winning from the HB pairing of Jeff Gray in 2nd and Steve Traxler in 3rd.
Source: TLR [tlracing.com]
Wednesday, April 27, 2011
Novak is introducing a high-torque version of its popular Ballistic 550 motor. The Ballistic 550 Hi-Torque brushless 4.5T motor includes Novak's larger diameter 14mm tuning rotor for a higher temperature threshold, higher torque and lower Kv. This combination is perfect for 4×4 Short Course trucks and offers drivers a different feel and response from their motor. This system will be available in May.
Source: Novak [teamnovak.com]
Wednesday, April 27, 2011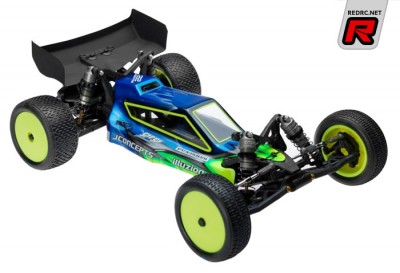 The Punisher body by JConcepts for the TLR 22 is the meanest, nastiest thing out for 1/10th buggy racing. The slight cab-forward treatment is amongst the most aggressive in class giving the Punisher top notch performance. Blended wing / body design gives additional down-force to the side-pods and windshield which increases driveability, corner speed and jump control. The rear base of the cab area represents the latest offering for 1/10th buggy racing featuring a rear scoop allowing additional tune-ability and cooling for high-performance racing. The Punisher body includes both cut-lines so the user can trim to either rear or mid motor chassis configurations. In addition to the newly designed body JConcepts has included 2 of the popular 6.5″ wide high down force V-wings that are commonly used around the world.
View more images of the body here
Wednesday, April 27, 2011
On Saturday, March 5th 2011, Rockstar Energy Suzuki rider Ian Trettel sustained a severe head injury during practice at the AMA Supercross event in Daytona Beach. Trettel, a rising rookie, drafted from the amateur Suzuki team had finished 5th in his Supercross Pro Debut this year. He is currently in Atlanta, GA at the Shepard Center for rehab and is making progress every day. Losi is donating a XXX-SCT for the Trettel Auction on eBay via Road 2 Recovery's store front. This is not just a normal XXX-SCT but is a one of a kind that has been signed by all the superstars of Supercross including James Stewart, Ryan Dungey, Chad Reed, Kevin Windham etc. You can make a bid on this awesome car, as well as other donated memorabilia, directly here, or if you would like to make a donation please visit www.road2recovery.com for monetary donations or by purchasing a t-shirt or bracelet thru www.vurbmoto.com.
Tuesday, April 26, 2011