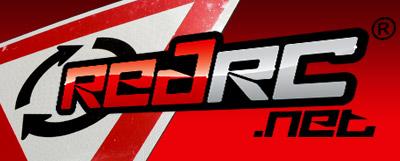 A summary of other news pieces from around the internet today in our Red RC Round-up:
> Jerome Sartel dominates Euro Indoor race – Link [neobuggy.net]
> HoBao preview the Hyper Mini Truggy ST – Link [hobao-racing.com]
> The Losi 8ight of Yannick Aigoin – Link [rcmag.com]
> The Mugen MBX5-R of Renaud Savoya – Link [rcmag.com]
> The Xray XB8 of Jérome Sartel – Link [rcmag.com]
Monday, February 11, 2008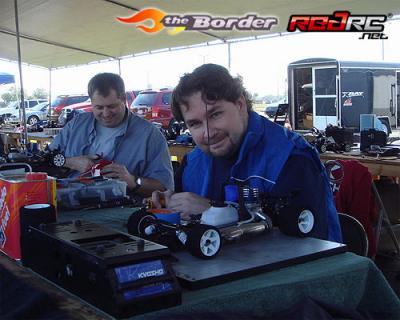 This years annual Winternats held at the Ft Myers track in Florida, is currently underway with a lot of the racers arriving on Sunday before the week of the event to get some practice in on this extremely tight and unforgiving track. Our site sponsors The Border are present with Michel Nijman racing and supporting Jilles Groskamp, and with the time left over will be sending us some photos and updates from the track. Here are the pictures from Sunday's practice day which saw nice weather with temperatures around 26 degrees Celcius, perfect conditions for racing. As you can see from the photos, a lot of the Europeans are already at the track including multiple winner Michael Salven, who is contesting 2 classes, the Baldes brothers Jorg and Uwe and top Austrians Gerhard Kandelhart and Daniel Tomaschko. Also present racing for the first time with Motonica is new signing Josh Cyrul and new team mate Ron Atomic, who has also just been announced as a KO Propo racer. We hope to bring some more pictures and reports during the week as we get them.
Click more to see the photos… (more…)
Monday, February 11, 2008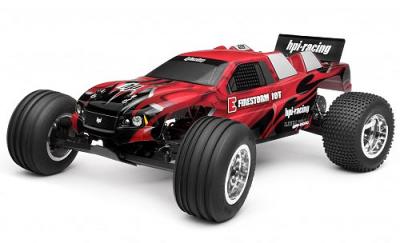 HPI announced at last weeks Toy Fair that the Firestorm will soon be available with a super-fast brushless motor system. The new HPI Flux Brushless System features the Motiv brushless speed control and the Warp brushless motor for the ultimate in speed, giving the E-Firestorm the power to break speed limits everywhere. Supplied in RTR form, the E-Firestorm Flux will be factory-assembled with the Flux Brushless System installed.
Click here for more pictures… (more…)
Monday, February 11, 2008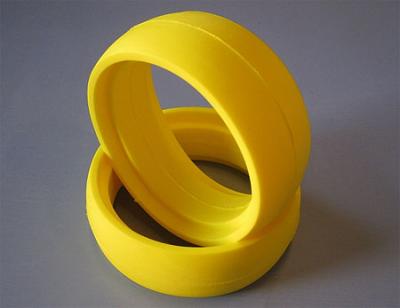 JConcepts have released the Force-1, a medium hardness molded 1/8th buggy insert that is perfect for any 1/8th buggy tire or wheel combination. The Force-1 insert incorporates a superior medium density material with a unique manufacturing process to ensure consistency and insert longevity.
Source: JConcepts [jconcepts.net]
Monday, February 11, 2008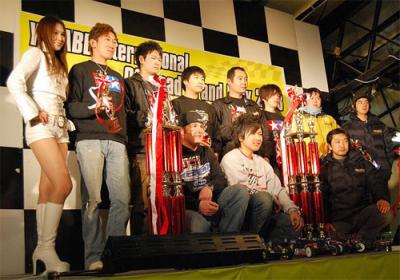 Last weekend saw the Yatabe Arena International off road GP take place at the famous indoor off road track in Japan. The event was attended by all the top Japanese racers and also present was former World Champion Ryan Cavalieri who was taking part in both the truck and the 2wd and 4wd classes. Racing saw the Reedy style format being used and even though Cavalieri dominated the 2wd class with 3 wins from 4, he had one sightly off result in the 4wd class which meant he finished in 2nd behind eventual winner, 2wd World Champion, Hayatu Matsuzaki, with Masami Hirosaka claiming 3rd. Cavalieri took the win the truck class.
Source: RC Tech [rctech.net]
Monday, February 11, 2008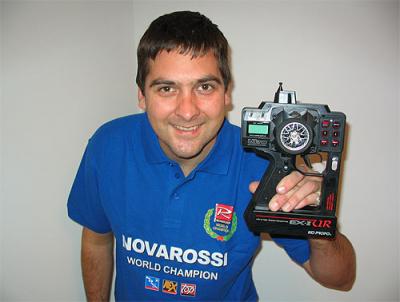 KO Propo America have been in touch to let us know that sedan racing ace Ron Atomic has joined their US team. Ron has proved he has what it takes and in the past five years has made the finals at many ROAR national events, and in doing so has shown great talent and a great work ethic. Ron will be using the new EX-1 UR and KO servos for year.
Source: KO Propo [kopropo.com]
Monday, February 11, 2008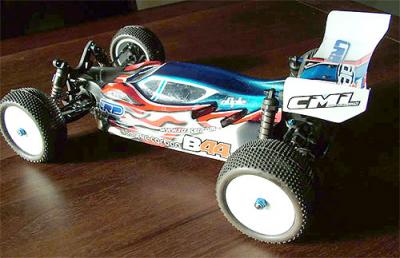 Former European Champion Chris Doughty has the first pictures of the Atomic-Carbon B44 optional body that is used with the Atomic-Carbon B44 optional Carbon Fibre Tub Chassis. The shell is still in its prototype phase so final details need to confirmed but the front and rear towers have been shaped to allow airflow over the body so as not get blocked by the tower. The body is lower than that for the S4 yet there is plenty of room for full size servos, receivers and TC style fan mounted speed controllers.
Check out more pictures here.
Source: Doughty UK [doughtyuk.net]
Monday, February 11, 2008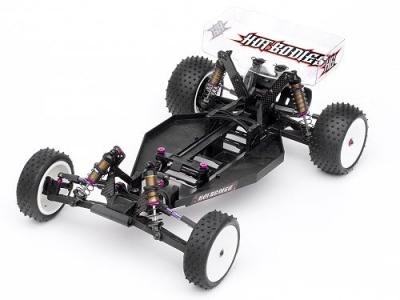 We already brought you some information, as well lots of close up photos of the new Cyclone D2 from Hot Bodies during the Toy Fair last week, but now HPI have published complete information about the car. In development for over a year it has been designed with strength, tuning, maintenance and compatibility in mind. The most unique thing you'll notice is the aluminium main chassis, machined from 7075-series alloy, serves as the backbone of the Cyclone D2 and also as a solid mounting point for all the critical components of the buggy. The battery tray can fit standard 6 or 7 cell sub-C batteries or any hard case Li-Po pack designed for RC cars, held in place with large thumbscrews for a secure fit. By using stiff foam padding and offset cell trays you can easily alter the weight balance of the buggy for increased steering or more traction.
Continue reading… (more…)
Monday, February 11, 2008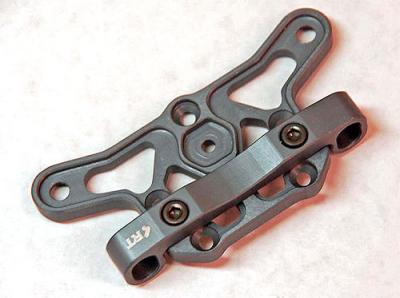 Reckward Tuning will release this new upper steering plate for use on the Associated RC8 1/8th scale buggy. Made by Vita Tuning, the grey anodised aluminium top plate increases the stiffness around the steering system and improves crash resistance. The plate also incorporates the upper wishbone mounting point, which can easily be removed by just 2 screws, in place of 6 on the standard system.
Source: Vita Tuning [vita-tuning.de]
Monday, February 11, 2008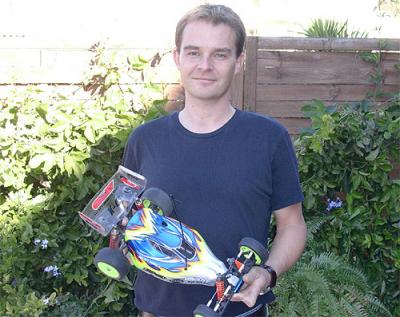 2007 French buggy Champion Alexander Valente has joined the X Factory Team. Valente drove his own X -6 to win in the first three events of the 2007 French Championship and took second in the fourth event to lock up the title. "I'm looking forward to this season so much," said Alex. "It's hard for me to believe that now I'm part of the X Team". Valente added,
I was hooked on The New Math when I first heard about the concept. If just makes so much sense, I had to get one. And what a dream to drive, right from the start. Brian Kinwald calls this car 'cheating,' and I knew why right from my first lap. Now I'm part of this exciting innovative Team. It's amazing! The X – 5 is the perfect car for our French outdoor tracks. I haven't driven 4WD for quite some time, and can't wait to start driving it. That single-belt driveline is just ballistic, and the xx-4 suspension is still the best one ever built. With a year of driving the mid-motor X – 6, I know I'll be right at home with the X – 5. Support from the other Team drivers has been fantastic. It's so much fun being with a group of guys who are so smart and share my desire to win. So far it's just been E-mails because of distance, but it's a super Family.
Valente will run the full schedule of French National Championship races, as well as the Coupe De France and Petit R/C races in 2008.
Source: X Factory [2wdrc.com]
Monday, February 11, 2008