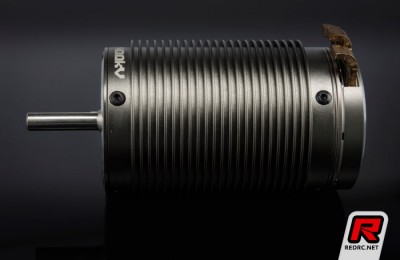 The Vortex MR8 and MR8L are Team Orion's new 1/8 sensor brushless racing motors. They are equipped with sensors for perfect throttle control and a 4 pole rotor for improved performance. Available in two versions, regular length for buggies and XL for truggies and monster trucks and in a wide range or windings.
Thursday, June 30, 2011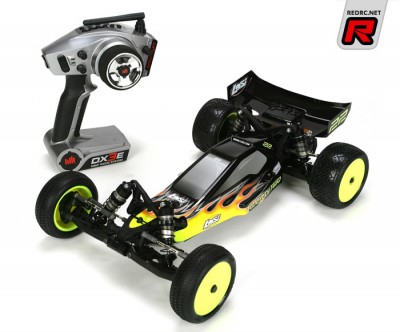 Based on the TLR 22 Buggy Kit, the Losi 22 RTR has all of the performance characteristics of its racing cousin but with a few minor differences in materials used and what is included. The Losi 22 RTR is equipped with all the components needed to have fun driving anywhere, or to be raced competitively. It can also be easily upgraded to the TLR 22 standard. The 22 RTR is equipped with the same suspension geometry and durability as the TLR 22 and uses a serious electronics package by using a Losi brushless sensored motor and speed controller that can be raced in competition. This RTR is piloted by Spektrum technology via the DX3E radio and SR300 receiver and to control the steering a Losi extra high torque servo is provided to give the 22 RTR a precise and optimum steering response. The 22 RTR comes built in the rear motor configuration only, but the parts can be purchased to convert the chassis to a mid motor configuration.
View the full feature list and more photos here
Thursday, June 30, 2011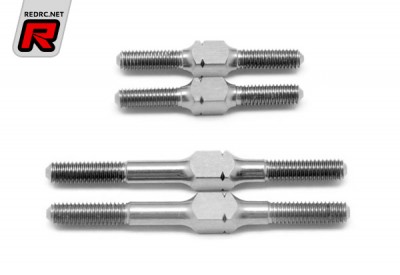 Serpent have released more new optional parts for their newly released S411, with the introduction of some new aluminium parts. First up are these aluminium track-rods (M3x38mm) and aluminium camber-rods (M3x26mm) to replace the kit spring-steel version, for those drivers looking for extra weight savings. Serpent have also produced a 19T anodized aluminium middle shaft pulley. This new part is very light and offers a lower wear rate with less debris staying on the pulleys surface than the kit version.
View the new aluminium pulley here
Thursday, June 30, 2011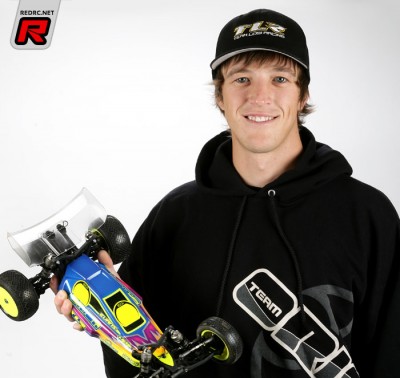 Team Orion are proud to welcome the next super star to their international racing team, with Dustin Evans joining their list of driver. The US driver, who won the 2011 International Off-Road Race of Champions earlier this year with a Team Orion Vortex VST Pro Modified motor, is going to use Team Orion motors and speed controllers at the upcoming World Championships in Finland. He will use the all new R10 Pro Brushless System to power his Team Losi cars.
Source: Team Orion [teamorion.com]
Thursday, June 30, 2011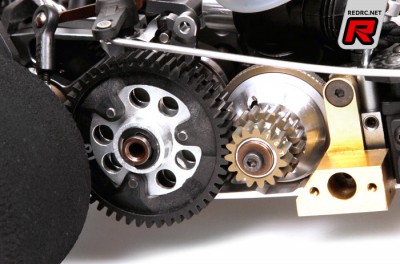 Seen at the World Championship back in April, Serpent have released their new new super-light gearbox for the 966. The current Serpent gearbox system has been in use for a very long time, and the Serpent design has become the industry standard, with small revisions only. Stronger engines, research, racing and new insights have fueled the new gearbox design and the goal was to reduce inertia, fluent power transfer and increase reliability even further. The gears have been improved, made lighter, more durable with improved gear mesh. A new aluminium flange which seats the German made one-way bearing is lighter and the bearing is seated more in the inside of the flange for better balance. A new aluminium bell is stiffer and thicker to stand the force of the shoes better and the bearing is in the center to create even forces on the bearing. A new aluminium brake-pulley adapter features 3 steel pins, and also requires a new brake-disk which is also included, and a new mono-type side pulley/pulley-adapter.
View more images of the gearbox here
Thursday, June 30, 2011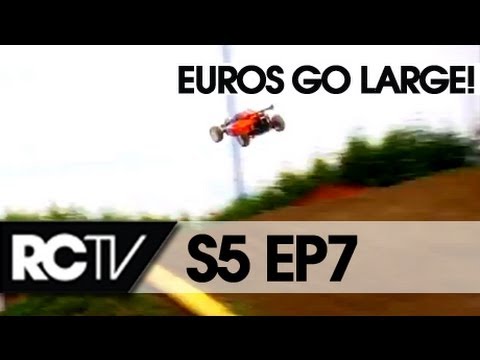 Episode 7 of the fifth series of RC Racing, shown in Europe on cable channel Motors TV, is now online and can be watched in the player above and below.
This Month we cove the first of the 2011 EFRA European Championships with stunning multicamera race action from the 1/10th Indoor Touring Car event from the Czech Republic! We have more EFRA action with a report from the Large Scale Off Road championships held last summer in Austria.
Source: RC Racing TV [rcracing.tv]
Thursday, June 30, 2011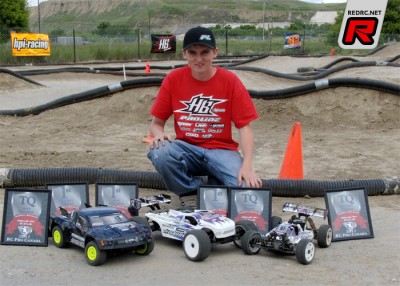 This past weekend Round 2 of the Alberta RC Pro series was held at Medicine Hat, Alberta. The track layout was new for this year, with many saying that it was a driver's layout with some very technical and challenging jumps.  Ty Tessmann's OS powered D8 & D8T equipped Proline tires adapted to the changing track, from wet due to the rain Thursday night to blue groove as the weekend progressed. Ty was able to TQ all 3 rounds of Expert buggy, Expert truggy and 4WD pro Short Course, and went on to win all 3 mains. In Expert buggy he won from Wayne Mah and Cory Drachenberg, while in Expert truggy it was Peter Toszer and Patrick Rogatschnigg who completed the podium.
View the buggy & truggy podiums here
Wednesday, June 29, 2011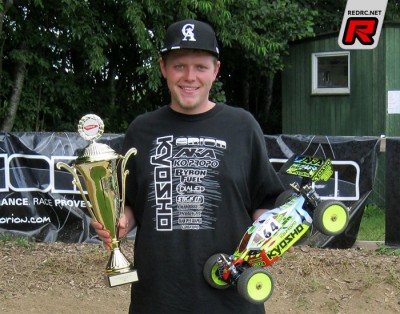 World Champion Cody King traveled to France and Germany over the last two weeks, and picked up a couple electric 1/8 scale titles in the process. In France, Cody attended the Kyosho Masters event in Sucy-en-Brie just outside of Paris. After a rough qualifying and trouble in A1, Cody won A2 to force a final battle in A3. Linus Thern was leading, but with just a few minutes to go, Cody would take the lead and cruise to victory with his Team Orion powered MP9e. In Germany, the turn out was impressive, with near 40 entries for the electric 1/8 buggy class. Qualifying was better for Cody, taking the TQ honors. The electric format here was a semi and a main, so everything came down to the last run of the day. With Sweden's David Ronnefalk in hot pursuit, Cody would grab the lead and set a blistering pace to take the win. This would give Cody two electric titles in two weeks on European soil.
Wednesday, June 29, 2011