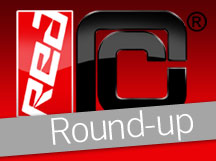 A summary of other news pieces from around the internet today in our Red RC Round-up:
> Aritz Tamayo is Spanish 235mm Champion – Link [serpent.com]
> Robbo switches from the Yokomo team to the Asso team – Link [cmldistribution.co.uk]
> RC Pro International Finals Update – Link [rcprosites.com]
> Frank Root wins the 2007 Tumbleweed Classic – Link [teamorion.com]
> Eberle & Pietsch win Rd3 of German south Regionals – Link [mid-mugen.de]
Wednesday, September 26, 2007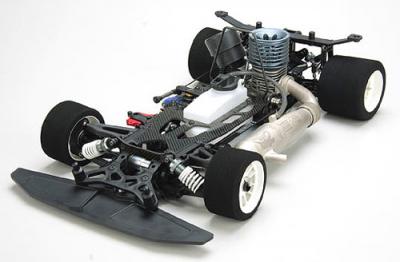 More news from Mugen Seiki, this time its to announce the impending release of their new 1/8th scale circuit kit, the MRX-4X. We wrote in detail about this new car when it was first announced at the beginning of August when they started to promote the upgrade set, but now you can soon buy the MRX-4X as a complete kit. As we mentioned before the changes from the MRX-4R includes new shorter rear upper wishbones, new uprights with adjustable offset, front and rear bulkheads with adjustable belt tension, new chassis plate, new front and rear shock towers and a lot more.
Click here to see more photos… (more…)
Wednesday, September 26, 2007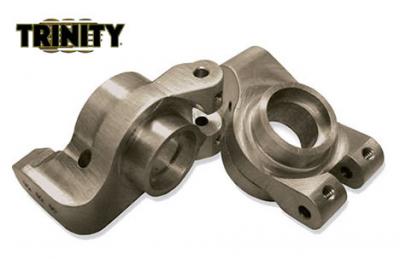 Trinity have releasd this pair of aluminium rear hub carriers for the Team Losi 8ight and 8ight-T. Extensively tested by Losi drivers, especially Adam Drake, these anodised hubs are a much stronger alternative to the standard parts and are a simple direct replacement. Available soon.
Source: Trinity [teamtrinity.com]
Wednesday, September 26, 2007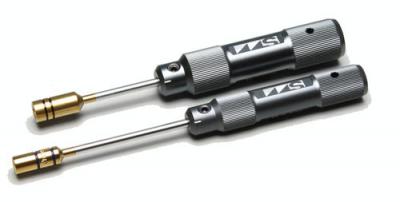 Mugen Seiki in Japan have announced the release of new additions to the company's line up of tools with the introduction of 2 new nut spinners. Availble in 2 sizes, the 5.5mm wrench is suitable for removing the M3 shock absorber nut on the MBX-5R and MBX-5T, while the 7mm tool is used for removing the wheel nuts on the MTX touring car. Both tools feature a lightweight grey anodised duraluminum handle which has been knurled for extra grip and both sport the Mugen Seiki logo.
Source: Mugen Seiki [mugenseiki.com]
Wednesday, September 26, 2007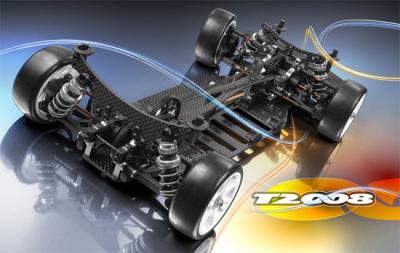 Xray have released the first official features list and photos from their new, soon to be released 190mm EP Touring car, the T2'008. As we already saw in the spy photographs of the car from earlier this month, the car featured some pretty big changes with a specific 5 cell European rubber version to come out as well as 2 separate 6 cell versions for both rubber and foam racers, to cater for the US market. The cars feature a lot of changes and are basically completely new with a lot of attention paid to weight distribution as well as the cars drive train but the main point is that they have created 3 purpose-designed editions to meet specific ROAR, EFRA, FEMCA regulations.
Click here to see the full feature list and more photos… (more…)
Wednesday, September 26, 2007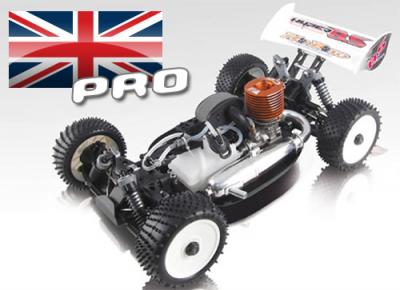 CML Distribution in the UK have introduced the new Hyper 8.5 Pro UK competition 1/8th scale buggy. This new special version brings the European Championship winning Hyper 8.5 together with additional optional set-up accessories all inside one box. This version is centred around the UK's mix of grass, dirt, astro style tracks that all differ considerably from those around the world. The optional FR2 chassis is standard with an additional 2mm extra length at both the front and rear for improved handling, jumping and general driveabilty. Larger, big bore shocks result in more constant and less oil changes during hard long finals. All 5 optional roll-bars are included, along with CNC aluminium suspension arm holders, servo horn, engine/chassis brace, lightweight wheel hubs and wheel dust proof nuts.
Click here to read more… (more…)
Wednesday, September 26, 2007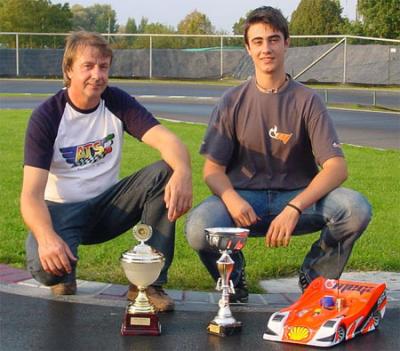 More news from Belgium, this time its Serpent reporting that their team driver Robin D'Hondt has clinched the 2007 1/8th scale Belgian National Championship with a calculated drive to 2nd place in the final round at Roeselare over the weekend. The current Benelux Champion qualified 2nd for the event behind outgoing Champion Steven Cuypers making it an all Serpent front row and making the most of his TQ position Cuypers, the winner of Round 3, led the final well into the second half of the race before an engine flame out ended a great drive. This allowed Ilia van Gastel into the lead and D'Hondt, who had won round 1, 4 and 5 of the Championship, into 2nd spot which was enough for him to become National Champion.
Source: Serpent [serpent.com]
Wednesday, September 26, 2007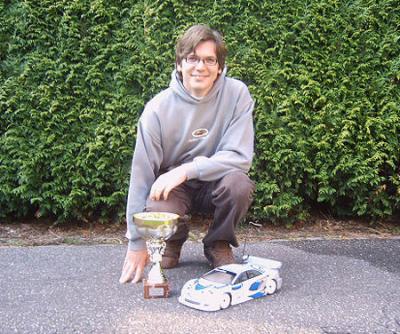 Schumacher are reporting that their driver Koen Joosens has won the 2007 Belgian National Championship in Touring Modified racing the company's Mi3. The last and deciding race took place at the very technical circuit off MRCZ at Zwevegem under magnific weather conditions, and while a third place was enough for Koen to win the championship he took 2nd and secured the title. With three wins and a 2nd place out of six races during the whole season Koen is the deserved Champion. His younger brother Nick ended fifth in the total standing with his Mi3.
Source: Schumacher [racing-cars.com]
Wednesday, September 26, 2007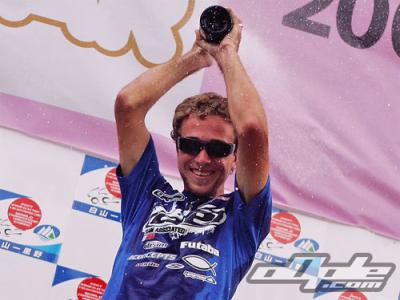 Our mate Jimmy 'The Kaiser' over at oOple has done a marathon photo upload from his recent trip to Japan for the IFMAR EP Off road World Championships. As you would expect the photographs are top notch and capture perfectly the atmosphere and action from the event. There are many, and like the coverage they are seperated by date, so head over to their Worlds Coverage page and select the day you want to see photographs from, the pictures are at the bottom of each page.
Source: oOple [oople.com]
Wednesday, September 26, 2007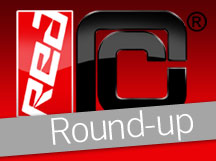 A summary of other news pieces from around the internet today in our Red RC Round-up:
> José Pequito Win Final Portuguese National Race – Link [teamxray.com]
> Team Serpent Brazil secure another double win – Link [serpent.com]
> John Howells Takes All At 8-Ten Finals – Link [cmldistribution.co.uk]
> Adam Drake wins the 7th Annual SoCal Saturday Series – Link [neo-buggy.net]
> Toon Deyaerts wins Belgian 235mm Championship – Link [serpent.com]
> Mark Van Waayenburg wins the overall Truggy.nl Cup – Link [rc-junkies.com]
Tuesday, September 25, 2007