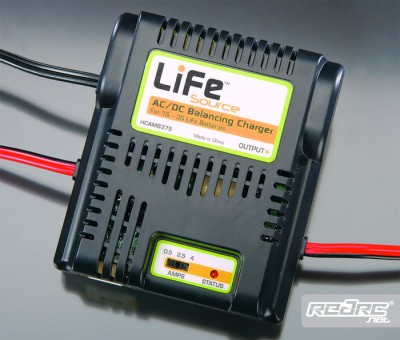 The new LiFeSource AC/DC Economy LiFe charger is a simple option for powering up your LiFe packs. Utilizing the cc/cv charge method, with voltages customized for LiFe batteries, it's small, lightweight and very simple to operate and comes in at a very low price. The AC/DC Economy Charger can handle 110V AC or 12V DC input so it's great to use at home or at the field/track A built-in balancer ensures all cells are charged to optimum voltage every time.
Source: LiFeSource [lifesourcebatteries.com]
Tuesday, August 17, 2010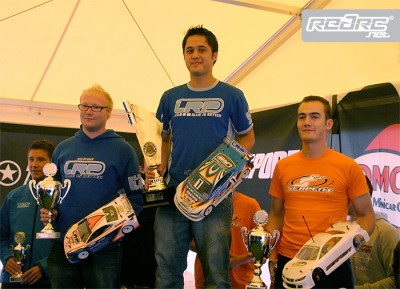 Last weekend the German nationals for electric touring cars took place on the well known Motodrom-track in Andernach. Racing all practice sessions and qualifying heats under sunny conditions, the weather changed totally on Sunday for the finals, the weather forecast for Sunday promising 99% chance of rain and it delivered. The 117 drivers present were divided as follows, Modified 53, Sport 13.5 36 and Hobby 17.5 28. Under the dry conditions on Saturday we saw some great battles for the Top Ten in all three categories, however the laptimes in all three classes were nearly the same. Due to the the power program speedos everybody can setup a 17.5 motor to be nearly to same speed as a Modified motor, something that has to change in the future. The Modified class victory went to recently crowned European Champion Ronald Volker driving his Yokomo, with Hot Bodies racer Dominik Fleischmann taking 2nd and Federico Veronesi coming home in 3rd for Serpent. In the Sport 13.5 class it was ETS champion Alexander Stocker who reigned supreme to win from Dominik Reschker and Marco Kaufmann, while in the Hobby class it was Tim Schwarz who took the win ahead of Ricardo Strolla and Sebastian Müller.
Tuesday, August 17, 2010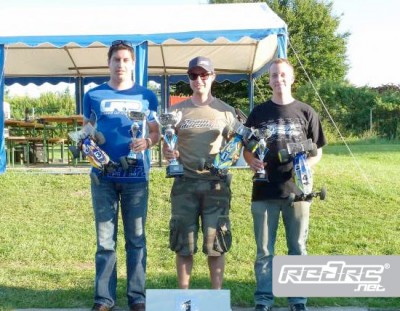 The fourth round of the Austrian electric buggy Nationals was held in Litschau, another beautiful track in the north of the country. This time there was 75 entries, a little bit less then normal, but this could have been due to the very bad weather forecast, which in the end was wrong and the racers were treated to blue sky and about 28°C on Sunday. The track went from very slick to a blue groove high traction track which was very good fun to drive. Qualifying saw Roland Macho, driving a Durango, and Hupo Honigl battling most of the time for the win, but the last round was won by Rene Trauner, another fast Durango driver. Hupo took the TQ in front of 3 other DEX410s with 7 in the top 10.
Continue reading the report here
Tuesday, August 17, 2010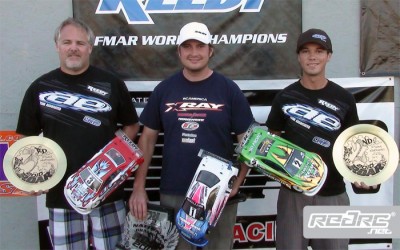 Xray are reporting on the recent ROAR On Road Nationals, which was held at Nor-Cal hobbies, the same track also played host to the Reedy Race of Champions a couple months ago. There were to be 4 total rounds of qualifying, 2 rounds of qualifying on Friday. In Mod 12th scale it was Kevin Hebert pretty much dominating the first day by setting TQ in both, in Mod TC it was Paul Lemieux who TQed both rounds with Hebert and Rick Hohwart close behind. In 17.5 expert TC it was Martin Crisp who was looking fast and setting TQ's with a very close field behind him. In World GT and 17.5 12th it was Dave Ehrlich who was looking strong in both classes.
Continue reading the report here
Tuesday, August 17, 2010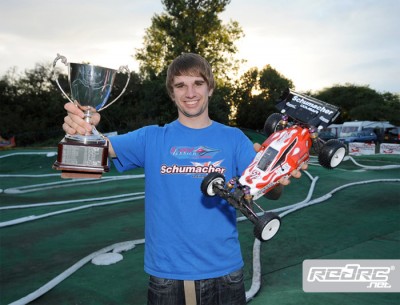 Schumacher were in touch to tell us that in its debut season the Cougar SV has won the BRCA British 2WD Off Road Championship. Congratulations to Tom Cockerill who secured the title at the last round of the series at the Stotfold track this weekend.  In spite of having an off day and only making the B final Tom's main championship contenders failed to improve on their points scores so Tom watched on and won the championship from his marshalling post. However the Cougar SV was working extremely well on the wet slippery track with 5 Cougar SV's making the final.  With Simon Moss finishing an excellent 3rd and congratulations to Dave Poulter and Lloyd Storey who both made their first national A finals with the Cougar SV.  Grant Williams and Jonathan Palmer rounded out the 5 cars in the A, in what was an excellent team performance.
Source: Schumacher [racing-cars.com] / Image: oOple [oople.com]

Tuesday, August 17, 2010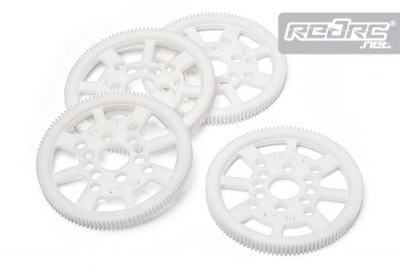 More new optional parts for the Hot Bodies TCX with the release of this new line of spur gears. Made by Xenon Racing in Japan these 64P light weight and smooth running spur gears are made to the highest tolerances and are a direct fit for the car. HB have also release a new 20T centre oneway pulley set which gives another setup option to help tweak your car to various track conditions.
Tuesday, August 17, 2010
The 2010 Rocky Mountain Short Course Championship was held at the Sweetwater RC Raceway Park in Rock Springs, Wyoming August 13th – 15th. Friday's open practice had drivers from Wyoming, Colorado, Utah, and Idaho putting in laps on both the 1/10 short course track and the 1/8 track just to get any advantage they could. The short course track had massive amounts of traction due to the sugared surface, while the 1/8 track was technical with big air jumps, both tracks were tricky. Saturday started off with four rounds of qualifying on both tracks with TQ being swapped back and fourth among many drivers in all classes. At the end of the day the top positions were locked in, with 2wd SCT Stock, 4wd SCT Open, and 1/8 Electric Buggy TQ going to DJ Clark of Wyoming, 2wd SCT Open TQ went to Jared Hair of Utah, and finally 1/8 Buggy and 1/8 Truck TQ was held by Chris Peralta of Colorado.
Continue reading the report here
Tuesday, August 17, 2010
AKA have released a quick teaser shot of their new Cityblock short course tire and cyclone wheel that is due for release in the near future. AKA announced that they will also release their Gridiron thread for short course too.
Source: AKA [raceaka.com]
Tuesday, August 17, 2010