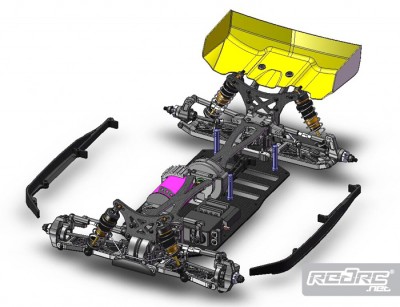 Ansmann have released the first drawings of their all new X4TE 1:10 4WD buggy. It will feature a full carbon chassis in combination with side guards, while the shock towers are also made of carbon fibre. The new big bore shocks will give you a perfect handling on the track in combination with the slipper clutch system. They expect the first running prototypes to hit the tracks in October.
Source: Ansmann [ansmann-racing.com]
Saturday, September 4, 2010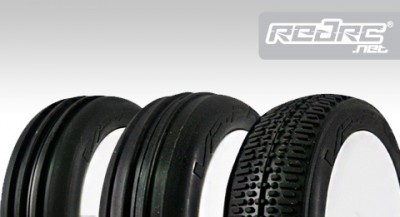 VP Pro have announced the development of new 1/10 electric offroad tires during the past several months, with the first release being the 2WD fronts. There are 3 types of pattern, rounded rib, square rib and the friction. Made using VP Pro's unique Flexx compound, these 3 types of front tires will provide great steering performance on different track conditions. Expect 4wd rear tires to be released in mid September.
Source: VP Pro [vp-racing.com]
Friday, September 3, 2010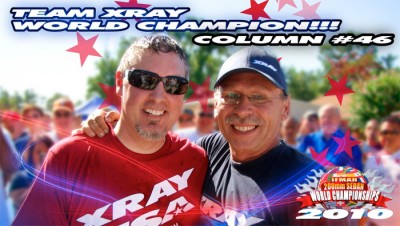 The 46th installment in the Xray column from Xray owner and chief designer Juraj Hudy is now online. In this months column he talks about the company winning their long awaited first World title.
I still cannot believe it and I am still dreading that I will wake up and realize that it is only a dream. I have been sitting in the airplane on the way home, and since we leave for the Electric Touring Car European Championship the same day we arrive home, I am writing this latest column for you with still-fresh memories and excitement from the recent 1/10 Nitro Touring World Championship in Texas, USA. I am SO happy, satisfied, and proud that no mere words can describe the feelings
Read the full column here.
Source: Xray [teamxray.com]
Friday, September 3, 2010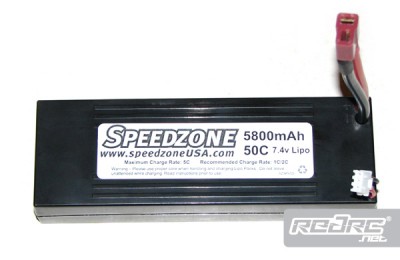 Speedzone have released a 7.4v 5800mAh 50C in a hard case pack, perfect for all applications. Direct connected Deans connectors come standard along with a standard balancing port. With a rating of 50C and nearly 600 seconds of run time at a 35amp discharge, this pack delivers enough power and run time to suit everyone's needs.
Source: Speedzone [speedzoneusa.com]
Friday, September 3, 2010
The Venom Gambler 1/10 Short Course Brushless RTR Truck was designed for the popular 2WD short course racing class modeled after the full-scale Lucas Oil Off Road Racing Series racing trucks. Designed from the ground up, the Gambler represents the latest in race truck design plus a new feature unique to the Venom Gambler, the MORdrive system. Now you can adjust the center of gravity on the fly in the pits by changing the rear transmission position from mid-motor to rear motor. This system allows you to fine tune the weight balance and tailor the Gambler to the track conditions.
Friday, September 3, 2010
New for the Short Course class, Pro-Line have released the Sniper. It uses the same design philosophy and technology as the Hole Shot, but scaled up to work on looser and dustier track conditions. After initial testing, Pro-Line team drivers Ryan Cavalieri and Travis Amezcua are already sold on the tire saying that the Sniper offers awesome forward traction and side bite on a variety of track conditions. The bigger pins also provide longer wear, giving you lasting traction through long A-mains.
Source: Pro-Line [prolineracing.com]
Friday, September 3, 2010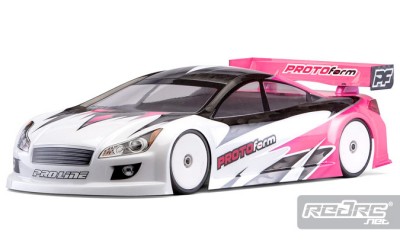 Finally from Protoform, is the announcement of a new 190mm sedan race body for rubber tire competition. The new P37-R (rubber) is suited for both indoor carpet as well as paved racing surfaces and is available in both Lite and PRO-Lite weights. It comes with protective coating, window masks, decals and wing hardware and conforms to all the EFRA Global Body Spec criteria.
View more images of the shell here
Friday, September 3, 2010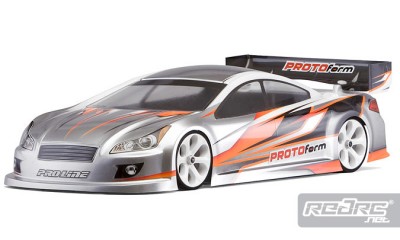 For the last 6 years the Protoform Stratus 3.1 has been one of the most popular and successful 200mm gas-sedan bodies. It's still used even today in race winning performances by many top ranked pro drivers. Today, Protoform is proud to release the P37-N (nitro) 200mm Gas Sedan body to continue that legacy. This new P37-N body uses some of the time tested and proven design features of the 3.1 but includes many evolutionary improvements to aid down force and steering capabilities. The wing struts are enlarged and new oversized nylon wing hardware is now included with the body. The body conforms to all the ERFA "Global Body Spec" criteria and it comes with protective coating, decals and window masks. Available in Lite and PRO-Lite weights.
View more images of the shell here
Friday, September 3, 2010