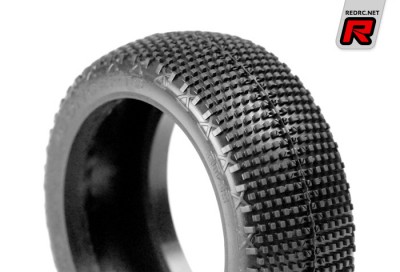 JConcepts have officially released their two new race winning tire designs debuted at the IFMAR Worlds last November. Hybrids are already a successful tire dominating at events such as the CRCRC Midwest Championships and the popular Motorama event. A mid-lug design with unique inner Crowbar center lug DNA, the Hybrid is built for speed and ultimate high-speed control and handling. Supported lug control and X-braced sidewall lug detail is designed to go the distance in long qualifiers, final main events and beyond. The 3Ds were the hottest tire on the slick groove surface at the recent JConcepts Clash where Ryan Maifield TQ'ed in convincing fashion. Developed to be the ultimate Slick-groove tire, the 3Ds are a first to combine the high-stability design of a black groove bar tire into an individually flexible pattern of finely spaced Double Dee lugs in one package. 3Ds include the Profiled (closed cell) insert design featuring the unique, highly durable material, bright blue color and revolved cuts which provide extra full support, stability and cushion.
Tuesday, March 1, 2011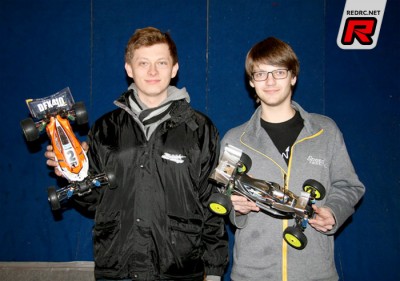 The second round of the MRC Winter Challenge, indoor buggy race was held over the weekend of 26-27th February at an indoor carpet track in Moscow, Russia. Team Durango Russia drivers Zuykov Denis and Malyshko Dmitry qualified 1st and 2nd respectively in the 4wd class. In a final that would see 5 DEX410 in contention it was Zuykov that would take the win followed by Malyshko.
Source: Durango [team-durango.com]
Tuesday, March 1, 2011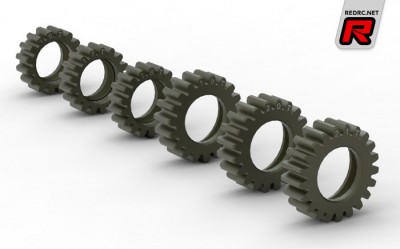 Arrowmax released a new range of clutch pinion gears for the Mugen MRX-5. Made from the highest quality 7075-T6 aluminium and then hard coated, they are lightweight, very durability and mesh perfectly with the car's spur gears. Available in 16T, 17T, 18T, 19T, 20T & 21T teeth versions.
Source: Free Max [freemaxmp.com]
Tuesday, March 1, 2011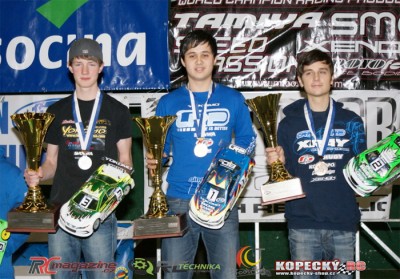 Ronald Volker has successfully defended his EFRA European Indoor title with victory over the weekend in Hrotovice in the Czech Republic. The Yokomo driver dominated proceedings, as he has done in almost all races in the past 12 months, and took the TQ spot in qualifying ahead of Xray driver Alexander Hagberg in 2nd and Yokomo team mate Yannic Pruemper in 3rd. In the finals Ronald checked out in the first two to wrap up the title early and so didn't race the 3rd leg allowing Pruemper and Hagberg to battle it out for the runner up spot. Hagberg with two 2nd spots in the first legs looked favourite to take it but a diff problem allowed Pruemper to snatch the leg win and claim 2nd overall on a tie breaker, with Hagberg having to settle for 3rd spot.
Source: RC Magazine [rcmagazine.cz]
Tuesday, March 1, 2011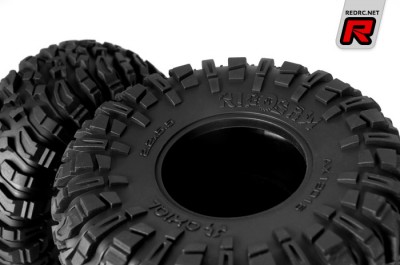 Axial have released a number of new items for their XR10 crawler starting with these 2.2 Ripsaw tires in T35 compound. A realistic and aggressive tread design for the ultimate scale appearance and performance, they are 5.5″ (140mm) tall for extreme ground clearance and molded ribbing between the lugs help keep mud and snow from packing into the tire tread. Using the new New "R35" sticky rubber compound (white dot), they come supplied with standard foam. Axial also have a new transmission spur gear cover which helps keep dirt and debris out of the pinion and spur for a quiet and efficient drive train. Finally there is the new XR10 high leverage steering arms for increased steering throw and power. CNC Machined from 6061 aluminium it has been black anodized and features laser etching.
Tuesday, March 1, 2011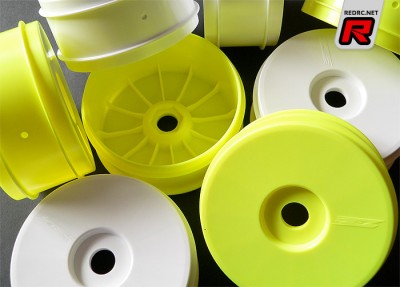 GB Modelsport has announced the introduction of the EZP Competition 1/8 buggy wheels to its range of EZ Power products. Available in white or yellow, the EZP wheel is precision moulded from top quality Zytech nylon resulting in a very light but super-strong wheel. Measuring 83 mm x 41 mm the wheels include 2 x air vent pilot holes and a 17 mm central hex hub to suit all popular 1/8 buggy hubs.
Source: GB Modelsport [gbmodelsport.co.uk]
Tuesday, March 1, 2011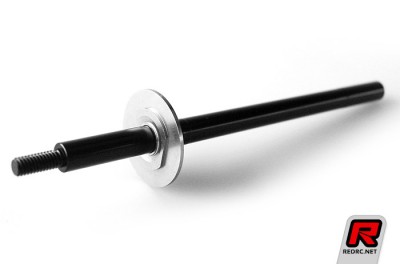 Serpent have released this optional main shaft for the S100 and S120. This lightweight aluminium shaft is black anodised and comes with durable diff adaptor with this diff able to work without thrust bearing, using only a cone and spring washer.
Source: Serpent [serpent.com]
Tuesday, March 1, 2011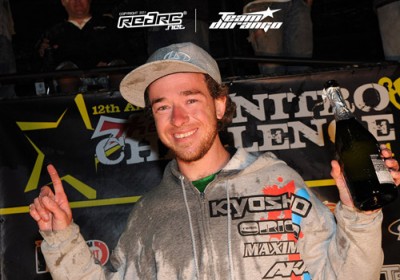 Jared Tebo has completed a clean sweep at 'The Dirt' Nitro Challenge in Arizona by backing up his thrilling Truggy win with victory in the buggy final over former winner Mike Truhe and World Champion Cody King. Starting from the TQ spot, the Team Kyosho driver dominated the 45-minute race to become the first driver in the annual event's 12-year history to TQ and then go on to win both classes.
View our full event coverage here.
Monday, February 28, 2011