RB Products in the US have a nice interview with their young up and coming team driver Roman Miller. The Mugen racer have only been driving 4 years and is already impressing many with his ability, recently taking his place in the Expert class.
Being with RB this year has helped me improve at every race we attended. At first it was a rough start, my dad had some trouble getting used to the engine, tuning and working on them etc…but with the help of Kevin and Bernard, we were able to get the enignes running pretty well. The consistancy of the engine at all the races we attended made it one less thing for us to worry about throught the year. Me and my dad are very pleased with the support RB has given us both during the year and are looking forward to another great season with RB.
Read the full interview here.
Source: RB USA [rb-usa.com]
Friday, January 25, 2008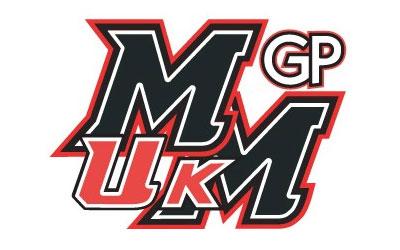 After the huge success of last year's event, the 2008 Much-More UK GP will be once again held at the impressive Stonehaven circuit in Scotland. In 2007 Andy Moore won both 19 Spec and 5 Cell Modified titles, with Chris Kerswell winning the 6 Cell Modified crown, can they repeat those performances this year? With the recent changes being adopted, the 19 turn class will now become 'Pro Stock', while Modified will remain the same as the successful format in 2007. A control tyre will again be used and will be available on-site for all entrants.
For more information about the event go here.
Friday, January 25, 2008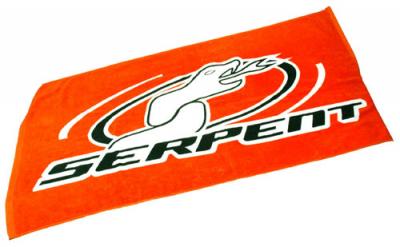 Serpent have released this large pit towel for racers to cover their pit area with the colours of their favourite team. Sporting the combined Serpent oval and text logo in black and white, this high quality towel is 140cm wide x 60cm tall. Available mid February.
Source: Serpent [serpent.com]
Friday, January 25, 2008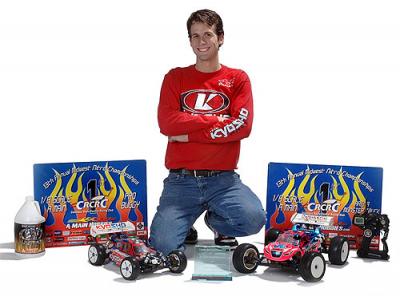 Kyosho have been in touch to tell us that their team driver Ryan Lutz drove his Sirio-powered Inferno 777 WC buggy and Inferno ST-RR truck to wins in their respective classes during the 13th Annual Midwest Nitro Champs at the popular CRCRC facility last weekend. Lutz TQ'ed the truggy class and, even with two lengthy pit stops to repair some body damage, led the last 60 laps of the main to take a decisive victory. In the 1:8 buggy class, Lutz qualified sixth which meant he had a tough task ahead if he hoped to sweep both 1:8 classes, however a superior driving performance allowed Lutz to pull to the front of the pack. An unfortunate flameout in the latter stages of race erased a comfortable half-lap lead and put Lutz nearly a full lap down to Mayfield. Once back on the track, Lutz bumped his pace to more than a full second a lap faster over the next 30 laps, closing an entire lap on Mayfield and making the inevitable pass to take the victory, completing the sweep of both classes.
Source: Kyosho [kyoshoamerica.com]
Friday, January 25, 2008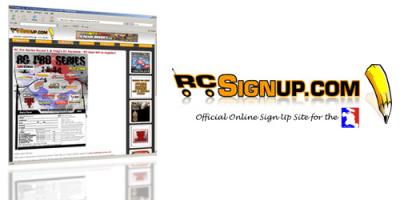 RCSignup.com were in contact with us to say they have finalized an agreement with the RC Pro Series that will make them the official online sign up site for RC Pro Series Events. The site has now added a special button to the navigation that will display only RC Pro Events and has also added an RSS feed specific to RC Pro Events. A custom widget for the RSS feed is also available for placement on websites, message boards, and even mySpace. The RC Pro Series is happy to recommend this free service to all RC Pro Tracks and looks forward to utilizing RCSignup.com as the exclusive online sign up site for the 2008 RC Pro Series Offroad Finals.
Source: RC Sign Up [rcsignup.com]
Thursday, January 24, 2008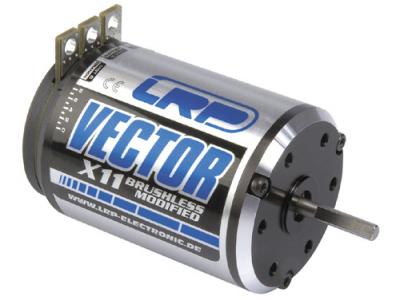 Following on from yesterday's announcement from Nosram about 2 new winds in their Storm Brushless motor range, comes the same release from sister brand LRP. The all-new Vector X11 Brushless Modified motor is now available in 3.0 & 8.5 turns for touring cars and 2wd off road racing respectively. The LRP R&D Team has put its entire experience gained from years of testing LRP brushless motors at top competition level into the development of the Vector X11 motors and they have won many national and international titles.
Click here for more details… (more…)
Thursday, January 24, 2008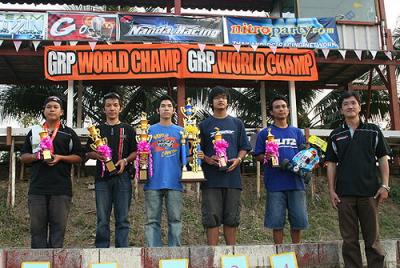 The first round of the Thailand Buggy Party championship for 2008 was held last weekend at the R.C. Mania track located in western Bangkok, Thailand. Qualifying saw team PRC Mugen/Titan racer Charlee take the TQ, a pace they he kept up for the 40 minute final, powering his Mugen MBX5R to a 12 second win. Coming home in 2nd spot was Hobao racer Yuthana D., while 3 laps back from the leaders in 3rd was Xray racer Meen V.
Source: Nitro Party [nitroparty.com]
Thursday, January 24, 2008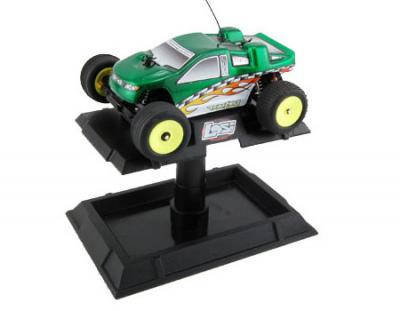 Losi have released this Micro Car Stand, which doubles up as a parts tray. Suitable for working on any Losi, or other brand, micro vehicle, the top tray can be rotated 360 degrees allowing the user to work on either side without have to remove the vehicle. In addition, a molded parts tray base helps keep all those Micro parts in one plac.
Source: Losi [losi.com]
Thursday, January 24, 2008